Thrilling, edgy Marshall gain tones pop in a versatile, flexible stomp that moves effortlessly between low- and high-gain realms.
Super versatile. Many unexpected shades of Brit gain. Great low-to-mid gain sounds. Nice dynamic response. High-quality build. Post-EQ effects loop.
Hard to shake all traces of JCM800 compression.
5
5
4.5
4
I first experienced the potential of the Marshall Guv'nor years ago via an inexpensive copy. What surprised me about that pedal is that I could use its EQ section to shape Revolver-era Beatles tones. I share this anecdote because it speaks to the versatility of the Guv'nor circuit. And in this beautiful, U.K.-built Guv'nor reissue, that flexibility and its impressive power to enliven a stale tone shine.
---
In its original incarnation, the Guv'nor was an attempt to replicate a mighty JCM800 in a box. But it is capable of much more than '80s-style Marshall crunch and mass, and it can compel you to wandering exploration or offer total utility. Dialing in tones is fast and intuitive, and the controls are rangeful and responsive. Bump up the midrange, and you can move from those Beatles '66 tones to Angus Young with a twist of the gain knob. This adaptability also makes the Guv'nor an invaluable tool for moving between single-coils and humbuckers, and finding a sweet spot for each is quick and effortless. Even if you don't tinker with the Guv'nor's knobs much, its organic responsiveness means you can coax many shades of grit with guitar volume and tone attenuation. Much like a great Marshall amp, this is a pedal you can live in and explore deeply. And though $249 is a fair bit of cash, this high-quality box could become a cornerstone of your tone equation for years.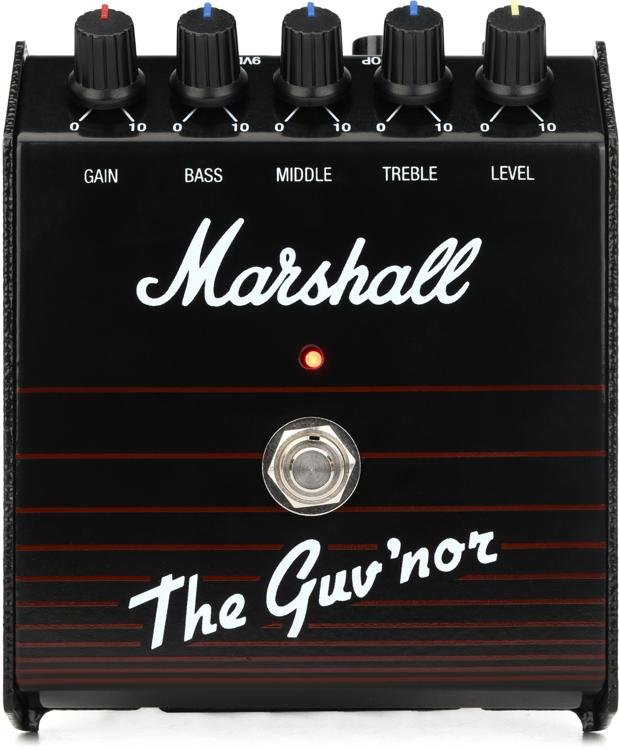 Marshall
From Your Site Articles
Related Articles Around the Web