A Taylor for guitarists who don't dig Taylors?
 

Ratings

Pros:

Warmly attractive tones. Superb build. Killer looks. Genuinely unique voice.

Cons:

The V-Class sound may not suit everyone. Try before you buy.

Street:

$2,899

Taylor Grand Pacific 717taylorguitars.com

Tones:Ease of Use:Build/Design:Value:
---
A few gross oversimplifications before we get into nuances: Taylor's new Grand Pacific series marks a dramatic departure from what most think of as "the Taylor tone." While many Taylors sound bright, shimmery, and modern, the Grand Pacifics sound warm, dusty, and lived-in. Some might say they're Taylors for guitarists who don't dig Taylors.
Like I said, these statements are simplistic, so don't stop reading here. I'm just underscoring the fact that Taylor's new line represents a fresh sonic avenue for the company, and that players previously unmoved by the signature Taylor zing may be in for a big surprise.
And that's far from the only fascinating thing about these new models.
All the Squares Go Home
The Builder's Edition 717 comes in four flavors: the natural finish version reviewed here, a similar instrument with a golden-brown "honey burst" finish, and the same two models with electronics. These are Taylor's first round-shouldered dreadnoughts.
The terms "square shouldered" and "round shouldered" are often just euphemisms for Martin and Gibson, respectively. On Martin dreadnoughts, the shoulders extend from the neck joint at nearly a 90 degree angle before curving sharply. On a Gibson J-45, it's a more relaxed curve that commences right at the joint. And yeah, the 717 sounds more like a vintage Gibson than other Taylors.
Built for Comfort
While the 717 definitely has Gibson DNA, it features important design innovations that are entirely Taylor's own. Like other Builder's Edition models, the joints where the top meets the back and sides are chamfered—that is, gently rounded, with no sharp edges to poke at you while you play. The neck has a subtle compound shape. It's a subtle V at the nut, but gradually transitions to a rounded C-shape at the heel, fatter on the bass side and slimmer on the treble. It's equally comfortable whether you clasp the neck with your thumb, or use your thumb tip as a pressure point, classical guitar style. Like the body, the fingerboard's edges are also rounded. Between those smooth edges, the welcoming neck profile, and immaculate fret dressing, you'd be hard pressed to find a smoother neck feel.
Something Missing?
The 717 also employs Taylor's recently introduced V-Class bracing, a dramatic departure from traditional X-bracing. Here, two long braces frame the soundhole, converging to a point near the endpin. I first encountered this design last year when I reviewed Taylor's K14ce, and my impressions are identical: It definitely sounds different. According to Taylor, the design minimizes overtone clashes that occur with X-bracing, generating purer tones with greater sustain.
You'd never mistake the 717 for, say, a 000-sized instrument. There's far more low-end content. But it's remarkably lean and focused for a dreadnought.
It's all true. The 717's sustain is almost surreal. Tones are consistently sweet and sonorous. And there's something missing: much of the phase cancellation our ears expect from acoustic guitars. In a way, it's a simpler and thicker sound, minus some of the usual spectral nooks and crannies.
Guitarists' reactions to this new color are likely to differ. I initially found the sound odd but compelling. But the more I played, the more I warmed to it. It records nicely and sounds lovely to me on playback. But that's purely subjective. Even more than usual, this is an instrument you should play critically before you commit.
A Studio Dreadnought?
I know I'm not the only recording guitarist who avoids dreadnoughts like the plague. Sure, they sound full and powerful in a room or on the street. But in the studio, their low-end muscle can be a major pain. You often have to roll off the entire low end, or at least carve out notches between 150 and 250 Hz.
Not so here. You'd never mistake the 717 for, say, a 000-sized instrument. There's far more low-end content. But it's remarkably lean and focused for a dreadnought. You still need to be careful while recording. (You'll hear a few unwanted bass-induced pops if you listen closely to the demo clip.) But the bass response is far more manicured that you'd expect from such a big-bodied guitar.
Hello, Beautiful
I saved the looks for last. Unlike the luxurious, bling-intensive models that inaugurated the Builder's Edition series and V-Class bracing, the look here is understated elegance. The visual centerpiece is the pretty torrefied Sitka spruce top. It's framed by subtle wood inlays and clad in Taylor's "silent satin" finish, which truly does reduce the noise of your skin and shirt rubbing against the body while playing. The Indian rosewood back and sides boast beautiful figuration, as does the mahogany neck.
And man, the included case! It's garbed in an elaborate Western floral design with the look of tooled leather. It's so pretty you might be tempted to transport the guitar in another case for fear of scratching this one.
The Verdict
The Taylor Grand Pacific Builder's Edition 717 is something new under the sun. It's probably the warmest, most retro-sounding instrument in Taylor's line—to an extent. For all its aged-bourbon smoothness, the newfangled V-Class bracing provides phenomenal sustain and a disarmingly even harmonic spectrum. This guitar is gorgeous, supremely comfy, and more adept and flexible in the studio than most dreadnoughts. And while $2,899 is a serious investment, the price is more than fair for such a masterfully made guitar with so many unique and innovative features. Players who have previously shunned the shiny Taylor sound owe it to themselves to investigate this warm and welcoming alternative.
Watch the First Look:

---
Looking for more great gear for the guitar player in your life (yourself included!)? Check out this year's Holiday Gear Finds!
Flare is a dual-function pedal with a tube-like booster and a 1970s-style ring modulator effect that can be played separately or together.
Flare's ring modulator is based on the iconic tone of the original Dan Armstrong Green Ringer. This vintage classic was made famous by Frank Zappa who loved the unusual modulations created by generating a harmonic octave over notes. Messiah's version offers two control knobs: a "Sparkle" tone attenuator and output Level control. Its taupe-gold body, purple and green knobs and stick-figure rock 'n' roller holding up a flame convey an appropriately rockin'70s vibe.

​In a unique twist, Messiah's Flare pairs the ringer with a warm tube-style boost instead of a fuzz. Flare feeds the booster into the ringer for an extra punch, while preserving the Green Ringerspirit. The ringer side also turns any fuzz into an octafuzz, and it has the ability to quiet signal background noise fed through it.
The booster side features a single Boost knob to control the MOSFET circuit, making it very tube-amp-friendly with a warm, organic boost and gain of up to 32dB.
​The pedal is a distinct improvement over the 1970s pedal that inspired it. "Most ringer pedals don't track well," Tom Hejda, owner of Messiah Guitars. "The player can't rely on repeating the same effect even with the most consistently played notes. We carefully matched the components, so our ringer follows your every move, producing that slightly dirty octave you expect on demand."
Messiah developed this vintage octave pedal with flexible features so that people who love that messy, dirty Zappa-esque sound can get there with ease but there's also something for those who have not fallen in love with fuzz or the Green Ringer alone. Flare offers an array of sonic options while retaining simplicity in the controls.
Each Flair Pedal Includes:
3 control knobs: Boost, Sparkle, and Level
Two effects – Ring Modulator and Boost – can be used together or separately
Space-saving top side jacks
Durable, cast aluminum alloy 125B enclosure with fun artwork
Easy to see, illuminated True-bypass foot switch
Standard 9V pedal power input​
Flare Pedal Demo
Messiah Guitars pedals are designed with an explorative player in mind. Like their custom guitars and amplifiers, Messiah's pedals are hand-crafted in Los Angeles for a long life with guaranteed quality.
Flare retails for $199.00 and can be purchased directly at Messiah Guitars or you can hear it in person at Impulse Music Co. in Canyon Country, CA.
For more information, please visit messiahguitars.com.
This feathery little guy is a joy to play because of its incredibly quick response to your right hand - much faster and more expressive than your typical auto-wah pedal.
​If it looks like a duck, acts like a duck, and QUACKS like a duck, then it must be a duck. That's how we came up with the name for our new envelope filter. This feathery little guy is a joy to play because of its incredibly quick response to your right hand - much faster and more expressive than your typical auto-wah pedal. Trevor explains how this is possible in the launch video, as well as gives a demo on Le Canard's operation.
​The attack control determines how quickly the filter responds to the envelope, and the decay sets how quickly the filter releases afterward. The range controls which frequency spectrum the filter does its magic on. Add to this relay-based full-bypass switching with failsafe, and you've got one crazy little quacky beast. It is so expressive that you'll want to give up on your rocker-wah forever.
The MayFly Le Canard envelope filter features:
Super fast responding envelope follower. Touch it and it jumps!
Range control to dial in the character of the filter
Attack control to control how fast the filter moves on that first touch
Release control to control how slowly the filter slides back to baseline
Full bypass using relays with Fail SafeTM (automatically switches to bypass if the pedal loses power)
Cast aluminum enclosure with groovy artwork
MSRP $149 USD ($199 CAD)​
Introducing the MayFly Le Canard Envelope Filter
All MayFly pedals are hand-made in Canada.
For more information, please visit mayflyaudio.com.
Outlaw Effects introduces their next generation of NOMAD rechargeable battery-powered pedal boards.
Available in two sizes, NOMAD ISO is a compact, versatile tool that offers the convenience of a fully powered board plus the additional freedom of not having to plug into an outlet. NOMAD ISO is ideal for stages with limited outlet availability, quick changeovers, busking outdoors, temporary rehearsal locations, and more.
NOMAD ISO builds upon the legacy of the ultra-convenient and reliable NOMAD rechargeable pedalboard line originally launched in 2018. The brand new NOMAD ISO editions feature eight isolated outputs (1 x 9V DC, and 1 switchable 9V/12V DC) for even more versatility and clean, quiet power. With an integrated lithium-ion battery pack boasting 12800mAh capacity, NOMAD ISO can fuel a wide array of pedals, and will last over 10 hours* on a single charge.
Each NOMAD ISO pedal board includes adhesive hook & loop pedal-mounting tape, eight (8) standard DC connector cables, and one (1) reverse polarity DC cable, giving you everything you need to build your ultimate "off-the-grid" rig. A rugged, road-ready padded gig bag with shoulder strap is also included, to safely protect your gear while you're on the move.
NOMAD ISO S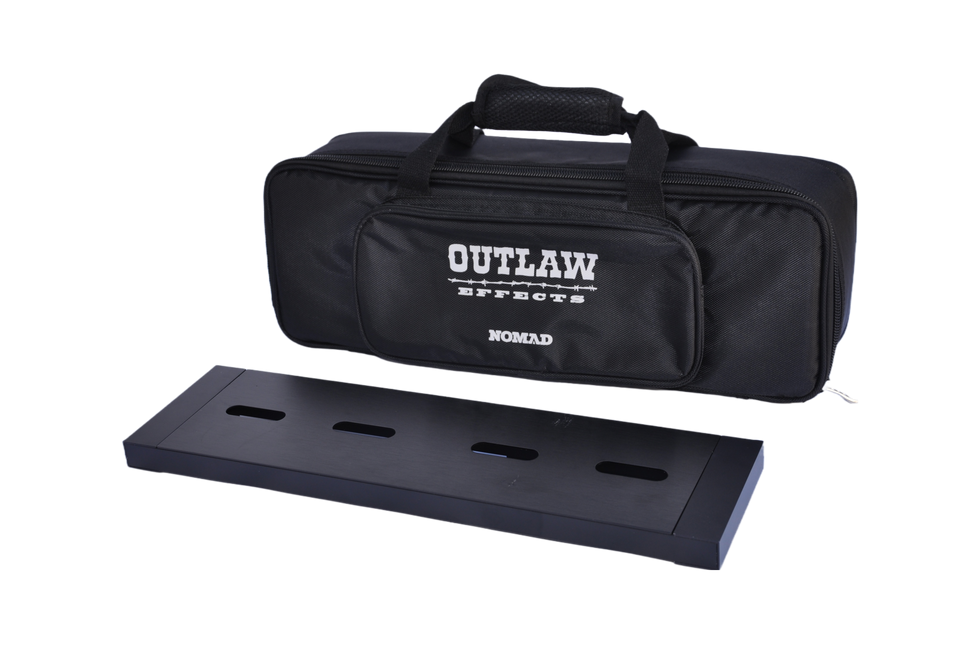 NOMAD ISO S: MSRP $309 / MAP: $249
Dimensions: 19 ¼" x 5 ¼"
NOMAD ISO M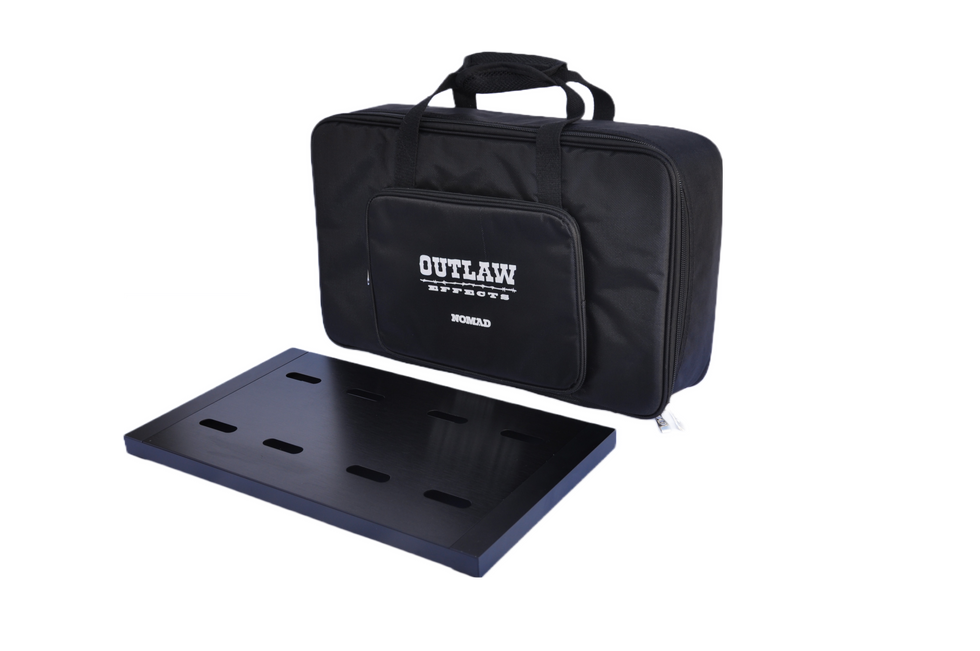 NOMAD ISO M: MSRP $349 / MAP $279
Dimensions: 19 ¼" x 11"
More info: https://www.outlawguitareffects.com.