A newly designed koa wonder that packs a punch.
Incredibly easy to play. Well-balanced tone.
Not as visually stunning as other koa models.
4.5
4.5
5
4.5
Hawaiian koa has been a favorite of boutique acoustic builders for ages. It has a cool tone personality, somewhere between rosewood and mahogany. It can be used for both back and sides and for top wood, and it's beautiful. It's also pretty expensive. The good news is that Taylor's new 724ce is built with a breed of Koa that actually helps players save a few bucks.
How did Taylor pull off this trick? Well, back in 2015 Taylor formed a partnership with a tonewood company called Pacific Rim Tonewoods. The collaboration strengthened the forestry stewardship projects that are always a Taylor priority. It also allowed Taylor to cut the logs themselves, leading to discovery of a supply that wasn't as spectacularly flamed as traditional koa, but retained the sound the wood is famous for. The new wood supply enabled Taylor to build a koa instrument that sells for nearly $2,000 less than their normal koa offerings. Dubbed "select-grade," this new crop of tonewoods is now one of the foundations of the company's 700 series.
Koa Chameleons
In my experience, Taylor's guitars are usually impeccably playable. Sure enough, the neck on the 724ce is comfy and fast. It feels inviting and the 1 3/4" nut width lends itself to fingerstyle. The 724ce is built around Taylor's most popular body size, the Grand Auditorium, which in this case, features a Venetian cutaway that also opens up a lot of the fretboard for exploration. The neck is tropical mahogany and is capped with a West African ebony fretboard that goes well with the dark amber of the koa and the Indian rosewood binding. The guitar also comes with Taylor's Expression System 2 preamp.
When I first picked up the 724ce, two things stood out. One was how light and balanced the instrument felt. The other was the finish on the body. Normally, I associate koa instruments with deep, glossy finishes, but designer Andy Powers went for an extremely thin (2 millimeter) matte finish here. It's so thin that you can feel the pores in the wood, and the thin finish arguably adds to the instrument's liveliness. Another feature of the 724ce is the updated V-Class bracing, which Powers tweaked a bit to make the ends a bit stiffer across the back of the guitar. And at first strum, I could hear the pronounced midrange that is a Taylor trademark as well as airy top end. Together, the tone profile reminded me a bit of a modern, midrangey dreadnought with more focus. And though it doesn't have the headroom of a full-bodied dread or jumbo, it's balanced in a way that would fit in with a broad range of styles. When I played a bit harder with a pick, I could sense how the koa top and, most likely, the bracing tweaks widened the dynamic range, and enhanced the guitar's responsiveness.
The tone profile reminded me a bit of a modern, midrangey dreadnought with more focus.
Express Yourself
Taylor's proprietary Expression System 2 preamp does a fine job of representing the 724ce's detailed sound without enhancing the high-mid frequencies and harsh attack typically associated with undersaddle pickups. Taylor achieved this improved tone in part by moving the transducers behind the saddle. The sensors can also be adjusted with an Allen wrench, which means the pickup tone you hear isn't necessarily the tone your stuck with.
The Expression System 2 certainly makes performance more worry free. I recently worked a stage musical production that required a fair amount of acoustic work, so I brought the 724ce and plugged into a Line 6 Helix that fed the front of house. I didn't have much tone processing going on, but the raw sound from the board through the theatre was magnificent. I kept the guitar's tone controls mostly flat and ended up boosting the high end just a bit to cut through the band. And overall, the Expression System 2 did an admirable job.
The Verdict
The 724ce works, sounds, and plays almost exactly as advertised. The koa tones are complex and nuanced, with a little touch of mahogany midrange and maple sparkle that add up to a practical and satisfying balance. At $3,499 it's a long way from being a budget model, but if you're considering a koa instrument, it does allow you save a few bucks in exchange for a slightly less flamboyant look. As with all high-end tonewoods, the 724ce will likely sound much better after a decade of solid strumming. But even in its infancy, the rich tones are there.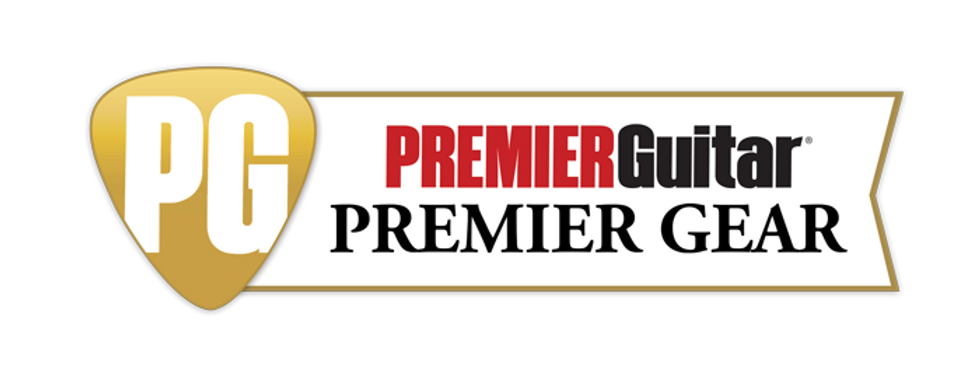 The middle kid in EHX's expansive family of loopers inhabits a sweet spot between deep functionality and accessible, intuitive operation.
Ratings

Pros:

Great compromise between deep features and simplicity. Intuitive to use. Easy to interface with complementary app.

Cons:

Easy to get lost in some compound octave and tempo-shift situations.

Street:

$221

Electro-Harmonix 1440 Stereo Looperehx.com

Tones:Ease of Use:Build/Design:Value:
Looping is one of the best ways to transform guitar playing into meditation. Sure, certain looping styles can test your focus, improvisational and compositional skill, and sense of precision and timing. But looping can also be utterly mindless and abstract—a tabula rasa that lets your last thought and musical impulse guide your next in an endlessly blooming musical Mandelbrot set. A state of pure creative flow. I've written a few of my favorite songs using loopers in this way, and it always feels magical in the moment.
EHX's 1440 Stereo Looper excels at instigating that kind of intuitive layering. And it compounds the fun of those basic processes with reverse and variable tempo playback that can transform simple loops into wildly unique sound webs and radical pitch-shift collages. But it also enables the precise, rhythmically driven layering and composition techniques that hardcore loop scientists dig. There are simpler loopers, and certainly more complex ones, but the compact 1440 inhabits a sweet spot between those worlds—a distinction that adds up to a lot of creative upside.
Designed to Streamline
The 1440 is part of what's grown into a very comprehensive family of EHX loopers. As with its cousins, the simpler 360 and 720, and the much more complex 22500 and 45000, the name alludes to the pedal's maximum loop length. And at 1440 seconds—or up to 24 minutes—there's a load of looping time to work with.
The 1440 also has the capacity to store up to 20 loops, as well as goodies like unlimited overdubbing, variable fadeout length, stereo I/Os, tempo sync to MIDI, and a downloadable loop manager app (for Mac and Windows) that enables you to store loops or export audio to the 1440. There's enough to know (and enough ways to get into trouble) to make a thorough read of the manual worthwhile. But as deep as the features can seem, the 1440's streamlined control interface does an excellent job of keeping these features a touch or two away, rather than buried beneath layers of menus and complex click patterns.
Even the downloadable loop manager, which you access via a USB connection to your computer, is a breeze to use. It has a simple, graphic interface that enables you to drag audio files to and from virtual "slots" that correspond to the 20 banks on the pedal. It's also a fast way to move a loop to your recording software if you want to use the loop as a basis for a project.
Simple to Spun Out
Electro-Harmonix's efforts at making the 1440 navigable and accessible translate to confidence when using it in performance and facilitates experimentation. A lot of that ease is down to the logical layout and flow of the 10 controls.
The 1440's streamlined control interface does an excellent job of keeping these features a touch away, rather than buried beneath layers of menus and complex click patterns.
The tempo switch opens up possibilities for surreal multi-tracking effects. It can be set for bpm-regulated adjustments (fine mode) or for half-step adjustments (coarse mode). Whether you chase precise subdivisions of tempo and pitch or stranger manipulations of those parameters, the possibilities are endless. You can increase tempo to pitch up a loop, play along, and then pitch down again to turn your previous loop into bass or baritone accompaniment. The same process can be used to achieve even weirder, smeared-and-bleary sub-bass washes. Really experimental improvisers will love the way you can record loops at super-disparate tempos, alter those tempos, then reverse them to create woozy swirls reminiscent of the Beatles musique-concréte and tape-loop experiments. Add ethereal reverb and delay to these types of loops and the effect can be mesmerizing, creating unusual beds and textures for longform ambient pieces, particularly when you stack long, spare loops.
These types of pieces, as well as tighter, more conventionally arranged fare, can also be further shaped with the overdub knob, which, depending on where you set it, will reduce the volume of previously recorded loops—transforming your composition into an evolving, fractal piece where previously recorded parts recede into the distance as if you're gliding down a river of sound.
Reverse and octave effects are the two other primary sound-shaping (or warping) functions. For the most part they are easy to use—particularly because you can activate either or both with the small push buttons in the middle of the pedal, or by assigning those functions to the stop switch. Recording a backwards solo, for instance, is as easy as reversing your initial loop, recording a lead passage, and then hitting reverse again. The octave switch is similarly easy to use, and killer for spectacular intros, outros, and demented solo sections when switched in and out judiciously. You can drift too far from home if you use the tempo and octave switches together in a fast-moving performance situation. If you're going for deconstructed psychedelic loop tapestries, these happy accidents can produce magic. But to use them effectively together—which can yield equally weird but more tightly arranged results—you should count on a bit of practice.
The Verdict
The EHX 1440 Stereo Looper is a sound collagist's tool box in a compact 1590-sized enclosure. While we only had space in this review to cover the most prominent features in depth, it's a deep, capable looper with plenty of memory for long-form looping, and a design streamlined enough to facilitate the most pedestrian looping tasks.
It takes a little practice and study to make the most of the 1440, but in general it's very accessible and intuitive. Whether you're trying to reconcile deep looping capabilities with pedalboard-friendly size, or keeping your feature set streamlined, the 1440 represents a very smart middle ground at a nice price. But make no mistake—this pedal is capable of deep, unconventional, and highly experimental, textures if you invest a little time to uncover its secrets.
Watch our Electro-Harmonix 1440 Stereo Looper First Look:

An already great Marshall-in-a-box is made more potent with the addition of a killer treble booster.
 

Ratings

Pros:

Great-sounding Marshall-inspired overdrive in a pedal form. Flexible boost channel. Superb for rhythm-to-lead transitions.

Cons:

Can lean toward bright for some tastes.

Street:

$229

Carl Martin PlexiRangercarlmartin.com

Tones:Ease of Use:Build/Design:Value:
More than a few legendary artists have matched a Dallas Rangemaster to a Marshall plexi to screaming ends. So Carl Martin's new PlexiRanger, which mates the Danish builder's PlexiTone Marshall-in-a-box stomp to a treble booster in the mold of the Rangemaster and John Hornby Skewes Treble Booster, is a pretty natural pedal proposition. For players that have never experienced the joys of a Marshall and a vintage-style treble booster together, the combination of the two in one tidy little box could be an eye-opening—and ear-awakening—experience.
If Six Were Knobs
The PlexiRanger's circuitry cascades the treble boost into the plexi side of the pedal, but each effect has its own bypass switch and dedicated control set. The boost side features an eponymous knob that unleashes up to 15 dB of extra kick, a "freq" knob, which determines the boosted frequency, and a range control that regulates the amount of boost applied within the selected frequency band. There's also a 3-way switch that applies a slight or heavy low-frequency cut—or no cut at all.
The plexi side features familiar controls for gain, tone, and level. In addition to the input and output on the pedal's top panel, there's also a ¼" jack for remotely switching on the boost side, and an internal voltage multiplier that increases power from the 9V DC input to +/-12V DC (24V total) for improved headroom. It's all housed in a ruggedly built aluminum enclosure, with a thin foam skid pad on its underside in place of rubber feet. (Pedalboard users might need to peel this off to apply Velcro.) It measures 4.75"x3.75"x2.25" and weighs around a pound.
I readily found the familiar palette of crunch and hot lead tones that typify the vintage Marshall experience.
Double Shift
I used the PlexiRanger with Gibson humbuckers, Fender single-coils, and Fender and Marshall-style amps, and in every case I readily found the familiar palette of crunch and hot lead tones that typify the vintage Marshall experience. The plexi channel is predisposed toward brightness. But even with the tone knob fully counter-clockwise, it yields a creamy, thick overdrive with high end enough to rise above a dense mix. Like its inspiration, the plexi circuit deals medium-level gain at its most aggressive settings. But it's never boxy or congested sounding, as some Marshall-in-a-box pedals can be.
If the plexi side of the pedal is bright, the boost side can be very bright—particularly when those freq and range controls are dialed up for maximum treble. But when used judiciously, these controls can very effectively highlight frequencies you want to shine most prominently. It works well on its own as a boost, but the real magic happens when you use it to kick up the plexi side a notch, which can make the output so completely juicy and saturated that it's hard to switch it off again. It's very tasty stuff.
The Verdict
The PlexiRanger executes its mission beautifully. It might all lean a little bright for some tastes, and it can take a little practice to master the boost circuit's freq and range knobs. But the sum is a super-wide range of tones brimming with sweet spots. A warning though: it may be difficult to go back to single-function overdrives after spending some time with this one.
Watch our demo of the Carl Martin PlexiRanger: