Photo by Chuck Brueckmann
On the band's new album, Pawns & Kings, its creative leaders prove the virtues of deep songwriting, tube amp tones, PRS guitars, and hard work.
On top of having all the trappings of an epic rock band, Alter Bridge, who've just released a new album called Pawns & Kings, has the necessary talent and magnetism to back them up. Just look at the lineup: Their charismatic frontman, singer/guitarist Myles Kennedy, is considered among the best vocalists in modern rock; guitarist Mark Tremonti is not just heroic on the instrument, but virtuosic; and together, Brian Marshall's melodic bass playing and drummer Scott "Flip" Phillips' Bonham-like power generate megawattage.
Tremonti, Marshall, and Phillips are also founding members of Creed, one of the biggest rock bands of the past few decades. Kennedy is the singer for Slash's solo band. And, Kennedy and Tremonti have also been enjoying successful solo careers: Tremonti just released Tremonti Sings Frank Sinatra, recorded with Ol' Blue Eyes' surviving bandmembers and benefitting the National Down Syndrome Society.
Alter Bridge - Holiday (Official Video)
Clearly, Tremonti and Kennedy have their creative engines in high gear. "It's an addiction," Tremonti explains. "You write that song that makes your hair stand up, and you want to do it again. It's the same with anything creative, whether writing a song or book, or painting a picture. It is like a drug."

As Kennedy points out, the trick is balancing that addiction with the signature sound they've created for the past 20 years. "We're nearly two decades in, and we have a good understanding of what boxes to check and what our fan base wants to hear. It's that delicate dance of making sure that they're content and that we're also still pushing ourselves."
"I started as a guitar player. Lead, in particular, was my big passion growing up."—Myles Kennedy
For many fans, Alter Bridge's second release, Blackbird, defined the band's sound. It took everything they loved about the first record, One Day Remains, and made it bigger, darker, and more complex—epic, in a word. The title track clocks in at over 7 minutes long and pits Kennedy and Tremonti against each other in one of the best guitar duels in recent rock history. Since then, each Alter Bridge record has kept on this path, piling on more and more heavy, melodic elements. But there is a limit, and on Pawns & Kings, the band was ready to make a change.
"If you listen to some of the prior records, there were a lot of textures and elements weaving through," explains Kennedy. "The other day, I was reviewing one of the songs from [2016's] The Last Hero. I was listening on headphones and was like, 'I didn't even know that keyboard part was in there!' We pulled all that out of this record. 'Less is more' was the motto."
Tremonti adds, "We decided, 'Let's get back to our old way of doing things.' We want it to be more just the guys playing their instruments. No orchestration underneath. No pads. Just us. It gives it more depth, and everything else has more room to breathe."
Alter Bridge - Pawns & Kings (Official Video)
That choice worked out in their favor, and on Pawns & Kings, Alter Bridge's songwriting, musicianship, and crushing guitar tones are more in your face than ever. The band's longtime producer Michael "Elvis" Baskette—who has also worked with Creed, Mammoth WVH, Sevendust, and Slash—was crucial to the creative process.
"[Elvis is] such an important element," says Kennedy. "He's an incredible producer. He can get great tones, and he has a really great arrangement ability. More than anything, he understands the psychology of making records. That's so much of what this process is about."
Baskette, who's manned the board for Alter Bridge since Blackbird, knows exactly what the guys are capable of, and he had them dig deep. "I think it's our densest record by far," says Tremonti. "It's a lot to take in on first listen."

Kennedy adds that "we've integrated more of a demoing process, where each guy will go to his corner and spend time on the ideas that he feels strongest about before presenting them to the band." He names the new track "Sin After Sin" as an example of this recent dynamic. "It was this musical bed that Mark had, and then I came up with some lyrics, melodies, and whatnot."
"Usually, when it's the heavy, chunky stuff, I'll track that first, and then Myles will track a lot of his atmospheric, effected stuff." —Mark Tremonti
Although both musicians have a similar writing process, how their diverging styles meet creates the band's trademark sound. For Tremonti, a die-hard metalhead, it's about exercising those tendencies outside the band while opening the floodgates for Alter Bridge. "Usually, when I write for Tremonti [the name of his solo project], I try to put on my speed-metal hat. That's when I get to pull out all my childhood metal influences. I love that stuff, so it's always fun. Other than that, I like to write whatever comes out."
Kennedy tends to follow a more traditional singer-songwriter approach, as heard on Alter Bridge's acoustic staple, "Watch Over You," from Blackbird. But he's not afraid to branch out, even lacing his debut solo album, The Year of the Tiger, around gritty resonator-guitar blues. But this time, one song, "Holiday," with its old-school rock vibe, seemed like a step too far.
"I almost didn't even present it to the band," he admits. "I played the demo to our producer, and he's like, 'Oh, that's going on the record! It's got that swing and that swagger.' I'm glad he helped."
Mark Tremonti's Gear
Tremonti digs into one of his PRS signature guitars, which are made from mahogany with a flamed maple top, have a thin set neck, medium jumbo frets, and PRS Tremonti Humbuckers.
Photo by Chuck Brueckmann
Guitars
PRS Mark Tremonti Signature
PRS Custom Baritone
Martin acoustics
Taylor acoustics
Ramirez classical
Amps
PRS MT 100 Signature prototype
PRS MT 15 Signature
Dumble Overdrive Special
Cornford RK100
Mesa/Boogie Oversize 4x12s
Effects
Morley Mark Tremonti Wah
Ibanez TS808HW Handwired Tube Screamer
MXR Uni-Vibe Chorus/Vibrato
Boss OC-5 Octave
MXR Smart Gate Noise Gate
Picks and Strings
Dunlop Flow 1.3 mm
D'Addario (.011–.052)
The guitarists trade leads on tracks like "Dead Among the Living" and "Last Man Standing," and Tremonti says they take very different approaches to the stage and studio. "I was never one of those guys who likes to stay up late at night, break out a million pedals, and experiment with tones. So, usually, when it's the heavy, chunky stuff, I'll track that first, and then Myles will track a lot of his atmospheric, effected stuff."
With Tremonti and Kennedy at the top of their game as guitarists and vocalists, one constantly pushes the other, elevating the band. "Stay" stands out as an example, "because it's a major key, it's very anthemic, and you have Mark singing," relates Kennedy. "He was insecure about his vocal, and I remember telling him to stop that nonsense [laughs]. His voice is great, and because I'm more of a tenor, there's a nice blend there.
"I started as a guitar player," Kennedy continues. "Lead, in particular, was my big passion growing up. The only reason I ever started singing was that it was easier to sing [my own songs] once I started writing them. When Mark discovered that I played lead guitar, he always pushed it. It's the same nudging I did with him and his vocals."
For their latest album, Alter Bridge scrapped their usual textured approach for a stripped-down-but-strong framework. "We want it to be more just the guys playing their instruments," Tremonti declares.
"I know that everything I throw at Myles, he's capable of doing," Tremonti adds, "and he's going to fill a different sound. He's got a signature sound. It adds another layer for the band."
Guitar tone is a big deal in Alter Bridge. Tremonti was Paul Reed Smith's second signature artist and helps design every piece of gear that bears his name. Although his PRS Mark Tremonti Signature rarely leaves his hands, a different PRS delivered Pawns & Kings' heaviest moments. "I have a baritone that we used almost all the time," Tremonti says. "Anything tuned low is that guitar. When I brought it into the studio, Elvis was like, 'No shit! I used that when I recorded Limp Bizkit.' Then, I was doing a show with Limp Bizkit, and Wes [Borland, Limp Bizkit guitarist] came over. He's like, 'Is that what I think it is? Is that the baritone? Shit, that's a great guitar!'" Tremonti and PRS have also collaborated on the MT 15 amplifier. The lunchbox-style head is a favorite for its percussive high gain and clean channels. Pawns & Kings also offers the first hearing of the upcoming PRS MT 100, a 100-watt signature version that even dethroned Tremonti's beloved Mesa/Boogie Rectifiers for the sessions.
Myles Kennedy's Gear 
Myles Kennedy is a double threat: a great rock vocalist who can also shred like a maniac when called upon to do so.
Photo by Chuck Brueckmann
Guitars
PRS SC245
PRS Custom Singlecut
Amps
Diezel VH4
Diezel Herbert
Dumble Overdrive Special
Diezel 4x12
Effects
Custom Audio Electronics Wah

EHX Micro POG
Boss RV-6
Foxrox Octron3
Reeves Klon clone
Line 6 MM4 Modulation Modeler
Picks and Strings
Dunlop Ultex 1.14 mm
D'Addario (.011–.052)
"I just approved the final version," Tremonti says. "The clean channel, to me, is the ultimate clean channel. I pulled out all my Fender Twins, played through them one by one, and found my favorites. But when I played them back-to-back with the MT 100, I preferred the MT 100. The third channel is the overdrive channel, and it's badass. I wanted it to be all I'd ever want at my home, studio, and on tour. And I made the middle channel an overdriven Dumble-ish kind of thing."
Kennedy is also a PRS devotee, and has leaned on his trusty tobacco burst SC245 for years. While he did experiment with a Fender Telecaster for Alter Bridge's 2019 Walk the Sky album sessions and tour, he's replaced that instrument with another PRS. "There's this one-off PRS made me last year," he says. "It does a lot of the things I wanted it to do in the Tele realm. It's a black Singlecut, and that is what I played on 80 percent of this record."
"We decided, 'Let's get back to our old way of doing things.' No orchestration underneath. No pads. Just us." —Mark Tremonti
Kennedy is also passionate about his amps, and chose to go with Diezel Herberts and VH4s long ago. "It was really challenging to find a setup that worked with Mark's," he says. "There's a wide amount of frequencies being used. It was a matter of finding a nice middle ground that complemented what he did."

Kennedy and Tremonti remain unabashed high-powered-tube-amplifier fans. "Mark and I still want those tubes to be working," Kennedy says. "We're kind of old school in that sense. Our manager, I'm sure, would love us to switch to Kempers to save a ton of money. But we're kind of bullheaded. We'll keep flying the flag, man."
Rig Rundown - Alter Bridge's Mark Tremonti & Myles Kennedy
Tremonti also notes, "I did half of a tour with a Kemper at one point, just to try it out. I never found the right lead setting that made me comfortable. I always felt some digital weirdness in there. When I switched to my MT 100, I wouldn't go back. So, on the road, it's just the one MT 100 now."
All in all, Alter Bridge are still decidedly old-school in their business strategies: record, tour, work hard, repeat. "It was hard enough once people stopped buying physical copies of records, and then you add the way the world's changing," Kennedy says. "Being a musician … you got to work hard. But we're in Munich right now, and it's like, 'So far, so good.' It's kind of blowing our minds that people are showing up. It's been great!"
From left to right: Scott Phillips, Mark Tremonti, Myles Kennedy, and Brian Marshall make for a powerhouse collective that shows no sign of relenting in their epic delivery of hard rock.
Photo by Chuck Brueckmann
But does that kind of work ethic have a breaking point? "To be totally candid, there was a period when I was afraid that could happen," admits Kennedy. "I was like, 'You know what, I did three records back-to-back-to-back. I've got to shut this down for a little while and let the well refill'—which is weird for me. Usually, once a record's done, I'm already on to the next one."
Tremonti hasn't stopped long enough to think about it. "I remember watching an interview with Carl Verheyen," who was a member of Supertramp and has recorded with Dolly Parton, the Bee Gees, and a host of others. "He's like, 'I'm a professional guitar player. I don't go a handful of days a year without playing the guitar.' That struck me. Now, I try to make sure that when I'm gone from home, I'm working all the time. Every day I'm practicing for the next Sinatra shows. I've got two coming up after this tour, and I have another one in March. I'm trying to book as many as I can. I'm also writing a book, which is taking up most of my time at the moment. Then, I'm writing songs for whatever happens next, trying to stay ahead of things."
Alter Bridge Blackbird Live From Amsterdam
Photo by Tristan Williams
On her debut solo album, Activities, the in-demand bassist flexes feel over flash, converging her upright roots with electric bass playing to make songs that transcend genre.
"I've never been particularly interested in listening to people shred on the bass," explains bassist/composer Anna Butterss. "It's certainly impressive, but it doesn't hit me emotionally at all. I'm more interested in how the music feels." How the music feels perfectly encapsulates the sonic and stylistic kaleidoscope that is Butterss' debut solo release, Activities. Released on June 24 via Pete Min's Colorfield Records, Activities represents the musical culmination of the different ideas, concepts, and aesthetic choices that Butterss has been exploring in recent years.
Aside from Butterss' impressive formal musical education on upright, and the subsequent following she's gathered in the jazz community, she's also now five years into playing electric bass and has performed with Aimee Mann, Phoebe Bridgers, and Bright Eyes, among others. These alternative musical experiences permeate the songs on Activities just as much as her work with jazz luminaries Makaya McCraven, Jeff Parker, and Larry Goldings.
Doo Wop
Anchored by Butterss' kinetic bass playing, the multi-layered soundscapes of Activities effortlessly fuse these seemingly disparate musical genres. Labeled as experimental/ambient jazz, Activities certainly fits that description, but the record also incorporates indie- and world-music elements, and emphasizes atmosphere and composition over all else. From the opening East Asian vibes of "Entrance" to the alternative rumble of brooding synths on "Super Lucrative" to the gorgeous jazz-chamber-like ode of "Blevins" to the creeping, crawling, avant-garde upright bass exercise of "Do Not Disturb," Butterss' deftly demonstrates that feel is the definitive muse fueling her creative output and connecting the dots between her broad musical tastes. "I've gone between playing a lot of different styles of music," she admits. "And that seems to have converged pretty organically on Activities, which I'm happy about."
Butterss started out on upright when she was just 13. She got into what she calls "the nitty-gritty" of playing the upright bass, "a complicated and difficult instrument," first at the University of Adelaide in Australia (where she's from) and then at graduate school at Indiana University in Bloomington. She majored in Jazz Bass at both. She also spent much of those formative years learning classical music and playing in orchestras. Though she "dabbled" in electric bass on and off during that time, she didn't seriously start playing it until about five years ago, after settling in Los Angeles. "I started getting interested in indie-music styles," she recalls. "It's not like they necessarily require electric bass, but I felt I'd have more opportunities to play a wider range of music. So, that was the impulse."
"My dear friend Paul Bryan, who's a great bass player, and producer and writer, sat down with me and was like, 'Look, this is what you should buy. This is a good deal, buy this one.'"
Though there are obvious similarities between upright and electric bass, but Butterss says learning to play the latter was like learning a different instrument. "The tuning is the same, the strings are the same, and I guess the function that they play in the music is the same," she explains. "But that seems really surface-level when you're dealing with a totally different timbre and a totally different texture. I was surprised at how different they were. I started not thinking of them as related in any way."
She describes the upright bass as the instrument that she feels the most comfortable on, and the one where she has already developed a sound. When she started playing electric bass, she had to start from square one in learning how to play it. "For the first two years, it really felt like I could play the instrument—I knew where the notes were, I could execute things that I needed to execute in whatever song I was playing, but I don't know if I necessarily felt like I had a concrete sound or style on the instrument the same way that I did on upright, so that's definitely been a work-in-progress."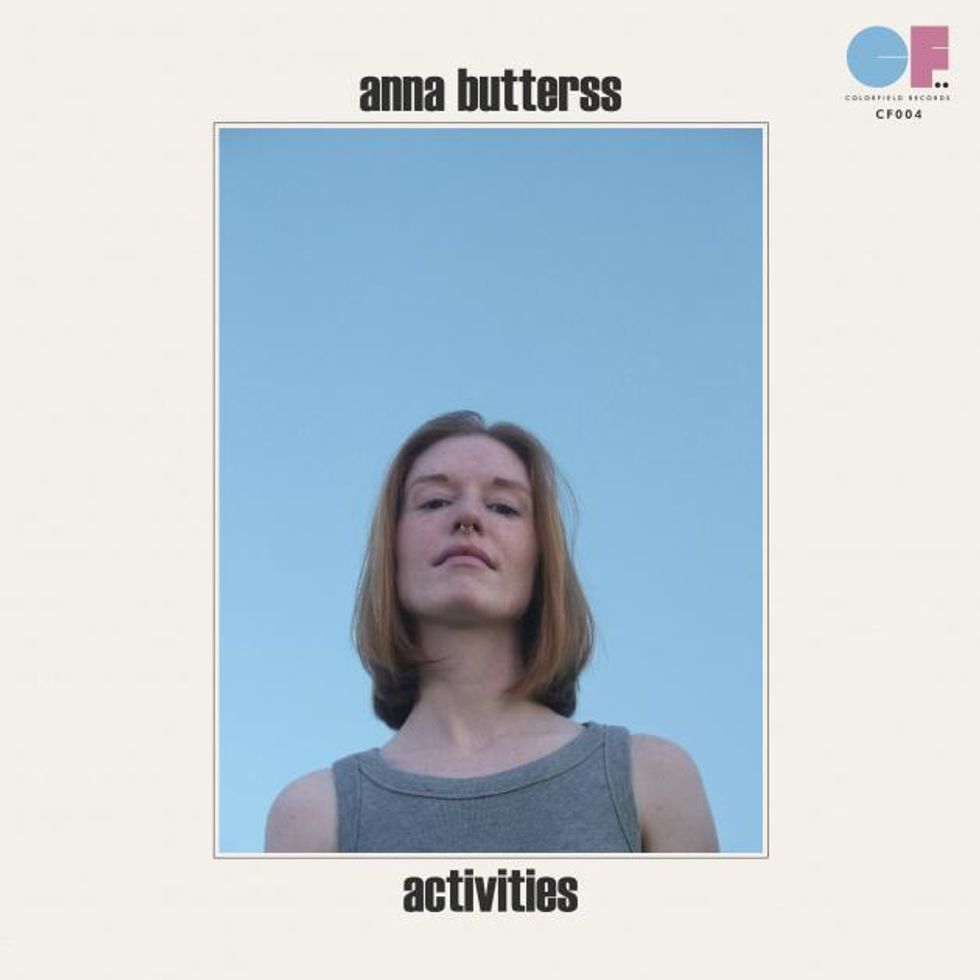 Anna Butterss recorded her solo debut, Activities, with Pete Min at his studio, Lucy's Meat Market, in Eagle Rock, California.
When it comes to other bass players, Butterss admits she's never really been one for direct influences but does namecheck a few OGs of electric bass. "When I started getting into electric bass, I was listening to Willie Weeks, some James Jamerson, a fair amount of Meshell Ndegeocello, who is someone I'm always listening to a fair amount of, really [laughter]," she chuckles. "I listen to a lot of things, and maybe one particular moment or feeling from one song on one record will stand out to me and I'll carry that with me, but it's never like, 'Okay this is the bass player I'm going to play like.'"
The first electric bass she bought was an old Kay K-5924 Semi-Hollow Body from about 1966 or '67 that she still uses. "I bought it because my dear friend, Paul Bryan [Aimee Mann, Rufus Wainwright], who's a great bass player and producer and writer, sat down with me and was like, 'Look, this is what you should buy. This is a good deal, buy this one.' He was a mentor and someone whose sensibility on the instrument I've always appreciated—maybe not specific things about the way that he played, but his general approach to the instrument definitely influenced me."
Anna Butterss' Gear
Butterss is an in-demand bassist who has played with Phoebe Bridgers, Aimee Mann, Jenny Lewis, Madison Cunningham, and more.
Photo by Zach Caddy
Basses
Kay K-5924 ('66 or '67)
Guild Starfire II
1930s German-made upright bass (unknown maker)
Realist LifeLine Upright Bass Pickup
Strings, Picks & Accessories

LaBella 760FS Deep Talkin' Flats (electric)
Pirastro Evah Pirazzi Slap (upright)
Dunlop Tortex Standard 1.0 mm and 1.14 mm
Mono Bass Cases
Effects
MXR M234 Analog Chorus
MXR M133 Micro Amp
Electro-Harmonix Micro POG
Moog Minifooger MF Delay
Amps
Aguilar Tone Hammer 500 (head)
Aguilar SL 112 (cabinet)
For recording Activities, Butterss went mostly direct with the electric bass. She did bring one of her own basses and played it on one song, but because Activities was recorded at Pete Min's studio, Lucy's Meat Market in Eagle Rock, California, she had a lot of "really interesting instruments" at her disposal.
"At the start of the recording process, I was gravitating towards all these semi-hollow-bodies, like Kay and Harmony basses, with really warm sounds," she attests. "And by the end of the record, everything I was playing was like Jazz bass with the tone rolled all the way off. I got all that warmth out of my system [laughter]."
"By the end of the record, everything I was playing was like Jazz bass with the tone rolled all the way off. I got all that warmth out of my system [laughter]."
One of the recording/mixing strategies Butterss and Min utilized for several bass tracks on Activities was to record the electric bass, convert it to MIDI, and then layer synths on it. "Limitations and Dogma," for example, which also employs a chorus effect on the bass, displays this technique. "I recorded the electric bass part, which is kind of like a solo, and then we converted it to MIDI and layered some synths on it, and then switched those in and out," explains Butterss. "We did that on 'The Worst Thing You Could Do for Your Health,' too."
On "Ben," she stumbled across a happy accident. "On the part at the end, I'd been playing something with an overdrive pedal on guitar and we just plugged the bass into the same [signal] chain, and I forgot to turn off the overdrive, so we started tracking and the bass came in super-hot and distorted, but it ended up being a really cool sound."
Anna Butterss started playing upright bass at age 13 and studied jazz bass at both the University of Adelaide in Australia (where she's from) and Indiana University in Bloomington.
Photo by Ted Miller
While the aforementioned tunes exemplify Butterss' approach to tracking electric bass, "Do Not Disturb" epitomizes her upright sound and technique. Raw, aggressive, and frighteningly fierce, it captures the rhythmic nature of her ability that makes her so desirable to others as a side person.
"I had an idea about how I wanted that song to feel, and I started it on upright, trying to get a weird, creepy, kind of messy-but-driving crazy feeling, and it was really hard to do it," she explains. "I was in there for a while trying to figure it out, and then Pete and I listened back in the control room, and it's just me, trying, and then stopping, and then swearing a little bit and then trying again, and, at some point, I'm just like, 'How do you do this?' So, we ended up splicing it together, which is what I wanted to do anyway. I wanted it to feel organic, as in acoustic, but also with this weird element of robotic-ness. There's something alien about it. I wanted it to sound more like a sample, rather than something that we just recorded acoustically with a beautiful sound. And then we converted it to MIDI and layered a synth on top of it to make it sound even weirder. I really wanted it to feel like a hybrid of that fundamental acoustic sound with all these extra layers on top of it."
"I wanted it to feel organic, as in acoustic, but also with this weird element of robotic-ness—there's something alien about it."
When it comes to playing someone else's music, whether jazz, indie, or otherwise, Butterss says she needs to be thinking about what they want in their music rather than anything to do with the technical aspects of bass playing. "I'm lucky in that most of the people I work with now, at this point in my career, call me because they want me to have my own musical opinions and my own input within their music," she says. "I feel like I do have a lot of freedom to follow my own instincts."
Circling back to her earlier sentiment about preferring to follow her senses over shredding, she concludes that she's at her best when she's thinking about music as "an act of service. The more I can think of the broader impact of the whole musical landscape, rather than thinking about whatever I'm playing on the instrument, technically speaking, I think the better it is."
YouTube It—Jenny Lewis: NPR Music Tiny Desk Concert
We're rounding out Pedalmania 2022 with 4 more great pedals! Enter below.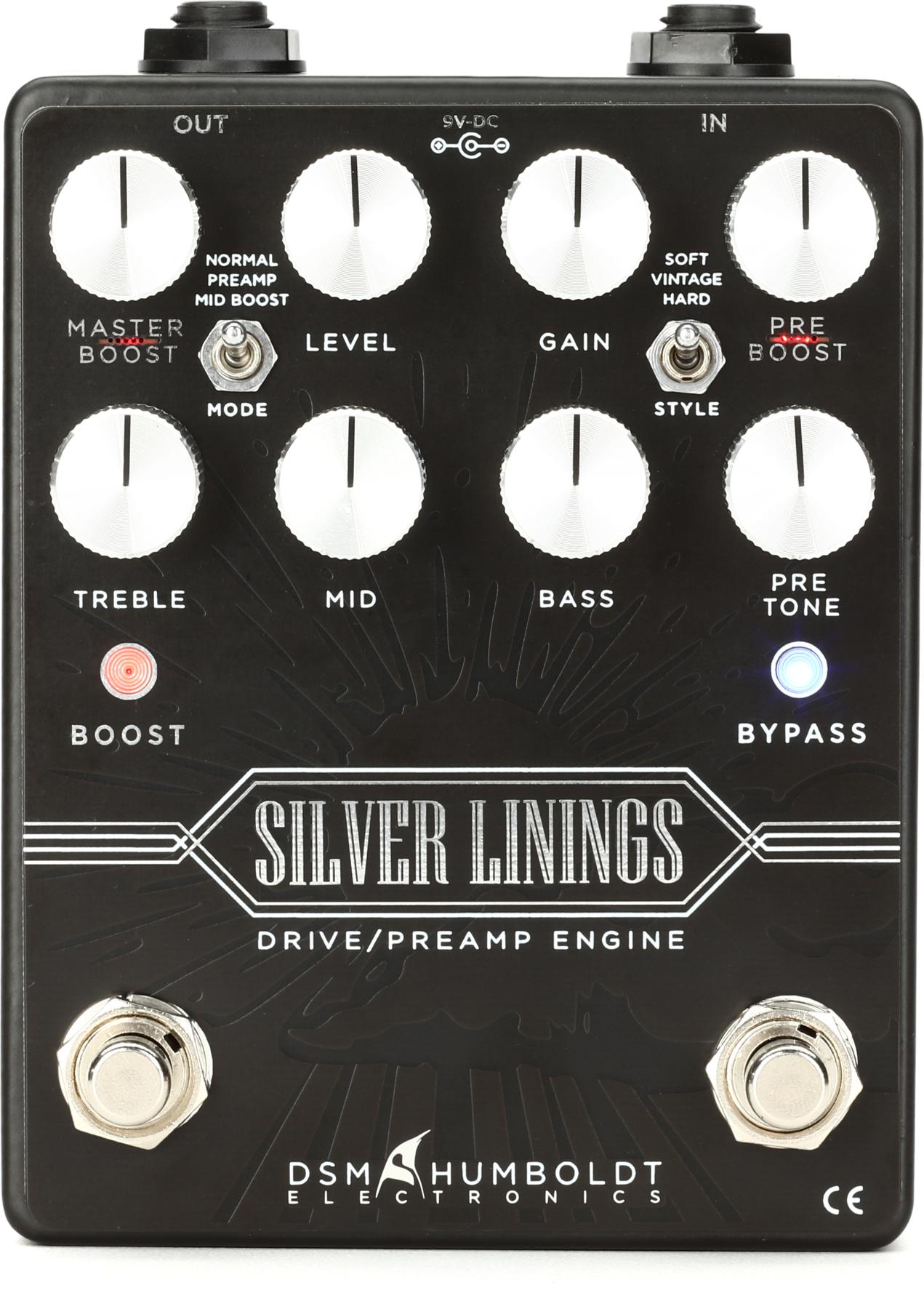 The Silver Linings drive/preamp pedal easily adapts to your playing style, whether that's blues, pop, rock, or something in between. With a wide range of tones, this pedal rivals digital modelers; only, the Silver Linings provides immediate response with dynamics you can only draw out of analog circuits. And with three style switches, you're set for a journey filled with low-gain ballads and sonic bedlam.
DSM Humboldt Electronics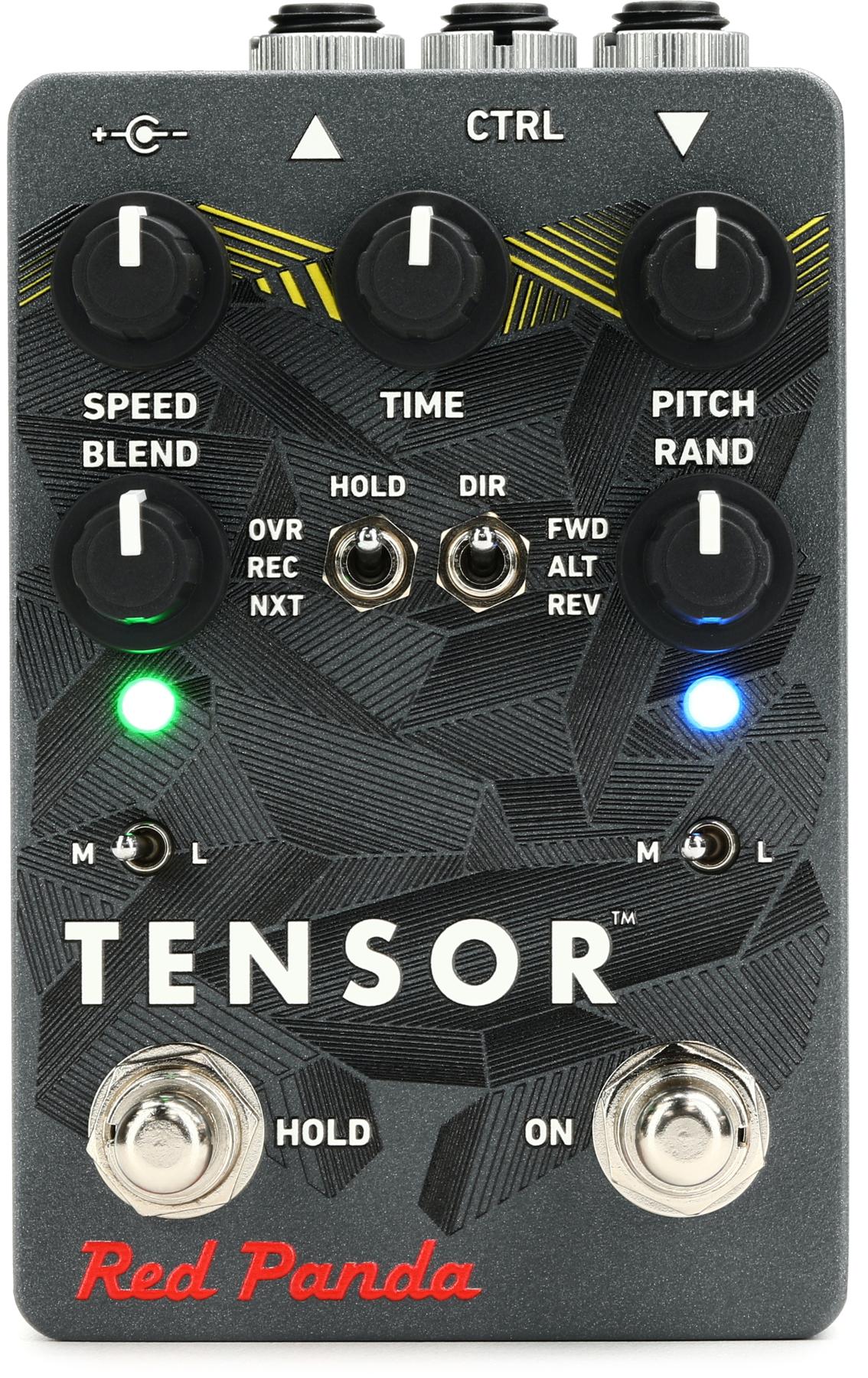 The Tensor™ gives you live reverse and tape stop effects, pitch shifting, time stretching and hold functions that you can combine in creative ways. Slow down, speed up and rewind in real time. Stretch or compress time with no pitch change. Loop, overdub, and randomly slice phrases up to 9.4 seconds (4.7 seconds in stereo).
Intelligent randomization adapts to the knob settings. The results range from occasional CD skips, stutters, and rhythmic repeats to random slicing and erratic pitch shifts. Both foot switches have momentary and latching modes to inject pitch jumps, glitches, or instantly rewind what you just played.
The Tensor™ is in a pedalboard-friendly enclosure with all jacks on top. All controls are immediately accessible with well-spaced knobs for live tweaking, and USB MIDI for recording and sequencing.
Red Panda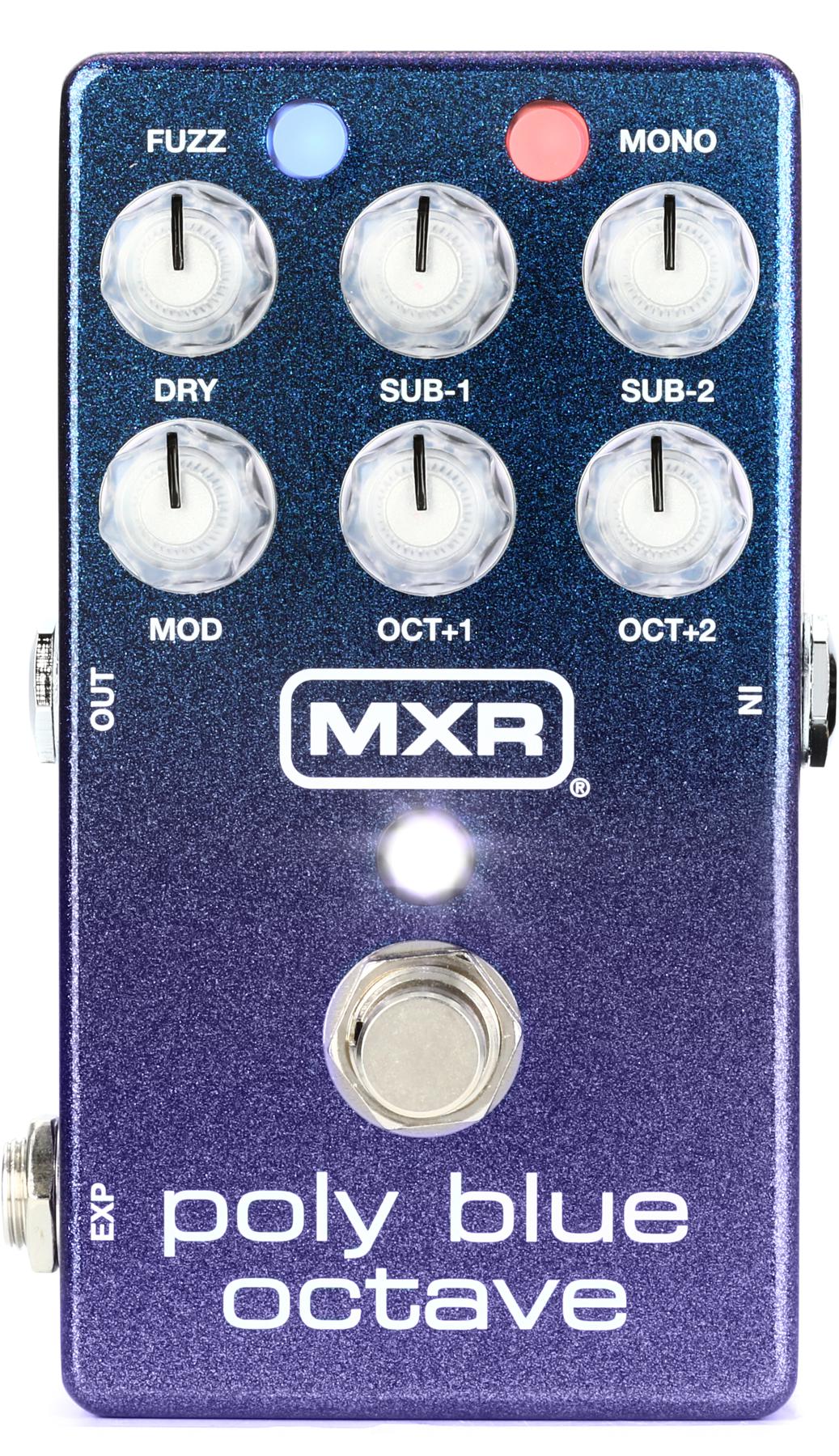 The MXR Poly Blue Octave brings modern and classic pitch-shifting styles together with fuzz and modulation to create the ultimate octave pedal for tonecrafters and sonic seekers.
The MXR® Poly Blue Octave is powered by a 9-volt AC adapter such as the Dunlop ECB003/ECB003EU or an MXR BrickTM Series power supply. This pedal cannot be powered by a battery.
MXR
Meet FRED = Filter + Resonance + Envelope + Distortion. FRED is amplifying, twisting and swirling frequencies in sometimes chaotic ways and will sometimes lead your tone into many unpredictable directions. FRED is very sensitive to what you feed it with. It was originally designed for Electric Bass Guitar but turned out to be fun to play with any signal coming into it. Chasing the perfect tone is a never-ending task and when the technical side is satisfied, the aesthetics are in line. This pedal is a creative Envelope Filter and with its wacky sound color it will spice up your guitar tone by adding a certain dose of vocal characteristics. For the grit lovers an overdrive signal path is included and accessed by pressing the MOD button, which in combination with the Envelope Filter generates pronounced distortion, especially in the bass frequency range.
Product specific:
The dynamic envelope sweep is controlled by the Reflex knob and determines the accent's location - low setting responds slower with pronounced bass and high setting resounds fast with sharp sound. The strength of the accent is determined by the strength of the pluck / strum.
• SPEED 4-way rotary switch - controls the release time which affects the auto wah function;
• REFLEX pot control - chooses the frequencies that will be included in the sweep;
• MOD illuminated switch - overdrive signal path.
• ON/OFF footswitch,
• True bypass;
• IN and OUT original Cliff jacks;
• DC power input.
ZUTA