Photo by Jesse Kreizer
The post-punk 6-string hero takes a deep dive into sonic surrealism with his new album, a loop-driven collection of riveting soundscapes called Eight Dream Interpretations for Solo Electric Guitar Ensemble.
If you ever find the opening to ask a composer or producer what it means to "paint with sound," be prepared to frame the question in as many different ways as there are colors in the visible spectrum. Inspired by synaesthesis? Could be. Maybe a deep dive into abstract free-form improv? Sure, always worth a shot. What if you commit to exotic tunings or unconventional music theory? Or how about a mash-up of prepared instruments with some radical effects processing and tape manipulation?
We can do this all day, but before we lean into an "all of the above" approach, consider this: The only limit, really, is your imagination—or, more suggestively, your dreams. "There's a way to get to that psychedelic state without actually taking psychedelics, which is useful," Roger Clark Miller explains, with just a glint of conspiratorial humor. Given his illustrious history as a post-rock guitar guru and multi-instrumentalist with influences that range from '60s acid rock to avant-shred to modern classical, Miller is intimately familiar with what it takes to push any and all boundaries in search of the music he hears in his head.
"The first time that I actually did something interesting with it was back in art school," he recalls, paying tribute to his teacher Denman Maroney, a legendary jazz outsider known for his work with prepared piano. "He saw my interests and thought I'd probably like surrealism. Up until then, my idea of surrealism was taking acid [laughs]."
After reading André Breton's surrealist manifestos (the second one, in particular, which touches on dreams as a creative reservoir), he set about applying the techniques to making music—and ran into a roadblock. "Breton actually said because music isn't so specific, it can't be surrealistic. And that kind of pissed me off. I was looking for a way to compose, and I didn't want to use what had come before. I thought, well, if I make music based on dreams, then I can create a surrealistic music, and bypass Breton's megalomania—as much as I respect him! This gave me access to a very organic structure. Everybody dreams, and there are forms to it."
Miller's jauntily titled Eight Dream Interpretations for Solo Electric Guitar Ensemble, released earlier this year on the Cuneiform label, is in many ways the culmination of the technique he started developing back in 1975, when he created his first piece for solo violin. Miller has kept dream journals for decades, and uses them primarily as a non-linear source for ideas that he fleshes out into musical compositions. ("I don't actually hear music unless it was part of the dream," he points out.)
"This kind of music rewards attentive listening because it's really composed and thought-out, so you're not gonna be bored."
If all that sounds a bit abstract and even esoteric, keep in mind this is the very same guy who co-founded Mission of Burma, one of the most viscerally immediate post-punk bands to come out of Boston's raucous underground scene in the late '70s and early '80s. Back then, Miller adopted the much reviled Fender Lead I as his axe of choice, figuring he could put his personal stamp on it. As it turned out, the guitar's cheaper construction and single split humbucker was perfect for sculpting an angular, aggressively jagged, but still bluesy sound through a vintage Marshall JMP-50 combo.
Miller was also a founding member of the somewhat kinder and gentler group Birdsongs of the Mesozoic, in which he played piano. (Due to his early struggles with tinnitus, he had to bow out of Burma in 1983, but the band reunited in 2002 for four more albums.) All this history and plenty more feeds back into the making of the Dream Interpretations, for reasons that Miller loves to elucidate.
Miller's goal for his new album was to bring his surrealistic dreams in sound to life. His most recent tools for this task include three Rogue RLS-1 lap steel guitars and a Boomerang III looping system, which he uses in tandem with the Side Car controller footswitch.
"With my friend Martin Swope," he says, name-checking Mission of Burma's resident sound technician and live-tape-looping scientist, "like everybody, we were pretty fascinated with Brian Eno's work at that time. Martin wanted to do a Robert Fripp and Eno style thing, so he had me play this amorphic, modal piano piece that I wrote, and he made these guitar loops going around and around. That was for Birdsongs, but he and I had worked like that on the song 'New Disco' [for Burma]. That's how he became part of the band."
Over the years, Miller folded what he learned from Swope into the sound he was chasing. In the early '80s, he acquired an Electro-Harmonix 16-second digital delay. "It's truly one of the most unique devices ever made," he says. "It's so unique that I used it as my pivot for quite a few years. I still have it, but its biggest drawback is the memory. If you make something longer than a two-second loop, the fidelity degrades. Back in 1983, memory was not cheap."
"With looping, you can hear a sound and you don't know when it happened or what instrument did it."
The effect figured prominently in the making of his 1995 solo slab, Elemental Guitar, which he tracked using what was then a recently acquired '62 Strat reissue. The album also features two pieces, "Dream Interpretation No. 7" and "Dream Interpretation No. 8," that Miller considers to be successful precursors to his current album.
More than 25 years later, Eight Dream Interpretations opens with "Dream Interpretation No. 16," a chilling excursion that suggests a serpentine path being resumed, although much has changed in the interim. For starters, Miller has added three Rogue RLS-1 lap steel guitars to his arsenal: one tuned to unison E and used exclusively for slide parts, and the other two prepared with alligator clips and strung with different gauges to capture a wider palette of tones. He's also mothballed the Electro-Harmonix in favor of a Boomerang III looping system, which he uses in tandem with the Side Car controller footswitch.
Roger Clark Miller's Gear
Besides looping and other effects, plus his trusty Stratocaster, Miller relies on a trio of lap steels to create his celestial soundscapes—in three different tunings.
Photo by Roger Clark Miller
Guitars
1990 Fender Stratocaster ST62 reissue (made in Japan)
Rogue RLS-1 lap steel (three: one tuned to unison E and used as a slide guitar, two others prepared with alligator clips)
Amps
Fender Deluxe Reverb (two)
Sunn bass head with 610L cabinet
Peavey Classic 50 410 combo
Walrus Audio MAKO Series ACS1 Amp and Cab Simulator
Effects
Electro-Harmonix 16-Second Digital Delay
Boomerang III Phrase Sampler with Side Car controller
TC Electronic Brainwaves Pitch Shifter
TC Electronics Rush Booster
Electro-Harmonix East River Drive
Source Audio Kingmaker Fuzz
Ernie Ball stereo volume pedal
Strings & Picks
Ernie Ball Regular Slinky (.010–.46; Strat)
D'Addario EXL 157 (.014–.069; lap steel)
D'Addario Medium EXL 160 (.050–.105; lap steel)
Dunlop Max-Grip .73 mm
Along with his trusty Strat, when Miller seats himself behind the Rogues it's as though he's strapping in for an interstellar journey at the helm of a homemade time machine. And the music comes across that way, from the dueling dive-bombing waves and high-pitched jet washes of "No. 19" to the softly percussive melodies and clean, pitch-shifted guitar lines of "No. 18." (The tracks are sequenced as any album would be, not in numerical order, but according to the listening experience Miller wants to establish.) Outfitted with various effects that he dials in with the precision of a surgeon, Miller literally choreographs each move he makes to create the music. It's mesmerizing to watch him in the video, directed by filmmaker Jesse Kreitzer, that accompanies "No. 17"—a wildly cinematic and soundscape-y piece that's driven by a persistent, pulsating rhythm and a haunting sci-fi melody straight out of vintage Doctor Who.
When asked about influential recordings that have inspired him, Miller's tastes run eclectic, to say the least. Fred Frith's groundbreaking Guitar Solos album, an experimental classic, is "just an amazing work. I learned about using alligator clips from that album." And then there's the 1982 minimalist epic Descending Moonshine Dervishes by Terry Riley ("the first honest looper," he says). But when it comes to specific guitar players, there are two in particular who move him to rapture.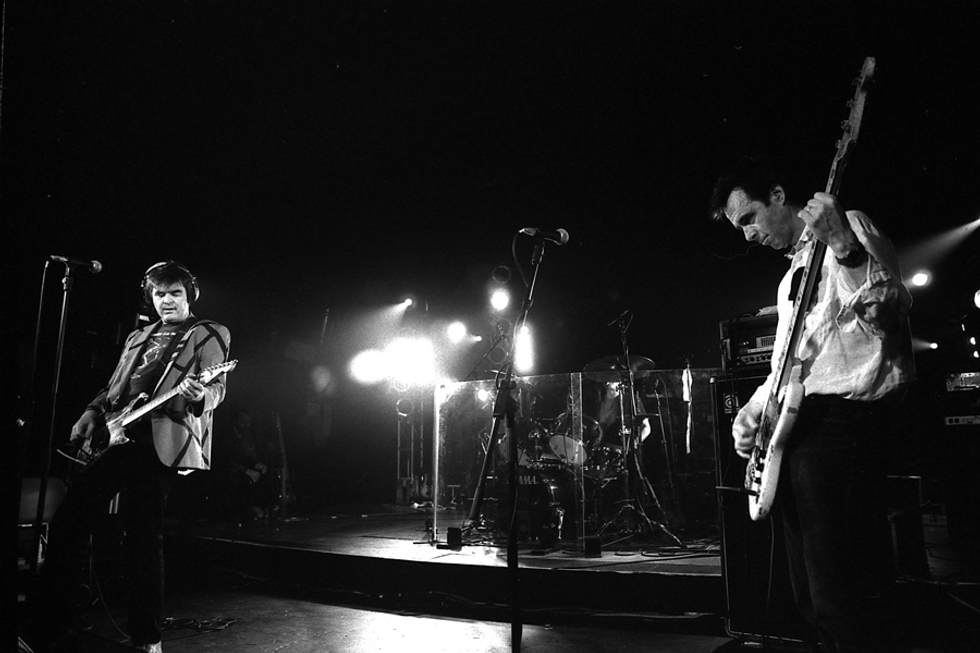 The reunited Mission of Burma—guitarist Roger Miller, drummer Peter Prescott, and bassist Clint Conley—at the All Tomorrow's Parties festival in London, England, in 2004.
Photo by Neonwar/Courtesy of Wikipedia Commons
"See, I'm a little older than some of your readers here," he warns, "but I came to my creative start during psychedelia and the British Invasion, so my heroes were Syd Barrett and Jimi Hendrix. I mean, Jimi was like a bolt of electricity from who knows where. He embraced the electric guitar as an instrument that could explain all sorts of alternate realities, and he wasn't the first to use feedback, but he walked into it with complete conviction and cut a path for others to follow.
"And whereas Hendrix was a true guitar master, Barrett was considerably less skilled, but his vision, when operating on all cylinders, just transcended the limitations. For him, sound and vision were more important than technique. He was also a painter, and that may well have had something to do with it—painting with sound indeed! His solo on 'Take Up Thy Stethoscope and Walk' was once described to me as the ugliest guitar playing anyone had ever heard. Not for me!"
"I came to my creative start during psychedelia and the British Invasion, so my heroes were Syd Barrett and Jimi Hendrix."
With ears wide open, Miller is constantly exploring new directions. His most recent composition, the nearly self-explanatory Music for String Quartet and Two Turntables, has just been recorded with members of Boston's Ludovico Ensemble. He also has a new album in the can with Trinary System, the rock trio he founded in 2013, planned for release next year. Whether he's painting with sound or testing the very elasticity of time, his multidisciplinary method of mining his dreams and looping the sonic events of his waking life continues to yield dividends.
"I don't really think about it per se," he clarifies, "but certainly with looping, you can hear a sound and you don't know when it happened or what instrument did it. That's when looping messes with time. And then in dreams, time is elastic, too. So perhaps it's a mixture of those things. To me, this kind of music rewards attentive listening because it's really composed and thought-out, so you're not gonna be bored. But it does also work for me as an atmospheric, swirling clouds-in-the-room kind of thing. That makes me happy."
Mission of Burma - Laugh The World Away (Live on KEXP)
Photo by Alex Morgan
For their 15th album, the death metal pioneers double-down on their trademark bone-crunch and add longtime producer Erik Rutan on guitar.
As extreme metal continues to splinter into infinite niche genres and thrash metal's heroes steadily mosh towards the pastures of classic rock, it's the right time to re-examine the legacy of the bands that initiated metal's big push towards the outer reaches of its sonic margins. Much of the guitar content on social media these days is comprised of young players shredding and djenting away on extended-scale guitars, and it's no exaggeration to say that none of that would exist without the influence of O.G. American death metal's bludgeoning chug and churn. And while they weren't the first on the scene, Cannibal Corpse is often considered the band that ultimately defined the subgenre's sound.
With the release of their skull-shatteringly heavy 15th studio album, Violence Unimagined—and now boasting over 30 years of parent-terrifying music—Cannibal Corpse have proven yet again that they're more than just innovators within a subgenre. They're an institution. Essentially, Cannibal Corpse is the AC/DC of death-metal: a band that's created a distinct sound and consistently progressed within that idiom despite several lineup changes, including a lead vocalist—again like AC/DC—without sacrificing the elements that made that sound so enthralling in the first place.
Violence Unimagined is a dynamic and bloody disgusting journey through a hectic mix of Cannibal Corpse's signature breakneck blasters and hulking mid-tempo groovers. It's an album that has everything fans love and expect from the Florida-based squad. It's also an album that benefits tremendously from an injection of fresh creative blood via the contributions of longtime producer Erik Rutan, who not only produced the recordings, but officially joined the quintet as a guitarist and songwriter just before starting pre-production.
"I think he did a really good job of adapting and Cannibalizing his riffs to make it sound like us." —Rob Barrett
Best known for fronting his own band, Hate Eternal, and for the multiple long stints he's served on guitar with Morbid Angel, Rutan has spent the lion's share of the past decade producing a laundry list of diverse and critically acclaimed heavy albums from his MANA Studios in St. Petersburg, Florida. This isn't the first time that Rutan has played guitar with the band, though. When Pat O'Brien took leave in 2019, the producer was the obvious choice to step in as his touring replacement. O'Brien and the band have since parted ways entirely, and with Rutan on board as an official member of the group, Violence Unimagined is Cannibal Corpse's first release to feature his song contributions.
A lineup shift can throw a serious wrench in the works for a band with a sound as well-defined as that of Cannibal Corpse, but Rutan's integration into the fold for Violence Unimagined was seamless—something he and guitarist Rob Barrett credit to his deep ties with the group. Rutan details just how deep that history really goes, saying, "I remember Alex [Webster, bass] and Paul [Mazurkiewicz, drums] handing me the first Cannibal record before it even came out! I've known Rob and George ["Corpsegrinder" Fisher, vocals] since 1990, and having recorded the band so many times, I have a really clear understanding of their music. And as guitarists, Rob and I have always worked great together on getting tones and I've always had so much respect for the kind of player and writer he is."
For years now, Cannibal Corpse's songs have been penned by individual band members. Even though Rutan was asked to join just three months before entering the studio, "they welcomed me with open arms when it came to contributing songs," he says. "A lot of Alex's and Rob's songs had been formulated already when I started to write, so I was able to see what would help fill in some gaps to help make it an even bigger album dynamically. I had a very loose thought process going into it because there had been songs presented to me already, and I was working around those, though when I typically start writing, thinking kind of goes out the window. The songwriting is more about instinct and trying to preserve the things that make this band what it is, while still creating fresh ideas. I think that's why this band has had the success and longevity it has, and I love every record this band has done because they all offer something unique."
Rob Barrett's Gear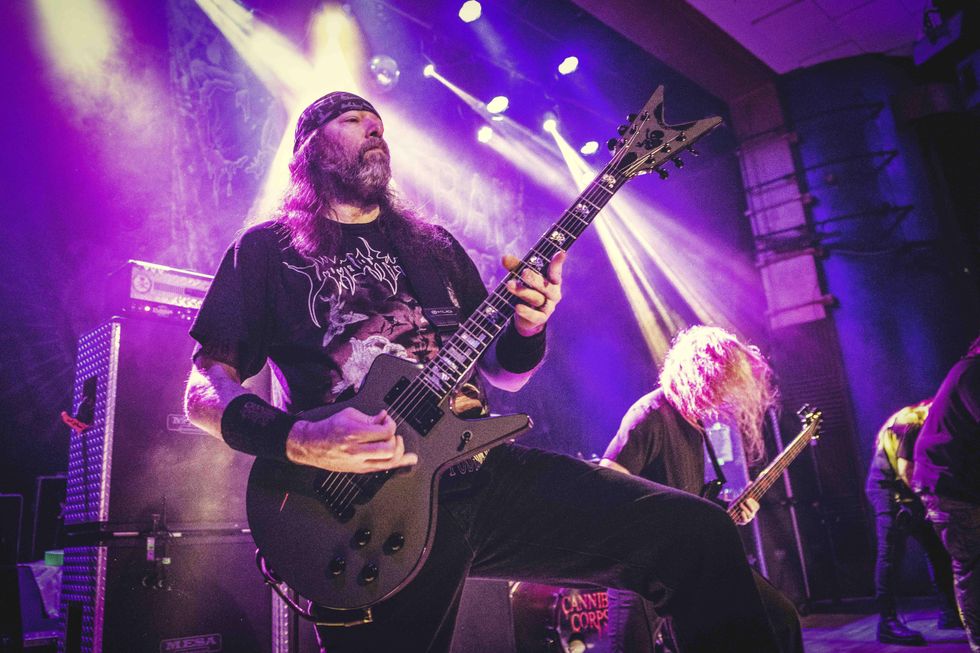 "It's crazy to think, but we're almost classic death metal now," says Rob Barrett, seen here playing his Dean Cadillac onstage with Cannibal Corpse in 2018.
Photo by Alex Morgan
Guitars
1989 Gibson Les Paul Standard with EMG 81 pickups
Dean Custom Shop Cadillac with 25 ¾" scale and Fishman Fluence Modern Active Humbuckers
Charvel Pro-Mod So-Cal Style 1 HH with maple fretboard and Seymour Duncan JB pickups (used for solos)
Strings and Picks

D'Addario NYXL (.011–.064 7-string sets, without the .011, for guitars tuned to G# and C#)
D'Addario NYXL (.013-.056, for guitars tuned to A# and D#)
Dunlop Tortex 1.5 mm Sharp
Amps
Mesa/Boogie Dual Rectifier

Peavey 5150 (block letter era)
Vintage Marshall JCM800
Marshall 4x12 cab with Celestion Greenbacks
Effects
Ibanez 30th Anniversary TS9 Tube Screamer

Maxon OD-9 Overdrive
Maxon ST-9 Pro+ Super Tube
Despite their longstanding rapport and mutual respect, Barrett admits he was a bit apprehensive about adding Rutan to the mix as a songwriter. "I was worried his songs were going to sound too much like Hate Eternal, but when he started playing me his stuff, it was like, 'Wow! This does sound like Cannibal Corpse!' You could just tell Erik Rutan wrote them. He did a really good job of adapting and Cannibalizing his riffs to make it sound like us." To Rutan's credit, he says writing tunes for Violence Unimagined felt "very natural," not only because of his long history with the group, but as a fan the guitarist felt confident he could apply his own feel and musical stamp to Cannibal Corpse's songs.
The major pivot point from past Cannibal Corpse releases comes from Rutan's unique vocabulary as a soloist. While Barrett's more traditionally stout shredding remains an immediately recognizable part of the Cannibal Corpse sound, Rutan's slithering melodic playing is worlds away from the chaotic chromatics of predecessor O'Brien. Rutan says, "Some of my earliest memories are hearing different composers, like Beethoven, Bach, Mozart, Vivaldi.... I really feel like listening to classical music as a child influenced how I approach songwriting. Even the stuff that's more dissonant has a classical background that I personally hear really clearly. The solo on 'Follow the Blood' is one of those moments. I created a melody, and halfway in it goes into a harmonized counterpoint melody, and in the center of the stereo spread is a full-on solo lead. That solo has a real classical music approach."
"Some of my earliest memories are hearing different composers, like Beethoven, Bach, Mozart, Vivaldi …" —Erik Rutan
The guitarist also looks well beyond Western classical music, and adds, "Turkish music and Middle Eastern stuff has been a huge inspiration to me! Listening to a lot of Middle Eastern music inspires a lot of my solos, even in 'Inhumane Harvest,' where there's slides and half-tone things that have a Middle Eastern flavor. And I do like to do a little shred here and rippin' there, but the song has to call for that."
Drawing from such a wide range of source material provides Rutan with the substance required to fulfill his own mission as a soloist. "I've always looked at solos as a journey within songs, and they have to take a path," he says. "It's all about the solo feeling natural within a song, and I want them to make an impact. If you look back at everything I've done, from Ripping Corpse to Morbid Angel and Hate Eternal, my approach to soloing has always been about substance over flash. It's never been about technique as much as it's been about feel, but with complexity. To me, complexity and technique are very different things."
​Erik Rutan's Gear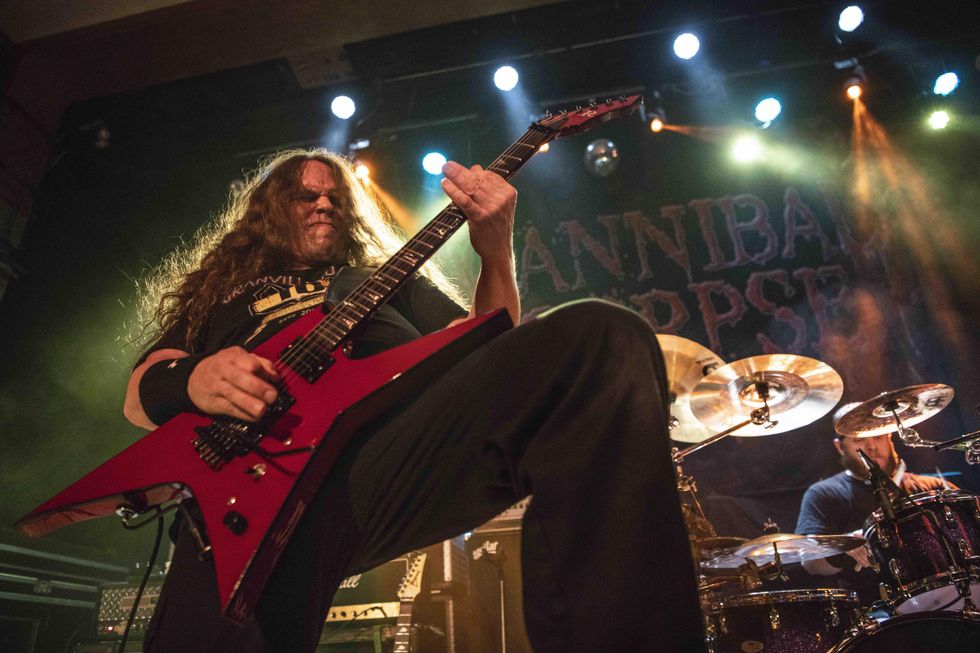 Here's Erik Rutan onstage with his B.C. Rich Ironbird, back when Hate Eternal toured as an opening act for Cannibal Corpse in 2018.
Photo by Alex Morgan
Guitars
1989 Gibson Les Paul Standard w/ EMG 81 pickups
B.C. Rich Custom Shop Ironbird w/Gibson Dirty Fingers bridge pickup and Lawrence L-500 neck pickup (used for solos)
Strings and Picks

D'Addario NYXL (.11–.64 7-string sets, without the .011, for guitars tuned to G sharp and C sharp)
D'Addario NYXL (.13-.56, for guitars tuned to A sharp and D sharp)
Dunlop Jazz III XL Tortex 1.35 mm
Amps
Mesa/Boogie Dual Rectifier
Peavey 5150 (block letter era)
Vintage Marshall JCM800
Marshall 4x12 cab with Celestion Greenbacks
Effects
Ibanez 30th Anniversary TS9 Tube Screamer

Maxon OD-9 Overdrive
Maxon ST-9 Pro+ Super Tube
While Violence Unimagined certainly marks a new era in many ways for Cannibal Corpse, it's business as usual for Barrett, who reflects on the band's legacy: "It's crazy to think, but we're almost classic death-metal now! We, as a band, have tried really hard to stay on the track we started on while moving forward. We never want to be stuck in the past and just keep trying to copy what we already did."
Meanwhile, Rutan ruminates on the process a bit more sentimentally. "Everyone's contributions and the accumulation of everyone's unique approach has allowed this band to keep progressing over the course of 15 albums, but those albums all keep true to the essence and spirit of what Cannibal Corpse is. From the riffs to the solos to the song structures to the album flow, it's all a journey.
Stacking Up Corpses: Building the Band's Rhythm Guitar Sound
Longtime producer Erik Rutan stepped into the guitar chair on Violence Unimagined, marking his first time as a songwriter for the band.
After working on five albums with the band, Rutan may have mastered the clandestine art of recording Cannibal Corpse, but that doesn't mean it's an easy gig. The producer is adamant about quad-tracking rhythm guitars, a technique he says is key to creating the brutal wall of chainsaw axes that is Cannibal Corpse's calling card. Rather than reamping a single performance or splitting the guitar signal to multiple amps to capture several sources in one take, the two guitarists each had to provide four individual performances of every one of the new album's challenging, often tremolo-picked, rhythm parts.
Rutan breaks down the madness behind the method: "Part of what I like to do is color the four tracks with multiple amps, so we'll start with a defining tone, which will be the main tone panned left and right. Then we find a second tone to add in for the third and fourth tracks, and that tone is not really about how it sounds on its own, but what it contributes to the overall sound when combined with the main tone. We'll have guitar tracks three and four around 5 to 7 dB lower in the mix than the main tracks. You get a different character and dynamic in the overall tone that you don't even know is missing until you add that second amp in."
From Barrett's perspective, the hardest part about the quad tracking process is simply getting through the first track. "As soon as you get to the second track, it gets smoother and you can keep going," he says. "We try to play through each track as far as we can without doing punches, but this stuff isn't easy and we do punch in when it's a tricky part."
Rutan adds, "Rob and I are very proficient at duplicating our performances tightly and that really adds to that wall of sound. When you play a part four times, the little idiosyncrasies and inconsistencies—as long as you're a really tight player—add another layer of dynamics to the guitars."
"If you'd asked me a year ago what I saw coming, I'd have never envisioned how this whole thing unfolded. I've done a lot in my career and I've always felt really grateful for all the opportunities I've had, but this record, especially, is one of my proudest moments. After all these years, to join Cannibal Corpse—a band that means so much to my life, my career, and, personally, as friends—to be a part of it after 30-plus years of playing death-metal … it still blows my mind! It feels great and it feels so natural. I can't help but feel gratitude about it while also reflecting on the ups and downs and the work I've put into everything I do, and to be able to continue that while being a part of Cannibal Corpse is really special for me."
CANNIBAL CORPSE - Live in Bucharest, Romania 13.06.2019 [Full Show]
Peavey Electronics returns to the roots of an American tradition with the introduction of the new Delta Woods acoustic guitars. The DW series is designed to be the best-sounding, easiest-playing, full-size acoustic guitars Peavey has ever built.
The three new models — two acoustic, one acoustic-electric — are made using only high-end materials and a minimalistic satin finish, resulting in excellent tone and volume. Whether players are casually strumming a traditional 12-bar blues riff or exercising modern fingerpicking techniques, Peavey's Delta Woods acoustic guitars deliver rich tonal resonance and premium playability.
The three new Delta Woods guitars, the DW-1, DW-2, and DW-2 CE, all offer a gorgeous spruce top with mahogany back and sides for premium tone. The most notable material difference among these models is that the DW-2 and DW-2 CE both offer a solid spruce top, which offers incomparable resonance and sustain. On each DW series model, hand-carved bracing provides even tone distribution throughout each guitar's range. Each model also has a bound fingerboard and body along with a fanciful rosette, rosewood fretboard, and pearloid inlays for a premium look and feel. Other high-end appointments for the DW series include sealed tuning machines for precise and accurate tuning, pre-installed strap buttons, a compensated saddle for ideal intonation, and a wood truss rod cover for the dual-action truss rod, designed to ensure a lifetime of playability.
The DW-2 CE (cutaway and electronic) is a series standout, offering both a cutaway for easy access to upper-register strings as well as custom electronics. The 3-band EQ and Presence control provide tone-shaping and easy connection to any amplifier or audio system, while the on-board chromatic tuner helps to ensure the guitar's stage-readiness.
The three models in the Delta Woods series are available in a satin-finish. The luxury finish offers a rustic appearance, with beautiful, natural wood grain on the back and sides, and headstock. The DW-1 comes with a carry bag and the DW-2's are available with or without a case.
DW-1 with bag retails for $169.99 USD
DW-2 without case retails for $199.99 USD
DW-2CE without case retails for $249.99 USD
Learn more and get a closer look at the new Delta Woods acoustic guitars at www.peavey.com.