Using a contact mic on your acoustic guitar has many advantages—and can open the door to some adventurous experimentation.
Hello and welcome to another Dojo! In honor of our "acoustic" issue, I want to focus on one of my favorite creative, yet sadly under-used, mic techniques—using an external contact microphone. This type of microphone (aka
piezo microphone
) picks up sound vibrations through direct contact with a surface and, of course, is the same technology that is already embedded in your
under-saddle
or bridge pickup for those of you who have acoustic guitars with a 1/4" output jack. But having an external contact mic allows us to move it to unlimited locations on any guitar (acoustic
or
electric) and, more importantly, on almost everything else you can imagine
For example, during a chamber music concert, I placed a contact mic under the chess board as we reenacted, move for move, the legendary 1972 World Chess Championship Game 6 of Bobby Fischer and Boris Spassky, while rice grains were dropped on the board as the rest of the ensemble made an ongoing soundtrack. (I highly recommend watching HBO's 2011 documentary, Bobby Fischer Against The World.) In short, it's my go-to initial technique for making totally new sounds, textures, timbres, samples, and sound design that I incorporate into my music. Tighten up your belts, the Dojo is now open.
Vibration Positive
Before we start, there are many benefits of using a contact microphone. It can pick up sounds that are not audible to the human ear. For example, if you attach the microphone to a metal surface and strike it with a mallet, you will hear not only the sound of the mallet hitting the metal, but also the vibrations of the metal itself. Which is exactly how Ben Burtt got the blaster sound effects for Star Wars—by hitting a certain radio tower's support wire (guy wire) in the Mojave Desert.
"It's my go-to initial technique for making totally new sounds, textures, timbres, samples, and sound design that I incorporate into my music."
Recently, I showed our students at the Blackbird Academy how to create new samples and sounds by attaching a contact mic to the outside of a 5-gallon water jug, then pouring water inside and hitting the side of the jug while gently swirling the water. We eventually ended up with an entire "water jug" drum kit.
Another benefit of using a contact microphone is that it can eliminate unwanted background noise. Because the microphone is only picking up vibrations from the surface it is attached to, it is less likely to pick up ambient noise in the room. However, because it is sensitive to vibrations, it may pick up unwanted sounds from handling or movement. Also, it may not capture the full range of frequencies that a traditional microphone would capture.
Lastly, they really come in handy for older vintage acoustic instruments that you may want to leave in their original state and have the flexibility to mic from any position without harming them.
Um … How Do I?
To use a contact microphone, you need to attach the microphone to the surface you want to capture the sound from. I only use Loctite Fun-Tak Mounting Putty because it is non-permanent, leaves no residue, and is non-tarnishing, malleable, and non-toxic. I simply place a tab of the Fun-Tak on the back of my contact mic and then mount it to whatever I want to record.
Check out Fig. 1. You can see I've attached my Zeppelin Labs Cortado MkIII mic ($159 street) to the headstock of my National Estralita Deluxe. This gives me that piezo/electric sound that I can in turn reamp or process with plugins, etc.
Be sure to experiment with different placements all over the instrument to find the sound you are looking for. Ever wonder what it might sound like inside your slide when playing slide guitar? Tape the mic on the top of your slide and play away. But don't stop there! You could also place it on electronic kids' toys that make noise (toy pianos, baby shakers, celeste, handheld electronic games), or pitched percussion, like kalimbas, log drums, vibraphones, and even cymbals. Or, think way outside the box—literally. Mount it on all kinds of cups, glasses, bowls, buckets, doors, and windows. Or on glass shower doors (outside the shower of course!), or the inside of your car windshield the next time you wash your car or it rains, flagpoles on windy days, park slides, merry-go-rounds, swing sets, and basically anything else you can imagine.
After you get some great source sounds, head back to the studio, keep what you like and process the sounds with reckless abandon. Until next time, namaste.
This time-proven approach can help keep vocal and guitar tracks at the fore.
Hello and welcome to another Dojo. This time, I'd like to explain sidechaining and how to use it on different sources for greater control and expressivity. Sidechaining typically involves routing the output of one track to control the dynamic range or volume of another track. Think of old-school radio broadcasts. Remember how every time the DJ spoke the music would "duck" or reduce in volume. This technique made a very quick transition into studio and live recordings, as mix engineers used it as a way to keep the lead vocalist on top of cymbal crashes, guitar solos, horns, background vocals, etc.
You may have also heard this technique in EDM-based music when a synth-bass line pumps (dips and swells in volume) in between each beat of the kick drum. This is what happens when the kick drum is bus-routed into a compressor on the synth-bass track.
Keeping this guitar-centric, sidechain compression can be valuable for many reasons that range from keeping your solo on top of rhythm parts to adding crazy textures to your power chords. You'll need a compressor plug-in that accepts a side-chain input, and there are many to choose from. I'm going to use Fab Filter's Pro-C 2 ($179 street), but another great choice is Waves' Renaissance Compressor ($29.99 street).
Let's get started. First, create two tracks in your DAW: one virtual instrument track (the source) loaded with a drum kit, and one audio track (the destination) where you will soon record a cool chord progression with held chords (clean or distorted).
You may have also heard this technique in EDM-based music when a synth-bass line pumps (dips and swells in volume) in between each beat of the kick drum.
On the instrument track, create a nice drum-kit groove (try something funky or even prog metal). Then, mute all the other parts of your virtual kit except the kick drum (for now) and hit record. Next, record yourself playing that cool chord progression with held chords on the audio track you created. (Play along to an unmuted version of your drum kit groove if you need it to record your guitar part.) Now, insert a compressor capable of sidechaining on this track's effect insert [Fig.1].
At this point you should have: a kick drum loop on the instrument track and a chord progression recorded on the audio track. The compressor will be on the guitar track only.
Now, the fun begins. We are going to route the output of the drum track to the compressor's input on the guitar track. Thus, every time the kit drum hits, it will trigger gain reduction on the guitar track.
These days I find myself tracking and mixing in at least two different DAWs, and every DAW has slightly different ways to do sidechain compression. This time, I'm going to use ProTools since it has been around the longest and (like it or not) is what most professional recording studios continue to use. There's excellent intel for non-Pro Tools users at Fab Filter's website support page, with directions for Studio One, Logic, Cubase, and Ableton.
Fig. 2
In Pro Tools, open the FabFilter Pro-C 2 that you've placed on your guitar track earlier. Click the sidechain window button at the bottom [Fig.2] and set sidechain from internal (In) to external (Ext).
Fig. 3
Now select the triangle next to MIDI Learn and make sure Enable MIDI is deselected [Fig.3].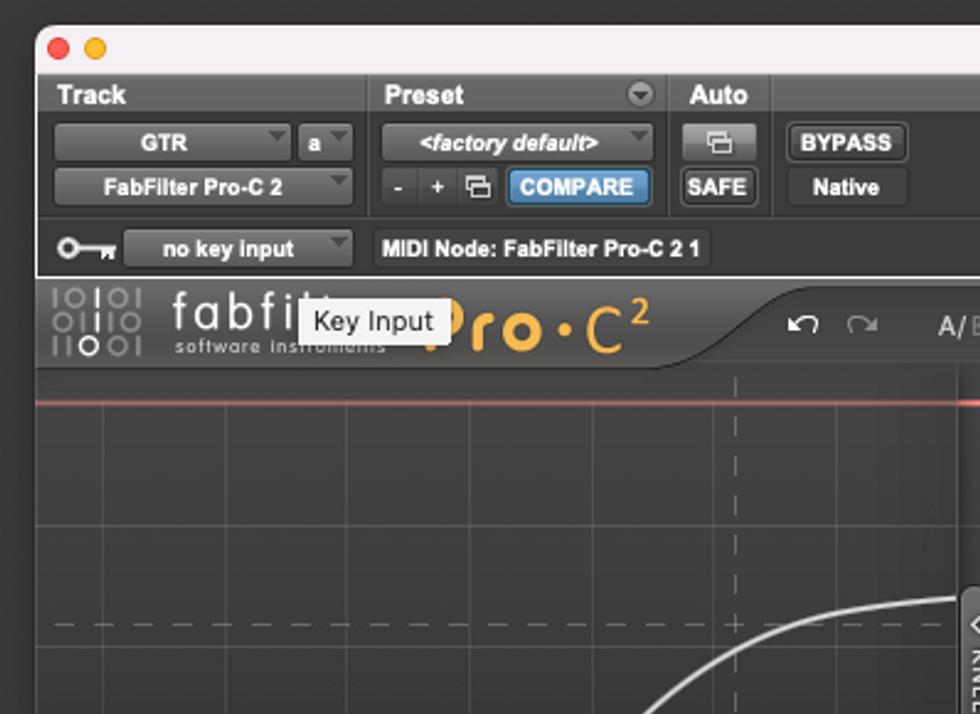 Fig. 4
Next, in the key input menu of the plug-in interface, which is just above the FabFilter logo [Fig.4], choose Bus 1 instead of the default no key input. The compressor is now looking for an external source to trigger compression.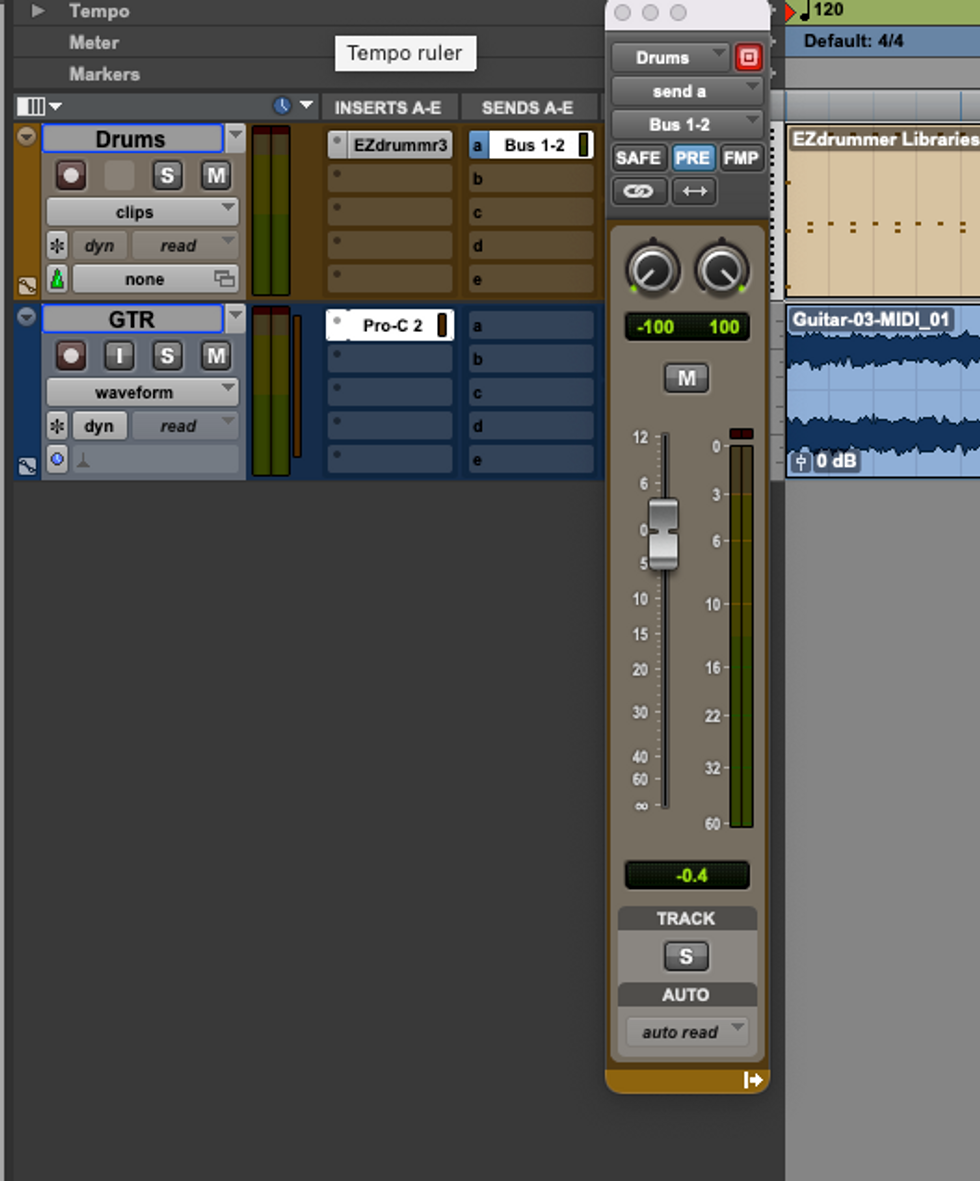 Fig. 5
Now, let's bus-route the drum track to the guitar track's compressor. In the sends slot of the drum track, select Bus 1. The bus view window for Bus 1will pop up: set its level to 0.0 dB (so it will send audio signal to the compressor) and select 'PRE' (pre-fader) [Fig. 5]. You've now routed the audio (using Bus 1) from the drum track to the compressor's side chain input on the guitar track.
If you mute the drum track, you'll be able to hear how it is affecting the guitar track. Now you can play with the threshold, attack, ratio, and release. Start with a quick attack (.010-.025 ms), a low threshold, and a fast release time (75-200 ms), then adjust to taste. The right release time depends upon the tempo of the song. Ideally, you want the compressor to be fully reset before the next kick drum hit.
Now that you understand sidechaining, you can experiment with other effects like sidechainable gates, EQs, and delays. More on that next time. Until then, keep experimenting! Namaste.
How cutting tracks in reverse, then reversing those reversed tracks, will add zing to your mixes.
Hello and welcome to another Dojo! Since this issue is dedicated to all things acoustic, I thought I'd share a fun technique that I call "harmonic clouds." It involves learning a section of your song backwards, recording it, reversing the new recording, and placing it back in the appropriate spot (or not!). I usually do this with acoustic guitars, but it can be applied with equal aplomb to electrics and can supercharge your creativity. Tighten up! The Dojo is now open.
We are all familiar with the sound of reverse delay. On the surface, you might be thinking, "I can do this already." But you'd be missing out. The "harmonic clouds" technique offers many more possibilities and much more control than recording a guitar part with a reverse delay effect. In short, this technique is inspired more by the process and sounds of double tracking than using delays.
This initial track is the closest thing to a simple reverse delay but it's not—because it is an entirely different performance, and all those subtle timing and timbral differences are there in all their glory.
By the mid-'60s, it was standard practice for the Beatles to sing all their lead vocals (and some background vocals) twice to thicken up their voices. The resulting deviations from each individual track heard together offered a slight, natural, chorusing effect as well as charming variations in timing of words, dynamics, and timbre. The net result was that the vocals stood out more on the final recordings.
However, it was time consuming. John Lennon, in particular, was always asking for a way to have the sound of "double tracking" without actually having to track the vocal twice. EMI's brilliant studio engineer Ken Townsend devised an ingenious way of splitting the signal from just after the recording head on a Studer J37 tape machine (at 15 ips) and routing it through both recording and playback heads of the EMI BTR2 tape machine (at 30 ips), the sound from the BTR2 would then be heard at almost the same time as the sound from the Studer's playback head [Fig. 1] With a little more help from a Levell oscillator, Townsend could varispeed the BTR2 machine with greater control (see my March 2022 article about varispeed). Thus, ADT (artificial double tracking) was born, and, FYI, Waves makes the Reel ADT plug-in ($29 street) as part of their Abbey Road Collection. But I'm going to take you a bit further than that, because we're going to create new tracks that will increasingly differ from the original! Plus, you can always apply ADT to the new tracks later.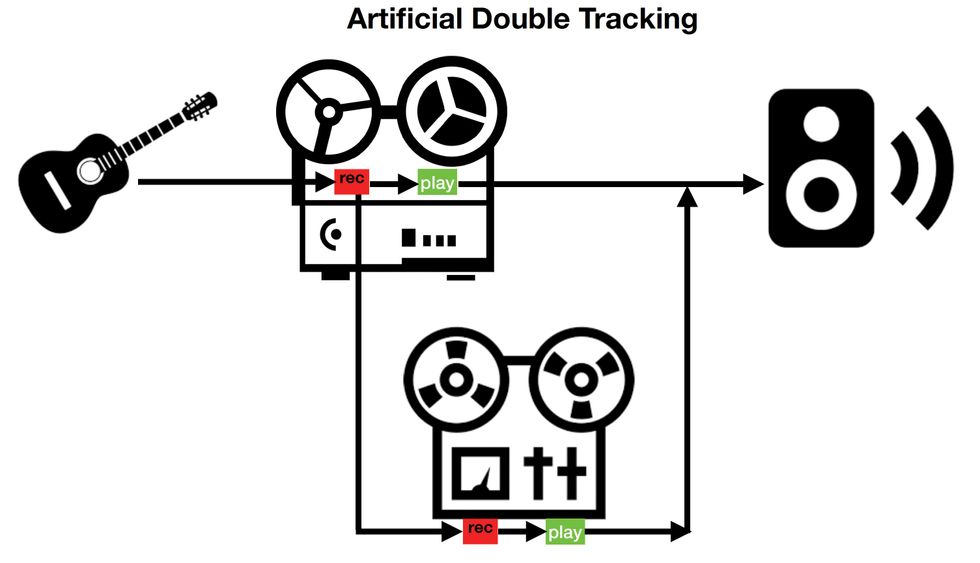 Fig. 1
Let's get started. Here are the three basic steps:
Step 1 - Learn the Progression Backwards
Take the chords from a particular section of your song (perhaps the chorus or the bridge) and learn the progression backwards, including the rhythms as well. For this example, I was working on the bridge section of a song I wrote on my album that will be released this fall called Jacob's Well. The way I do this is by writing a chart, then reversing the order and playing it until it feels natural.
Step 2 - Create a New Track
Create a new track and then record the "new" rhythm guitar part you just learned by muting all the other tracks and playing along with the click track.
Step 3 - Reverse the Track
Reverse the track you just recorded and listen to it. Before you unmute all the other tracks and listen to how it sounds, you may have to align it a bit depending on when you stopped recording. Feel free to experiment and play around with aligning the new track in different places rhythmically and listen to how it changes the section. This initial track is the closest thing to a simple reverse delay but it's not—because it is an entirely different performance, and all those subtle timing and timbral differences are there in all their glory.
Step 4 - Explore Your Own Music
Now we're ready to have some real fun. Create some new tracks and repeat steps one though three, but each time play the same reversed passage in different parts of the guitar (i.e., you can change the tuning, use a capo, use only power chords, add effects, etc). As the versions pile in and you get used to the process, I think you'll be really surprised by the results. Who knows, you might even start trying this with all kinds of instruments! Just remember to always serve the song and stay true to the emotional content you want to use these tracks to achieve. Most often for me, less is more.
Until next month, blessings, and keep sharing your gifts with the world. Namaste.