Guitarist extraordinaire Joe Robinson—touring behind his new mostly acoustic album, The Prize—shows PG's John Bohlinger some of his prized 6-strings, '60s Fender amps, and effects.
When Joe Robinson was learning to play in the remote village of Temagog, New South Wales, Australia, YouTube was his teacher. Then he discovered Tommy and Phil Emmanuel—Australia's sibling 6-string slicers—and set out on a path that would lead him to Nashville, where he's been a part of the city's guitar cognoscenti for the past 13 years.
At 31, Robinson's fans include Tommy Emmanuel (who's been a committed mentor), Steve Vai, Robben Ford, Eric Johnson, Steve Lukather, Albert Lee, Steve Morse, and Lee Ritenour. He's released six acclaimed albums, performed in 40-plus countries, and continues to serve a large online audience through livestream concerts and his own popular YouTube channel. Robinson shared his current touring rig before an October 18 show at his adopted hometown's City Winery.
Brought to you by D'Addario XS Coated Strings.
Aussie Pride
Robinson is equally at home playing fingerstyle on acoustic or flatpicking electric. When he's on acoustic, Joe plays his 2020 Maton signature model, which features a AA Sitka spruce top, Tasmanian myrtle back and sides, stainless steel frets, and proprietary Maton electronics. It wears Ernie Ball Paradigm or Earthwood sets, gauged .012–.054, but Joe replaces the high E with a heftier .014.
Fender T-Zer
Here's Joe's Fender Custom Shop Telecaster styled after a '53, with 52T pickups designed by Ron Ellis (originally, for Julian Lage), a swamp ash body, and a 9.5" radius neck. It is typically strung Ernie Ball Slinky sets (.010–.046), or, sometimes, Mega Slinkys (.0105–.048).
The "Blessing 'Burst"
This 1960 Les Paul, called the "Blessing Burst," is being auctioned off for Homes for Our Troops, a nonprofit organization that builds and donates specially adapted custom homes nationwide for severely injured post-9/11 veterans, to enable them to rebuild their lives. HFOT has built more than 345 homes to date, with another 65-plus projects underway nationwide. Robinson played the "Blessing Burst" on this gig, and before that it was on tour with Joe Bonamassa and Marcus King, among others
Fly AER Joe!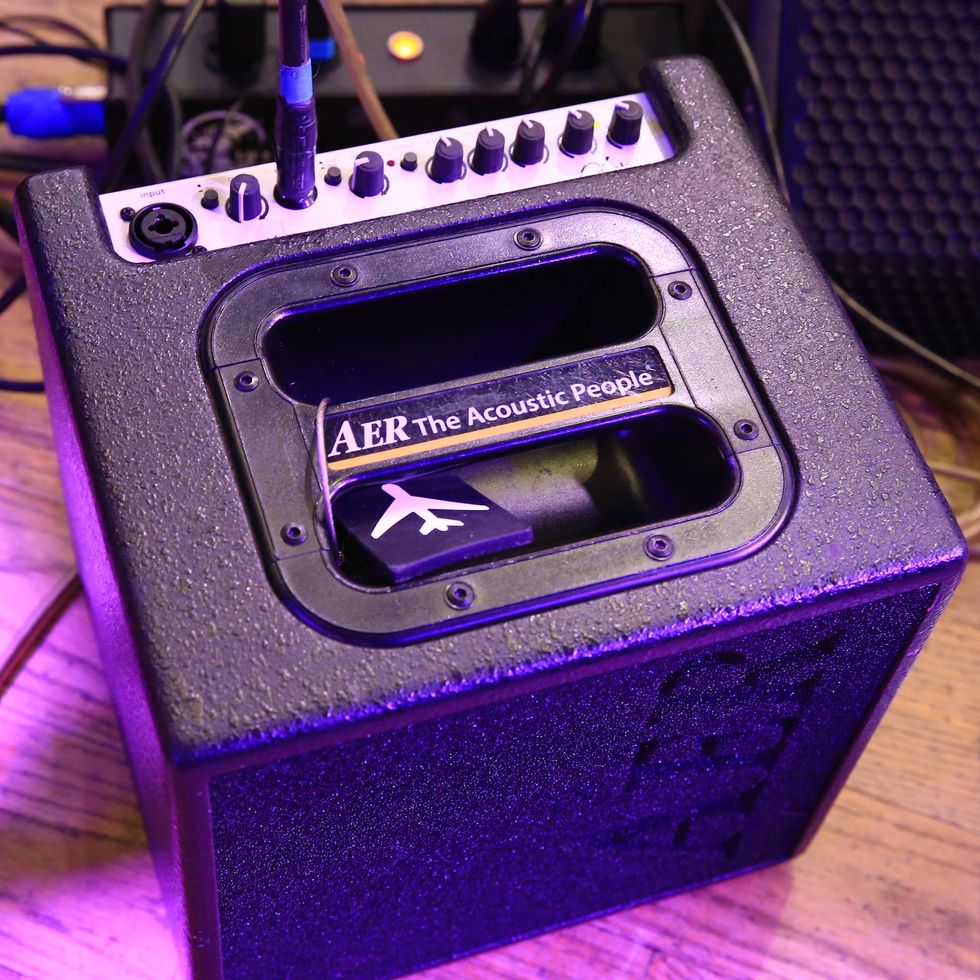 Joe usually uses the Udo Roesner Da Capo 75 amp, but on this tour he's using his tiny but mighty AER alpha because it fits in his flight case.
Lil' Champ
This 3-dial Fender toughie is from 1967, and Joe uses it for recording electric guitars as well as solo gigs, since it fits, well, just about anywhere!
Dynamite Duo
His burlier amps are a 1966 Fender Deluxe and a Magic Amplification tweed-style. If he needs to get really loud, Joe also has a 1967 Fender Showman that was modded by tube amp guru Kye Kennedy that he runs with a 1x15. Oh, and that's an Amp RX Brown Box input voltage attenuator out front.
Yes, This is JR's 'Board
Robinson's pedals sit on a Pedaltrain Metro 20 with a CIOKS DC-5 power supply hidden underneath. It's divided into acoustic and electric sides. The acoustic domain houses a TC Electronic PolyTune Mini and a Boss RC-1 Loop Station. For electrics: another TC PolyTune Mini, a Dunlop Cry Baby Mini, a Nobels ODR-1 mini (run at 18v), another Boss RC-1, and a TC Hall of Fame mini.
A Fender Tele Deluxe "Cleaver," a not-so-golden '57 Les Paul, a few gifts from Grohl, and a pedal playground help "Shifty" find some sonic space.
When Chris Shiflett left No Use for a Name and joined the Foo Fighters in 1999, he almost had no gear. The band was rehearsing to support their third album, There Is Nothing Left to Lose, and leader Dave Grohl was doing an inventory check on their newest member.
"Dave asked me how many guitars I had, and I said, 'Well, I have two, but one has a broken headstock,'" recalls Shiflett. "Dave chuckled and said, 'We gotta get you a few more guitars.'"
The duo ventured down to Sunset Boulevard hitting all the guitar shops and Grohl gifted Shifty a pair of Gibsons (that we'll meet later). (This story is even more proof that Grohl is one of the coolest rock stars ever.)
"I had been going to some of those Sunset stores since I was a teenager, and they're never nice to you because they know you're not buying anything. So, when I went in there with Dave Grohl and his AmEx card, it was a real moment for me. Here I am joining my dream band, and he's like, get whatever you want … and he really meant it!"
Shiflett's gear germination didn't stop there. "When I joined the band, I didn't have any pedals. And now my bandmates constantly make fun of me for the size of my pedalboard—it's ridiculously big and there are a lot of pedals on it—but my view has always been, 'as long as I don't have to carry it around, bring them all [laughs].'"
But they all serve a purpose and allow Chris to stand out in a three-guitar band. "I do love that my role in Foos over the years has become the color guy with all these pedals."
His growth as an artist doesn't stop there. Shiflett's put out punk albums in Jackson United and for nearly 25 years, he sparked endless good times in the best punk-rock cover band (Me First and the Gimme Gimmes). In 2010, he shifted his creative outlet to busting out alt-country twangers and Bakersfield barroom bruisers as Chris Shiflett & the Dead Peasants, and then, later, solo. Since 2013, he's been hosting a podcast (Walking The Floor with Chris Shiflett) that's featured conversations with Wolfgang Van Halen, Mike Campbell, Greta Van Fleet, Billy Strings, and recent Rig Rundown subject Marcus King. Where does the dude find the time?!
Following Foo Fighters' recent Taylor Hawkins Tribute Concert at L.A.'s Kia Forum to honor their dearly departed drummer, Shiflett carved out some precious time and invited PG's Chris Kies to the Foo's HQ, Studio 606. The laidback conversation covered his essential live guitars (including a not-so-golden '57 Les Paul and a few gracious gifts from Grohl), some custom Friedmans, and a pair of unusual AC30 stacks that only he and Sir Paul have … and all his pedals that sting, sparkle, shimmer, and sizzle.
Brought to you by D'Addario XS Coated Strings.
All That Glitters Is Not Gold
This 1957 Gibson Les Paul started out its long life as a goldtop. Shiflett believes that the rest of the instrument is true to the day it left Kalamazoo. He says in the Rundown that he bargained with himself to sell about 20 guitars on a Reverb shop with the idea of parlaying that scratch for one or two "magic guitars." They tallied up his credit and started dusting off their most-valuable coffers. He was drawn to this one for its sound and character as a player-grade holy grail Les Paul—with its stripped finish and broken headstock. He originally thought it'd be a studio piece, but fellow Foo Pat Smear told him he had to bust it out for tours … which he now has for years. This one stays in standard tuning and takes D'Addario NYXLs (.010–.046).
Pawsome Picks
Shiflett uses lighter-gauged Dunlop Tortex picks that feature the band's logo on one side and his husky Lucky on the other.
Meet the Cleaver
Ten years ago, Shiflett was honored with a MIM Fender Telecaster Deluxe signature. A few years later, Chris revisited the Tele Deluxe design with Fender's Masterbilt team and devised this devilish T. They dubbed it "Cleaver, because it positively slashes through the mix," he says. Specs include a 2-piece alder body, quartersawn maple neck, 21 medium jumbo frets on a rosewood 'board, a large '70s-style headstock, Schaller tuners, and the Hattori Hanzō-sharp blade of this beauty is a custom pair of Lindy Fralin P-90 Soapbar pickups that are noiseless and slightly overwound.
Ace Gift from Grohl
This Les Paul Custom (Shiflett thinks it's from 1989–1991) was one of the guitars Grohl bought him back in 1999. It's seen a lot of pickup combinations, but it currently has a Seymour Duncan JB (bridge) and a '59 (neck). Shiflett's a big Kiss fan, so he threw on the Ace Frehley sticker. He's put a lot of miles on this stallion, and he says that it gallops and grooves best while in drop-D for songs like "Monkey Wrench" and "Everlong."
The Cheapest Way to a Signature Guitar is…
getting a custom truss rod cover made and slapping it on the headstock, as seen here.
C's Flying V
This 2002 Gibson Flying V was the first axe Shiflett ordered fresh from a guitar company. He got it just before touring in support of 2002's One by One (the first Foo's album he contributed to). In the Rundown, he shared his thoughts on the body shape: "As impractical as they are to play sitting down, god, they're amazing to play standing up!" The V currently has a set of Fralin Pure P.A.F. humbuckers that are "really musical and clear."
Dave Does It Again
This prized Gibson Explorer was the first guitar he was gifted from Grohl, ahead of his first tour in the Foo Fighters. It's all stock except for a Seymour Duncan JB subbed into the bridge position.
Can't You Hear Me Rocking?
When you play in an arena-filling, three-guitar rock band, you need to bring it. Shiflett toggles between the custom, two-channel Friedman Brown Eye 100W head and the Vox AC30 head. For the heavier, distorted songs, he goes with the Friedman, while the Vox is used for softer songs like "Aurora." Both 4x12 stacks have a backup head. Shiflett claims in the Rundown that his Vox rep stated that only he and Sir Paul have AC30 4x12 stacks. Now that's some splendid company to share!
Friedman Firepower
Here's a closeup of the settings Shiflett's dialed in for the Brown Eye.
Vox's Vocals
And here's the recipe for Shiflett's AC30 jangle and chime.
Chris Shiflett's Pedalboard
His current pedal playground is home to all sorts of tone toys. Starting in the top left he has an Electro-Harmonix Micro POG, a JHS Muffuletta, a pair of MXRs (Flanger and EVH Phase 90), an EHX Holy Grail reverb, a Strymon Deco, and a Klon KTR. The next row starts with a Boss CE-2W Waza Craft Chorus, a couple of Strymon TimeLines (one for each amp), and down below is a trio of Xotics—an EP Booster, SP Compressor, and an XW-1. Utilitarian boxes include a Lehle Little Dual amp switcher, Palmer PLI-05 Dual Channel Line Isolation Box, Boss FS-5L footswitch (to toggle between clean and dirty on the Friedman), and a TC Electronic PolyTune that keeps all his guitars singing on key.