Canadian guitarist Ariel Posen joins the pod to talk about his slide guitar influences, how he broke into open tunings, and how to get the most out of your fuzz pedals.
Zach and Rhett kick things off with a catch-up on recent projects. Rhett celebrates his new 100-watt Two-Rock Classic Reverb Signature, which recently terrorized a couple sitting in the front row of one of his gigs. Then guitarist Ariel Posen logs on to, first and foremost, clear up how to pronounce his name.
Alt-Tuning Curious with Ariel Posen
Posen and Rhett swap horror stories from working on film sets, where they were expected to do way more than their job descriptions covered. Both agree that the film life is infinitely worse than touring. "I don't know shit!" protests Posen. "I'm just a guitar player, dude!"

Thanks to Sweetwater for sponsoring this episode! Head to sweetwater.com for your musical gear needs.
Posen discusses how he got into playing slide in standard tuning by learning George Harrison leads (blues slide guitar was never his thing), but Canadian guitarist Kevin Breit inspired him to try open tunings, a process with "a lot of trial by fire, lots of, 'oops, sorry!'" Blake Mills' 2014 record Heigh Ho prompted Posen to chase lower tunings, although Korn, Limp Bizkit, and Big Wreck lit that same candle years earlier. For the open tuning-curious, Posen suggests starting in open E.
Posen talks about how he wrote his new record, and the honesty and simplicity behind his favorite lyricists like Jason Isbell. Finally, the trio dig into how to stack and squeeze the best sounds from your fuzz pedals. (Is a mini version of the Mythos Argo fuzz pedal coming? Zach doesn't say yes—but he doesn't say no, either.) Finally, the crew dips a slick Americana rig that draws near perfect scores.
Photo by Abby Ross
Almost six decades after forming the short-lived Rising Sons, the two legends reconvene to pay tribute to the classic blues duo of Sonny Terry and Brownie McGhee on the warm and rootsy Get on Board.
Deep into Taj Mahal and Ry Cooder's Get on Board: The Songs of Sonny Terry & Brownie McGhee, percussionist Joachim Cooder lays out, letting the two elder musicians can take a pass through "Pawn Shop Blues." To start, they loosely play around with the song's intro on their acoustic guitars. "Yeah, nice," remarks Mahal off-handedly in his distinctive rasp—present since he was a young man but, at 79, he's aged into it—and Cooder lightly chuckles. They hit the turnaround and settle into a slow, loping tempo. It's a casual and informal affair—some notes buzz, and it sounds like one of them is stomping his foot intermittently. Except for Cooder's slide choruses, neither guitar plays a rhythm or lead role. They simply converse.
The two legends sound less like they're making a record in a studio and more like they're hanging out and catching up over some music. Mahal describes this feel as "ragged, but right." It's the same kind of collective sound that historic blues duo Sonny Terry and Brownie McGhee often possessed. But on Get on Board, it's unique to these two old friends, who set out on their journeys long ago. "We're bouncing off one another, we're bouncing off the music, and we're bouncing off the joy of being able to play this stuff, having the opportunity," says Mahal.
Taj Mahal & Ry Cooder - The Making of 'GET ON BOARD'
That "ragged, but right" vibe pervades each track on Get on Board, from the opening thump of "My Baby Done Changed the Lock on the Door" to the springy call and response of "Drinkin' Wine Spo-Dee-O-Dee" to the closing ritardando on "I Shall Not Be Moved." And it's why, as Mahal explains, Get on Board transcends its recorded form: "It's the kind of thing, when you listen in on it if you have the record playing in the other room, you're sure those guys are in the other room," he says. "Even though you know they're not there, you gotta go and look."
There are plenty of blues and folk albums that celebrate the genre's early heroes—tribute projects that offer a feel-good time for musicians and listeners alike. And Get on Board is a masterfully produced, creative take on fantastic old music. But it's also a one-of-a-kind reunion of two musical polyglots who, it's fair to say, have explored the depth of the blues, following it on separate paths to the ends of the Earth and delving into the music from every angle—maybe more than anyone else. Now, five decades after their initial career-starting collaboration in 1965, they've come back to their roots together.
The Early Days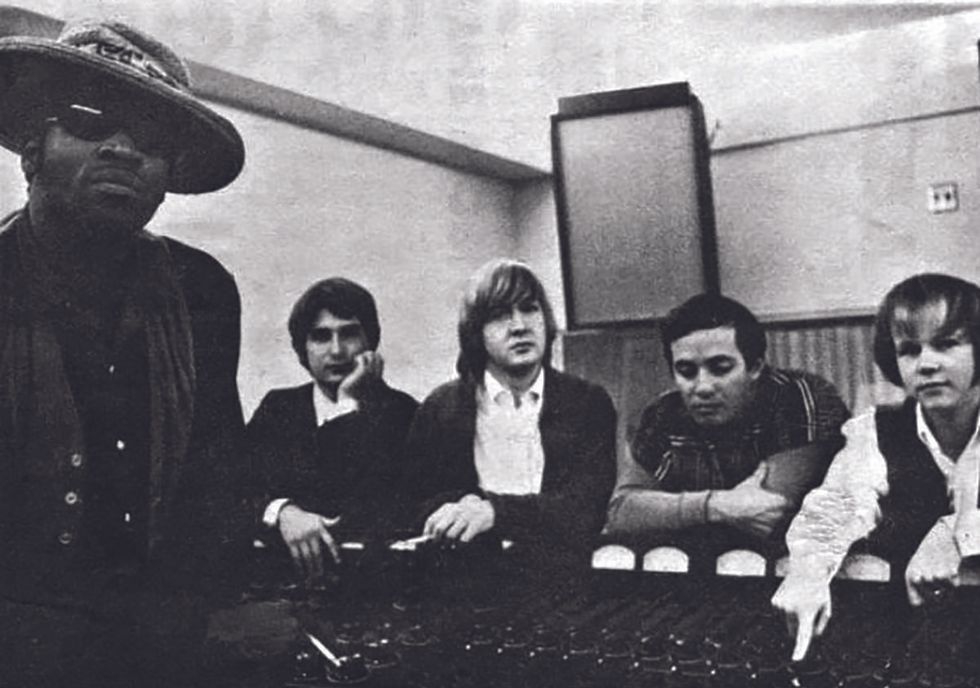 The short-lived Rising Sons kickstarted the careers of both Mahal and Cooder. From left: Taj Mahal, Jesse Lee Kincaid, Gary Marker, Ry Cooder, and Kevin Kelley.
Photo from KRLA Beat
Each player's early history is essential to their music as a duo. "Both of my parents were musical, and their culture was extremely musical and at a very high, sophisticated level," Mahal explains. "We're talking Ben Webster, Coleman Hawkins, Count Basie, Billy Eckstein, Billy Daniels, Duke Ellington, Ella Fitzgerald … this kind of music. But there was also swinging, dancing music that was happening. Jitterbugging, all kinds of different stuff."
He began forming his own tastes in the nascent days of rock 'n' roll, which Mahal says "was a step way down" from the music he was exploring—music by artists from the 1930s and '40s, who, he points out, were still alive and recording. "I was getting their juice as it was coming through—not as an echo. By the time I came around to hear it, I kept thinking, there's gotta be some older form of the music. And I would hear a little bit of it; my mother would sing some songs from South Carolina." And thus began his lifelong search for deeper and deeper musical connections: "Once I found out that you could jump into that river, even into the ocean, and keep on finding it, it's like fish in the sea. The more you find, the more there is—and you'll never get to the end of it."
"We're bouncing off one another, we're bouncing off the music, and we're bouncing off the joy of being able to play this stuff, having the opportunity." —Taj Mahal
A young Ry Cooder was simultaneously on his own version of this quest, digging deeper into the history of American music. At just 12 years old, Cooder found a record called Get on Board by the duo of Sonny Terry and Brownie McGhee, along with percussionist Coyal McMahan. It was just one point in a long line of musical discoveries that would inform his life and music. Cooder points out that Sonny Terry and Brownie McGhee "must have been the most recorded blues act ever." But his interest set him apart from his pre-teen peers in California, and he soon developed a reputation that reached Mahal—five years his senior—all the way in Massachusetts.
Mahal tells the story of hearing a guitarist perform one night early in his career and says, "It was obvious this guy was listening to something else and played the instrument in a different way." They struck up a friendship, and Mahal learned that this guitarist had studied with a Californian named Ry Cooder. Upon learning Cooder was just 17 years old, "I blew my top!" he exclaims. Soon enough, he packed up, booked a few gigs across the country, and headed west to find the young guitarist and start a band.
TIDBIT: To capture the feel of a vintage Folkways-style album, Get on Board was recorded live in Joachim Cooder's living room in just three days, with a fourth day for overdubs.
Despite their quick demise, Mahal looks back favorably on the Rising Sons: "Ry's work on that album is still, to this day, stellar," he says. "I could listen to it any time in any joint. Anything that he plays. There was never nothing that he ever played that I did not like. Nothing. He heard the music." Mahal struck out on his own, with Cooder in the band for his 1968 self-titled debut. But they soon went their separate ways on long and fruitful careers.
Together, After a Lifetime of Achievement
It wasn't until decades later, in 2014, when the Americana Music Association awarded Mahal a lifetime achievement award, that Mahal and Cooder would collaborate again. Backed by an all-star band at the AMA awards show at Nashville's Ryman Auditorium, the two former Rising Sons revisited "Statesboro Blues," which they recorded almost a half-century prior. But this version sounds nothing like the quick, youthful version on the '92 reissue. Instead, the mid-tempo groove—driven in part by Don Was' bass and Joachim Cooder's drums—is slower and deeper, Mahal's voice lower and stronger, and his dry, percussive fingerpicking is complemented by Cooder's dark, fuzzy slide work.
While this warm, rousing reunion lasted just under five minutes—and got a serious standing ovation—it reconnected Mahal and Cooder and planted a seed. Soon enough, Mahal says he "took three or four instruments and a suitcase and a handbag and got on a train and went down to L.A. We got together and did some playing." Mahal pitched Cooder on the idea of doing a project together, trusting Cooder to come up with the concept. "He knows what he likes, and he knows what I like," Mahal says. Encouraged by his son, Cooder formulated the Get on Board idea, and as Mahal explains, "Next thing you know, I'm on the train again back to L.A."
Taj Mahal's Gear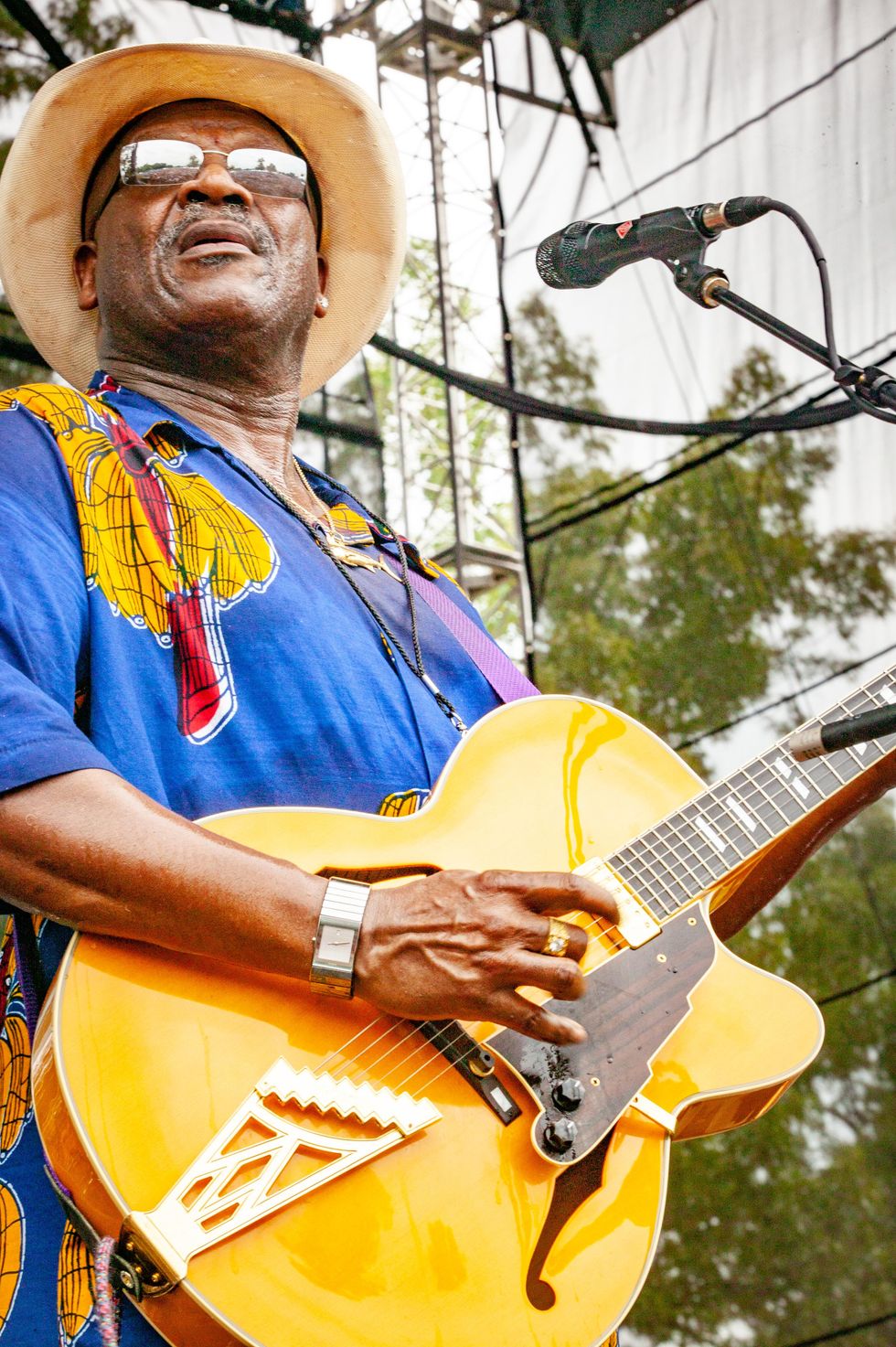 Taj Mahal—seen here at Bonnaroo with a D'Angelico archtop—brought just one guitar to the Get on Board sessions. Taking the train to L.A. from his Northern California home, he opted for his Gibson Keb' Mo' Bluesmaster, because he loves that instrument and it is light to carry.
Photo by Douglas Mason
Guitars
Gibson Keb' Mo' Bluesmaster
Cooder built his concept not just around the duo, but included Joachim. "There's Taj and me. There was Sonny and Brownie," he explains. "Duet music, right? But the original Get on Board included the mysterious Coyle McMahan on bass vocals and maracas. I always thought the trio was more interesting. So, Joachim stepped into the McMahan chair, and that gave us a wider range."
When considering songs, Cooder points out that Sonny Terry and Brownie McGhee "had a huge repertoire for us to consider. You have to figure out what will work best, and a record can't be all blues shuffles—for that kind of music you need Otis Spann or Memphis Slim, and a horn section, etcetera. So, we listened for songs more rural in feeling, like 'Hooray Hooray,' and 'I Shall Not Be Moved.' Folk-blues, as it used to be called."
"A record can't be all blues shuffles." —Ry Cooder
"This music was making a fleeting disappearance from the inside of the music I was listening to," says Mahal, adding that "something about the rural music was more connected with the African in it." But he refutes the idea that their goal was to keep Sonny and Brownie's music alive. Instead, he insists the music is already alive and he and Cooder are just helping it find new ears. "What you ain't seen ain't passed you yet," he quips.
Cooder says they aimed to capture an "old-style" sound, "like a Folkways record," the natural environment for these songs. To cultivate an authentically comfortable, low-key vibe, they set up in Joachim's Altadena, Calfornia, living room for four days—three for live tracking and one for overdubs. And things proceeded simply, with "live singing—one take, maybe two at the most," according to Cooder.
Ry Cooder's Gear
Ry Cooder played a variety of instruments on Get on Board, including the Gibson F-4 mandolin that he used on Mahal's debut album.
Photo by Abby Ross
Adams Brothers acoustic (circa 1900)
Fairbanks long-scale custom banjo (circa 1900)
'60s Fender "Coodercaster" modded with an early '60s Teisco pickup (neck) and a Valco lap-steel pickup (bridge)
1919 Gibson F-4 mandolin
1946 Martin D-18
Amps
White amplifier (made by Fender)
Effects
Strings
Get on Board isn't a genre exercise, but it feels vintage, thanks in some part to the select gear they chose. Mahal switches instruments, playing a Steinway piano, harmonicas, and fingerpicking his Gibson Keb' Mo' Bluesmaster. Cooder brought along some vintage items. "I played a 1946 D-18, similar to Brownie's—light and twangy," he says. "Also, a peculiar Adams Brothers guitar, circa 1900. It's rowboat size and super resonant. Check it on 'Beautiful City.' And my old Gibson F-4 mandolin on 'Hooray Hooray.' Taj commented that I had played the same instrument on his first solo record. The lead instrument on 'Packing Up' is a giant gut-string Fairbanks banjo, probably a custom order."
Although most of the record is acoustic, the opening track features a driving electric slide part that bears Cooder's unmistakable sonic thumbprint. "I overdubbed my usual bottleneck Stratocaster on 'Changed the Lock,'" he explains. "That's a White amp with a busted speaker, and a tape Echoplex which belonged to the great Leon Rhodes." [Rhodes played guitar in Ernest Tubb's Texas Troudabours.]
"What you ain't seen ain't passed you yet." —Taj Mahal
Except for the tight, driving version of "Packing Up Getting Ready to Go," there aren't any particularly radical reinventions on Get on Board, so the biggest differences in Mahal and Cooder's versions of Terry and McGhee's songs are what the individuals bring to the music. As Mahal points out, Sonny and Brownie were the original purveyors, and he and Cooder are "a couple guys who have spent their lives bringing back these nuggets of great music for all to see and hear."
But Mahal and Cooder both bring a warmth to the music, and it's easy to think that stems from their mutual appreciation—a feeling that was missing from the original duo, who were famously at odds. In 1982, The New York Times wrote, "Mr. Terry, the harmonica player and singer, and Mr. McGhee, the guitarist and singer, are staunch individualists whose partnership has been marked by feuds, splits, and reunions." Mahal and Cooder, as individual as they may be, are quite the opposite. It's friendship that brought them back together after all these years, and helped fuel the creative energy on Get on Board, which Mahal says "felt exciting."
And if that's not enough, he adds: "I can't think of anyone else I'd really wanna play this kind of music with."
Taj Mahal Ry Cooder Statesboro Blues
Photo by Laura Godwin
How an eclectic, blues-fueled guitar hero took a spark from Howlin' Wolf and put fire in his music. Plus, the vintage guitars and amps he used to create his swampy, stomping new album, Blow.
Some guitar heroes explode across the stage or erupt from recordings. Think Hendrix or Jimmy Page. Others, like Colin Linden, have a quieter brilliance. They play to support fellow musicians and their own songs with a perfection that extends beyond service into art, dancing a characterful line between the sacred and the profane, the beguiling and the dramatic. They have a visionary approach, distilled from years of surveying their craft and shaping what they've learned into diamonds. And with those jewels they can refract complex emotions or simply cut like the patient, intuitive, and exacting badasses they are.
Linden, who has a wonderfully raucous and spacious new album called Blow, is a crucial ingredient in the glue of Nashville's—and, therefore, the world's—roots music scene. And while the ability to write songs that turn life into an open book, create sounds that wallow in the dirt or glide toward heaven, or illuminate the wisdom and heart in the work of those he supports or produces seems part of his DNA, it all traces back to a magical encounter with a giant.
By age 11, Linden was already a guitar prodigy. He'd seen Hendrix and other major performers of the day and had traced the rock he loved back to its blues roots. When he learned that his favorite artist, Howlin' Wolf, was playing a matinee as part of a six-night stand at Toronto's Colonial Tavern—just a bus ride away—he begged his mom to take him. "The show started at 3:30, but I was so eager to make sure we had no trouble getting in, we got there about three hours early," Linden recounts. And there was Wolf, sitting on a staircase near the stage. Linden raced down to the 6'6", 300-pound bluesman and explained that he had to stay in the balcony due to his age, so wouldn't Wolf come up to talk with him? "Of course," Wolf growled, and their friendship blossomed and flourished for five years, until Wolf's death in 1976.
Ain't No Shame
Wolf, who was a remarkable judge of character, saw something in the kid. "One of the things that he said—to an 11-year-old—is you got to do your best and you got to play the same if you're playing for three people or if you're playing for 3,000," says Linden. "I know that it's kind of corny, but it does speak to the idea that the calling of being a musician is greater than the success you may achieve in a public sense. That idea is something that sustains you when you are playing for three people—and not just when you're a 15-year-old kid, but when you're 35 or 45 … or maybe 55. Being blessed to be able to make music is a wonderful calling, and I reflect on Wolf's generation—and the earlier generation of musicians like Sam Chatmon and Son House—and think about what those people went through and yet still kept a sense of wonder about playing music."
"Being blessed to be able to make music is a wonderful calling, and I reflect on Wolf's generation—and the earlier generation of musicians like Sam Chatmon and Son House—and think about what those people went through and yet still kept a sense of wonder about playing music."
That sense of wonder, and the engagement it engenders, has been at the core of a storied career—even if everyone doesn't know Linden's story. A year after meeting Wolf, Linden started playing coffeehouses and radio and TV shows, and began developing the deft fingerpicking that's one of his signatures. Canadian blues guitarist David Wilcox became his slide guru, hired Linden as co-guitarist in his group, and gave him 140 blues albums he considered essential building blocks. "David showed me the possibilities of what was there," Linden relates. "I already loved Elmore James, Fred McDowell, Robert Johnson, Blind Willie Johnson … that whole generation of great slide players. And I was aware of open D and open G, and some related tunings. David really showed me how to play 'Terraplane Blues.' I've spent the last 47 years still hearing him every time I play it, and almost every day I listen to some Robert Johnson, and every time I hear something I haven't heard before. I keep digging deep into it. Of course, I loved roots music at the time, which had so many elements of blues in it: Ry Cooder, Little Feat with Lowell George, and I can't underestimate the influence of David Lindley playing on the Jackson Browne records. I also loved all kinds of singer-songwriter music. The Band were always there for me, too. [The Band recorded Linden's song "Remedy" on 1993's Jericho.] Almost all the music I love was very informed by blues."
November 27, 1971—the fateful day that 11-year-old Colin Linden met and was befriended by his idol, blues legend Howlin' Wolf, aka Chester Burnett.
Photo courtesy of Colin Linden
In 1979, Linden played his first recording sessions, for 80-year-old Mississippi Sheiks' guitarist Sam Chatmon's final album. His own debut, Colin Linden Live!, came a year later. Since then, Linden's ridden the swells and shallows of the business, yet there's always been a tide of albums, bands, and gigs to surf. In the '90s, he played guitar and co-produced for legendary folk-rock artist Bruce Cockburn, and, since his move to Nashville in 1997, has produced albums by Keb' Mo', Paul Thorn, Colin James, Lindi Ortega, Eden Brent, Gina Sicilia, and a passel of other roots performers. He's played gigs and recorded with many of the above as well as Emmylou Harris, Alison Krauss and Robert Plant, T Bone Burnett, John Prine, Gregg Allman, Rhiannon Giddens, the Pistol Annies, Buddy Guy, and Bob Dylan. (Linden's 2013 summer tour with Dylan is his favorite: "All my life, he was the person I wanted to play with the most. I loved playing with him, I love the other guys in the band, and the crew. It was an absolutely unforgettable, wonderful experience.")
In addition, Linden has made 11 albums with the heralded Americana trio Blackie and the Rodeo Kings, with fellow songwriters and friends Tom Wilson and Stephen Fearing, and has 14 solo albums under his belt. Along the way, he's earned a Grammy and nine Juno Awards, several Maple Blues Awards, and dozens of other awards and nominations.
TIDBIT: In the vintage photo on the cover of his latest album, Linden is playing one of his first electric guitars: a 1964 Fender Mustang that was given to him on his 17th birthday by Canadian bluesman David Wilcox.
There's even a good chance you've seen Linden and not known it. T Bone Burnett drafted him for the TV series Nashville a decade ago and he's appeared onscreen many, many times as the ubiquitous guitarist in black—his everyday choice of monochrome. Off screen Linden's served as the show's bandleader, one of its key songwriters, music producer, and eventually music director during the series' six years. He's also been the music director for a series of U.S. and European tours featuring Nashville's stars, and continues to perform and record with Charles Esten, who played the brilliant but troubled songwriter Deacon Claybourne.
Linden also has a track record on the big screen—not only as Father Scott, the singing preacher in the Coen Brothers' rom-com Intolerable Cruelty, but as a soundtrack artist whose contributions include O Brother, Where Art Thou?,Everything's Gone Green, Please Kill Mr. Know It All, and Inside Llewyn Davis.
Onstage, Linden effortlessly ricochets between original songs, traditional blues and gospel, and textural playing based in traditional roots music that reaches for the cosmic.
Photo by Art Tipaldi
His new album Blow ignited as a soundtrack project. Linden was asked to do stock music for Hap and Leonard, a dark TV buddy comedy about two rule-bending fixers-for-hire. "I kinda did it on spec," he recounts. "I didn't even pick the other musicians, but they were people I knew and admired very much: bassist Dave Jacques and drummer Paul Griffith. And we recorded with a fantastic engineer named Mark Rubel, over at Blackbird. It was very inspiring. Over the course of a couple days, I came up with maybe 18 pieces of stock music. And because the show was set in the Texas/Louisiana border area, I wanted to draw upon sounds that were kinda from there. I was so happy with the sounds that Mark got on my guitar, and so happy with the way it all turned out. Part of the deal was that I could take the tracks and use them for whatever purpose I wanted. And among those 18 pieces, maybe eight or nine felt like songs—just the structure that I'd improvised my way through."
Sliding on a Truly Regal Regal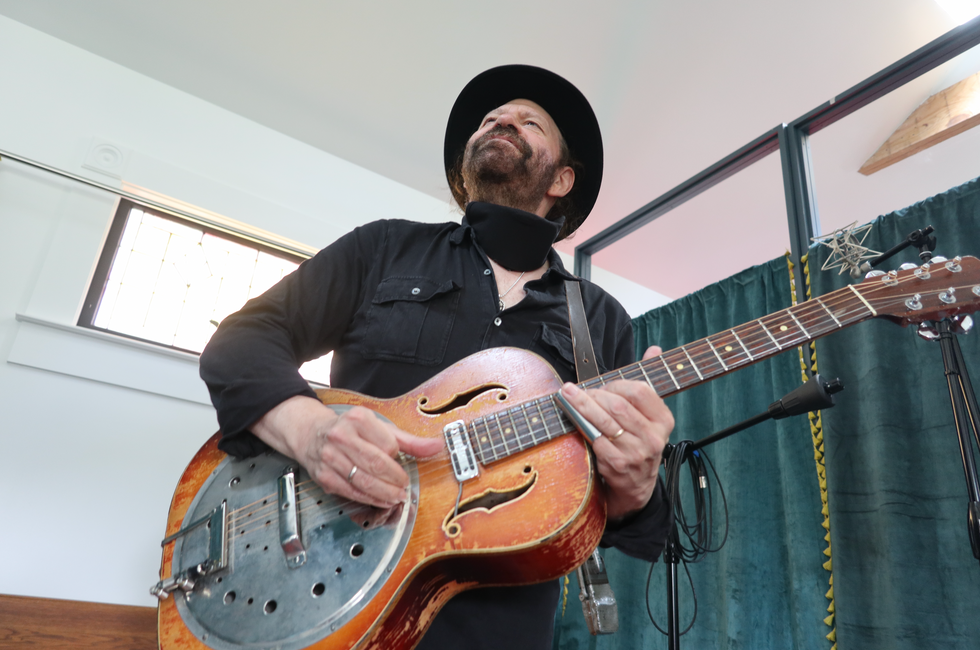 Linden's most treasured guitar is this wonderfully voiced 1937 Regal Angelus, outfitted with both a gold-foil and a piezo pickup. Note his wrench-socket slide.
Photo by Ted Drozdowski
If you've seen Colin Linden onstage, you've likely heard him play his holy grail instrument, a 1937 Regal Angelus resonator guitar. It has a beautifully burnished natural tone, a bit lower and mellower than many resonators, and when Linden steps on a digital delay there are seemingly no limits on its ability to create honeyed textures that are transporting and transcendent.
The 5-pound wood-and-metal guitar with a solid, V-shaped neck is also perfect for his fingerstyle-with-slide approach. Linden says he keeps his slide, a no-foolin' Mastercraft 5/8" socket, á la Lowell George's 11/16", "on my finger almost all the time, no matter what I play, just cause I'm better at making certain notes sing with the slide than I am with my fingers. I'll play a melody, and the first three notes of the melody will be the slide, and I'll just go back and forth.
"Life changed tremendously for me when I got that 1937 Regal Angelus," he continues. "It was gifted to me by [Canadian singer-songwriter and multi-instrumentalist] Linda McRae, whose first album I produced in 1997. She had that guitar at her apartment, and we were doing pre-production for the album, and I didn't have an acoustic with me, so she said, 'just play this.' And it was the greatest guitar I had ever played. I asked her, when she was going to come to Toronto to record, 'Would you mind bringing that guitar with you? I'd love to play it on your record.' And she did, and I played it a ton on her record, and when the record was finished, she gave me that guitar."
By then, Linden had been experimenting with combining acoustic and electric tones, including putting a piezo pickup and a magnetic pickup on the same acoustic guitar, "because there are elements of both of those things that I really value having." He also uses heavy strings on all his guitars, "so the gauges were not a lot different between the electrics and acoustics for me. It was easy to go back and forth."
One day, his luthier made him an offer: "I know you love gold-foil pickups. I have one that would fit right underneath the strings, and I can just affix it to the face with tape and see if you like it." That gave Linden "a world of sound, and I put a McIntyre pickup on the cone. I eventually hardwired the magnetic pickup into the guitar, and that combination gives me a sound I love. I've played it, certainly, on over a hundred records. I've played that guitar with Bob Dylan, with Emmylou Harris, for President Obama at the White House. I played it at Carnegie Hall, the Ryman, Royal Albert Hall, Massey Hall in Toronto. That's the guitar that comes with me everywhere."
And here's a fun fact. Linden's worn a slide on his left-hand pinky so often and for so many years that his finger has permanently bent to accommodate it. That's something he's seen before. "When I was 15 years old, I met Tampa Red. He was living in a nursing home in Chicago, but me and my friend Doc MacLean visited him on a journey that we took to the Southern states. Doc was a few years older than me, so he could drive. Even though it had been many years since Red had played, his pinky was permanently extended and almost looked dislocated from the rest of his hand from all of his years of playing slide."
Now Hear Colin and His Regal Regal
During pandemic downtime, Linden got the itch. "I thought, 'I'd like to make an album where this is the backbone, and I'll add whatever songs need to come.' I was feeling so creative. As with a lot of other songwriters I know, I ended up being on fire writing, just 'cause we weren't out playing and stuff. So, I finished those songs and wrote a bunch of others and co-wrote a few new ones. It was an interesting process for me, because some of those pieces were just a few bars that I'd loop and build a song around."
Colin Linden's Gear
Linden's No. 1 amp: a cat-scratched 1957 Fender Deluxe that he's nicknamed the Pig. "I bought it for $175 when I got off the road with Leon Redbone, out of somebody's garage in Berkeley," he says.
Photo by Ted Drozdowski
Guitars
1937 Regal Angelus with DeArmond Gold Foil and McIntyre pickups
Various Fender Telecasters
1963 Fender Stratocaster
1952 Gibson Les Paul
Gibson Custom Shop Les Paul goldtop
Harmony Stratotone
Nash T-style with Bigsby
National Resolectric
1951 Gibson CF-100 E
1966 Gibson B-25-12
Martin 000-18
Amps
1957 Fender Deluxe called "the Pig"
1954 vintage 5A3-circuit Fender Deluxes
Fender Deluxe tweed and '65 reissues
Analog Outfitters Sarge
Strings & Slide
D'Addario (.012–.014–.016–.030–.040–.050)
D'Addario flatwounds (.011–.053)
John Pearse Phosphor Bronze Lights (.012–.053) for the Regal
Martin Mediums (.013–.056)
Mastercraft 5/8" socket
Effects

Line 6 M9 Stompbox Modeler
Xotic EP Booster
Analog Alien Rumble Seat Overdrive/Delay/Reverb
Fulltone Custom Shop Tube Tape Echo
Fender Reverb Tank
Boss DD-5 Digital Delay
For the most part, he worked alone in his backyard home studio in a quiet Nashville neighborhood, just 10 minutes from the Ryman Auditorium, one ofTV-Nashville's real-life locations. Maybe that solitude is why he was able to crawl so deeply into his guts and give Blow a raw, personal sound. It's raucous tones and mostly hard-boiled arrangements sound as if they were cultivated in a sweaty juke joint or a swamp-side roadhouse rather than a studio. It might also help that he was joined by some old friends: a host of Fender Deluxes (including a '57 named "the Pig" that's had much of its tweed shredded by a nonetheless beloved cat) that he sometimes runs in stereo, a Nash T-style, a flock of Fender Teles (including a '71 re-fin that gets him into Robbie Robertson's tone zone), his Gibson Custom Shop goldtop Les Paul and another from 1952, a 1963 Fender Stratocaster, a Harmony Stratotone, several acoustics, and the crown jewel of his extensive guitar collection—a 1937 Regal resonator with a voice that's pure emotional Esperanto. (See sidebar.)
Blow's 11 songs also sound like the past rushing toward the future. Linden's writing is focused and poetic, whether celebrating love in the Wolf-flavored stomper "Angel Next to Me" or diving into the urban demimonde in "Until the Heat Leaves Town," which includes a guttural, dark, and wobbly slide solo that slouches toward the avant-garde but fits the song perfectly. That's a one-two punch he first encountered hearing Hubert Sumlin push the envelope with Howlin' Wolf. Linden's guitar tones are full of muscle and blood and skin and bone, with their rawness often drawn into relief via modernist mixing techniques, like pushing the drums to the fore in "4 Cars" and in the soaring slow blues "Change Don't Come Without Pain," where flourishes of drunken bent notes and slide, and rotary and octave effects, plunge into psychedelia with mad abandon. On the trad side again, "Boogie Let Me Be" sounds borrowed from John Lee Hooker's '40s/'50s catalog, and "Right Shoe Wrong Foot" is about as Bo Diddley as even Bo Diddley ever got, with Linden's guitar dealing out a reverb-drenched, 3-2 clave-fueled beat.
"Almost all the music I love was very informed by blues."
"I kind of went with what made me happy," Linden says. "My ear for sounds and my own aesthetic of mixing records is so informed by my heroes, Chess Records, Sun Studios, and the great Excello recordings, so that's what I go for. It makes me smile when I hear that stuff. But I've also worked with T Bone Burnett a lot, ever since he produced an album for Bruce Cockburn called Nothing but a Burning Light in 1991. I love how T Bone transports something timeless and otherworldly into something that's immediate. It's so appealing. He's had such a gigantic impact on my life."
Linden's fingerpicking on Blow is also a joy, allowing him to literally dig into licks and make his guitars' strings snap and howl, layer rhythm lines with melodic counterpoint, and shift seamlessly between slide, chords, and single notes. "I was 13 and had been performing for a year or more when a couple people told me, 'If you wanna learn country blues, you should maybe learn how to fingerpick. Those guys are fingerpickers," he recalls. Older artists, like Ken and Chris Whiteley from the Toronto folk scene, became his mentors, and then working with Wilcox was his master class. "When he got me into combining slide and fingerstyle, it made me feel like there were no limits," Linden says. "He was and is a wonderful improviser, with an incredible imagination, and he's gifted in a lot of genres. After that, fingerpicking really was it for me. And then, I realized that a lot of stuff I wanted to play—like Steve Cropper licks—would really sound better with a pick. So, I started to use one when I formed my first band at 17. Then I got into hybrid picking. But fingerpicking is really where I feel at home. It's like breathing."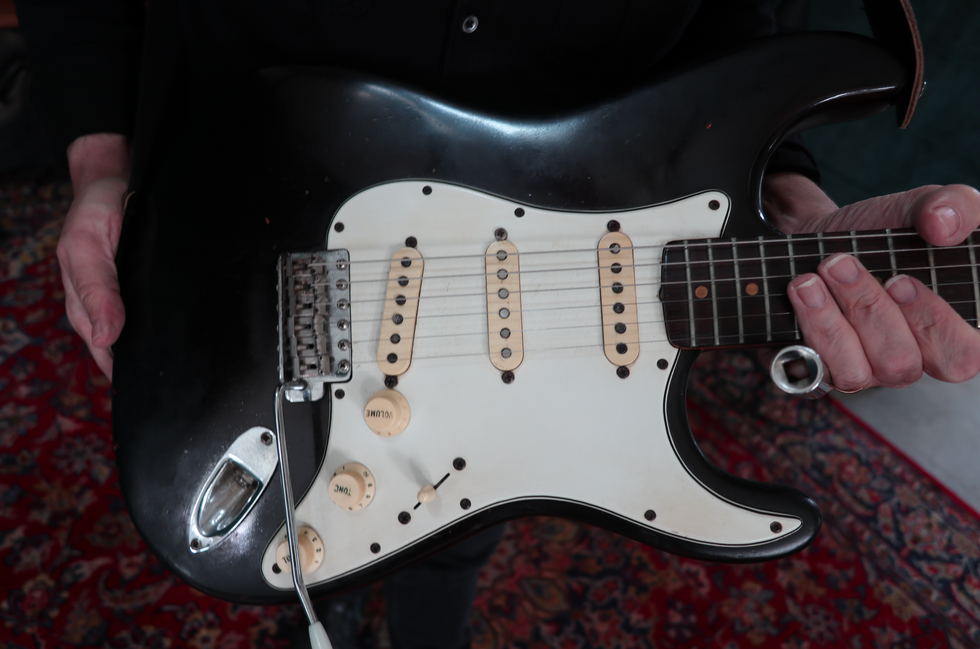 Another instrument that appears on Blow is this 1963 Fender Stratocaster, which is a recent acquisition. Note the interior of the slide, revealing its identity as a socket wrench.
Photo by Ted Drozdowski
Like the committed artist he is, Linden constantly works to evolve his playing and his tonal palette. "Over the years, that's really meant focusing on the fundamentals," he says. "It's having better time, playing more in tune, and being more economical. I've learned so much from so many of the great guitarists here in Nashville … people like Richard Bennett. [Mark Knopfler's longtime sparring partner and a session and studio ace.] I got the chance to do a few sessions with Richard. He's a hero of mine, and he would play a Telecaster through a Deluxe Reverb, and I'd have my pedalboard and I'd have everything on. I'd do everything that I could to get the greatest sound, and it would sound maybe 25 percent as good as him just playing guitar into an amplifier. He served the song always, in a really focused and committed way. So, the things that I've learned from my heroes, like that, continue to be drummed into me. I got a chance over the last few years to play on the Grand Ole Opry a lot of times, and I would see the guys who were in the Opry band, especially Jim Capps, who was the sweetest guy, and Kerry Marks. They were always serving the song and they would be very economical, but put fire in it, too.
"When you're touring a lot, your chops have to be in great shape," Linden continues. "Even here in town, when I'm playing with Whitey Johnson"—the parodic blues persona of songwriter Gary Nicholson­—"I'm taking maybe 30 solos a night. During the pandemic, I felt like that part of my life, which had been a constant for 40 years, became … well, it was gone. And not only did I crave it, but I wondered if I was playing as well as I should or could. I noticed that on a couple albums I played on and produced, I put so much effort into making every note as emotional as possible, playing with as much soul and fire as I can. I mean, I can practice Blind Blake and Charley Patton and all the stuff I do really well, but you can't really simulate being a soloist in front of a big crowd. So, you focus on something different in your playing and hopefully the good things about you that you keep close will all be there when you get back to playing live. That's what I'm hoping for. [Laughs.] I'll let you know."
YouTube It