From the giant, hefty beasts of yore to their modern, ultra-portable equivalents, bass amps have come a long way. So, what's next?
Bassists are often quite well-informed about the details of their instruments, down to the finest technical specs. Many of us have had our share of intense discussions about the most minute differences between one instrument and another. (And sometimes those are interrupted by someone saying, "It's all in the fingers.") But right behind our backs, at the end of our output cables, there is a world of tone-shaping that we either simply ignore or just don't want to dive into too deeply. Turning a gear discussion from bass to amp is a perfect way to bring it to an abrupt end.
Since the beginning of our instrument's history, bassists have faced the fundamental and existential problem of trying to be heard. It's solved now, but too many players don't seem to be interested in how we got here. And it's not just bassists. Even some amp manufacturers haven't been concerned with the details. A few readers might remember that in my September 2019 column, I discussed class-D amp technology. As part of my research, I called a very respected amp manufacturer to get his insight into class-D technology. His stunning response was: "We simply checked some Asian-made modules and chose the one we thought sounded best, but I don't know and never cared how they work." Even the offer of a short technical introduction was met with blissful ignorance. So, if anyone thinks they don't need to know how their amp works, at least you're in good company!
Over the course of the last 80 years or so, the fundamental technology used in our amps has been replaced—and not just once. The technological changes came in several waves and another might be on the way.
Here we are now after this last wave of amp-tech: down from 300 watts at 40 kilograms or 88 pounds in the 1970s, to 500 to 1000 watts at 1 to 3 kilograms or 2 to 7 pounds today.
For the greater part of the last century, bass amps relied on tube circuitry, and it took until the middle of the century to make decently powerful, but heavy and fragile, amps. Unfortunately, guitarists used the same technology—and sometimes even the amps that were initially made for us. (Remember that our low-end needs about 10 times the power of a guitar amp to cut through!) So, as their volume increased, our need for more power just became greater. Our problem remained until the 1960s when amps like Ampeg's B-15 Portaflex and SVT entered the scene. High-output amplification manufacturers sprouted everywhere, enabling loud rock bands to move from clubs to stadiums.
Though the transistor quietly altered the landscape of radios and small solid-state amps during the early 1950s, it took until the late '60s before this technology made it into our rigs. The first companies to make solid-state amps were those who possessed a higher engineering background. Vox, for example, released one of the first solid-state bass amps, thanks to their prior experiences with solid-state circuits from their organs. Many smaller companies soon followed, although most earned a reputation for unreliability. But the technology developed at a breathtaking pace.
This Ashdown Little Giant is more powerful than the mighty SVT at less than 1/10th the weight!
​
Photo courtesy of wikimedia.com
During the 1980s, clean and powerful hi-fi-esque synth sounds became trendy. This benefitted bassists with the development of clever tone-shaping options, hybrid circuits with tube preamps, bi-amping, internal DIs, and even more power.
Once we were sure to be heard, it was time to look for other advantages, like reduced weight and size, and along came another wave of new amp technology: class D. (See my column "Signal Processing in Class-D Amps," September 2019.) The basic principle behind class-D technology is pulse width modulation (PWM), which sounds as if those with higher engineering skill would once again be in the lead. Instead, there are just a few manufacturers building class-D power modules, and amp builders can use those as the foundation of their own amps. Just get one of the modules, which come in different power ratings, add a power supply and a tone-shaping circuit, and you're done. With several competing manufacturers offering identical power amps, the individual strengths have fully shifted to the qualities of their tone-shaping circuitry and other add-ons or gimmicks.
Here we are now after this last wave of amp tech: down from 300 watts at 40 kilograms or 88 pounds in the 1970s, to 500 to 1000 watts at 1 to 3 kilograms or 2 to 7 pounds today. What could be the next move? It looks as if the power-to-weight ratio has reached an end for quite some time, but tone-shaping capabilities in preamps might shift from classic circuitry to profiling or modeling amps as a fourth wave. And this time it's clearly engineering competence that will make the difference. Can you imagine what instruments we'd be playing today if our basses had made similar progress?
Flexible filtering options and a vicious fuzz distinguish the Tool bass master's signature fuzz-wah.
Great quality filters that sound good independently or combined. Retains low end through the filter spectrum. Ability to control wah and switch on fuzz simultaneously. Very solid construction.
Fairly heavy. A bit expensive.
4.5
4
4
4
Options for self-expression through pedals are almost endless these days. It's almost hard to imagine a sonic void that can't be filled by a single pedal or some combination of them. But when I told bass-playing colleagues about the new Dunlop Justin Chancellor Cry Baby—which combines wah and fuzz tuned specifically for bass—the reaction was universal curiosity and marvel. It seems Dunlop is scratching an itch bass players have been feeling for quite some time.
Triple Threat
To call the Justin Chancellor Cry Baby a two-in-one doesn't do the pedal justice, simply because the difference between the two filter effects is so distinct. The first filter, called "Wah," is a traditional wah that uses the red Fasel inductor circuitry of a modified Cry Baby. The second filter, designated "U.K.," lives in the same sonic ballpark as the filter in Chancellor's older, British-made, Wal basses. This filter sounds drastically different than the standard wah filter and is more reminiscent of a traditional envelope filter.
Both filters have dedicated controls for volume and Q. Q adjusts the bandwidth and intensity of the filter peak. You switch between the filters using a large footswitch on the very top of the pedal. The fuzz controls occupy the lower half of the pedal's right side, and consist of fuzz, tone and volume. The bypass switch for the fuzz is at the very bottom of the pedal and an additional "pedal topper" cap is included so you can make the switch slightly taller and activate it with your heel without taking your toe off the wah treadle. Dunlop says this was an important feature on Justin's wish list. The kick switch on the right side of the pedal, meanwhile, enables use of the fuzz independent of the wah. One last very cool and useful feature is a small control for bypass delay that allows you to extend or decrease the time that the effect rings out when you move the treadle to the heel position.
Even at the toppiest settings, the fuzz retained a flexible vintage feel and never became too harsh.
Heavy Package, Heavy Tones
Pedals are smaller and lighter in general these days, so the Chancellor Cry Baby's well-built enclosure and spacious layout make it seem a little on the wide and heavy side. But for those of us who tend to get a bit excited or heavy handed (or heavy footed) while performing, the heft is reassuring. As shipped, the pedal's adjustable treadle has a firm resistance that enhances control and ensures that there's little chance of engaging the effect accidentally.
Plugging my '84 Yamaha BB-3000S into the pedal with just the P-pickup engaged, I started my test by employing the fuzz exclusively. It's based on Chancellor's old Colorsound Tone Bender, and sounds great without any help from the wah. I tended to dial back the top end in the fuzz signal slightly to accommodate my aggressive approach and new steel strings, but I felt that many of the brighter fuzz settings would pair wonderfully with a bass strung with flatwounds. Even at the toppiest settings, the fuzz retained a flexible vintage feel and never became too harsh. As with any fuzz or distortion, going direct into a desk or interface can yield some harshness. I preferred the brighter settings through an amp simulator plug-in or an amp to soften the overtones ever so slightly.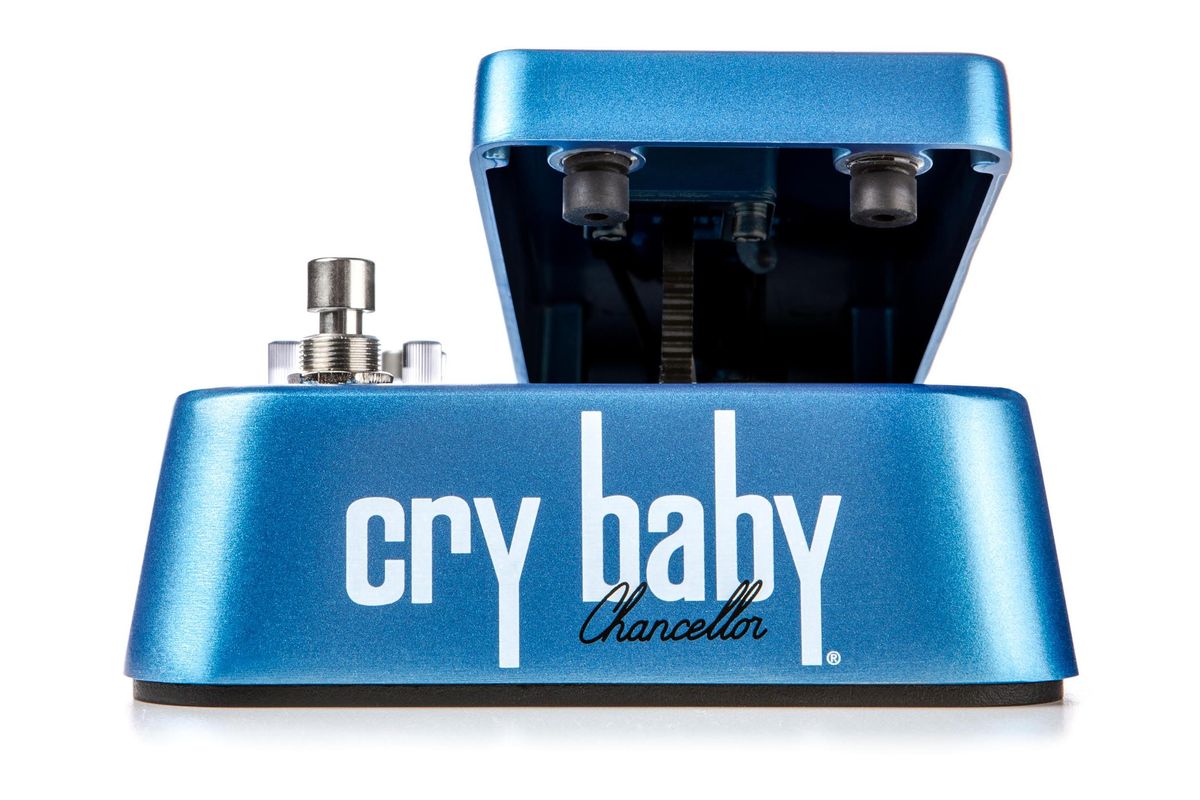 New School Metal to Ol' School Funk
When I think of bass wah, my mind goes to Tim Commerford and his work on the Audioslave albums. The Cry Baby-derived filter in this pedal shines in this type of heavy application. Even when I set the Q filter for a fairly narrow range to retain more warmth and low end, the pedal delivered an aggressive, rhythmic bite that inspired me to play in ways I normally would not. Opening up the Q filter, the J.C. wah delivered biting, aggressive tones that had plenty of attitude—even without the fuzz. The U.K. filter comes from a much different place than the wah filter. In U.K. filter mode I was usually moved to disengage the fuzz and explore the unique possibilities of shaping its very envelope filter-like sound with my foot rather than picking dynamics. The thicker low end and low-mid punch of the U.K. filter lent itself extremely well to both slap and rhythmic muted-pick playing.
The Verdict
There are lots of uncommon tone combinations in the Justin Chancellor Cry Baby pedal. And my informal panel of L.A.-based rock bass players that tested the pedal all remarked about how difficult it would have been to achieve the sounds in the Chancellor with a standard wah and fuzz pairing. Dunlop did more than just make a signature model pedal with a well-known player's name on it. They assembled a set of features that many bass players didn't even know they needed. And while the feature-rich design makes it expensive, the result is a pedal that's bound to inspire.
Dunlop Justin Chancellor Cry Baby Wah Demo | First Look