Photo by Rafaelle Serra
Bucking the "neocolonialism" of World Music, this guitar pluralist brings explosive scope and skill to Tuareg-rooted playing on his new album, which includes original Meters guitarist Leo Nocentelli.
Farees' new album, Blindsight, opens with a blistering cover of "Hey Joe." And although the guitarist is heavily influenced by Hendrix and delivers a nearly spot-on rendition of the iconic solo in the middle of the song, he's really displeased by the comparisons being bandied about in attempts to describe his own guitar prowess.
"It really pisses me off when they say 'the new Jimi Hendrix,' or 'here's the next Hendrix,' or 'the Jimi Hendrix of the Sahara'," says Farees, who is of Tuareg and German/Italian heritage. "There's only one Jimi Hendrix. It's promotional bullshit, just to attract attention. World music is really a neocolonial system. It's based on exoticism to this day, and so they always try to manufacture this exotic image—you see a person of color with an electric guitar, and you go, 'Jimi Hendrix,' which is racist. So, yeah, I don't like the way Jimi is used. It's profiting off the image of Jimi to promote someone else."
Farees' strong, articulate character permeates his musical output and vision. He's a fiercely independent artist who wants to dictate his own terms within the music industry. And he's fervently committed to dismantling the thinking around the neocolonial power dynamics that dictate much of capitalist society—check out his "Maneefesto" at farees.com for his incisive worldview. Regarding the music industry, he's challenging what he calls "the age of shallowness and appearance." As such, his music and lyrics are inextricably linked to the ideals and values that define him as a human being. There's no separating the performer from the person. "I'm invested in societal change because I'm a musician. It's as simple as that—it's natural," he proclaims.
FAREES feat. LEO NOCENTELLI of THE METERS - The Melting (Official Music Video)
When it comes to songcraft, Farees grounds himself in his traditional Tuareg heritage. For the uninitiated, the Tuareg people are a large nomadic ethnic group that principally inhabit a vast area of the Sahara. "It was a huge empire and, being nomadic, they were influenced by many different cultures, so you have a music and poetry style that's very diverse," he explains. "If you listen to traditional stuff from Timbuktu and the Niger River in West Africa, it really sounds like the blues. And since millennia Tuaregs had rap and spoken word. We had all of that in Africa."
Farees started out playing guitar professionally as part of the Saharan music scene in the bands Tinariwen and Terakaft. His first record, Mississippi to Sahara (released under the name Faris in 2015), assayed the traditional rural blues of Mississippi through the lens of a Tuareg style. It is an unequivocal tour de force of mostly solo guitar playing. The album caught the ears of Taj Mahal and Ben Harper, who quickly embraced both his musical ambition and his social mission. And even though it was a low-budget project, recorded in just a couple days, Mississippi to Sahara contains all the hallmarks of the highly rhythmic approach that would come to define his guitar playing, producing, and songwriting on future albums.
In 2020, he released Border Patrol and Both Sides of the Border, two collections of genre-hopping, guitar-heavy protest songs, including Border Patrol's "Y'all Don't Know What's Going On," a collaboration with U.S.-based indie-rock band Calexico. Drawing on his own experience of being profiled, arrested, and detained during an American tour, his spoken-word poetry on Border Patrol harks back to the late-'60s protest traditions of artists like Bob Marley and Hendrix. Farees employs spoken word throughout much of his music and says that this came out of necessity. "I have too much to say for just standard lyrics," he chuckles.
"World music is really a neocolonial system. It's based on exoticism to this day, and so they always try to manufacture this exotic image."
Farees' recent release, Blindsight, continues his genre-bending, socially responsive musical trajectory. Through bombastic funk, conscious but raucous hip-hop, and psychedelic blues, Blindsight affirms the signature "wall of groove" production style he is becoming known for. "I guess that's my African ancestry," he says. "Rhythm always comes first. I always lay down a wall of different rhythm tracks on different instruments—drums, bass, keyboards, guitars, or percussion—and then, once I have this wall of groove underneath, every melody comes alive. That's the way I think as a producer." A prime example is "The Melting," featuring Leo Nocentelli from the original Meters line-up on guitar. The song is like a jigsaw puzzle of cascading rhythms and contrapuntal melodies—including a busy and melodic bass line—that coalesce with astonishing fluidity.
The Meters are another of the Farees' big Western influences, so it was quite an honor to have Nocentelli onboard. "We met online," recalls Farees. "I asked him, 'Do you feel like you could play some guitar on one of my tracks?' And he was like, 'Sure, man.' So, it was a dream come true for me. Now it's more of a spiritual connection—we became like brothers." Nocentelli performed all the guitar parts on "The Melting." "I didn't touch the guitars, specifically to leave room for him," says Farees.
At the time of this interview, Farees had just played with Nocentelli's band at the 2022 New Orleans Jazz & Heritage Festival in support of the Meters guitarist's own much-heralded, recently released lost 1971 solo album, Another Side. Nocentelli says he was drawn to Farees because he's a unique person with unique ideas: "His music is like a mixture of dialects and musical interpretations from various parts of the world, and I like that."
After meeting Leo Nocentelli online, Farees asked the original Meters' guitarist to play a feature track on Blindsight. The famed 6-stringer said yes and handles all the guitar parts on "The Melting." This year, Farees joined Nocentelli's band at the New Orleans Jazz & Heritage Festival.
Photo by Joseph A. Rosen
For "The Melting," Nocentelli used a Gibson ES-335, direct through the board. "I'm old school," he says. "I like the direct sound if I'm tracking a clean sound, especially rhythm. When you hear Jimmy Nolen with James Brown, the guitar is clean. There's no distortion or anything like that. Al McKay from Earth, Wind & Fire, too—his rhythms were sparkling clean, and I try to duplicate that."
Clearly, Farees isn't content to be defined solely by his guitar playing, good as it may be. Collaboration, whether with Nocentelli or Calexico, is a driving force in his life. "I love to create," he attests. "The guitar was my first instrument, but then I had to explore, and I think that's how it's going to be with me. I just love sound." On "Fuck You, I'm Black," he even plays the banjo, tuned in a Tuareg style. "It's tuned the same way the Tuareg tune their lutes. Tuaregs have nine or 10 different [open] tunings based on the songs. Probably the easiest one, and the one we use most, is the low 'E'—you tune it up to 'G.' And then you play in 'G,' and you have all kinds of scales and stuff to do." [A typical Tuareg open G tuning is G–A–D–G–B–E.]
But Farees points out that he is a completely self-taught guitarist and doesn't know anything about Western music theory. "I don't know what notes I'm playing," he admits. "I don't count the rhythms. I just do everything by instinct, so there's a lot of mystery to it. Most of the things I do, I don't know how I'm doing them. I just do them. I guess it comes from above, as they say."
Farees' Gear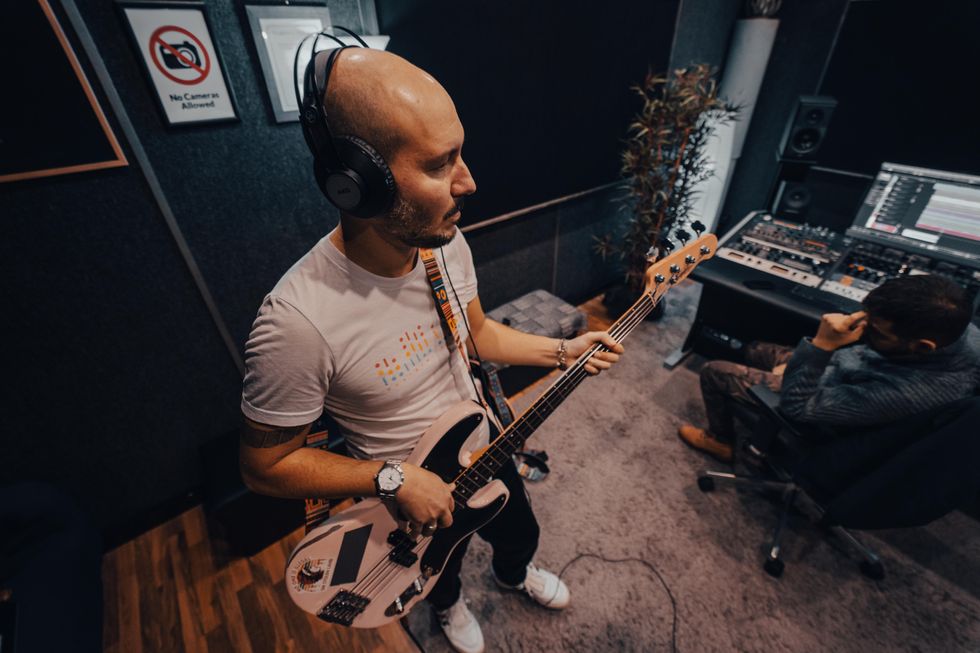 Seen here tracking bass parts, Farees says he wrote most of Blindsight at the keyboard.
Photo by Rafaelle Serra
Guitars
Numerous customized Squier Strats with Q pickups
ES-style with vintage-type Q humbuckers
Squier Starcaster
Greco 1978 triple-humbucker LP copy
Greco 1979 S-style
Danelectro 12-string electric
Amps
Vox Pathfinder 10
Custom 25W head based on Fender Bronco circuit
Replica JTM45 head
1963 GEM Deluxe combo
1973 Davoli Tuono combo
Custom 4x12 cabinet with Celestion Greenbacks
Effects
Custom-made Fuzz pedals
Two custom-made Univibe-style pedals (one has more output and a stronger preamp section)
'70s Jen Phase Shifter
Rocktron Banshee Talkbox
Wahs
Custom-made or modded wah pedals
1966 Vox Clyde McCoy wah
Various '70s Italian-made wahs
Strings and Picks
GHS Strings (.010–.038)

Planet Waves Medium 0.70 mm picks
He also doesn't ascribe to a single playing technique. "I play every style—fingerpicking, picks," he attests. "Usually, for a pick, I use the butt of the pick, not the front. It gives me more speed and fattens the sound." And when it comes to gear, Farees makes sure that his instrument choices align with his thinking—a kind of a practice-what-you-preach methodology. "People are starting to watch what an artist says and does," he explains. "It has to align with what you say. I'd rather go to a small artisan that produces quality stuff by hand. That's why I endorse Q Pickups. For a set of pickups, the most pricey are maybe $150. They don't charge you for the brand. No bullshit and real quality. That's what I'm about.
"The sound is part of the song for me, so it's really important. I work a lot on my sound," he continues, explaining that he finds "incredible sounds using incredibly cheap gear" and cites the rhythm guitar track on "Hey Joe." "That's the Vox Pathfinder 10, and it's an awesome amp. I don't know how they did that circuit, but it sounds like a big Marshall amp, and it's just a transistor, super-small practice amp." He mostly plays Squier guitars, as well as a pair of '70s Greco guitars from Japan. "They're incredible," he says. "The Japanese craftsmanship in the '70s was incredible. If you do a blind test with a vintage '68 Strat, you probably won't notice any difference." For the outro solo on "Hey Joe," he used an unnamed vintage Italian-made phase shifter and a custom-made JTM45-replica head with an Orange bass cab. "I love bass cabs, rather than guitar cabs, because they add more fat to my tone."
"I love bass cabs, rather than guitar cabs, because they add more fat to my tone."
Farees' values are reflected in all aspects of his music. He's put in his time hustling to set up his own label and distribute his records worldwide, and feels that he's now a truly independent musician. Farees says that his 2020 release Border Patrol was finished for two-and-a-half years before it came out as he prepared the infrastructure needed to be truly free of record companies and the hierarchy that goes along with that side of the business. "I was contacted by major labels, but they wanted to censor me and change my whole persona," he explains. "They've tried to change my song titles, change the album titles. I wanted a double LP, and they were like, 'No. It has to be a single LP.'"
The music and the message are important to Farees, not marketing or sales concerns. "I make music because I really believe in good music and good values," he explains. "It's about bringing something good and something new to the table, and not doing what everybody else is doing or imitating. I think that's an artist's responsibility. Not that you have to revolutionize or change everything—just bring your own thing to the table."
Blindsight
Farees - HEY JOE (Isolated Guitar)
PG Exclusive: Check out the isolated guitar tracks from "Hey Joe" off Farees' new album, Blindsight.
Like King Ghidorah, these rock fretmasters prove three heads are better than one.
After a five-year break in studio releases, Train came roaring back this year with AM Gold and a tour with dates stretching into 2023 that's delivering their new songs and a sampling of the group's 28 charting singles from their nearly 30-year history. PG's John Bohlinger stopped in on the band's two guitar players, Jerry Becker and Taylor Locke, and bassist Hector Maldonado, before their June 21 show at Nashville's Ascend Amphitheater. They displayed the big bevy of instruments they use to recreate the Train sound live.
PS: Special thanks to techs Wayne Davis and Stephen Ferrera-Grand for help running down the rigs.

Brought to you by D'Addario Nexxus 360 Tuner.
Yellow Fever
Taylor Locke's No. 1 is this all-stock, scarred Gibson Custom Shop Les Paul Special in TV yellow. For the record, Locke uses Shubb and Kyser capos, strings his axes with Dunlops, and uses the latter company's picks and slides.
Hum-Doozie
When the song calls for a guitar with humbuckers, Locke goes with his all-stock Gibson Custom Shop R7 Les Paul Goldtop. It's essentially a re-do of a 1957 Paul right down to the chunky C-profile neck and Indian rosewood fretboard.
Double Trouble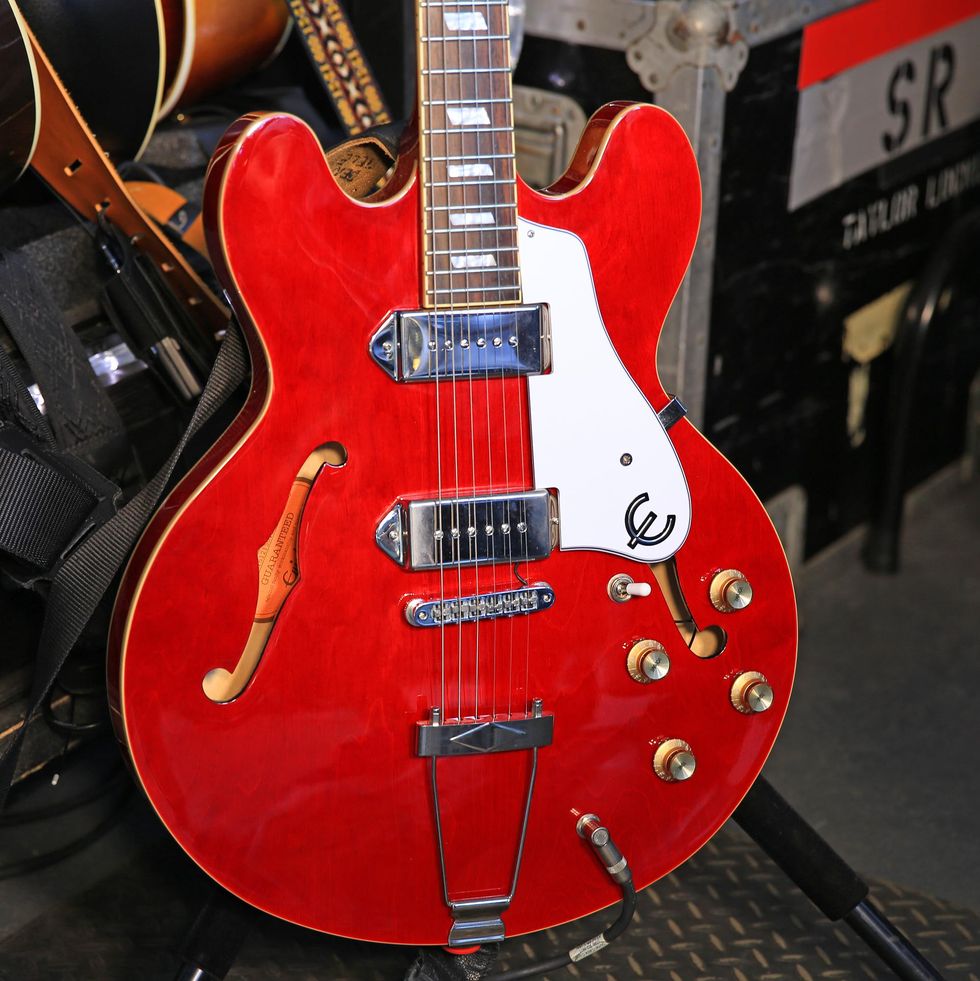 Some of Train's songs require both electric and acoustic tones, and for those Taylor employs an Epiphone Casino, which tech Stephen Ferrera-Grand has outfitted with Fishman's PowerBridge pickup system. The jack on the Casino is stereo, which enables splitting the stock electric pickups and a piezo pickup to two separate wireless packs, mounted side-by-side on Taylor's guitar strap. The piezo signal hits a Sound Sculpture Volcano expression pedal volume controller that routes to an on/off switch on his Line 6 HX Effects stomper. The piezo sound is sent to front-of-house and monitors via a Fishman Aura Spectrum DI preamp.
Fab Filtration Across the Nation
When it's time to go Filter'Tron, Locke straps on this tuxedo'd G6128T Vintage Select '89 Duo Jet with a trusty Bigsby. In case the colors aren't shining though in the photo, it's an impressive black with metallic green sparkle, and Locke keeps it tuned a half-step down and strung with Dunlop .011s
Old Frontier
Locke aims for a couple of classic acoustic guitar tones, and for vintage vibe he reaches for this 1964 Epiphone Frontier. It's from the original '58 to '70 run, with a Sitka spruce top and maple back and sides. These days, the model has been restored to the catalog courtesy of Gibson's acoustic builders in Bozeman, Montana.
Clydesdale Tone
The workhorse sound of the Gibson J-45 resonates in the Train catalog, and this is one of many the band keeps in their 6-string arsenal.
Reso-Phonics
When the language of roots guitar needs to be spoken, Locke grabs his Gretsch resonator—part of the company's Roots Collection of guitars. This one uses Gretsch's patented Ampli-Sonic biscuit cone.
Playing the Dozens
When it's time to wrangle acoustic jangle, this all-stock 1971 Ovation Glen Campbell 12-string gets to shine and shimmer. Unlike modern 6-string Campbell signature Ovations, this guitar lacks a cutaway. It has a Sitka spruce top, a walnut bridge, and an ebony fretboard—and sounds killer.
It's Pronounced Oo-koo-lay-lay in Hawaiian
The hit "Hey, Soul Sister," which reached No. 3 on Billboard's pop chart in 2009, is guaranteed set-list material for every show. So, of course, Locke always has a requisite ukulele onstage. Here's a look at the pair of Godin ukes in his rack.
Lean, No Cheese, 35 Watts
Locke uses a Top Hat King Royal 2x12 combo kept slightly off stage but loud enough to be audible. The 35-watter has three 12AX7s and four EL84 power tubes, and a GZ34 governing the rectifier. There's a fat-off-bright switch, too. How does he run it? See the next photo.
All Set!
Here are his settings for the Top Hat. Note the master volume riding at 1 o'clock and his preference for the hi-input jack.
Is That a Banana, or….
Locke isn't monkeying around: If his Top Hat goes down, he's got a Vox C4 tucked aside as a spare. And a banana—maybe to snack on while Ferrera-Grand powers the amp up?
The Great Switcheroo
Locke's electric guitar signal hits a Shure Axient Digital wireless and zooms into a Radial SW4 switcher. Tech Stephen Ferrera-Grand does the wireless switching on the Radial unit, in his guitar rack.
Above the SW4, you'll see, peeking out, the acoustic boss: a Countryman DI. The Godin ukuleles follow the same signal flow as the acoustics, but along a different path into a separate Countryman DI.
Treading the Treadles
From the rack, the signal is sent out to a Pedaltrain 'board, outfitted with a Best-Tronics patchbay. The board contains a Dunlop DVP1XL volume pedal to a Line 6 HX. A second DVP1XL controls certain effects parameters, such as delay repeats and Leslie speed. The signal is then sent into a Boss NS-2 noise suppressor and on to the Top Hat amp.
Each speaker gets its own microphone: a Shure SM57 and an Audio-Technica AT4040.
For the majority of the set, Taylor keeps his HX set up with the following effects models: a Tone Bender fuzz (for leads and solos), a Klon Centaur (primary overdrive sound, almost always on), an MXR Timmy OD (neutral volume boost), EHX Deluxe Memory Man (modulated slap delay), Boss DM-2 Delay (long delay), and a Fender Vibratone (rotary). Taylor scrolls to other pedalboard scenes for song-specific effects, using tremolo for "Meet Virginia," a Small Stone phaser for "AM Gold," and so on.
Butterscotch Bliss
Another entry from the realm of the classics: Jerry Becker's 2011 all-stock Fender American Vintage '52 Telecaster has an ash body, a large U-profile neck, and, of course, a maple fretboard. It is strung with Dunlop DEN1046 Electric Nickel Performance+ string sets, running .010–.046. PS: Becker uses Levy's straps and wireless pouches, Dunlop custom graphic signature picks, and Kyser Quick-Change capos.
Red Horse
This Gibson SG Classic from 2010 is stock and strung with Dunlop Performance+ .010–.046 sets—as are all his electrics. It has P-90s, a rosewood fretboard, and pearloid dot inlays up the neck.
Guitar of the Beast
This second-generation Gibson Les Paul Special reflects the body style that led Les Paul himself to cut ties with Gibson in the early 1960s. Nonetheless, with their two P-90s and lighter slab bodies, these are killer guitars. The double-horn cutaways make this 1973 a rare beast. It's stock.
All Stock and Ready To Rock
Here's Becker's 1973 Gibson Les Paul Custom, left as it came from the factory. As you may recall, this model comes with "banjo"-style fret wire, to earn their reputation as—as Gibson put it on the model's introduction in 1954—fretless wonders.
Modern Classic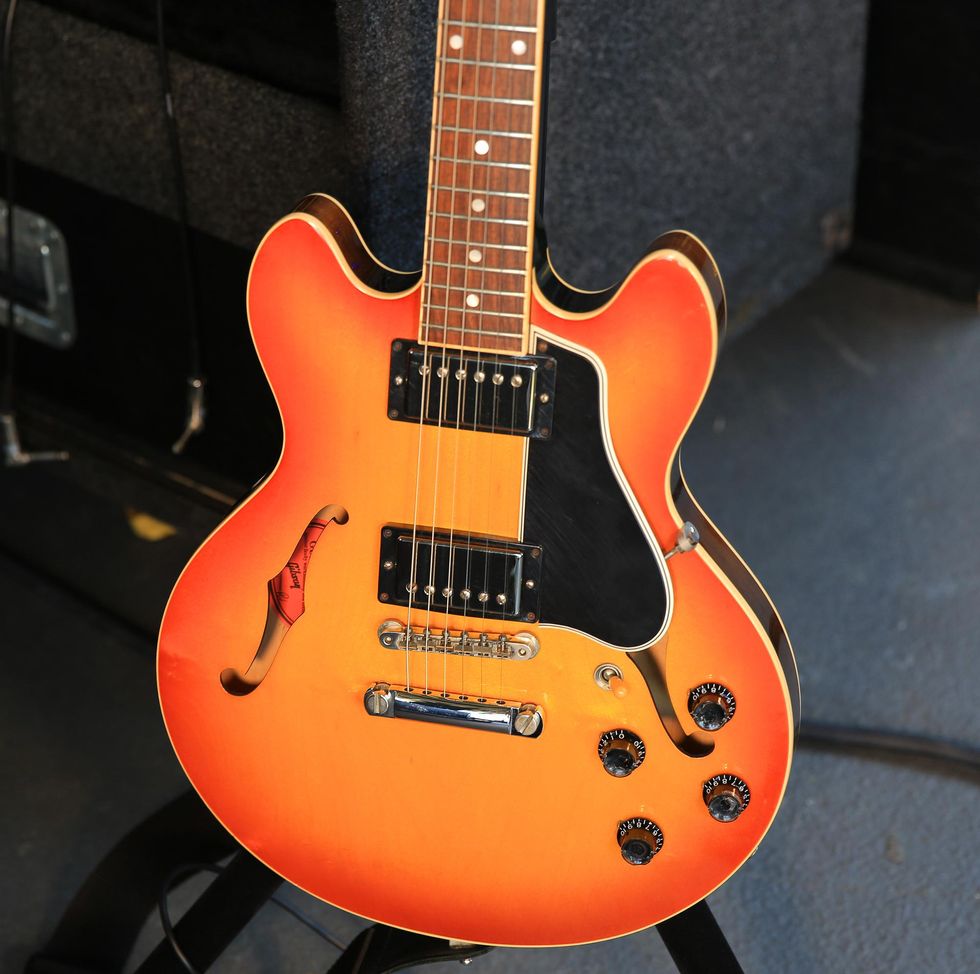 This Gibson ES-339 was built in the first year the model was issued: 2007. The company introduced this guitar as a smaller—Les Paul sized—take on the ES-335, with a laminated maple-poplar-maple body, a maple center block, and spruce contour braces.
One More 45
Here's yet another of Train's Gibson J-45s. This one is a 2013 Custom Shop model in a wine red finish, and it is strung with Elixir 11050 80/20 Bronze Polyweb lights, gauged .012 to .053.
Nashville Tuning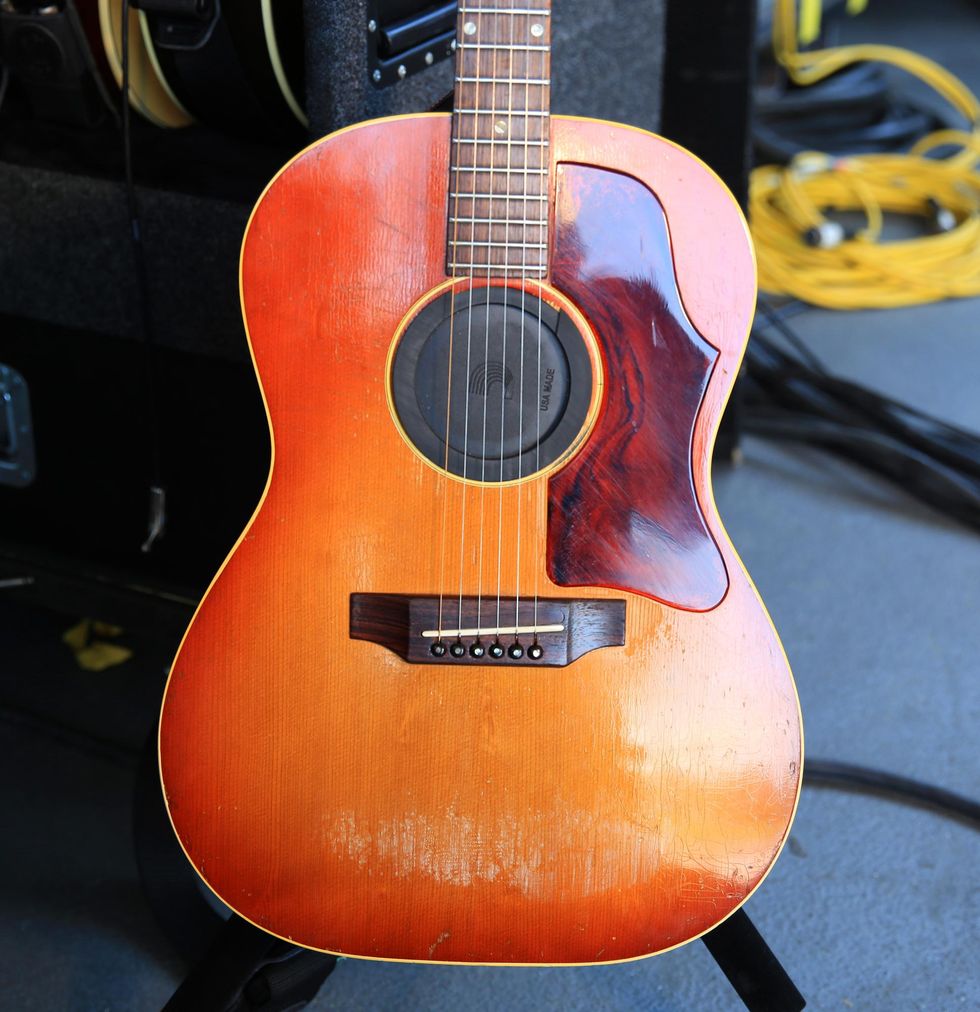 Becker's 1966 Gibson B-25 is set up in Nashville, or high strung, tuning. In this tuning, the wound E, A, D, and G strings are replaced with lighter-gauge strings tuned an octave higher than usual. In the old days, this had to be done by raiding 12-string sets, but some modern string makers produce Nashville tuning sets. So, Becker uses D'Addario EJ38H Phosphor Bronze .010–.027s.
Canadian Nylon
This 2017 Godin Multiac Nylon Duet Ambiance Natural HG has Fishman electronics that allows the internal blending of four microphone settings. It also sports a slim nut width (1.9"), a Richlite fretboard, and a chambered mahogany body. The strings: D'Addario EJ31 Pro-Arté Rectified Nylon Hard Tensions.
In the Pedal Pond
Becker uses a Fractal Audio Systems FX8 MkII combined with a Mission Engineering SP-1 Expression Pedal. There's a Lehle D.Loop SGoS Loop Switcher, a Boss TU-3 Tuner, a Radial JR-2 Remote, and a Lehle P-Split Passive Splitter. It's all powered by a Voodoo Labs Pedal Power 2 Plus.
But Wait, There's More
Guitar tech Wayne Davis mapped out Becker's signal flow for us. The electric guitars hit a Shure Axient Digital Wireless receiver and flow into a Radial JX62. There, the 6-strings can be directed into the Lehle D.Loop in and then out via a loop A send to the Fractal FX8. The loop A return then reroutes through a D.Loop out to the Radial again. Then there are amp options: a Matchless DC-30 or a Leslie combo preamp and 145 rotary speaker cabinet. Acoustic guitar arrives via the wireless and hits the PA via the JX62 DI out.
Green Sound Machine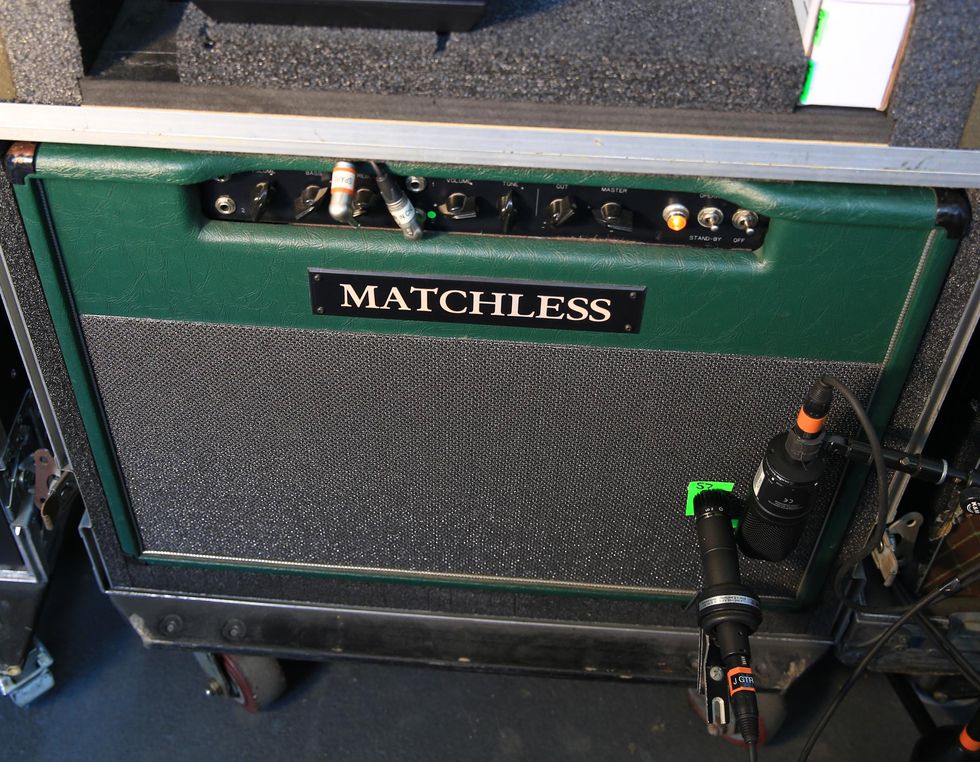 This envy-shaded DC-30 is Becker's big gun. It was the company's first design and gets huff from four EL84s, with two preamp sections: one powered by two 12AX7s and the other by a single EF86. That's a lot of tonal versatility.
The Understudy
This Vox AC30 acts as Becker's back up.
Coming Up Roses
Bassist Hector Maldonado's long search for an early '60s P bass landed him this 1960 Fender Precision days before Train's current summer tour. The gem was professionally refinished by Joe Riggio of Riggio Custom Guitars at some point, but other than that it's as Leo intended over 60 years ago. Riggio helped connect Maldonado to the seller so he could acquire his dream bass.
No. 2
With the arrival of his new old P, this off-the-rack Fender American Vintage '62 P bass reissue got demoted to the No. 2 slot. But Maldonado says it plays better than some of his vintage instruments, and this 4-string has been around the world a few times with Train. Both Fenders take D'Addario roundwounds (.045–.100).
Sir Paul's Highball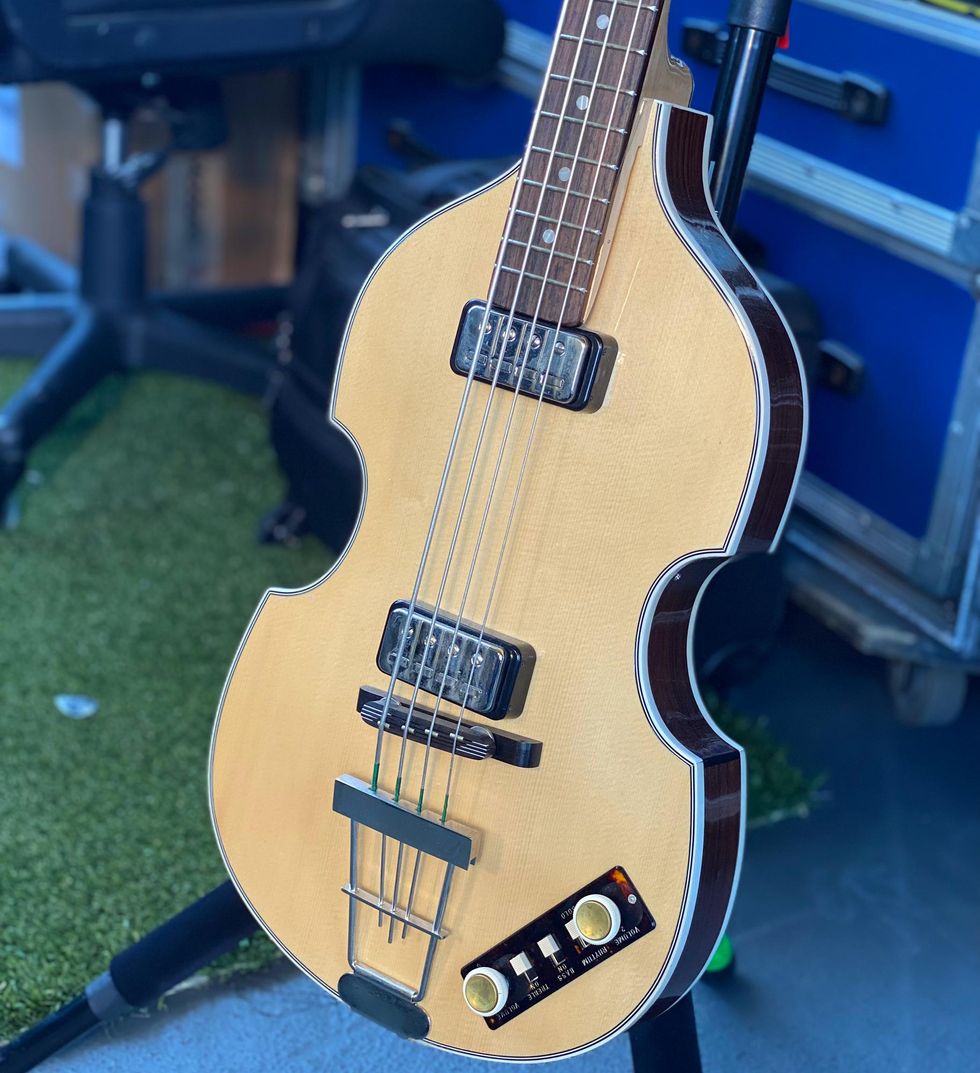 If you've spent time with any of the last three Train albums, you've heard this limited-run Hofner Gold Label Violin Berlin model. It is made of German Nussbaum wood and has the company's 511B staple pickups in a normal-spacing configuration. Hofner's Gold Label instruments are highly limited editions.
Get Back!
For the ultimate Beatles' vibe, Maldonado uses this Hofner B-Bass HI-Series Violin model. It provides the desired "pluck" sound of 1964. Both of his stage Hofners take D'Addario XL Chromes, flatwound (.045–.100).
Spanish Flair
"Cleopatra" off AM Gold has a flamenco guitar part. Maldonado is classically trained, so he was the obvious choice to handle it, plus Becker and Locke are already busy with their own guitar chores on the song. Hector's setup on his Yamaha CG172SF is creative. He uses a blend of strings from his Fender Bass VI and nylon guitar strings to hold down the low end and shred fingerstyle.
Racked and Ready
A Mesa/Boogie Subway D-800+ powers his basses, while an Avalon U5 Class A Active Instrument DI give a clear signal to front-of-house. And like his compatriots, he's running a Shure AD4D rackmount wireless system.
More on the Floor
Maldonado has more pedals on the floor than his fellow Trainmen. His stomp station consists of a trio of mini MXRs—a Carbon Copy, Phase 95, and Vintage Bass Octave—plus an Electro-Harmonix Holy Grail Nano reverb, a Tech 21 SansAmp Bass Driver DI, a DigiTech Bass Driver OD, an Origin Effects Cali76 compressor, and a Mesa/Boogie Five-Band Graphic EQ. A Dunlop Volume (X) DVP3 and a Boss TU-3s mini Chromatic Tuner keeps his instruments reined.