Take Your Drive to the Country
Rich's pedalboard, complete with setlist. Even though I work in country music, I have always been a huge fan of the classic, badass rock sound of a Les Paul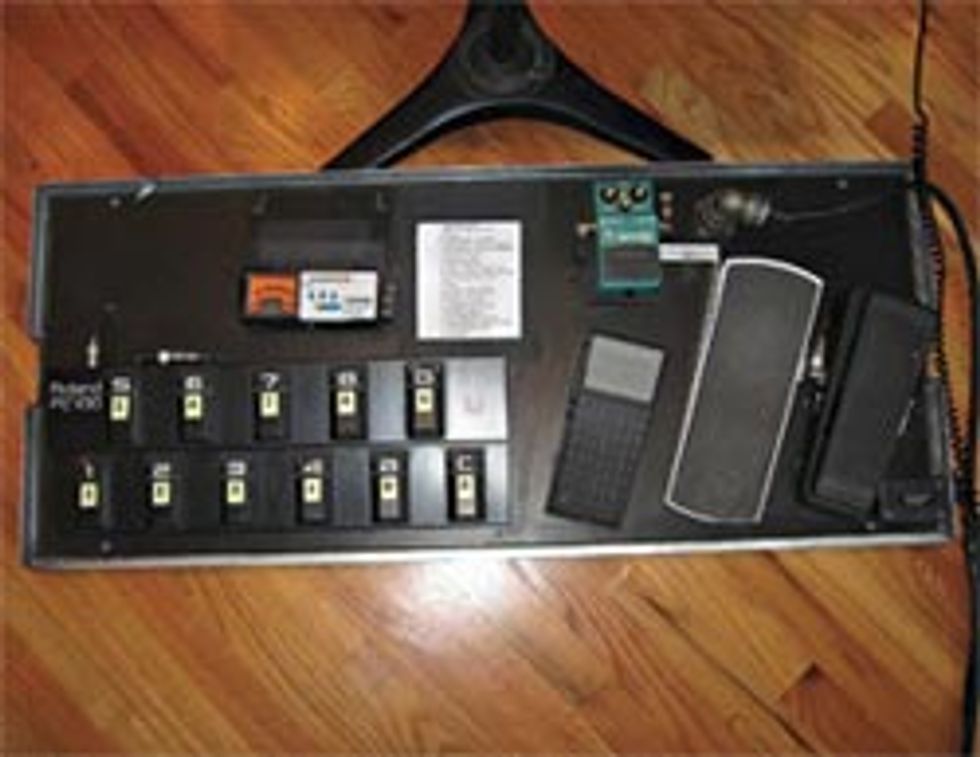 Rich's pedalboard, complete with setlist.
Even though I work in country music, I have always been a huge fan of the classic, badass rock sound of a Les Paul plugged into a Marshall cranked all the way up to ten – eleven if you happen to be Nigel Tuffnel. Throughout its life, country music has been dominated by guys like Don Rich, Ray Flacke, James Burton and Albert Lee, all of whom played a Tele through a Fender Twin, but today's country music has noticably widened its horizons. These days you're likely to see Les Pauls, Firebirds or PRS McCartys in the hands of today's top country pickers, and they're not just running them through Twins anymore – names like Budda, Matchless and Dr. Z are becoming a lot more common in the studios of Nashville and onstage with acts like Montgomery Gentry.
Playing with Toby Keith, I've had the chance to develop my own tone and gear preferences. My personal favorite is the Kustom 72 Coupe. When we hit the road with Toby Keith, I stock my amp arsenal with two Kustom Hardtop heads and one 4x12 Kustom cabinet split for stereo. Packed with 6L6s, these amps are versatile enough to cover everything from straight-on country pickin' on songs like "I Love This Bar" and "As Good As I Once Was," to the flat-out classic rock tones I use on "Whisky Girl" and our live cover of "Stranglehold," which pays homage to the Wackmaster himself, Ted Nugent.
Our shows are very up-tempo and fast paced. In order to quickly call up the variety of tones and effect settings I need, I run a pedalboard on stage with a Roland FC-100 MK II MIDI controller, an EV-5 expression pedal, Dunlop Wah, Boss TR-12 Tremolo, Boss TU-12 tuner and an Ernie Ball Volume Pedal to bring in my Digitech IPS-33B Harmonizer, which is located backstage in my amp rack. Although it's not a top-of-the-line harmony machine, it's relatively quiet and extremely roadworthy. It certainly tracks well enough for rock n' roll! I use it to throw down the occasional twin part with myself, or as an octaver. It also has a great detune function for a kind of Leslie effect.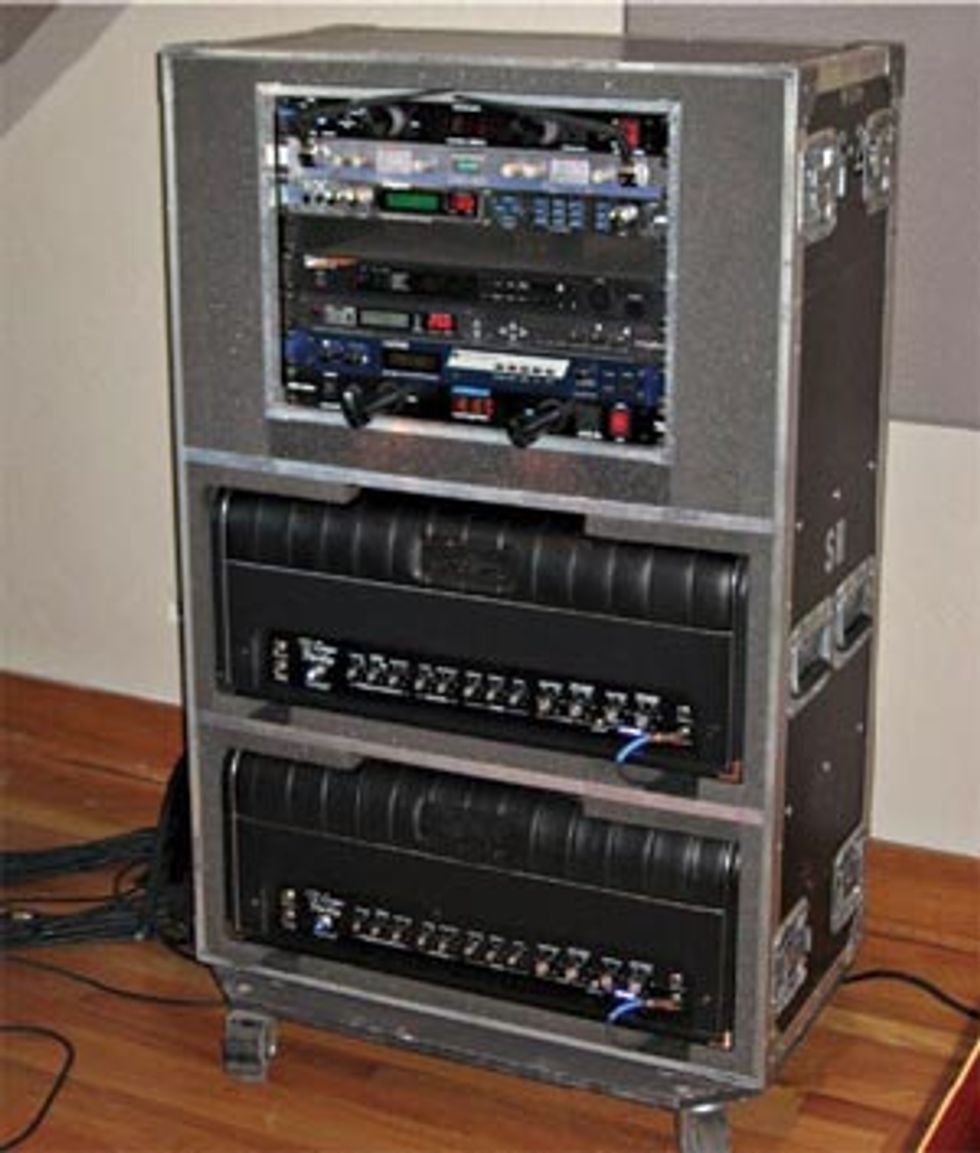 Rich's pedalboard, complete with setlist.
I also have a Roland GP-8 backstage, which allows me to set and store different levels of overdrive and compression, as well as chorus and delay. I additionally have a Boss SX-700 for stereo delays and reverb. I've created approximately 18 different settings that I can chose from throughout the show – everything from super clean to major drive. I'll add in different delay settings, but in an arena reverb tends to wash out your guitar signal and makes it sound distant, so I tend to stay away from it for live shows. Let's face it, no matter what type of music you're playing, you want the guitar to be right in the audience's face!
I believe tone comes from the soul, but it definitely helps to channel it through great instruments. Over the course of our nearly two hour show, you'll see me with no less than six or eight guitars. My Gibson Les Paul '68 reissue and U.S. Masters Super T do a lot of the heavy lifting. You'll also see me playing a number of PRS guitars. I even have a U.S. Masters Flying V that makes Jimmy Rodgers roll over in his grave every time I break it out – that ain't country!
Tone is a very individual and personal thing. The gear you choose needs to reflect the type of music you play. My rig probably won't work for you, just as someone else's rig wouldn't work for me. There's no one amp for every gig and all guitars have their individual characteristics, so your best bet is to get out there and find what works for you.
---
Rich Eckhardt
Rich Eckhardt is one of the most sought after guitarists in Nashville. His ability to cover multiple styles has put him on stage with singers ranging from Steven Tyler of Aerosmith to Shania Twain. Rich is currently playing lead guitar with Toby Keith. His album Soundcheck is available now, with another due this summer.
richeckhardt.com