Tanglewood Guitar Company UK: TW15 H-B Dreadnought Review
The Tanglewood Guitar Company UK''s TW15 H-B brings acoustics back to their roots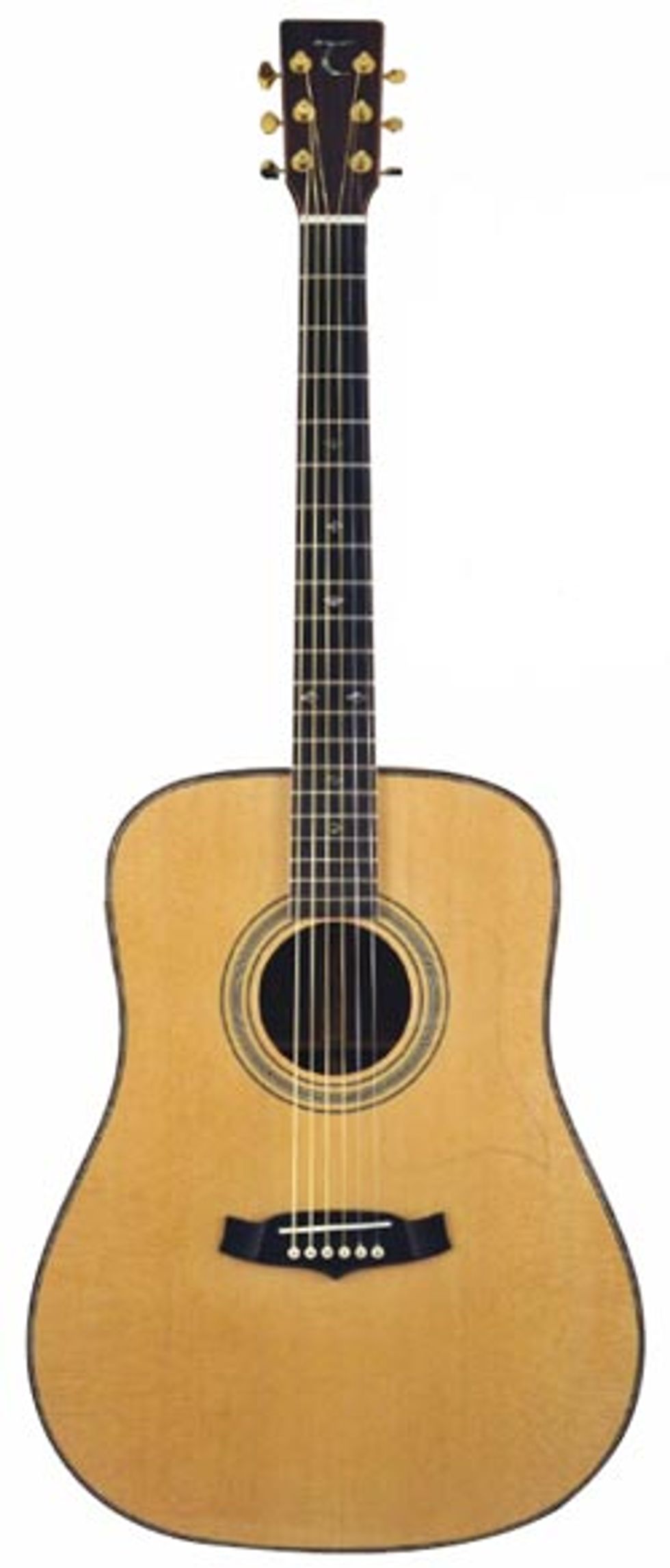 For all of the talk we do about boutique guitars – those high-end, high-maintence affairs requiring constant watchfulness – we sometimes forget about the days when an acoustic guitar meant freedom. From strumming on the front porch to the beach, these guitars didn't have an investment aura surrounding them; in fact, they lay on the other end of the spectrum. Made with tone and reliability in mind, these guitars were made for playing and playing often.
Tanglewood Guitar Company UK's new TW15 H-B dreadnought falls into this category. The leaders in a group of builders producing value-priced, high-quality guitars, the TW15 comes from the company's top-of-the-line Heritage series, which ups the ante with all solid woods and some welcomed appointments, like a bone nut and compensated saddle.
There's a rustic beauty surrounding the company's Heritage series – the walnut binding and herringbone purfling compliment the AAA spruce top and the African mahogany back and sides in a very woodsy way. There were a few minor imperfections in the binding, but unless you were looking for them, like we were, it looks solid. The gloss finish contributes to this guitar's "natural" feeling, helping the top's grain to pop without being too showy. The appointments here politely stay out of the way – there are some simple diamond inlays starting at the fifth fret, and an unobtrusive T is inlaid in the headstock. The pickguard is of the clear, see-through variety, and depending on your particular design aesthetic you'll either love it or hate it. I would have preferred to go without, but that's just because I'm a diehard minimalist – after a few month's worth of pick scratches on the top, I'd likely change my tune.
The neck's one-piece construction is solid and comfortable; it comes across as slightly narrow and deeper, similar to Martin's low oval shape, and it gives this guitar a real sense of stability. The fretboard feels a little cramped in the lower frets with a nut width of 1 11/16", but it noticeably widens out at the 12th fret to 2 3/32". Give bonus points to Tanglewood for the well-cut bone nut. A diamond volute where the headstock and neck meet gives the TW15 a sense of vintage craftsmanship, and it works well with the gold vintage-style tuners found up top, even if the tuner pegs might be a bit slender for those with fatter digits. That said, their travel was smooth, and they give this guitar a great platform to build upon.
The finishing on the neck left a little to be desired – the satin finish is a nice choice, as it gives the guitar a feeling of understated beauty, but it was a little spotty at points, with some areas definitely feeling smoother than others. Especially rough was the area between the volute and the first fret – perhaps it's an attempt to simulate years of loving wear, but either way, I'd prefer to do that work. At no point does the finish take away from the playability of the TW15; it simply reminds you that this guitar was made in a factory, instead of on a workbench.
After playing a few bars on this guitar, you'll immediately notice its abundance of midrange. It's what a good acoustic should be – bright and poppy, and powerful enough to cut through any mix. The 25 3/4" scale gives the guitar even more snap. Lay into it and you'll discover some solid low-end that pleasantly fattens out the sound. To get the fullest spectrum of sound from this guitar you need to be a little heavy with it, but that's exactly what the TW15 wants – it's made for group sing-alongs in front of a campfire, not delicate atmospherics. It can be a bit brash at times, but like a good friend, you learn to love it. And while the guitar isn't as sonically complex as other high-end acoustics – there's an indefinable shimmer missing from the spectrum – those are unfair comparisons to make. The TW15 certainly sets the tonal bar for its price point, and would definitely make our short-list for affordable, functional acoustics.
The B-Band A5T pickup system is mounted at the top bout, and while not as discreet as some of the other integrated systems we've seen, provides great bang for the buck. There are lots of tone shaping options here, including 4-band EQ, notch filter and frequency controls, a phase button and a full-range chromatic tuner. The system makes use of electret condenser film instead of a piezo pickup, and provides a natural, woody sound that compliments the guitar nicely. It gets the job done without too much effort, but if you find yourself wishing for more warmth you can always check out an outboard pre.
What's perhaps most exciting about this guitar is how easy it is to play. The deep neck gives you something to hold on to while you strum, and the action is well done – 3/32" at the low E and 5/64" at the high E. That makes everything easier to execute, and in turn lets you concentrate on the music instead.
The Final Mojo
If you're looking for an affordable acoustic, without sacrificing tone, Tanglewood Guitar Company UK should definitely be on your list of companies to take a look at. With solid wood construction and some nicely done appointments, the TW15 is the perfect guitar for making music. And isn't that what it's all about?
Buy if...
you''re looking for a summer workhorse tha can follow you everywhere.
Skip if...
you need a little more complexity from your mate.
Rating...
 
Our expert has stated his case, now we want to hear yours. Share your comments and ratings below.