R.G. discusses the importance of paying attention to your amp''s filter capacitors.
One element inside your amp that has a definite wear-out time whether you use the amp or not is the filter capacitors. If you keep an amplifier long enough, the filter capacitors will fail – it's a question of when, not if. But there are capacitors available that will never wear out.


Immortality Mod #4: Replace electrolytic capacitors with plastic film types
Warning! These mods are located in the highest voltages in the amplifier. If you want to do this yourself, you must be absolutely certain before you start that you already know how to do it safely. If you have any doubts at all, take it to a tech who can do it safely. And always unplug your amp for at least several minutes before opening it!

Gather a list of the capacitance values and maximum voltages in your amplifier, then track down suitable film replacements. A suitable replacement for an electrolytic cap:
has a capacitance as high or higher than the replaced capacitor – or can be combined to make enough capacitance.
has a voltage rating as high or higher than the replaced capacitor.
is a metal can "motor run cap," a "DC link cap" or a "Medium power film capacitor." Do not use "motor start capacitors," as they will not be durable.
For our example, we'll look at replacing the caps in a Fender Super Reverb AB763 (see table). You can find the schematic online at ampwares.com/ffg/schem/twin_reverb_ab763_schem.gif

Fender made their first filter cap from two 70"F/350V caps in series to equal a 35"F/700V capacitor. The use of two caps and the higher voltages was probably to get higher reliability. But film caps are tougher than electros. The B+ voltage is normally 460V here, so we need a bit more voltage than that. Taking a clue from the rating of the other filter caps we'll shoot for 525 VDC. That's plenty for a normal 460V, plus maybe a 10 percent surge to 506V.

The next three caps are the replacements for the phase inverter and preamp B+ filters. In the catalog I consulted, there are two parts that work: one is 20"F/450-630V and the other is a larger 25"F/450-630V. Oddly, the 25"F part is cheaper than the exact replacement size of 20"F, so I picked that one.




The bias filter capacitor may be the most important filter cap in your amp. If this one shorts, you will buy at least new tubes, and possibly a new power transformer. I found a 10"F film cap that is also physically small. We can make a bigger capacitance at the same voltage by hooking capacitors in parallel. The particular cap I found was 10"F/250V for $2.23, so I specified five of them to be hooked up in parallel. This is equal to a 50"F/250V capacitor and costs $11.15. I could have used a 50"F/370VAC metal can capacitor, but this is quite large physically, and there is little ripple current stress, so I chose the smaller, plastic-cased 10"F units in parallel.

I listed prices because it is possible to spend a lot more on film capacitors if you don't shop carefully. Our tab for film caps for the whole amplifier is nearly $60. To compare, Mouser Electronics sells a 20"F/500V film cap for $12.47 and Antique Electronics Supply sells a 20"F/500V electro cap for $6.35. The film capacitors are moderately more expensive for equal ratings. However, the amp tech's time to put all new capacitors in will likely be $50-$100. Spending a little more for parts once means you'll never have to replace them again just because they wear out.


WHERE TO FIND CAPSMouser Electronics
DC link caps and medium power film
mouser.com
Digi-Key Electronics
DC link caps and medium power film
digikey.com
Johnstone Supply
HVAC motor-run capacitors
johnstonesupply.com
If you can afford the space inside your amp to use metal-can motor run capacitors, these are available cheaply on the surplus market, and do not wear out sitting on a shelf like electrolytic caps do. Metal-can motor run capacitors may only state volts AC. You can determine what DC voltage the cap will stand by multiplying the AC voltage rating by 1.414. For example, if we had a 35"F/370VAC motor run capacitor, it would withstand a DC voltage of 370x1.414, or 523VDC. Motor run caps are usually only rated for 240, 370, 440/480 and more, so your choice is usually for a 370 or 440/480VAC part. If you can find surplus metal-can capacitors in the right ratings, you may be able to make your filter caps immortal at a very reasonable price.
---
R.G. Keen
Cheif Engineer
Visual Sound
www.visualsound.net
Looking for more great gear for the guitar player in your life (yourself included!)? Check out this year's Holiday Gear Finds!
Outlaw Effects introduces their next generation of NOMAD rechargeable battery-powered pedal boards.
Available in two sizes, NOMAD ISO is a compact, versatile tool that offers the convenience of a fully powered board plus the additional freedom of not having to plug into an outlet. NOMAD ISO is ideal for stages with limited outlet availability, quick changeovers, busking outdoors, temporary rehearsal locations, and more!
NOMAD ISO builds upon the legacy of the ultra-convenient and reliable NOMAD rechargeable pedalboard line originally launched in 2018. The brand new NOMAD ISO editions feature eight isolated outputs (1 x 9V DC, and 1 switchable 9V/12V DC) for even more versatility and clean, quiet power. With an integrated lithium-ion battery pack boasting 12800mAh capacity, NOMAD ISO can fuel a wide array of pedals, and will last over 10 hours* on a single charge.
Each NOMAD ISO pedal board includes adhesive hook & loop pedal-mounting tape, eight (8) standard DC connector cables, and one (1) reverse polarity DC cable, giving you everything you need to build your ultimate "off-the-grid" rig. A rugged, road-ready padded gig bag with shoulder strap is also included, to safely protect your gear while you're on the move.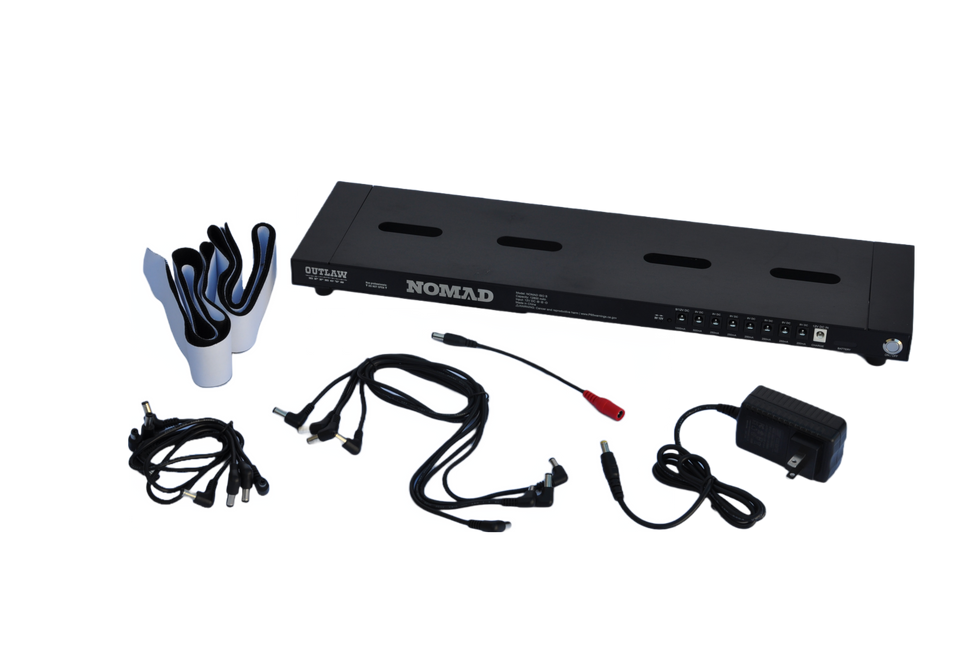 Dunable announce new Minotaur model featuring Grover Rotomatic Keystone tuners.
The Minotaur's DNA is rooted in their classic Moonflower model, which Dunable discontinued in 2017. However, they have long since wanted to create a fresh take on a carved top guitar design, and various attempts to rework the Moonflower led them to a brand new concept with the Minotuar.
Dunable's goal is to give the player a guitar that plays fast and smooth, sounds amazing, and gives maximum physical ergonomic comfort. The Minotaur's soft and meticulous contours, simple and effective control layout, and 25.5" scale length are designed to easily meet this criteria.

Dunable Minotaur!
Features
25.5" scale length
Dual Humbucker
one volume, one tone, push pull for coil splitting
Grover Rotomatic Keystone tuners
Grover Tune O Matic bridge with brass Kluson top-mount tailpiece
jumbo nickel frets
12" fretboard radius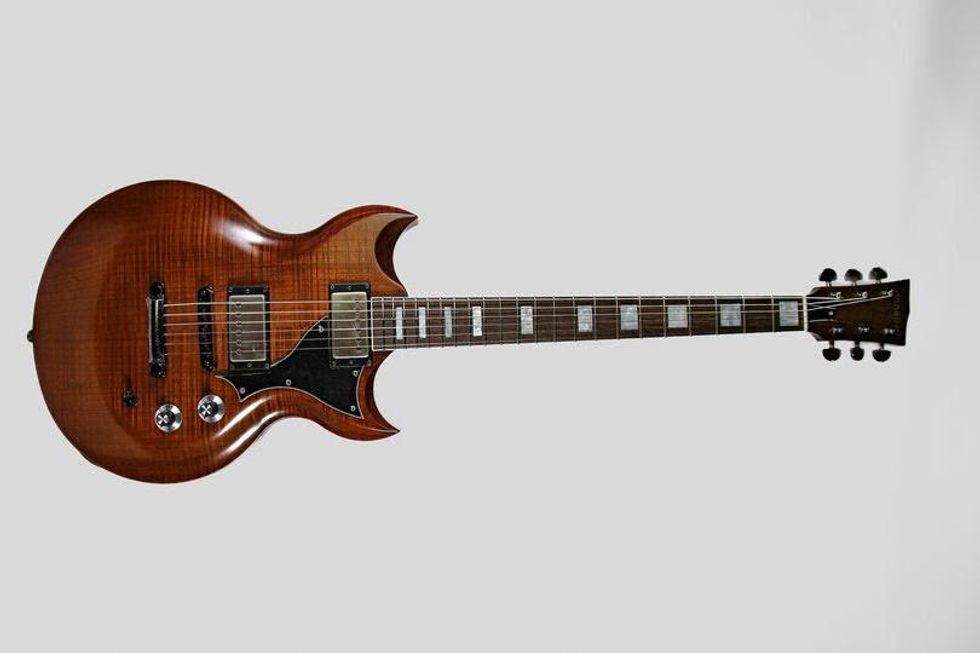 Dunable
This full-amp-stack-in-a-box pedal brings a new flavor to the Guitar Legend Tone Series of pedals, Missing Link Audio's flagship product line.
Adding to the company's line of premium-quality effects pedals, Missing Link Audio has unleashed the new AC/Overdrive pedal. This full-amp-stack-in-a-box pedal – the only Angus & Malcom all-in-one stompbox on the market – brings a new flavor to the Guitar Legend Tone Series of pedals, Missing Link Audio's flagship product line.
The AC/OD layout has three knobs to control Volume, Gain and Tone. That user-friendly format is perfect for quickly getting your ideal tone, and it also offers a ton of versatility. MLA's new AC/OD absolutely nails the Angus tone from the days of "High Voltage" to "Back in Black". You can also easily dial inMalcom with the turn of a knob. The pedal covers a broad range of sonic terrain, from boost to hot overdrive to complete tube-like saturation. The pedal is designed to leave on all the time and is very touch responsive. You can get everything from fat rhythm tones to a perfect lead tone just by using your guitar's volume knob and your right-hand attack.
Features 
Three knobs to control Volume, Gain and Tone
Die-cast aluminum cases for gig-worthy durability
Limited lifetime warranty
True bypass on/off switch
9-volt DC input
Made in the USA
MLA Pedals AC/OD - Music & Demo by A. Barrero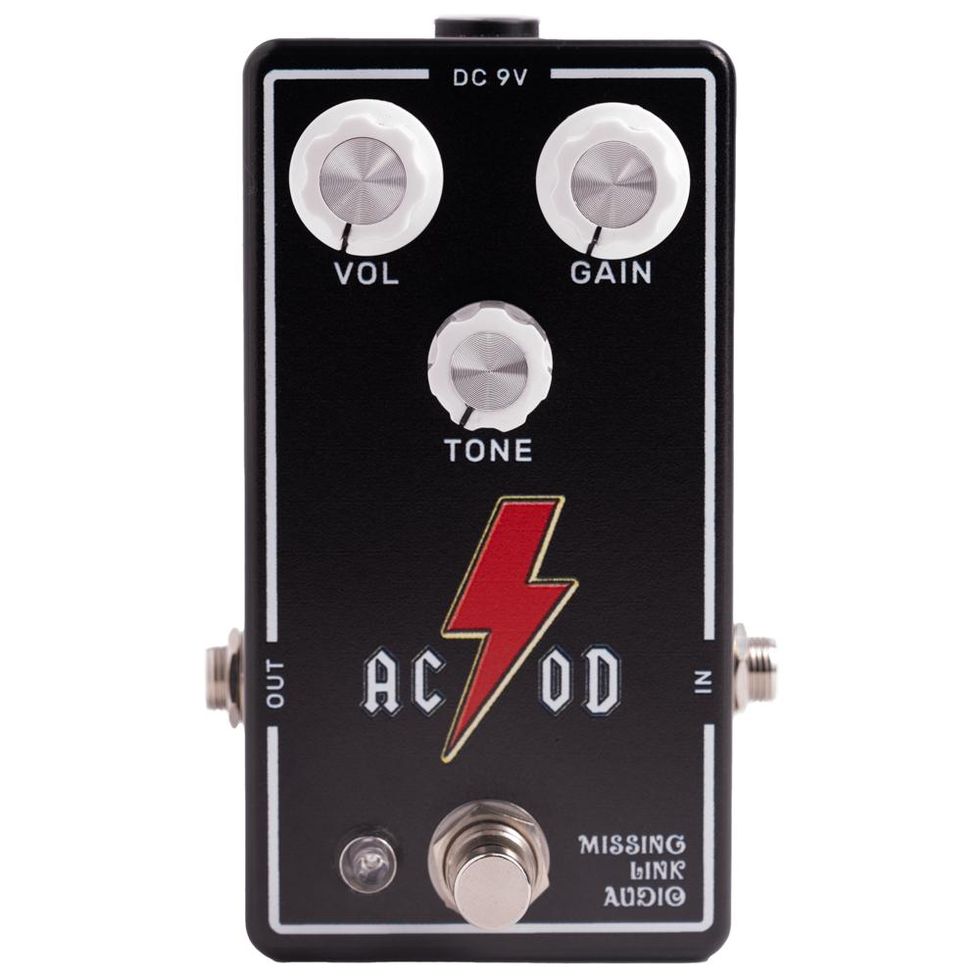 www.mlapedals.com.