Tone Candy''s Red Hot, Sweet Drive, Boost and Double Overdrive/Distortion are reviewed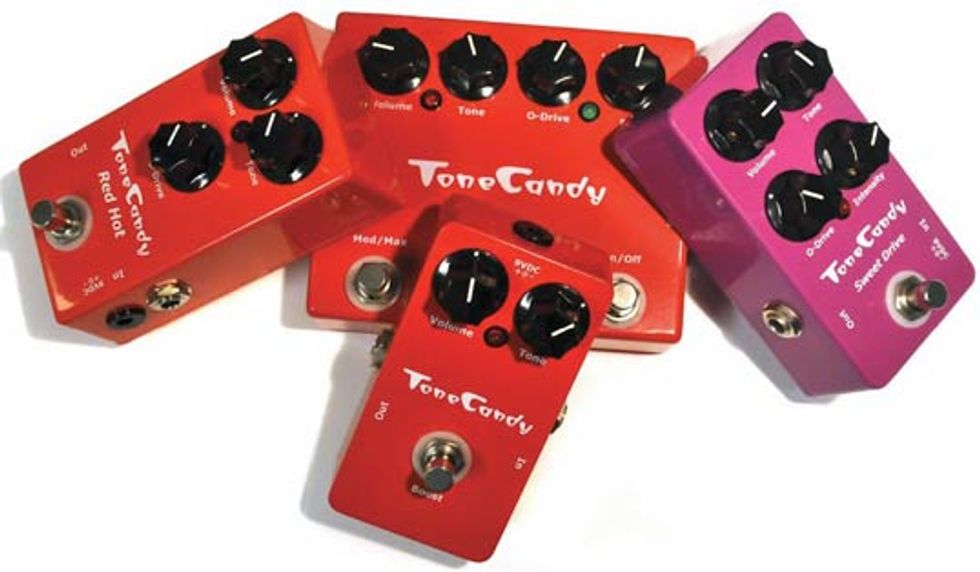 Mike Marino isn't a stranger to the world of guitar electronics, but chances are you've never heard of him. In 1974 Mike was searching for a way to simulate the sound of a totally cranked amp but at a far more reasonable volume. He went to a local electronics store and asked the guy behind the counter how he could do it. The clerk shared that the Muzak machines used in restaurants and department stores at the time used a rheostat to regulate their volume. Mike soon made one himself, plugged it in between his amp's head and its speakers, and—viola—instant attenuator.
Pleased with his results, Mike eventually took out a half-page ad in Guitar Player's 1976 "Django issue." Unfortunately, players just didn't know how to use his invention. "A lot of guys just plugged their guitar right into it then ran it into their heads, so I'd get calls saying it didn't work," Mike recalls. Sadly, as with the case of many first time business owners, things just didn't work out and Mike went to electronics school.
After some electronics training at Control Data, Mike would spend a couple of years at Delco before becoming a mainframe computer tech at Registration Control Systems, where he would eventually help develop magnetic security units for the NAMM show for ten years. He also developed eight prototype guitars for Apogee Sound before the project was ultimately abandoned. Mike later began making his own personal pedals for the R&B band he plays in, The Blues Burners, and other players came up to him and demanded to know how he was getting his great tone. "I didn't have any intentions to start making pedals, but people just kept asking," he says. The demand led him to develop four pedals under the name ToneCandy, and his initial success was so great that he was able to quit his full-time job for a second go at the effect industry.
Mike sent me ToneCandy's four-pedal lineup to check out, each with their own flavors, ranging from mild to wild.
---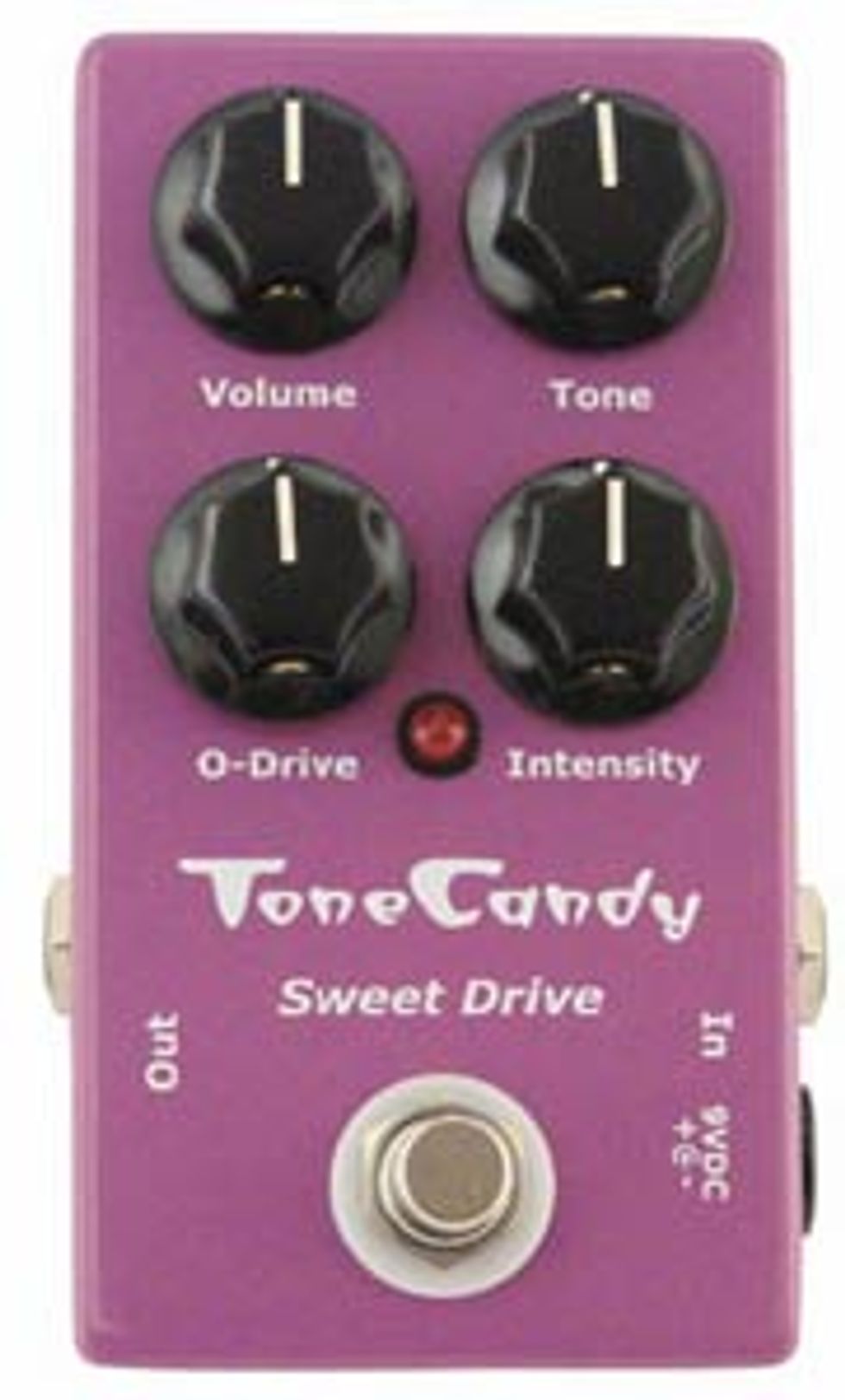 Sweet Drive
First up is ToneCandy's aptly-named Sweet Drive. Mike Marino's goal was to create a pedal that sounds as good at gigging volumes as it does at small room volumes. "That's my problem with TubeScreamers," he says, "They only really sound good when amps are really cranked. I think Stevie Ray Vaughan knew that."
Using the best electronics available, including SwitchCraft input and output jacks, a SwitchCraft on/off switch, true hardwire bypass, a Hammond-cast aluminum shell and back, all metal pots and military-style building techniques, the Sweet Drive is a three stage overdrive unit that allows the player to independently adjust each of the FET-based gain stages.
The Sweet Drive is aimed at players who are looking for a pedal that will take them from purring blues sounds, with its lower gain settings, to classic rock-level overdrive sounds when things really get cooking. With my Michael Dolan-made Strat, I fired up my trusty Princeton Reverb, set all of the Sweet Drive's controls at 12 o'clock and hoped for the best. The tone from the amp was fat, incredibly smooth, organic and extremely touch-sensitive, if a little on the dark side. Turning up the Tone knob to about 5 o'clock cleaned things up quite a bit, but interestingly enough it seemed to act more like a wet/dry knob on an effects loop rather than just a standard Tone knob. The guitar and amp's natural sounds became a little more apparent as the tone knob was turned up, but the Sweet Drive's original signal was still present and supportive.
Switching to a humbucker-equipped Guild Bluesbird, the pedal really came to life. The Sweet Drive churned out sticky sweet, tubelike tones somewhat reminiscent of Mesa's "blue" settings from their V-Twin pedal, only smoother and more refined. Kicking up the pedal's Intensity setting, it was easy to move into Billy Gibbons land with plenty of greasy goodness. This is definitely a pedal for those who don't have any need for ultra-saturated distortion—someone who is looking for something more akin to a totally dimed Gibson GA-40 rather than a Krank Revolution.
Buy if...
you are looking for a flexible pedal that will go from greasy blues to classic rock tones.
Skip if...
you are looking to maximize your face melting fire power.
Rating...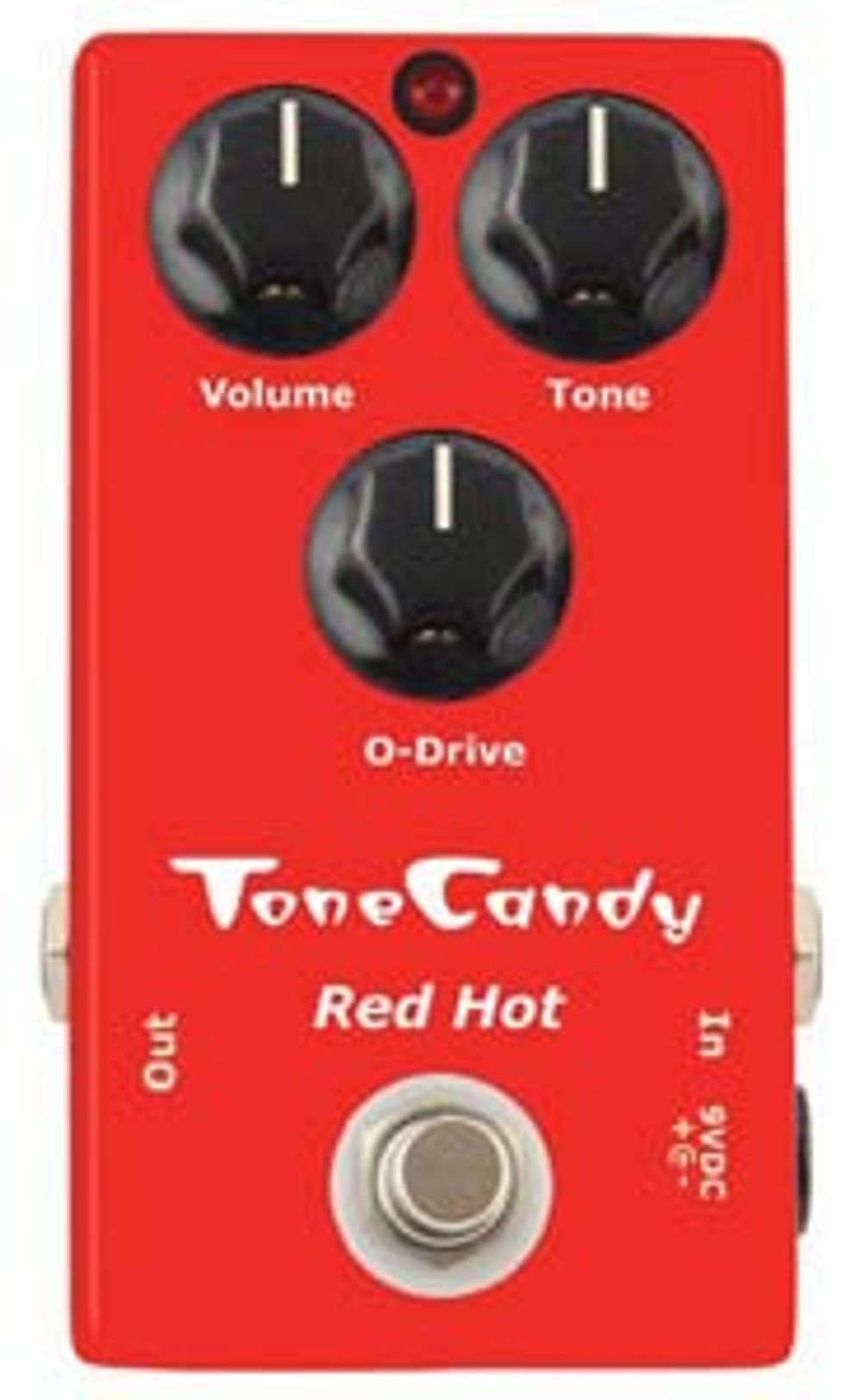 Red Hot
I'm going to go out on a limb on this one and say throw away your Marshall Guv'nor pedal now. After playing Tone Candy's Red Hot, you'll never go back. The Red Hot is more naturalistic, had less clipping, is more articulate, but still retains that "stack in a box" feel and sound. In a lot of ways the Red Hot picks up where the Sweet Drive leaves off. The Red Hot's overall vibe is a little more modern in its voicing than the Sweet Drive's and has more top-end sizzle than its milder-mannered cousin.
Like the Sweet Drive, the Red Hot retains ToneCandy's touch sensitivity and cleans up remarkably well when you lighten up on your attack or lower your guitar's volume. While the dirt never quite goes away, the Red Hot is definitely the more rock-oriented of the two pedals. Unlike a Marshall Guv'nor, the Red Hot doesn't get muddy or sputter when the gain setting is rolled back down. Although the Red Hot lacks the "deep" feature found on the GV-2 version, chances are you'll never miss it.
Buy if...
rock and roll is the name of your game.
Skip if...
you think Greg Ginn is the first and last name in tone.
Rating...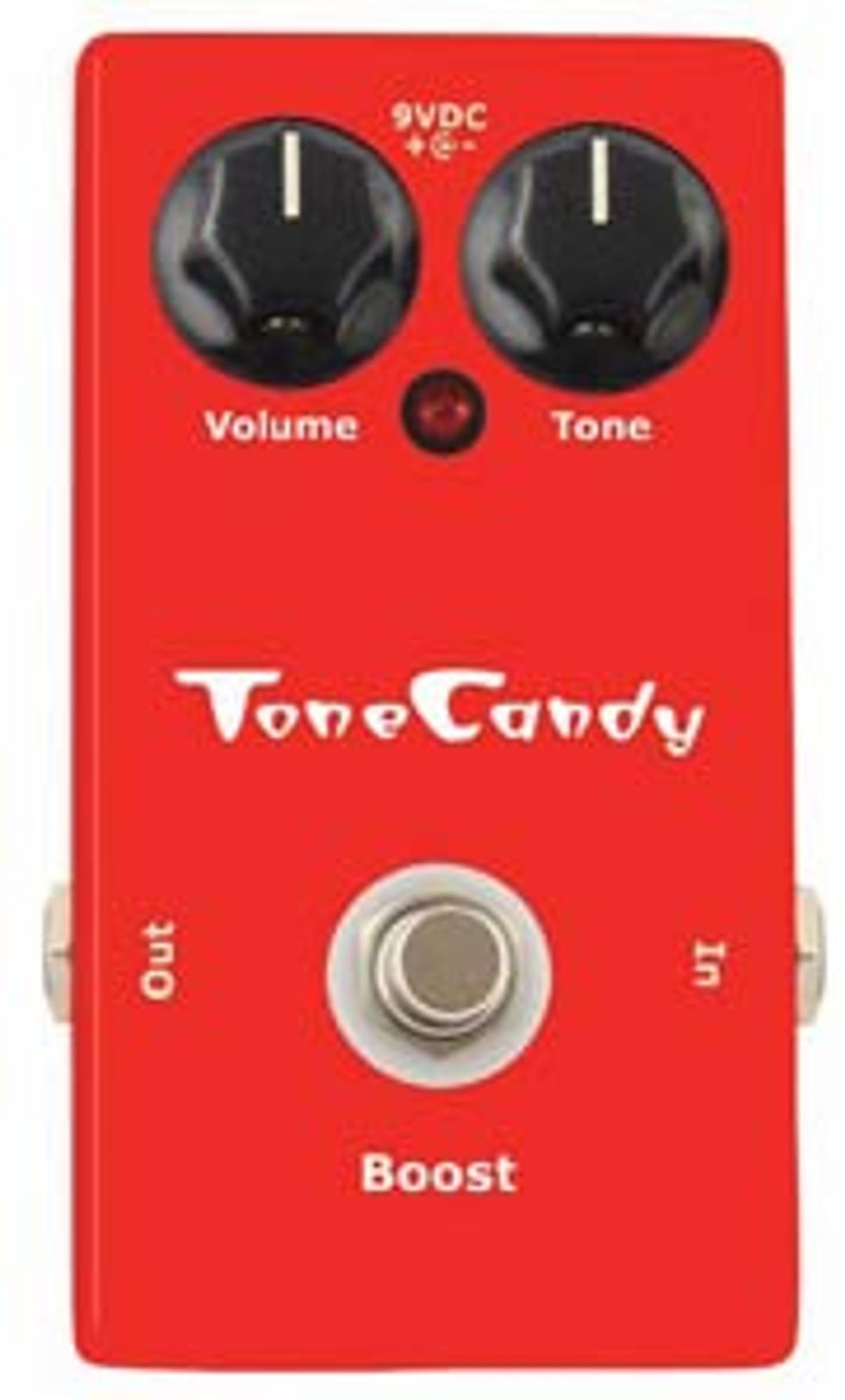 Boost
This is just about as simple as a pedal gets, right? Wrong. Don't let the pedal's straightforward layout fool you, because there is a little more here than meets the eye. Yes, it's a boost pedal—and a very clean one at that— but with the right amp it can also be used as an overdrive.
In order to explore the Boost pedal, I cranked the volume level almost full up and let it rip. The power of the Boost pedal was quite astonishing, and even when the Princeton's volume level was dropped down to about 2, the Boost produced a very natural-sounding overdrive. It'll be a little tricky to be able use this as a drive pedal with a non-master volume amp; I think you would have to leave it full up all the time in order to exploit its dual nature, because when the boost function is disengaged, the volume drop is pretty dramatic. As a boost, it's probably as good as it gets—clean, clear, noise free and without any additional coloration.
Buy if...
your amp needs just a little kick in the pants.
Skip if...
if you have to ask, "What's a boost pedal do, daddy?"
Rating...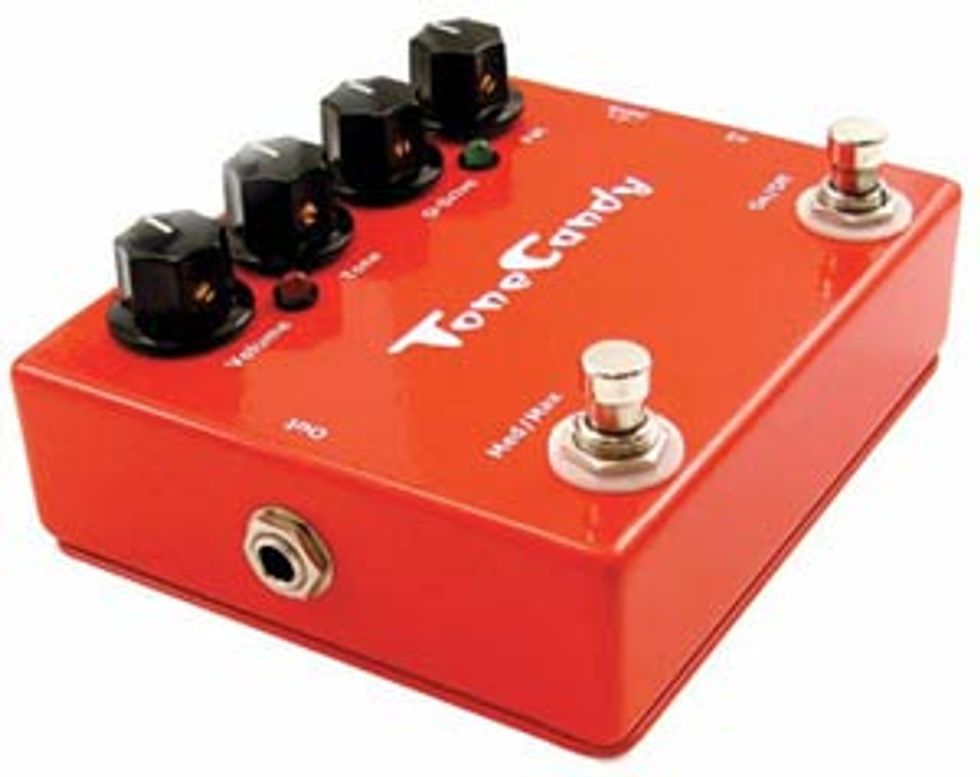 Double Overdrive/Distortion
If you wondered about the origins of the Red Hot pedal, there's no need to swab its cheeks and send a DNA sample to the GenoGraphic Project—its daddy is right here. The Double Overdrive shares the same threestage gain structure as the Red Hot, but with a couple of twists. The first is that you can activate either the Maximum Boost, which will engage all three gain stages for an increase in volume and saturation or the Medium Boost, which engages only two of the pedal's three gain stages. Pretty tasty.
Another feature is the Fat-4 knob. The Fat- 4 isn't a new holiday added between Lent and Easter, but a four-way rotary switch that selects four different degrees of low-end response. This is a handy feature for players who switch between single coils and humbuckers during the middle of a set, or who switch between using a combo with a single 10" speaker at home and a 4x12 cab live. Obviously a single 10" will respond differently to bass frequencies than a deep 4x12, so increasing and decreasing the bass response from the Fat-4 knob is an easy way to preserve your tone from home recording purposes to live rigs.
There is a marked difference between the tone of the two and three stage Medium and Maximum Boost settings. The Medium setting is a nice sort of rhythm setting and, like the Sweet Drive, it cleans up nicely depending on your attack and guitar's volume. Unlike the Sweet Drive, it seems to take a little more coaxing—the guitar's volume almost full up—to produce its crunch tones. When the Medium Boost come to life it's quite satisfying, but a little anemic compared to the Maximum Boost, especially when you engage the Maximum Boost for a solo. It would be nice to be able to regulate this volume difference a little better; hopefully this will be addressed in future editions.
Buy if...
you switch between combos and full-sized cabinets and want to maintain as consistent as possible tone and distortion sounds.
Skip if...
you only play through one amp and have no need for low gain settings.
Rating...



The Final Mojo
Each of the ToneCandy's pedals is made of the finest parts available. Mike Marino is a passionate player and road tests his prototypes on stage for months prior to finalizing his designs, and I think this technology-meetsreal- world approach gives ToneCandy pedals an edge in a somewhat glutted market.