Canadian luthier Jay Duncan makes the world a better place by helping others build sustainable communities, one guitar at a time.
Canadian master luthier Jay Duncan is emphatic about the ability of guitars to change the world—but not just in the hands of heroes who create timeless music. In fact, his own guitars are hard at work, impacting lives at this very moment in ways that are arguably more important and far-reaching than, say, hearing the music of a master player from any genre. His will to empower those in poverty and desire to share his acoustic guitars with the world led him to open DuncanAfrica, a registered charity and trade school in Uganda where, for nearly a decade now, he's been teaching locals everything there is to know about guitar making.
In a 1,000-square-foot cement shack in the tiny village of Mpigi, Duncan's students learn about every step of the process—from bending sides to bracing soundboards and handcarving beautiful mahogany necks. And they're not just learning a trade, either. Duncan's acolytes are also paid to be there five days a week, nine hours a day, creating the gorgeous, classically inspired guitars sold on the company's website—and all the profits go back to the community. Just as at many larger operations in the States and abroad, most students work on an assembly line, perfecting a specific job, such as rim or body assembly. But some of the better woodworkers graduate from working the line to becoming the sole luthier for one of the handcrafted instruments in DuncanAfrica's higher-end Artisan series.
In addition to helping the people of Mpigi make a living while learning the art of guitar building, Duncan is also providing a sort of Business 101 class. He teaches his students/employees about writing emails, using Microsoft applications, and hiring student managers. Once enough villagers have been trained, they'll be able to run the business themselves. "The idea is that they'll be able to start their own manufacturing company, independent of us," says Duncan. "They'll actually own it and export the guitars, and we'll distribute and sell them for them."
Roots in the '80s
So how exactly did Duncan's involvement with a remote African village come about? It all goes back to his youth. In 1983, at the age of 13, Duncan watched millions dying on television as the worst famine in a century hit the country of Ethiopia, eventually claiming more than 400,000 lives and inspiring relief efforts like the 1985 Live Aid concerts. "It struck me as something that was just incredibly wrong. How could civilized human beings sit by and watch?" Duncan recalls wondering. "Now, it's a very complicated problem, but to a 13-year-old boy it just didn't make sense. And so Africa has always played on my heart."
Duncan felt he could be of most help by educating villagers and empowering them to become self-sufficient. "Teaching a skill that they can use to support their families for the rest of their lives is much better than some kind of welfare handout," he says. So in 2005, he made a decision to take his eponymous Jay Duncan guitars to Uganda.
It took two years of planning to get the school off the ground. During this time, Duncan spent five months building seven prototype guitars, selling them off for $2,500 each to raise the needed funds. "That was less than half of what they're worth," he says, noting that, at the time, his Jay Duncan guitars were selling for $5,000 each despite having a value closer to $7,500. "But that was our seed money for the trade school, and we've really leveraged it." After three research trips to the village, Duncan and two colleagues rented the tiny cement house that would become their workspace and set up shop. It was a simple dwelling, but it had electricity and plenty of natural light. "For houses there," Duncan says, "it was pretty nice."
DuncanAfrica guitars are made largely with primitive hand tools. Recently, the school received a table saw, but prior to that the most advanced pieces of equipment in the shop were an edge sander and a bandsaw.
Jay Duncan says that DuncanAfrica instruments' tonal qualities come from a unique "double-X" bracing system that allows the tone from the back and sides of the guitars to really resonate.
They met with the local elders in the village and organized an information night for prospective students, who filled out applications to enroll in Duncan's guitar-making trade school. After choosing and training about a dozen villagers for this pilot project, Duncan returned to his home in Canada in 2007, leaving the students to make their first trial run of guitars without his supervision. Four months later, four finished guitars arrived on his doorstep. "Seeing those guitars meant, basically, that it was a success," he recalls. "They made them without any help. Behind getting married and having my kids, that was one of the best days of my life."
Best Laid Plans ...
It hasn't exactly been easy going for Duncan and his upstart. Although this year they were finally able to move into a larger, 2,400-square-foot building, it's taken longer than anticipated to find the right individuals and get them trained to Duncan's exceptionally high standards ("I'll saw a guitar in half mid-production if it isn't coming out right," he says). Commodities like computers are alien to most Ugandans, and there are obvious barriers in verbal communication, as well. "Technically, English is the first language of Uganda," Duncan says, "but not everyone speaks it, so it's very difficult to teach."
As could be expected, progress is slow but steady. "We're about a quarter of the way there," he says, noting that they need to convert 30 students into experts in order for the business to run smoothly without him. Although they've trained close to 15 thus far, results vary and retention has been relatively low. "We've had four or five students come through who were just stellar," he says. "And we've had two or three who were just terrible. The rest are somewhere in between." Currently, the school has eight student employees making guitars under the guidance of "master student" Simon Adyaka, who apprenticed under Duncan's first protégé, Mwesige David. David was Duncan's go-to man from the beginning and manager of the school in its early years up until last February, when he succumbed to cancer. Losing David—Africa's best guitar maker thus far, according to Duncan—was tragic. "He was the kind of guy who could do everything, and those people are really rare," Duncan says. "He was amazing, not just as a woodworker but in the community."
Broken Road


Student Isaac Mukaasa shows off a DuncanAfrica model with a Broken Road inlay.
Luthier Jay Duncan came up with his "Broken Road" inlay design during the formative years of his charity, DuncanAfrica. He was living in Africa, bored and sick with the flu at the time, when inspiration hit. "I thought to myself, 'I'm going to make a fancy guitar.'" He used koa, mugavu, maple, cow bone, and ebony to create the inlay pattern that lines the headstock, rosewood neck, and fretboard of this Selah OM-CR from the Suubi series.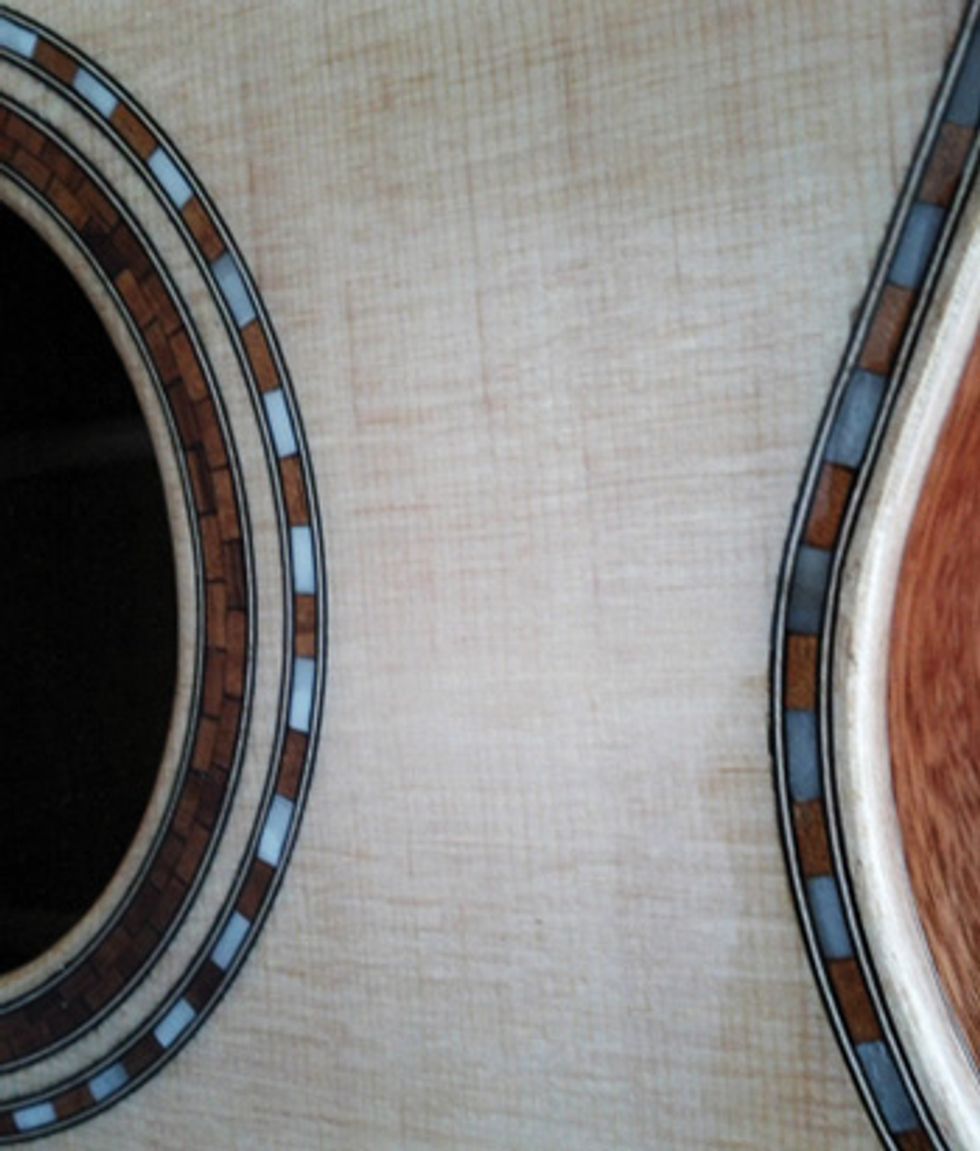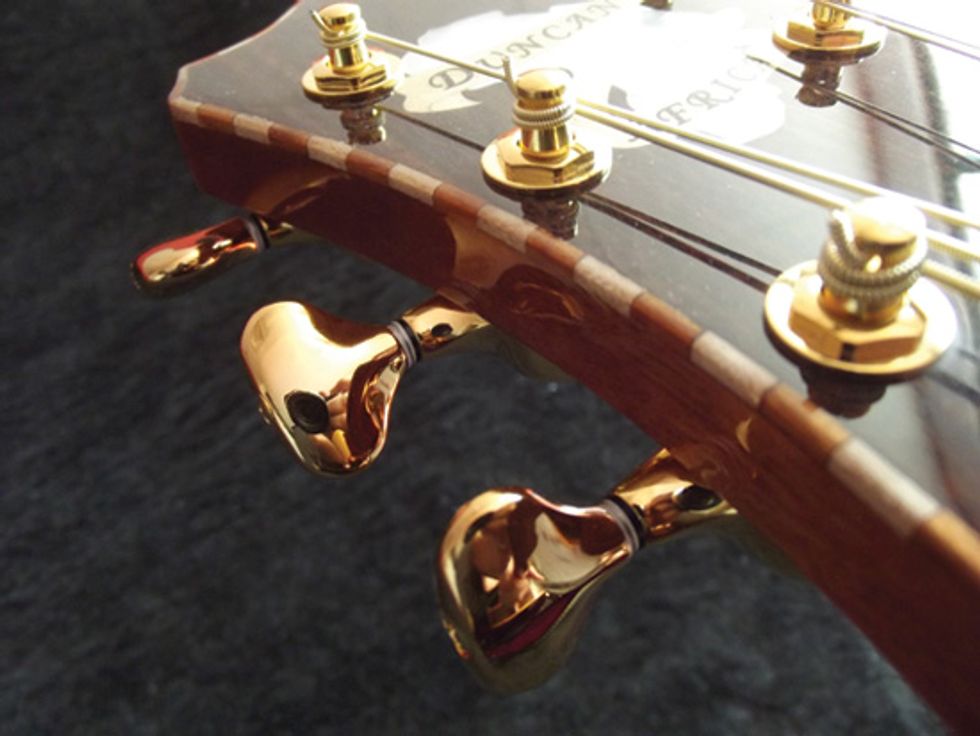 But students of David, including Adyaka, have stepped up and assumed more responsibility in order for the guitar making to continue. David's widow, Olive, is still very involved with the charity, overseeing the business side, accounting, and other administrative duties.
Asked how one teaches luthiery nuances such as strutting and fret positioning to someone who's never seen a standard firstworld guitar before, Duncan admits it's difficult to show the craftspeople of Mpigi the sorts of bar-setting reference points that we take for granted. "The learning curve is really steep. There are no Taylors for sale in Uganda," says Duncan of the U.S. flattop brand famous for its immaculate fretting and finish work. And, naturally, there are no CNC machines to provide the kind of automated accuracy and repeatability found at so many other shops, both large and small. Instead, students use hand tools to carve out the necks, braces, fretboards, and other delicate pieces that make up each instrument. Until the spring of this year, when Duncan sent over a table saw, the two fanciest pieces of equipment in the shop were an edge sander and a bandsaw.
"Rumor has it, the guys threw a little party and invited the landlord over to celebrate last year when we sent the edge sander," says Duncan. "It's funny what gets woodworkers excited, eh?"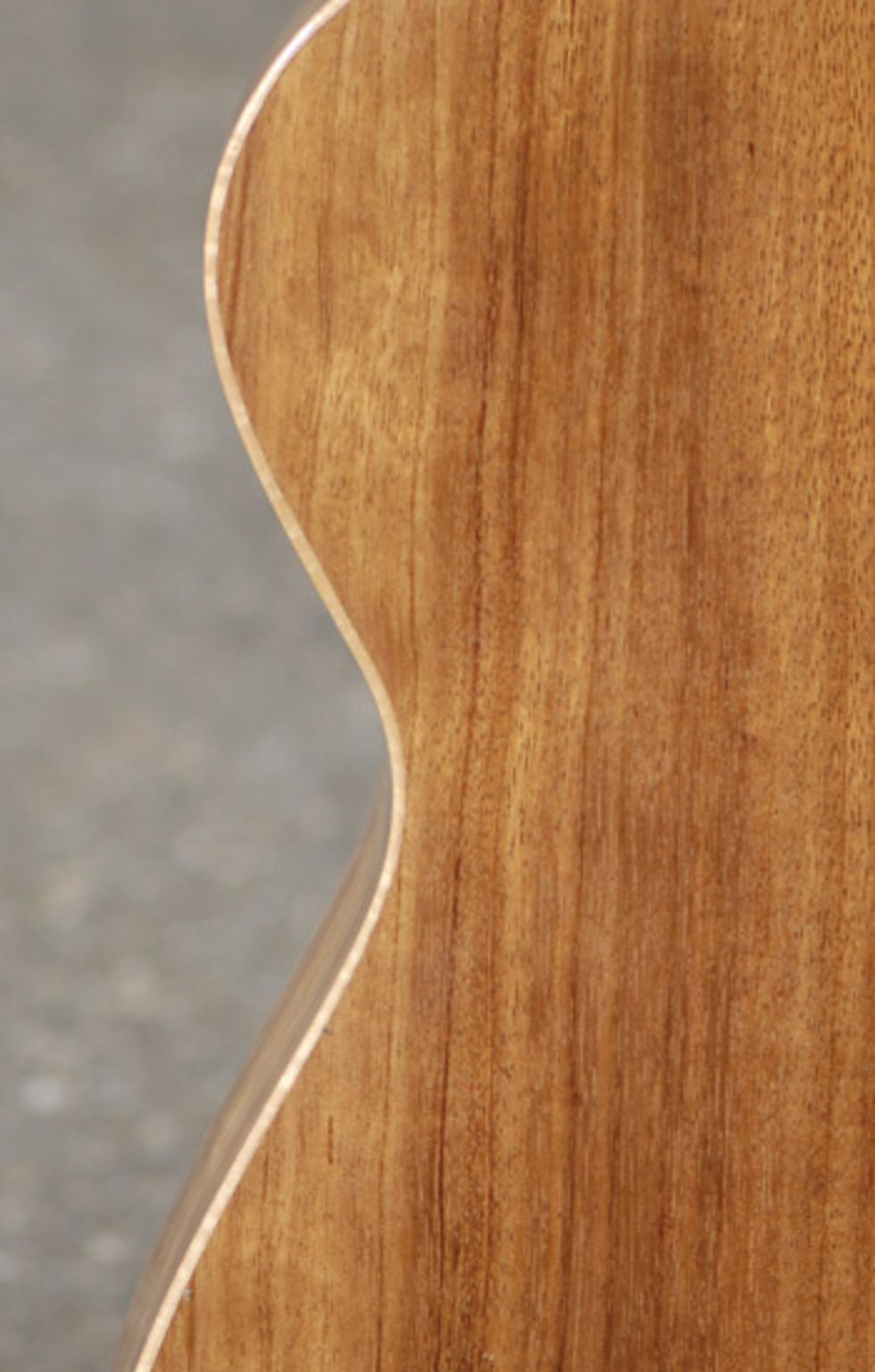 Locally sourced near the DuncanAfrica school, this beautifully grained mugavu wood sounds like a cross between mahogany and koa. It has a golden, luminous appearance and yields complex midrange tones.
The Goods
Duncan was in love with guitars long before he fell in love with Africa. The 43-year-old started playing at age 8 and taught himself lutherie when he was in his 20s. He got his official start working for Canadian guitar maker Larrivée in the late '90s and into the early 2000s, during which time he started his own Jay Duncan guitars, specializing in OMs and dreadnaughts. For DuncanAfrica, though, he's expanded his product line to also include a jumbo, and he has plans to add a parlor model later this year. "I think for most guitar players, there's just something sexy about a big ol' jumbo," says Duncan, adding that he anticipates the parlor will be "super popular" as well.
Apart from the four different guitars available—the Selah (OM), the Jubilee (dreadnaught), the 1962 (jumbo), and the Pearl (parlor)—players have a choice of three different series at varying price points. The newest and most wallet-friendly line is the Jericho, which features dreadnaught and OM models in local woods like mahogany or mugavu. (Sourced near the school, African mugavu has been described as a cross between mahogany and koa.) Starting at $779, guitars in the Jericho line come with a passive pickup and gigbag, as opposed to the deluxe hard case, which comes standard with the two other lines.
The middle-of-the-road Suubi series starts around $1,400 and offers chrome Gotoh 16:1 tuners, a one-piece mahogany neck, and a bridge, bridge pins, and fretboard of ebony. "That's your standard, great guitar," Duncan says.
"Rumor has it, the guys threw a little party and invited the landlord over to celebrate last year when we sent the edge sander," says Duncan. "It's funny what gets woodworkers excited, eh?"
The third and priciest series, the Artisan, is special in more ways than one. Beginning at $2,400, these instruments aren't built on the assembly line but entirely crafted by master student Adyaka. Artisan guitars incorporate gold Gotoh 510 Series tuners and feature attractive mother-of-pearl inlays. Wood choices for the Suubi and Artisan lines vary from model to model and are slightly customizable, but expect the highest quality Indian rosewood and local woods like ebony, spruce, mahogany, mugavu, and maple.

DuncanAfrica headstocks, like the one on this Suubi series model, are more evocative of an archtop than a traditional acoustic.

The mid-priced instruments in DuncanAfrica's three guitar lines are found in the Suubi series. "Suubi means 'hope' in Uganda," luthier Jay Duncan says.
The Tones
Singer/songwriter Dave Siverns has played a fair share of DuncanAfrica guitars, and he says the quality of their dark woods makes for a unique, resonating sound. In the past few years, he's owned both rosewood and mugavu OMs, and recorded in Nashville with a friend's mugavu dreadnaught.
"None of them were overly bright or Taylor-ish," he says of the tone, but he noted that the DuncanAfrica mugavu guitars he's played sat beautifully in band mixes. "Think vintage Martin or Gibsons," he says. "I actually restrung a '60s Gibson—the model eludes me—when tracking in Nashville, and I compared it to the mugavu 'Jubilee' dread. There was no comparison—the DuncanAfrica sounded better in every way." When prodded, Siverns has trouble comparing his DAs to any modern guitars. "They're a bit louder and richer in general, and feel more broken in on the first play. I'd probably compare them most to some of the smaller, handbuilt guys like Collings, but with a bit more of a rustic feel and sound."
When asked what's different about his 6-strings, Duncan prefaces the explanation with, "I am a tone freak," before going on to explain that many of the instruments' tonal qualities are due to a unique "double-X" bracing system that he says allows the tone from the back and sides to really shine. East Indian rosewood gives a wide tonal range with strong highs and lows, while Western flamed maple lends a gorgeous aesthetic and a warmer tone that Duncan says is "almost vintage-sounding, right out of the box. We also use Ugandan mahogany and sapele, which makes for a nice, warm body with a bit of tinkle in the high mids, and the local mugavu has a powerful midrange."
The Future
Duncan says his school in Mpigi has averaged 25 guitars annually, but he's seen a significant increase in demand over the last year or so, with 35 guitars being completed in 2012, and 20 orders in a twomonth span this year. He has high hopes for an eventual output of 200 instruments per month and enough profits for the Mpigi community to put toward things like health care, education, and entrepreneurial initiatives.
With his distinctive-sounding guitars, and inspiringly selfless attitude, Duncan can't be surprised that word of mouth has carried the DuncanAfrica story across the globe. "We're asked all the time to take our project to different parts of the world—North Korea, Guatemala, India, and, last week, it was Russia." But while Duncan loves the idea of expanding his reach to other countries or continents, he says he's got some caveats before taking his shop/school model somewhere else. "The money would have to be there," he says. "We set up DuncanAfrica with absolutely no money, and it's been an incredibly hard seven years because of that. But if the financial backing were in place, we would gladly go somewhere else and do something similar."
The legendary X guitarist dishes about the trials of balancing a busy touring schedule with the demands of his amp business, and shares his latest designs for Gretsch, the Black Crowes, and Brian Setzer.
Standing onstage at Boston's Paradise Rock Club, 64-year-old Billy Zoom doesn't look a day over 40. In his signature wide stance, he peers out over a sea of thrashing bodies with the vacant grin of a joker. Possibly for fear of blinding, he never once looks down at his sparkling Silver Jet as he shreds. The entire club, entranced by X's beloved punk rock anthem "Los Angeles," murmurs with cult-like enthusiasm, "She had to leave ... It felt sad, it felt sad, it felt sad."
Just a few weeks earlier, not far from L.A., Zoom was in his Orange County shop, where he's known in the industry as a jack-of-all-trades for his technical work building, repairing, and modifying tube amps—work he says he prefers to touring. "I hate that feeling right before I have to leave," he says. "I usually don't bother to read the itinerary or anything until a few days before so I don't have to think about it."
Nerves and X aside, this guy earned his stripes playing with legendary acts like Gene Vincent, Etta James, and Big Joe Turner—and in certain circles, he's considered among the greatest players of all time. But some may not know that he spends the rest of his time tinkering with tubes in his workshop.
Billy Zoom holds his signature Gretsch Custom Shop Tribute Silver Jet model, which was part of a limited run that is now totally sold out. "Mike McCready from Pearl Jam got the last one," Zoom says. Nearby are his special stereo model Silver Jet with TV Jones pickups, as well as a stereo amp he built. Photo by John Gilhooley
Most people know you as a guitar hero. How did you get into building and modifying amps?
I started getting into ham radio when I was much younger. In 1958 I started building kits and working with radio transmitters. I was also playing guitar, but I had an acoustic. In about '62 I switched to electric and had to have an amplifier. I started to realize it was the same kind of stuff. The inside of an amp made sense to me because I already knew the radio stuff. I became the local amp repair guy, and then in the late '60s I went to a vocational school for two years to learn electronics. Basically it was training to be a color TV technician, but it was a really good background. It was only the last semester that was television intense. I went in knowing I was going to apply the skills to working with sound. I usually kept the poor teacher after class for an hour or two every time, badgering him with questions and bringing in amps.
And then you opened your first shop in 1970?
Yeah, on the corner of Sunset Boulevard and Vista Street in Hollywood. I do a fair amount of general repair work to anything with tubes, plus guitars, studio gear, and then modifications and building my products. I do it all. It's kind of a mix.
And you've been in business ever since?
Pretty much, except for the years like '88, '85, when X was touring constantly and I moved my shop to my house but was still working in between tours.
X has been touring regularly again since '98, right?
Yeah.
How do you go about balancing your business with touring?
With great difficulty. I'm not here enough. We've been really busy touring this year. I also moved my shop to a bigger facility between tours.
How does it feel leaving your business to go on tour?
I hate going out. I get nervous about traveling at the beginning of every tour. "What did I forget? What didn't I bring? What am I gonna need that I'm not gonna have?" That sort of thing. I have two of everything and one stays packed. Once we've played a show and I know I didn't forget anything, or I know what I forgot, then I'm okay.
How have your designs changed over the past 40 years?
Well, like everyone I started out in the early '70s just copying. The first amps I built for sale were based on Fender 4x10 Bassmans, and gradually I just started developing my own circuits. Now I'm not copying anything.
What products are you currently offering?
The only thing in production right now is the Little Kahuna, which is a reverberation and tremolo unit that's all tube. I still do custom amps—one-offs and stuff. I can really only put one thing in production at a time. So I'll do a run of a hundred of something and then do a run of a hundred of something else. I manage to make enough to at least always have a couple of amps in stock and some packed and ready to go.
The Kahuna came out in 2009?
Kind of. We did the NAMM show in 2009 and showed it. I got started actually building them at the beginning of 2010, but then I had cancer surgery so I think I only got 10 of them shipped before the surgery. It was out of circulation for a few months before I came back. Most of them have been built since late 2010.
How many have you done?
Serial numbers are up to about 70.
And how did you come up with the design?
Well there was a Big Kahuna that was fancier. It was too much trouble; I only made a couple of those. But that's why it's called the Little Kahuna. One day I got a sales flyer from a tube supplier and they had reissued 6BM8s. I thought, "Gee, that'd make a good reverb," and I started tinkering with that and the tremolo. There wasn't anything like it on the market. There were some cheesy tremolo pedals and some bad reverb units, but there wasn't a good one in a single box.
Are you making them by yourself?
I have a company that's making the raw cabinets for the Kahunas now, but other than that it's all me, and I still have to finish the cabinets myself.
Zoom builds all of his amps by hand in his California workshop. Here he's shown drilling holes in an amp chassis.
Do you use one when you play?
Yeah, not with X though—X just plays loud. The room is my reverberation. When I play rockabilly I use it, and when I do studio work I always bring it. They're small, they're light, they're built like a tank—very durable.
Tell us about some of your clients.
I did all of Brian Setzer's stuff for 18 years until he moved to Minneapolis. And the guys from the Black Crowes shoot me stuff. I've worked with No Doubt, Jim Lauderdale, Blind Lemon, Mike Ness, and I used to [build stuff for] Dennis Danell when he was in Social Distortion. I've done stuff for Jackson Browne, Richard Gere, Bruce Willis, all kinds of people. I was in Hollywood for 25 years.
I didn't know Bruce Willis played guitar.
Bruce Willis had a band, he played harmonica, and they used to tour around Hollywood all the time. He had a bunch of Fender tweed amps I used to fix, and I fixed one of his harmonica mics.
Would you say the majority of your clients are prominent musicians or do you get amateur players as well?
Since I moved to Orange County I get a mix. I still get people from all over the country—all over the world now—but it's a mix.
So you work one-on-one with every client?
Yes.
How do you work with them to come up with something that you can both be proud of?
Well, sometimes they know what they want, and sometimes they just want something. I talk to them about what style they play and who they like, what sound they like, what records they like, where they play, and what kind of situation they're going to use it in.
And how long does it usually take to complete one project?
To do a one-off? Probably 4 to 8 weeks—it depends how complicated it is. Usually it depends on how complicated the cabinetry is, that takes the most time. The Cowboy amp prototype I did for Gretsch took a lot of time because of the wraparound grille and all the asymmetrical parts.
And how did you get hooked up with Gretsch in the first place? Was it just because you played one of their guitars?
Yeah, well, because I was so strongly identified with that one model, the Silver Jet, which was a really unique guitar. They reissued them so they don't seem that unusual anymore, but back in the '70s and '80s mine was the only one people had ever seen and they assumed that it was custom. The actual guitar became sort of an icon. When Fender got involved with Gretsch, [product manager] Joe Carducci called me up and we started working on the Billy Zoom tribute model.
When did you first start working on it?
I think 2007 was when they finally started doing it seriously. I went out to the Custom Shop a few times, and we took my old '55 Gretsch to a Kaiser Medical Center to have it X-rayed and stuff, and they stuck little mirrors up inside of it and measured things, and then they made a couple prototypes. They sent me a prototype, then they made a couple changes to it, and put it into production.
So do you use one of the new ones or do you use your original?
I tour usually with the first prototype. I actually kind of like it. As I go to South America and Europe, when I have to fly, I usually take the standard production model. The prototype is a one-off. I don't like to take one-of-a-kind things on airplanes.
Then why was the original prototype changed if you like it enough to tour with it?
They over-relic'd the top on the first one. The real ones don't ever show wear on top. I think they must have gotten that coating from NASA.
Zoom uses this Tektronix Model 570 to match tubes and compare modern valves to their original specs. "It's an extremely rare piece," he says. "Mine came from an electronics school in Minnesota."
Are you still using the amp you made for yourself in the '80s?
Yep. Same amp since '84. Never a problem. I changed the tubes once in 2005. My plan was to make an amp that didn't break on tour. It has two 4x12 cabinets and I've got two output sections. I've got four 6L6s in it and you switch back and forth, so in the event that one ever fails you just switch to the other output section.
How do you start a project like that?
I started it the way I start every project. I sit down with a piece of graph paper and a pencil, and I just kind of stare off into space and start thinking about circuits. Then I play with it until it looks right, and then I go to the shop and I build what I drew.
What are you doing right now?
Right now I'm looking at a prototype I made for Gretsch that so far hasn't made it into production. It's a Cowboy amp. I took the essence of the cowboy-style amp [that was popular in] the '50s and early '60s and put it on a modern amp. It's got the tooled leather binding and wraparound grille with the steer head on it and has the reverb and tremolo circuits from the Kahuna built into it. It's got a modified Baxendale EQ and a single 12—it's 20 watts.
There's another one that I designed for Gretsch which has active EQ with just a volume control and a single tone control, but the tone control is a two-legged LC circuit, so when you turn the knob, it moves the boost frequency up or down, which gives it a fantastic range of tonal quality. It's 18 watts with a single 12. And then I've got a little 4-watt studio amp, it's really good for recording. It has gain, master, treble, and bass controls. It's been very popular with session musicians and studio owners. I can also add a secondary design called a multiwatt to any tube amp—there's a switch on the back that will vary the actual wattage. I came up with that about 25 years ago. I've done probably hundreds of them—it's a very popular mod.
Have you noticed any trends lately in terms of what amps players are using?
A lot of people just want something small that they can play at home—something they can play in the living room without deafening everybody.
Are you still innovating with different mods?
Oh yeah. I'm just building on a new one now. It's nothing fancy, just a mod a guy's been asking for.
What was he looking for?
I don't think he knew, so I just made something I thought he'd like. My goal was to make it sound full and punchy without having to put any holes in it because it's a mid-'60s Bandmaster. I didn't want to do anything that couldn't be removed completely in about 20 minutes. I wanted to make an extra gain stage without making any holes.
What's special about your designs?
They sound fantastic. They're almost unbreakable. One of the ways I like to challenge myself is using fewer parts than anybody else uses and making something that works better. It's all my own design, they all have unique circuits, they're not really like anything else. They all have their own unique sounds, and they're all different.
How has West Coast culture influenced your career and ambitions?
I've been out here since the '60s. I don't really know what it's like to live anywhere else. I like the West Coast. We've got mountains and oceans, winding roads for sports cars, and anything I want I can get—I can buy, or have it made, within six blocks of my shop. My shop is kind of like having my own amusement park. I've got everything I like. My electronics shop has an amazing assortment of esoteric test gear. I've got two Tektronix tube curve tracers, and all kinds of laboratory instrumentation, and then in the back I have a full metal shop so I can do machining or sheet metal work, and next to that I have a full wood shop so I can build cabinets in the back. I also have a restoration shop, and on the other side of the wall I have a state-of-the-art recording studio and a tracking room there. Of course, it's all soundproof—it's a good place to try out things. If someone wants to try out an amp, they can go in there and they won't bother anybody. I probably wouldn't leave if I didn't have kids.
How old are your kids?
I have 6-year-old twins. A boy and a girl.
Are they going to be musicians?
Gosh, I hope not. I would hope I raised them better than that. Sometimes they take instruments from the studio that they want to play with, but they're just getting to the point where they won't break it faster than I can tell them not to.
But you have a repair shop.
Yes. I'm still doing repair when I can. This year it's been hard for people to catch me since I've been out touring so much. I closed for a couple months to move the shop into a bigger unit. It was just this big, empty, dirty space and we had to tear a couple walls down, clean the whole place out, paint it, and do a couple of walls … so I've been kind of hard to catch. Hopefully I'll be able to do more this year.
How do people generally hear about your business?
I think word of mouth. I've been doing it for so long on the West Coast that pretty much everyone knows who I am—plus I'm the guy from X. I'm often out on tour, which is the only problem, as far as them getting hold of me.
So does being Billy Zoom help or hinder your business in the end?
I'm not sure it does either. I was doing it a long time before there was X. And, then I was Billy Zoom, but I don't think it carried much weight. It's worked out well for me.
Many people have called you an icon. How do you relate to that?
I think it's great. They could call me a lot worse things. I'll accept it.
What's on the immediate horizon for your amp shop?
I'm still kind of putting things away from after the move. I'll be around more in the coming year than I have been. People can come into the shop. In the tracking room of my studio I usually have the Cowboy, the blue one, the little 4-watt one, and my X amp, and my old Bassman head has a bunch of my mods on it so people can try it and see what I can do.
In the Shop with Mr. Zoom

The time that Billy Zoom puts into handwiring designs he says are "almost unbreakable" is what requires him to make gear in limited-production runs. As he works on custom builds and repairs in his shop, Zoom keeps his original amps with signature mods (including the wattage-varying "multiwatt" mod he came up with 25 years ago) on hand to show customers what he can do. Here's a look at three of his main creations.
Little Kahuna
The Little Kahuna is an all-tube, high-end reverb and tremolo housed in one unit. These tone machines use one 6BM8 tube and two 12AX7s, with dual footswitching for silent movement between effects. The cabinets are dovetailed 7-ply Baltic birch covered in heavy NubTex that's available in blonde, black, brown, or tweed. This is Zoom's only current model in serial-numbered production, with the number made around 70.
Cowboy Amp
Zoom's 20-watt Cowboy amp was built originally as a prototype for Gretsch. He plans to start production of this amp and his "Little Blue Killer" (see below) later this year, starting with runs of 50 amps per model. This design has the essence of cowboy-style amps from the '50s and early '60s, including tooled-leather binding, wraparound grille, and a steer-head logo. It also has the reverb and tremolo circuits from the Little Kahuna, as well as a modified Baxendale EQ.
The Little Blue Killer
This 18-watt amp (also designed for Gretsch) uses EL84 power tubes and has just a volume control and a single, active tone control. "When you turn the knob, it moves the boost frequency up or down, which gives it a fantastic range," Zoom says.
Photos by John Gilhooley
Self-taught luthier Pete Swanson blends art and science in a groundbreaking approach to guitar design that combines computer technology, wax molds, and fiber-optic photonic pickups.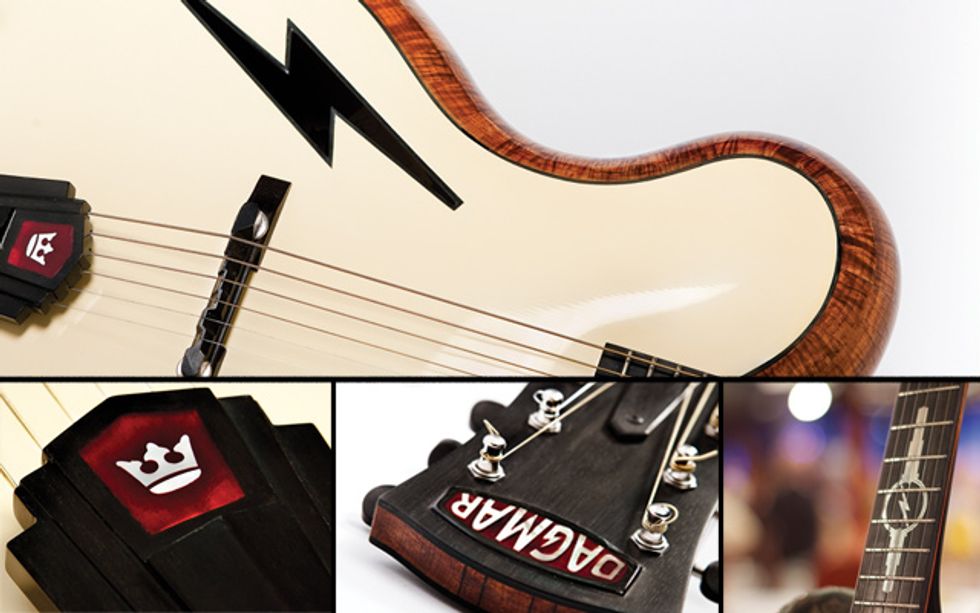 TOP: The Dagmar Custom Guitars Vicky model. BOTTOM LEFT: The crown from the Vicky tailpiece is a nod to Queen's University's role in developing photonic pickup technology on the guitar. BOTTOM MIDDLE: Vicky's headstock. BOTTOM RIGHT: Custom lightning bolt inlays on the Vicky model. Photos courtesy of Queen's University
Mark Trokanski had just decided he was done acquiring guitars when he came across a photo from the Montreal Guitar show that stopped him dead in his tracks. He saw four archtops with completely rounded edges and lightning-bolt soundholes, two of which featured a checkerboard pattern around the curved rims. These instruments sat atop a table labeled "Pete Swanson."
These guitars were so visually striking that Trokanski ceased reading entirely and simply stared at the instruments, which were unlike anything he'd seen, yet somehow seemed familiar. A 25-year guitar collector and medical researcher, Trokanski already had at least 20 guitars, but he'd never had one made specifically for him from scratch, and the idea of commissioning a piece of playable artwork was too intriguing to ignore.
As days went by and he was unable to put the novice luthier out of his mind, he drafted a letter of introduction and began inquiring about the work. And so commenced a months-long courtship (as they both now describe it) between the builder and collector.
"We were sussing each other out," says Trokanski, "because the relationship between the luthier and the player is an interesting one. This is someone who you're going to trust to turn your vision into reality."
For some reason, Trokanski had absolute faith and trust in the newcomer from the get-go, and after a few communications, things took an abrupt turn. "It was very surreal," Swanson admits. "All of a sudden Mark said, 'Okay, I want to move forward, so what do we do next?'"
Perhaps Trokanski was taking a risk. After all, at this point the Canadian builder had made only six guitars and was a novice in the guitar world. But he had a knack for using mathematical calculations to determine how to manipulate wood—a skill he'd developed in the early 2000s building interiors for yachts. It seems Swanson's background was the perfect storm: Before taking on woodworking, he was a graphic artist, and what he learned about drafting sketches or 3-D rendering, he now applies to his guitar designs.

Dagmar's Working Girl guitar has blonde flame maple in the houndstooth binding alternating with a black epoxy dust mixture, which luthier Pete Swanson calls "reclaimed wood."
Yet to understand the genesis of Dagmar Custom Guitars, says Swanson, you have to go back to the weeks leading up to his daughter's 16th birthday. A friend of his had been cleaning out his garage and was looking to unload a '60s Canadian bicycle. Swanson saw an opportunity to salvage it and create a one-of-a-kind birthday gift, and with visions of hot rods dancing in his head, he brought the bike home and started tinkering.
"I made a wooden tank and a checkerboard dial for the frame," he says, "and then when I started to adorn the bike, I thought it would be really cool to do matching fenders." But he had never made bike fenders before, and wasn't quite sure how he was going to do it. Almost the very next day at work, Swanson observed a coworker experimenting with an urn to hold the cremains of their boss' recently deceased father.
"He was taking thin strips of wood cut to specific angles on each side," Swanson explains, "and at the end of the day he had this octagon-shaped vessel. He then rounded the corners with a belt sander and it became this smooth vase. That night I woke up with a eureka moment thinking about how I could build the fenders by using his technique."

Dagmar Custom Guitars team of collaborators at the Montreal Guitar Show, from left to right: Mark Kett, Mike McAvan, Denise Trokanski, Mark Trokanski, luthier Pete Swanson, Annette Swanson (Pete's wife), and Ian Belknap.
Lo and behold, it worked, but Swanson didn't stop there. Always an innovator, he decided to further experiment, creating a ducktail fender using the same process. "As soon as I realized I could reverse the curve," he says, "I immediately thought of a guitar."
A Guitar Is Born
Swanson started to mentally map out what would be his prototype guitar. Around the same time, he enrolled in a business class at a local college with intentions of debuting his own brand of custom one-off guitars. He registered his new company's name, Dagmar Custom Guitars, in August 2008.
Swanson named his enterprise after Dagmar, a 1950s starlet whose real name was Jennie Ruthy Lewis. Dagmar was curvy—much like Swanson's designs—and although she usually played stereotypical "dumb blonde" roles, she was revered for her intelligence and wit. Swanson's affinity for hot rods and all things beautiful made "Dagmar" an obvious choice. In the 1950s, the term emerged as a slang word for bullet-shaped Cadillac bumpers, a nod to the rocket bra made popular by Lewis on various American television shows. (In 1951, Dagmar was featured in her trademark costume on the cover of Life magazine, and during the Korean war a self-propelled anti-aircraft tank was dubbed Dagmar's Twin 40s in her honor.)
Swanson calls his first guitar (named Ruthy) "fairly simple," despite the revolutionary process he used to build it. Like all of his designs, the outside is completely round, and the inside parabolic and smooth. The sides are put together with more than 80 pie-shaped segments—think keystones in Roman arches. When the "keystones" are bonded together they form the guitar shape.
"When you add compound curves to a structure," says Swanson, "the result is a tremendous increase in strength. My guitars do not depend on the top and back plates to counteract the 150 pounds of tension created by the strings." Essentially, the top and back of the instrument suffer less stress and are freer to vibrate.
Swanson shapes the guitar's curvaceous body by hand using digital calipers to ensure the thickness stays consistent. To increase sustain, he graduates the thickness in spots, leaving more mass near the neck and fading thinner and thinner near the waist. The inside is laminated with carbon fiber, making the entire structure rigid, yet lightweight. The result is a focused, punchy sound that Swanson and Trokanski compare to an amphitheater effect.
So far, all of Swanson's necks have been bolt-on, and he says they weather better than others due to increased stability from nine laminations and a carbon-fiber fitting that acts as a small sleeve. It's epoxy-bonded into the body and fits the neck heel and tenon. A single bolt goes through the neck block and is tightened with an Allen key. Then a thick heel cap is doweled and epoxy-bonded to the body to extend the neck joint. There's also a small bolt that goes through the heel cap and into the neck heel, which serves as an anchor.
Houndstooth Construction

1. The ABS 3D-printed mold is filled with three-part liquid foam. Once the foam is cured it is released. 2. A simple spinning jig was made to hold the foam buck while the CNC flame-maple houndsteeth are plugged into position. 3. An epoxy and ebonized wood dust mixture is frosted in between the flame-maple houndsteeth. 4. The cured ebonized material is then shaped and faired to flow with the maple teeth. 5. It worked! The foam is knocked out and the houndstooth rim becomes freestanding. 6. Next the interior surface is faired to a perfect surface for the carbon fiber laminations. 7. The carbon fiber is laid in, painstakingly faired, and polished to perfection. 8. Voila! A one-of-a-kind, parabolic Dagmar body binding.

Pictured here are the front and back of the Dagmar Denise model. Denise features a flamed-maple, double-cutaway body, a bolt-on neck, a Bigsby, and lightning-bolt inlays and soundholes.
Gaining Momentum
Once Dagmar Custom Guitars became official, Swanson wrote to the Montreal Guitar Show hoping to score an invitation. Considering he'd only built one guitar in his life, this was an audacious move. "Long story short," he says, "I got it. Now I had a goal and justification to continue on."
In the nine months that passed between receiving his invitation and actually attending the 2009 show, Swanson produced two more unique Dagmar prototypes—which he named Jennie and Mary Lou W—and continued developing the elaborate patterns he uses in his binding and inlay.
Mary Lou was the most elaborate of his early creations. "My goal," says Swanson, "was to make her my showstopper." Pulling inspiration from memories of jazz guitarist Charlie Christian and nostalgia-ridden Norman Rockwell prints, Swanson did the rim in a golden-hued, cooked-flame maple, outlining each square piece of the checkerboard pattern with a red veneer "to imitate Charlie's 1930s-era suit."
Swanson's work was well received at the show, and he even garnered a little press attention. He wasn't about to lose momentum now. His fourth guitar, Eve, was his first single-cutaway.
"That was what most of my test pilots suggested should be Dagmar's next evolutionary step for improved access to the upper register," he admits. "So I figured out how to do a single-cutaway."

ABOVE LEFT: Pete Swanson collaborated with Mark Kett on the futuristic, black gloss Perle guitar. ABOVE RIGHT: Vicky is a very special guitar that was commissioned by Queen's University to help debut, test and develop their state-of-the-art Photonic pickup system. The guitar's Sitka spruce top has fiber optics spliced into the wood fibers on the underside.
He says this casually, as if it was as simple as teaching yourself Sudoku. What it actually entailed, he reveals, was going back to the drawing board and mathematically working out new cutting angles for the treble-side upper bout and neck area. After what he describes as a blend of angle calculations, table-saw setups, and a bit of trial and error, the body shape came out, remarkably, as planned: a Venetian cutaway with a smooth, rounded bout.
Hoping to expand his use of materials, for Eve he used ancient Kauri wood that he sourced from New Zealand. "It's really cool," Swanson says. "It's carbon dated at 50,000 years old, and actually predates the wooly mammoth by 10,000 years."
Legend has it that a group of farmers stumbled upon a prehistoric bog loaded with enormous fallen trees that were allegedly knocked down during the Ice Age and preserved for thousands of years by the murky earth. Of course, it had to be kiln-dried because it had 100-percent moisture content. "I thought, wow," says Swanson. "That's so much mojo—to hold a piece of wood like that."
It was around this time that Swanson was contacted by Professor Hans-Peter Loock of Canada's Queen's University, who was developing a new kind of pickup using fiber optics. Dr. Loock was looking for a luthier who would be able to slice hair-sized fiber optics into the wood as the guitar was being constructed.

ABOVE LEFT: Dagmar's Gretchen guitar was developed with grant money from the Ontario Arts Council in 2010. ABOVE RIGHT: Pete Swanson uses an intricate construction process for his guitar bodies that features houndstooth tessellations.
As we know, acoustic guitars are often amplified or recorded using piezo-electric pickups. But there are several problems with this technology, says Loock. As he explained to Guitar Noise in a 2010 interview, piezos record the vibration of the bridge or soundboard, converting the vibration amplitude into a voltage. The disadvantage of this method, Loock says, lies in that piezos also measure acceleration and therefore cannot have a completely flat frequency response. They're also susceptible to radio frequency noise (the 60 Hz hum), and it's tough to use more than a few pickups per instrument.
Loock wanted to use a strain of highly sensitive fiber optics—so sensitive, Swanson says, that they can pick up every single vibration that they're subjected to, audible or not. "He gave me eight fiber optics with these sensors on them, and two representatives from the university came down to my shop to help me decide where on the guitar they should go," says Swanson. "I sliced them right into the underside of the spruce plate, epoxied them in, closed up the guitar, and they started to experiment with it."
The benefit, Loock found, was that the frequency response was flat up to 20 kHz and there was no interference from electromagnetic fields or light—totally eliminating external noise from a pickup. The guitar, along with Pete's other new ladies (including Gretchen, his first double-cutaway electric) debuted at the 2010 Montreal Guitar show.
"My first impression when I saw the photo [from the show] was that this gentleman is doing phenomenal work and I'd never seen anything like it," says Mark Trokanski. "But when I got the guitar in my hands, it was better than that."

ABOVE LEFT: Eve is Pete Swanson's prototype single-cutaway guitar, made from ancient New Zealand Kauri wood carbon-dated at 50,000 years old. RIGHT: This computer rendering, made by Dagmar industrial designer/collaborator Scott Duyn, shows the interior of a typical Dagmar guitar.
Trokanski and his wife, Denise, had commissioned Pete to build them a guitar similar to his electric "rock 'n' roll scream machine" Gretchen, but with a completely unique pattern around the rim. It was important that the piece be as visually stunning as it was playable.
"They originally asked for a houndstooth pattern on the side of the guitar and [initially] I said no—that's impossible. It's all table-sawed and houndstooth is an interlocking pattern, a tessellation. They were comfortable with that. They sent me a really rough sketch—the equivalent of a pencil sketch on a napkin—of a guitar rim that was made up of large triangles that Mark referred to as sharks' teeth."
Swanson was quick to realize that it was going to take twice the segments of his previous guitars, and twice the math.
"That meant that I had to be twice as precise putting this thing together," he says. "So I came up with a quote and much to my delight he said, 'Okay, let's move forward on this.'"
"It's funny," rebuts Trokanski. "When my wife and I first met Pete, we appreciated his candor when he said he wouldn't know how to make our design. But we knew he could. We said, 'We know you're going to figure it out—you just need time. And as it turns out, he did."
Tackling the Impossible
"Just as I was sliding in the last piece [of the sharks' tooth guitar]," says Swanson, "I had another eureka moment about their original request."
About a year before he'd met the Trokanskis, Swanson had been watching a documentary about (now-deceased) California-based artist Emile Norman, who was making sculptures out of wax, then pressing tiny bits of wood into the wax to create mosaics. Using epoxy he bonded the wood together before heating the entire piece to the melting point of the wax. What he was left with was a hollow sculpture.
"Maybe subconsciously I had been thinking about his process all along," says Swanson. Calling upon a childhood friend who was now an industrial designer, he asked him to render one of his guitars with his software and design a mold that Swanson would fill with wax.
"I realized I could get a precision form to lay all the houndsteeth on that would also be mapped out with the computer, and I could send the computer files of all the teeth to someone with a CNC machine … and do just like Emile Norman did and bond everything together with an epoxy. So I got on the phone first with Mark and said, "Mark, your shark's tooth guitar has been finalized and it worked out perfectly. And by the way, I figured out how to do the houndstooth guitar."
Trokanski laughed and said, "Okay, well let's move forward on it."
"I don't think I even responded," says Pete. "But he was serious."
In July 2011, Mark and Denise saw their houndstooth guitar for the first time at the Montreal Guitar show, just three short years after Dagmar's debut.
"The response was overwhelming," Mark says. "We got a lot of feedback from other builders, too. Our table was located near luthiers like Ken Parker and Brian Kingston, and when someone like Ken Parker tells you he likes your guitar and it's groundbreaking, that's something."
According to Trokanski, his Dagmar guitars play like a dream. "I've been trying to describe them both since I got them," he says. "I can coax any sound from country to heavy metal out of these without much effort at all because of the versatility of the design. That's a hard thing to do. Most guitars have specific sounds or ranges, and we had tried to commission guitars with everything from very clean sounds to crunchy or heavier metal, and Pete's designs just fell perfectly in this range."
So will Trokanski keep collecting Dagmar guitars? "We'll probably do another," he says. "Our dream design has come to fruition, and now my wife has some other ideas, aesthetically, and she just wants to keep challenging him.
"I just want to make it clear that Pete is an obvious genius," Trokanski continues. "He's one of the most innovative guitar makers I've met. But whether he's using math calculations to form curved sides or his new computer molding method, the guy's just pushing the state of the art."