Builder Profile: Trev Wilkinson
Wilkinson merges his Fret-King house with Britain's Vintage guitars.
Throughout his long career, Trev Wilkinson has always made a point to remember the beginner, and he considers every skill level when making such product decisions as adding features and pricing instruments. Recently, Wilkinson combined forces with one of Britain's premier independent distributors, John Hornby Skewes & Co., to oversee their affordable Vintage guitars and add his own, more upscale Fret-King brand to JHS's catalog. The idea behind Vintage is to offer accessibly priced, vintagelooking guitars with great finishes, quality parts, and features that are typically found on guitars costing upward of a thousand dollars. These instruments include Wilkinson-designed hardware, a bubinga neck extension that runs into the body to add rigidity and enhance acoustic resonance, and a Roll Control knob that allows variable coil splitting.
"I think the unfortunate truth of our industry is that an awful lot of things have been taken out [of affordable guitars] in order to achieve a price point," Wilkinson says, "but the reality is if you go in at the beginning wanting to achieve all those things, the price point isn't actually that different. So you say, 'Why don't we do it then?' And I think that's really behind an awful lot of the success of Vintage guitars."
When it comes to Fret-King, Wilkinson keeps his designs classic without being forced into "nostalgia corner" as he describes it—the phenomena of guitar players snubbing useful innovations in exchange for blind loyalty to Fender and Gibson designs. According to Wilkinson, Leo Fender himself was a victim of this phenomenon. "In conversations I had with Leo," Wilkinson says, "he could never understand why people held his early guitars in such reverence, when in his mind the [G&L] guitars he built before he died were far superior to his previous guitars. He couldn't understand that he'd already created that nostalgia."
It's too soon to tell, but Wilkinson might be fostering some nostalgia for his own pioneering technological advances in the music industry. He's been described as "Britain's one-man think tank." And at 62, he's certainly not throwing in the towel anytime soon— asserting that there's always more work to be done when it comes to improving guitar playability.
In addition to its Distressed Sunburst finish, this Vintage V6HMRSB has a pair of Wilkinson single-coils, a WHHB humbucker, a distressed WVCD trem, and Wilkinson EZ LOK tuners.
We'll let him tell you the rest.
When you got onboard with JHS and the Vintage brand, what was your first order of business?
I took about 57 models and kind of went through each one, spec'ing it and putting what I considered to be the right pickup with the right guitar, and choosing the right vibratos, tailpieces, and tuners. I went through all the body shapes and all the body designs. Some obviously are paying homage to past classic designs and some are unique to Vintage guitars.
What would you say is behind the success of the Vintage brand?
They just offer so much value for money. They sound so good, play so well, and perform so well, that sometimes people look at them and go, "Wow! What a fantastic bargain—it's too cheap—why don't you make it more expensive?" And we say, "Why should we?" Everyone should have access to a working guitar.
There are manufacturers who have very, very high dollar instruments and are obviously interested in creating aspirational consumer brands. But then, as you come down the dollar chain from, let's say, a guitar at $3000 or $4000, you have to take features out because obviously if you've got everything in a $4000 guitar, you can't put everything in the $2000 guitar, because then your customer wouldn't have to buy the $4000 guitar. We've always taken the philosophy of, "Why don't we build it in at $299, rather than take it out at $299?" We can do this because we're not trying to protect a very expensive guitar.
There came a point in our industry where prices came down so low it was actually impossible to make a reasonable guitar cheaper than what the big brands were doing. So the sensible distributors—the people who were in control of their own destinies—looked at the situation and said, "Well, we've got to change. We can no longer compete on price, so we have to compete on quality and features." And I think that was the key for the Vintage brand. We concentrated on the quality of the product and the features. It's part of a long-term plan and probably the most important way that we went from a "me too" guitar to a brand that people ask for by name because they know it's a quality product.
The Wilkinson ADT Self-Tuning Bridge uses signals from the vibrating strings to control onboard electric motors and automated tuning gears. Located between the bridge pickup and ADT unit, the string sensor also provides a pitch readout for the player.
Certain features make Vintage guitars, as you say, "the bigger bang for the buck." I partnered up with a company in Korea to do some very traditional bridges, but we've made changes to them so they perform much better. For instance, on the spring block, the holes are staggered in a way that allows the strings to leave the block and pass over the saddles at an angle that helps keep those strings in tune. I also developed some tuning keys called EZ-LOKs that work like a locking tuner, but actually don't require any mechanical manufacturing. There's nothing to unwind when you're slacking the strings using the vibrato, and they always come back to pitch.
I don't have a high-dollar pickup range to protect. So I can produce a singe-coil pickup that will sound as good as any company can wind anywhere in the world, and I can do it at a much lower price point because I'm not worried about people thinking that the pickups in expensive guitars aren't as good.
This Fret-King Country Squire Semitone Deluxe features a translucent red finish and optional "vintique gold" pickguard. The model is loaded with two Fret-King Alnico 5 vintage-voiced single-coils and a Fret-King humbucker, and sports a Wilkinson VSV vintage-style trem.
You've always been concerned with making the guitarist's job easier. Can you tell us about some design problems you've aimed to fix?
For instance, the major problem with all vibrato-equipped guitars is keeping them in tune, hence the original invention of the Floyd Rose system. My systems have always been the alternative to a Floyd Rose. I've never asked a guitar player to clamp anything, and I've never asked a player to use a wrench to change strings. But I've always endeavored to keep him as perfectly in tune during his performance onstage as he possibly can without all the other paraphernalia around it, and I think that is key to the success of the guitar. This applies to a semi-pro or a professional player and even the beginner. We shouldn't leave the novice out of the equation because why should beginners have to play something sub-standard? We try to give all players equal footing to be able to play onstage in front of any audience, no matter what level.
From your experience, what does it take for a guitar innovation to catch on in this industry?
I think our industry is steeped in nostalgia—it has never really moved forward. There have been some fantastic innovations in the guitar industry, but very, very few of them have actually been successful because they always seem to just go one step too far. I think guitar players are very conservative, even though they might be outlandish in the way they look and dress. Their choice of instruments can be incredibly conservative. There's so much nostalgia out there that if the companies that tend to be associated with major players try to innovate or make things different or better, people say, "Well, that's not a real such-and-such guitar now because you've changed the bridge, you've changed the tuners, and you've changed the pickups."
The Fret-King Studio Ventura 60 sports a trio of custom-wound Fret King P-90-style single-coils (the middle pickup is reverse-wound/reverse-polarity to cancel hum in positions 2 and 4) with tortoise-shell colored caps to match its pickguard. Radio knobs and a gold-metal flake finish complete the retro vibe.
Will you ever consider offering custom options?
As far as custom options go, I'm a little bit wary, because I don't believe we can always give our customer the sound he's got in his head. He comes to a custom builder and says, "Well, I'd like a double-cut bolt-on with a swampash body, and a maple neck with an ebony fingerboard, and I want it to have this style of pickup in the bridge, and I want it to have this style of pickup in the middle, and I want this vibrato bridge or this fixed bridge." When that guitar goes together, I don't believe it can possibly deliver the sound that's in the player's head. Instead, I prefer that the player looks at our guitars, plays our guitars, and then chooses something that suits what he wants to do.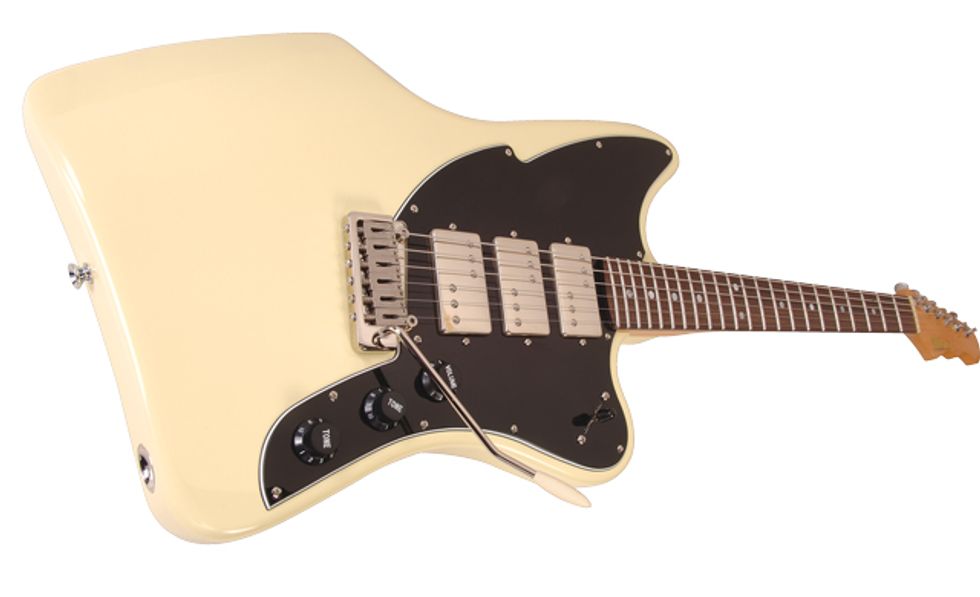 The futuristic Fret-King Ventura Super 60 HB3 has a two-piece alder body, a 25 1/2" bolt-on neck with Gotoh Magnum locking tuners, a trio of PAFstyle humbuckers wired to a "Vari-coil" rotary control, and a Wilkinson WVP "wave" trem.
I think custom building a guitar is guesswork. You can make a very pretty guitar, but you'll notice on our website there aren't too many guitars in there with fancy tops, or what I refer to as furniture guitars. I think guitars should be chosen for playability and sound. I don't think they should be chosen because they have an outrageous flame-maple top. That is not a reason to buy a guitar for me. That's a reason to buy something that you have on the wall to look at. I don't believe guitars should be hung on the wall and looked at. I believe they should go out and earn their living.
The V-style Vintage VV60TA features an Eastern poplar body, set maple neck, a 24 3/4"-scale bound rosewood fretboard, and Wilkinson humbuckers.
You've created so many useful innovations in the industry. For someone who's not at avid guitarist, how are you able to see the picture so clearly?
Well, it started with the Roller Nut. That started me on the path. I was looking for a purpose. I've played in bands, I know what it's like to play onstage, and I know what its like to go onstage with a guitar you don't trust. It's a panic. So when I developed the Roller Nut, I could then actually take a guitar with a vibrato system and know that when I used that system—if I went to a lead break, or if I decided to do an arpeggio—all six strings would be in tune. That's a huge relief when you're onstage performing, no matter how big or small the club is.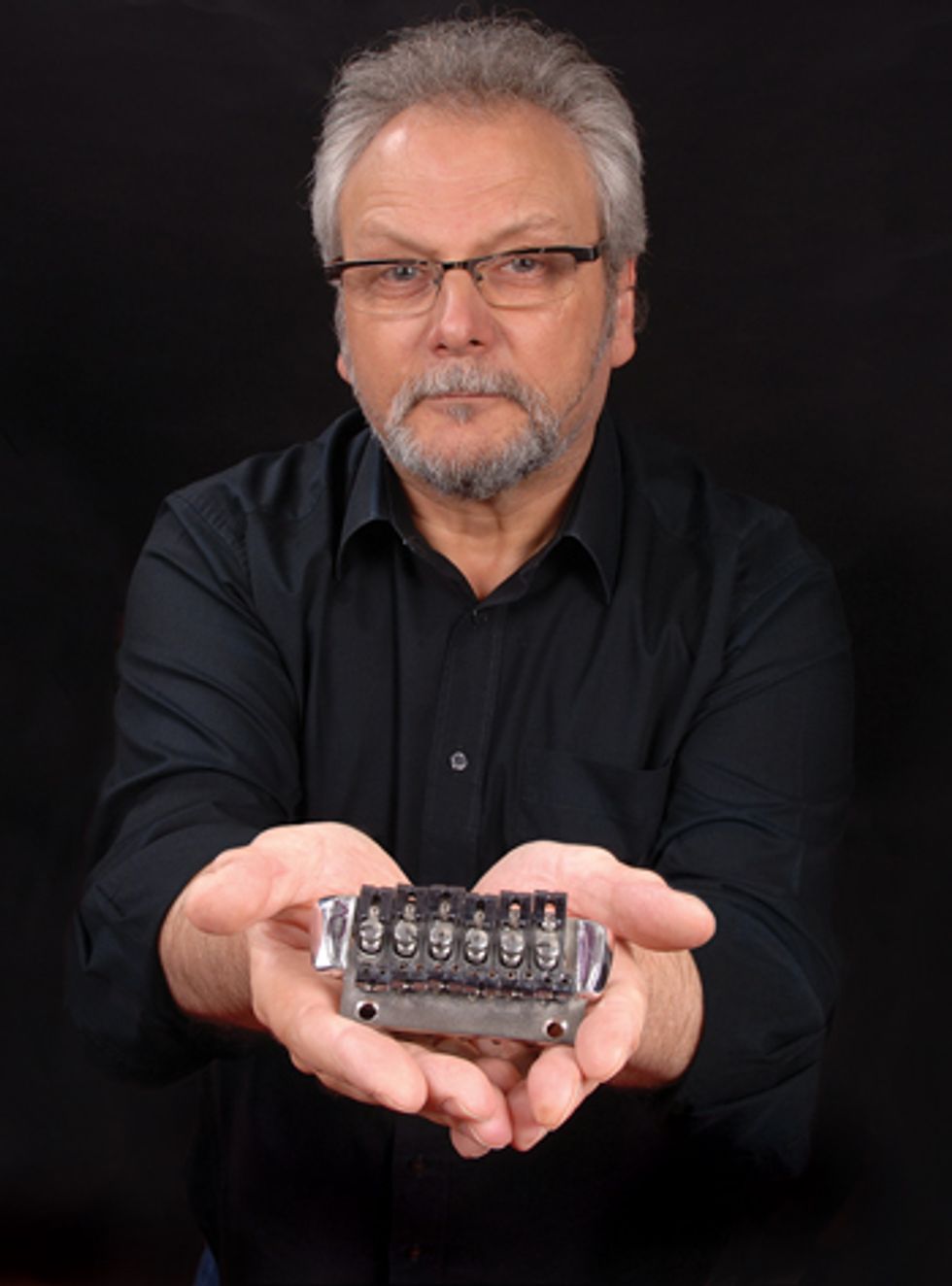 Wilkinson shows his latest handiwork—the hardware component of his ADT Self-Tuning Bridge.
I've always worked with players. I've never looked at the commerciality of our industry, probably to my detriment. I'll say to a player, "This is a design. Does it work for you?" And I'm talking about serious players—I'm not talking about a local guy down at the pub. I like to use their ears, and I like them to confirm my theories. When I invented the VS100 Vibrato System, I knew it worked, or I felt it worked, but it wasn't until a lot of guitar players of some stature would actually turn around and say, "You know what, Trev, this is a great vibrato bridge. It works, it stays in tune, and I'll use it." Like Scott Henderson, he was really, really helpful to me at the time, and he's a superb guitar player and an absolute tone monster. So that gives you confidence. You feel you're doing something right when you get people— top players—actually say, "This works and I can use it onstage."
And how did you come up with the ADT self-tuning bridge? i understand it was a joint effort?
Yes, I was part of a team. I like to say that I drove the bus. A lot of the mechanics were left to me, but I'm not a digital engineer. The technology that's required to take the sound from the string and turn it into a signal to generate electric motors to turn gearboxes is not my doing. That was just me being able to say, "A guitar player will put up with that, but he won't put up with this. So we have to make it happen faster or we have to be more accurate." And so forth. So yes, I stress all the time that I was part of a team. But it was my job with that product to actually design it and tailor it so it didn't get in the way of playing normally.
So what's next? A holiday?
I don't know. We can still take the self-tuning system further. I guess we'll just keep trying to make a better mousetrap.