Vox Amplifiers: The JMI Years - Book Release Party
Jim Elyea and History For Hire Press hold release party for Vox Amplifiers: The JMI Years
North Hollywood, CA
(December 3, 2008) -- While authors and publishing houses have celebrated the release of their projects for years, no other book has been more deserving of such an occasion than Jim Elyea's latest book
Vox Amplifiers; The JMI Years
. And for one rockin' night, British Invasion revelry came to balmy Southern California to commemorate the event.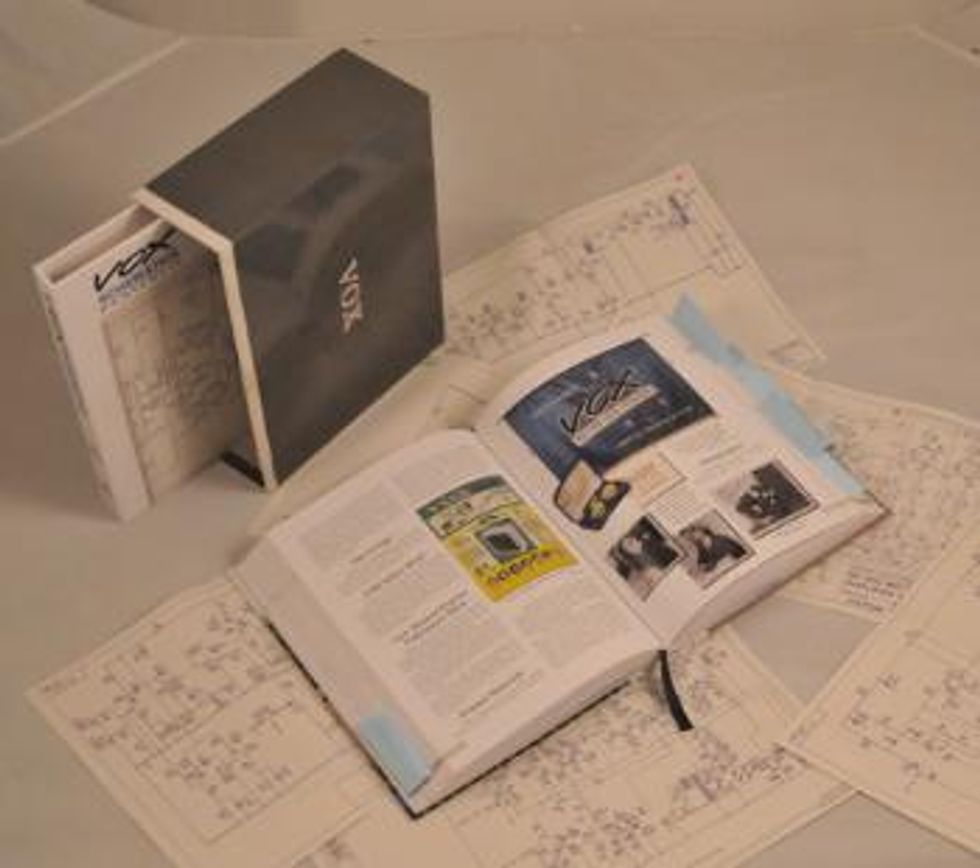 The sheer size of this book is noteworthy (9.5 x 12 inches; 682 pages), but the real accomplishment is the overall achievement of the comprehensive coverage dedicated to the historic amp company, Vox Amplifiers. Elyea has nurtured this book like a dedicated parent, by committing the past 12 years to this encyclopedia-like book.
On the evening of Saturday November 22 a large-scale bash celebrated the release of author Jim Elyea's labor of love. The book's official release party, held at History For Hire in North Hollywood, California, delivered an appropriately over-the-top celebratory launch as several hundred guests enjoyed an evening full of Merseyside-themed entertainment. The venue made an ideal host site, delivering Cavern Club-era aesthetics for the Vox book send off.
Historical photos decorating the "Beatles Bar"
The festivities began the moment attendees stepped out of their cars: an authentic red double-decker bus ferried guests from the parking lot to the party. At the main site a large tent housed the bash, replete with pub-friendly food and drink (Bass ale and fish and chips were available in abundance) and live music performed by local faves Working Class Hero. Classic Beatles tunes provided the perfect musical touchstone for the splashy launch.
Working Class Hero's Tim Piper rocking with a big body Epiphone Casino
One key guest had come all the way from England for the event: Derek Underdown–Vox's Chief Engineer during the mid-1960s era and an integral figure in the Vox's history–enjoyed mingling with other guests and provided a living link to the company's rich legacy.
Jim Elyea (Author), Derek Underdown (Vox Chief Engineer) and Richard Adkins (Art Director) about to enjoy a piece of celebratory cake
Go onto the next page to read and see what's all included in Vox Amplifiers: The JMI Years
Where the Difference Lies
The book is structured upon an enthralling narrative with scrupulous documentation that is carried without a hitch by of endless photos regarding the Vox history. It covers all aspects of Vox amplifiers from before their inception in 1957 through the end of the JMI-era in the late 1960s including an insider's perspective on the rise and fall of Jennings Musical Industries and Vox amplifiers. Don't think a book of nearly 700 pages of narrative and photos can push you along? Well, the basic narrative foundation is assisted with numerous charts, sidebars, and illustrations. The kicker that really exemplifies Elyea's dedication is the running item called, "Setting the Record Straight," in which he clears up many popular myths with the information you uncovered through his years of searching.
No bones about it, this book will set a standard for future projects attempting to cover guitar or amp companies and their respective history. In our upcoming January issue, PG staff writer, Chris Burgess tackles this monster and had these thoughts regarding the book, "It's not just that the text and the photography are equally edifying, organized and easy to navigate, or even just that it covers so much territory, from history to field guide, to reference manual, to nostalgic coffee table book. What sets it apart is its depth of detail. It must have been Elyea's obsession with Vox amps that started it, but his quest to find out everything that could be found out about Vox Amplifiers in the early years can only be described as relentless.
In addition to the aforementioned text and photographs, there are included copies of original schematics and diagrams. While they aren't intended to be provide a how-to guide in Vox AC30 replication, these visual copies of history truly make this a complete package for a fan of Vox amps the infamous artists that played them.
Breakdown of the Book

In twelve chapters, Section 1 details the history of JMI and Vox in pictures, and in the words of those who were there.
In eighteen chapters, Section 2 investigates every physical aspect of the amplifiers themselves, from cabinets and control knobs to valves and vent covers, and all elements in between—this section features loads of charts and timelines.
In four chapters, Section 3 treats the design, manufacturing and promotional history the amplifiers.
In twelve chapters, Section 4 covers each of the Vox amp designs, with the more famous among them receiving their own chapters.
Section 5 is a short reference guide to dating your Vox amplifier.
In four chapters, Section 6 discusses The Shadows, The Beatles, and the other groups that made Vox a name heard everywhere.


Finally, Section 7 contains as appendices all of the additional material and organization that makes the book such a useful reference manual: a list of JMI people, a chronology, a glossary, notes and indexes, etc.
Be sure to check out the feature on the book, author and his seemingly never-ending quest for all information Vox in the January issue.
For more info:
Vox Amps: The JMI Years