VOX reveals their newest products at Winter NAMM
Anaheim, CA (January 21, 2009) -- VOX Amplification cranked up Winter NAMM 2009 with the unveiling of their newest guitar effects and more.
The Big Bad Wah and the Time Machine Delay

Following the release of the Satchurator analog distortion pedal, VOX Amplification expands the VOX & Joe Satriani guitar effects line with the introduction of the Big Bad Wah dual wah pedal and the Time Machine delay pedal. These pedals are part of an ongoing partnership between VOX and the legendary guitarist Joe Satriani who has been an active part of the R&D team for years.
The Big Bad Wah and the Time Machine feature a modern-day pedal design as do most pedals in the VOX
and Satriani line. VOX says these pedals deliver the flexibility to express not only Satriani's signature tones, but also the individual tones of all guitarists playing them.
The Big Bad Wah is a dual wah pedal that enables switchable access to two different onboard wahs. Wah 1 is classic VOX through and through, with a British tone hot-rodded to Satriani's specifications. Wah 2 is designed to be customized to the player's desired wah tone with the pedal's controls: two selectable inductors (UK-style and U.S.-style), a Drive knob that's designed to provide a wide range of gain, mimick the Wah 1 gain at its lowest setting and deliver a 10 dB boost as the maximum setting for aggressive overtones and soloing. Wah 2 has a Voice switch that aims to provide traditional wah voicing, as well as a dark, resonant tone reminiscent of a vintage talk-box. The pedal pot itself is also designed to Satriani's specifications.
The Time Machine delay, named after Satriani's 1993 album Time Machine, offers a mix of tonal colors, wide delay range and musical dexterity that sets it apart from other delays, says VOX.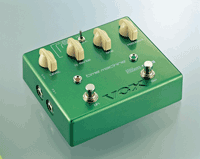 It comes with two delay modes: Mode 1 is "Modern" – which aims to mirror the player's original sound with full clarity and fidelity. Mode 2 is "Vintage" – which was designed to limit the frequency response by adding in soft distortion, along with subtle analog-accurate tape warble. Additionally, the pedal features both a wet and dry output.
The Big Bad Wah dual wah pedal and the Time Machine delay pedal will be available in February 2009, with pricing TBD.
For more info, visit voxamps.com
The NT15H Night Train

This time, VOX Amplification has teamed up with legendary amp designer Tony Bruno to introduce the NT15H "Night Train," a 15-Watt, all-tube guitar amplifier head that was created to offer both classic and new VOX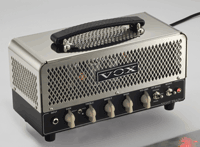 tones in a compact, portable design. This all-tube head weighs less than 17 pounds and it comes complete with an armored-box design for an all-tube tone on the go. The 15 watts of power are delivered through a pair of EL84 tubes, and two 12AX7 tubes help deliver clarity and definition, from chime-like cleans to warm overdrives, says VOX. The toggle switch allows users to switch between Pentode (15 watts) or Triode (7.5 watts).
The Night Train has a mirrored chrome finish with a signature VOX diamond design that ventilates the amplifier and provides a clear view of the all-tube circuit within. VOX says the front panel controls are clear and simple, offering traditional chicken head pointer knobs for Gain, Volume, Treble, Middle and Bass. The preamp section features a mode switch, offering both Bright and Thick options. The Night Train is equipped with both 8-Ohm and 16-Ohm speaker jacks, and will be available in January 2009, with a U.S. MSRP of $800.00.
For more info, visit voxamps.com
The New AC4TV and AC4TVH Guitar Amplifiers

The AC4TV is a 4-Watt, Class A Tube Amplifier based on the popular VOX AC4 from the sixities. The AC4TV combo, as well as the AC4TVH head version (with matching V112TV 1 x 12" extension cabinet),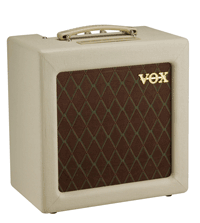 is an all-tube practice amp that has been factory-modded with a premium transformer and select components for optimum tone.
The AC4TV retains the distinctive EL84 power tube of the original AC4, and features a 12AX7 powered pre-amp, which drives the AC4TV's custom-made Celestion 10-inch speaker and the extension cabinet's custom-made 12-inch speaker. Vox says these features enable both models to deliver clean, crunch or saturated overdrive for a range of sonic options.
With these amplifiers, VOX aimed to solved the problem of reating full tons at lower volumes by featuring a built-in power attenuator, with 4 Watt, 1 Watt and ¼ Watt output levels in both the AC4TV and the AC4TVH, which helps ensure that players don't lose that classic tube tone at the lowest of levels.
Other features include a 16-Ohm speaker output for connection to an additional cabinet, and both models feature simple, elegant cabinetry with the "TV" front design first used on the classic AC15 from 1958 as well as some of today's VOX Heritage Series models.
The VOX AC4TV 4-Watt Class A Tube Amplifier will be available in February 2009 with a U.S. MSRP of $400. The AC4TVH pricing and availability is TBA.
For more info, visit voxamps.com
The Next Generation of the VT Series Amps

VOX is now shipping the latest expansion of its line of Valvetronix tube-powered modeling amplifiers: the 15-Watt VT15, 30-Watt VT30, 50-Watt VT50 and 100-Watt VT100 combos.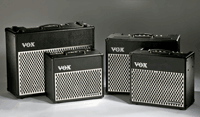 As with all Valvetronix models, these amps feature VOX's patented Valve Reactor technology. These models were designed with a unique 12AX7 tube circuit to create a 100% analog power-amp circuit that aims to deliver true tube amp sound and feel, unattainable with digital technology. Vox says these new models deliver even more advanced modeling and effects than the critically acclaimed AD Series and all at affordable price points.
New Features include: 22 ultra-authentic amp models, 12 high-quality effects – including reverb with its own independent level control, 66 preset programs — 22 famous song presets which simulate the signature tones of the world's most famous guitarists, eight footswitchable user programs for creating and saving custom amp and effect combinations, built-in speaker-emulated headphone/line-out jack, and optional VFS5 footswitch, which helps provide hands-free program switching.
Vox says the amps' new bold looks provide a modern twist on traditional VOX design, combining the striking metal grills of the previous Valvetronix AD Series with new cream chicken head/pointer knobs that pay homage to VOX's heritage. Each model features VOX custom-designed speakers as well as user selectable output power that allows the Valve Reactor to be saturated at even low volumes. In addition, external speaker output is provided on the VT50 and VT100, and an effects loop on the VT100.
All models are now available with MSRP pricing as follows: VT15 - $280.00, VT30 - $375.00, VT50 - $540.00, VT100 - $880.00, VT Footswitch - $84.00.
For more info, visit voxamps.com/valvetronix/vt-series
New AmPlug Pocket-Sized Headphone Amplifiers

VOX is now displaying the latest two additions to its amPlug range of palm-sized, battery powered, headphone guitar amplifiers: the amPlug Lead and amPlug Bass. The amPlug Lead and amPlug Bass can be plugged directly into you guitar via its built-in 1/4" plug, so you can enjoy professional-quality guitar or bass tones anywhere, anytime. In addition, the AUX input jack allows you to jam along with any MP3 player. The VOX amPlug Lead and amPlug Bass join three other existing amPlug models.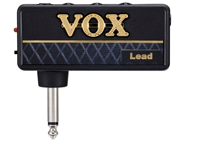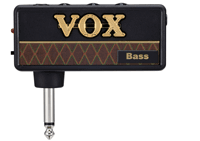 The The amPlug Lead is based on a U.S.-made, high-gain boutique amp that has been further modified specifically for lead guitar. It also contains a digital delay effect. amPlug Bass is modeled on VOX's AC100 bass amp, and it has been further expanded with a full-range tone that supports today's bass sounds, says VOX. Visually, amPlug looks like a miniature VOX amplifier, complete with a simulation of the classic VOX diamond grill cloth.
Additional features include: up to 20 hours of battery life from two AAA batteries, a compressor/boost effect, a large amp stack, a high-a FET buffer circuit, and proprietary analog modeling technology, which helps accurately reproduce the complex and warm distortion that is distinctive of a vacuum tube.
The VOX amPlug Lead and Bass amplifiers are now available with an MSRP of $64.00. The amPlug AC30, amPlug Classic Rock and amPlug Metal are now available with an MSRP of $56.00.
For more info, visit voxamps.com/amplug
The JamVOX Softare's New OS V1.1

VOX is proud to introduce OS v1.1 for its first-ever software product, JamVOX. This new version keeps JamVOX current by adding support for 64-bit editions of Windows Vista.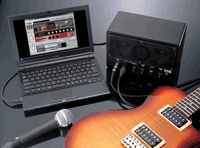 It also offers a new practice tool for quickly learning new guitar riffs. JamVOX Version 1.1 is available free to JamVOX users via either the auto update function or at www.JamVOX-Online.com.
Using JamVOX's recording capabilities, you can record your own guitar performances over your favorite tracks. JamVOX's GXT technology can extract or reduce vocal tracks, making the software/hardware product an incredibly powerful practice, jamming and recording tool, says VOX. Guitars and microphones can be directly plugged into the USB-powered hardware component for a complete practice solution. The WAV/AIFF recording capabilities enable you to overdub vocals as well as guitar.
The JamVOX is now available with an MSRP of $340.00.
For more info, visit voxamps.com.