Wall Street vs. Wood Street
The ordinary investor doesn't think in terms of value and opportunity, only price. That applies to stocks as well as guitars.
Although equity and property investment markets are vastly different, buyers and sellers share some of the same challenges. Hidden or undisclosed problems, the health of the overall market and demographic cycles can influence the outcome of a purchase or sale. Equities have a book value and some have positive cash flow to help determine value. A property has an appraised value. A guitar's market value can greatly exceed the pretty wood's intrinsic value.
Liquidity Rules
There is a mighty tailwind blowing down Investors Avenue for popular asset classes. Plentiful funds boosted by historically low interest rates in the USA have paved the way for higher prices in many markets, property and financial alike. Also, the world's wealthy had a good year in 2006. So good in fact it's the first time the Forbes 400 list of richest Americans contained only billionaires.
The rich get richer and they are out spending their big bucks on many items including firms, houses, art, jewelry, old cars and vintage guitars. A key metric is that babyboomers over 50 years of age own about 50% of total U.S. assets. The bottom line is people in the top 10% of the wealth spectrum can afford expensive Tier-1 vintage guitars, along with their ownership of most of the financial assets in this country, and a lot of these folks are boomers.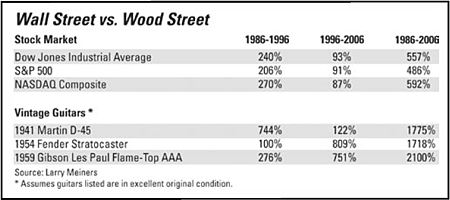 Martin's flagship pre-war D-45 saw great appreciation ahead of the bumper-to-bumper price increases for vintage electric guitars in the ten-year period ending in 1996. Key Martin and Gibson flattop guitars realized stronger demand during the ten years ending in 1996, compared to 1950s and 1960s Fender and Gibson electric guitars. During the 1990s Tier-1 vintage electric guitars gained in value at a rapid pace compared to old acoustic guitars. In the ten years ending with 2006, there was not much difference in the performance of the three major USA stock averages – meanwhile, first-year Stratocasters and Bursts increased at about eight times the stocks' gains. Over the twenty-year period ending in 2006, important old guitar models drove past Wall Street at a high rate of speed. These pulse-pounding gains have caught the attention of folks with lots of money.
Guitar Rich
Collectors, players, investors and speculators have seen tremendous price gains for popular vintage guitars in the last 36 months. It seems speculation reached a fever pitch this past year. Speculators are mainly motivated by profit and some have little reliable personal knowledge or experience determining the originality of these often manipulated hunks of wood. There are guitars parked in collections and held by speculators that are not "right" and some will create drama when they are peddled.
There are few markets that exhibit the annual price increases and longevity of great old guitars. Risk-takers with pockets full of money had the opportunity to buy at or near the market price in the past and immediately charge more. Some dealers who never kept their vintage acquisitions are now holding back expensive guitars fearing a loss of potential future profits.
There were only about 1000 total instruments of the three iconic guitars listed in the Wall Street vs. Wood Street table. Many of those original instruments are less than pristine due to tragedy or unskilled repairmen. Some of the excellent examples aren't offered for sale due to rising prices, thereby raising prices further with continued strong demand. There have been a few red lights flashing – a signal that price increases on some other models have moderated. It seems sunburst Strats are available and some at prices below their peak spring fling.
What does the future hold for vintage guitars? I don't know … ask the speculators.
---
Larry Meiners writes the Serious Guitar Collector Column for Musicians Hotline® Magazine. Larry is the author of the Gibson Flying "V" and Gibson Shipment Totals books as well as the audio CD book for collectors, Live! At The Guitar Show.
Larry''s books are available at (as well as other fine musical instrument and book retailers): Amazon.com,
www.amazon.com
, Blue Book Publications,
1-800-877-4867,
www.bluebookinc.com
, Elderly Instruments,
1-888-473-5810,
www.elderly.com
JK Lutherie,
1-800-344-8880,
www.jklutherie.com
, Music Time (Charles Dumont),
1-800-932-0824,
www.musictime.com
For more information or to email Larry, please visit -
www.flyingvintage.com
email:
flyingvintage@aol.com
Copyright (c) 2004 Larry Meiners All Rights Reserved