5 Pre-CBS-Inspired Bass Builders You Should Meet
Five builders who pay tribute to timeless vintage Fender basses: Jimmy Coppolo, Mike Lull, Bill Nash, Rudy Pensa & Matt Brewster
Just the words vintage or pre-CBS Fender bass put smiles on the faces of bass players the world over. Whenever I hear those words, I anticipate sonic nirvana. I expect a bass that plays insanely well after a proper setup and allows my muscle memory to play it without having to look at my hands. I demand CGF (cool guy factor) with any bass I own, and the old-school Fender is the champ. When it comes to practical ownership and use of these instruments, however, there are three issues facing the working musician. The first is value: some of these basses are worth five digits, and a $50 gig just doesn't warrant using it. The second is affordability: quite frankly, even before the economy tanked the cost of these basses was getting out of reach for the first-time buyer. Third is abuse and wear: the finish on my trusty '58 P-Bass is wearing very thin, and it's throwing off lacquer splinters on the neck. Because of these concerns, players are looking for affordable, world-class instruments to either emulate the look and feel of a 40- or 50-year-old bass, or an instrument that's a little more versatile than their current vintage bass. I recently had the opportunity to speak with and visit some builders who've set out to meet that demand, and I got to learn about their journeys. While all share a similar passion, each is a little bit different in terms of their objectives.

For relic'd emulations—newly made basses that capture the look and vibe of a 40-year-old, well used bass—I spoke to Matt Brewster of Rust Guitars and Bill Nash of Nash Guitars. Rust just nails the beat-to-death hot rod vibe (listening recently to a cat playing one through a B15, I would have sworn it was a '64 J-Bass). Bill Nash's product line captures the vibey, old-school look of a well-used vintage bass and is very nicely priced.

We'll also hear from builders making modern interpretations—basses that capture the old-school essence but come in a minty-new modern package. Mike Lull Custom Basses captures the old-school essence and features, but has engineered niceties to provide more modern tone and playability. Pensa Custom basses are vintage influenced, but modern works of art. These basses have an old-school feel in a modern package, and Rudy Pensa is one of the godfathers of modern emulation of vintage of basses. Jimmy Coppolo of Alleva-Coppolo offers a complete array of modern vintage basses with some nicely engineered interpretations.

Start off with Jimmy Coppolo of Alleva-Coppolo...


Jimmy Coppolo
Los Angeles, CA


Years Building: 13
Wait Time: Up to 6 months
(all basses built to spec)
Price Range: Starting at $2400
Contact: (909) 981-9019
allevacoppolo.com
Bass pictured: LG4 Classic
Jimmy Coppolo is a combination of vintage bass collector, luthier, artisan and businessman. He combines all these talents to make spectacular basses. Jimmy's product line is a no-compromise, best-of-the-best product that is not hindered by production numbers or pricing guidelines. His high-end client list seems to agree.
Tell me about the vintage product line. What sets it apart?
My product line sets out to capture the feel, tone and vibe of the old-school Pre-CBS and some of the early to mid-seventies era Fender basses. The product line is based around the original old-school values, but because of the needs and demands of today's player there are some modern conveniences, like a properly trued and fretted neck, tight neck pocket, preamp option, high-quality hardware, etc. The KBP series (vintage P-style) is available passive only. The LG series, our '60s J-style is an alder/ rosewood combo bass but includes our bypassable two-band preamp. The LM maple/ash combo and RA maple/alder combo are our '70s J-style bass—just like the '70s Jazz Basses, the bridge pickup location is slightly closer to the bridge, as opposed to the more industry-standard '60s bridge pickup location. Back in the day, Fender didn't offer a "usable" five-string bass. My clients requested and pushed me to produce a vintage-influenced five string, so the entire bass line is offered in five strings too. The response to the fives has been positive, and they're our biggest sellers. The feedback is that our fives sound, feel and play like an old fourstring… the way they would have been built during the '60s.
Does having the preamp detract from the vintage vibe you seek?
Well, most players request the preamp, especially with five-string basses. A player can't predict when a little more boost or EQ could be helpful. The control set up is Vol/Vol/Tone, Treble Boost, Bass Boost, the second volume being a push-pull preamp bypass.
Are your components sourced or manufactured in-house?
Just about everything is done in-house. We cut our own bodies and necks on the shop's old pin router. I recently purchased a CNC machine and will convert over soon. The CNC is more accurate, consistent, quicker and definitely safer. We use our laser cutter for block or custom inlay work and more often to cut the bobbins for our homemade pickups.
So you actually custom-build your own pickups?

Yes, we build and assemble our own pickups from the ground up. My wife, Sebnem, is our pickup tech. The pole pieces are loaded into the fibers we cut to make the bobbin, then sealed, wound, magnetized and potted. We currently have two auto-winders that I personally programmed. I still have my foot controlled wire feed winder that I use from time to time for either prototyping or vintage pickup rewinds.
I was looking at your website before the interview; your hardware looks custom. Is it?
As a standard for the five-string basses, we use the Hipshot style B Bridge. A vintage-style stainless steel five-string bridge is available on our higher end models. All the four strings have a vintage-style nickel-plated stainless bridge, just like in "the good ole days." All the basses come with Hipshot tuners that… after a little NY-Italian-style persuasion have "custom" oval keyhead shapes (just kiddin'): one vintage sized for our four-string basses and one slightly undersized due to spacing for our five-strings.
Tell me about how you got your start.
When I was about 10 years old, my dad took me to West 48th Street, NYC… Music Row. From that moment, I knew I wanted to be in this business, but at that time I was too young to know in what capacity. Around eight years later, I landed a job there at a famous high-end shop.
Who is the Alleva in the Alleva-Coppolo partnership?
Alleva-Coppolo is not a partnership, just my biological makeup. My mom's maiden name is Alleva and my dad's last name is obviously Coppolo. My great, great grandmother Pina Alleva introduced Italian cheeses to America, and in 1891 she opened her shop—a national landmark that is still open today in NYC's Little Italy. The Coppolos were an influential New York Italian family, too. As a child, I once noticed both names printed on my mom's checks and promised myself that I would use the names together. Who could've guessed it would be on electric basses and guitars?

KBP4 Classic
What is your objective for the product line?
First, as you know, I'm a huge vintage guitar nut. At one point or another, you name the guitar or bass… it's either been on my repair bench, sales showroom or part of my personal collection. One of the biggest inspirations to build vintage-influenced instruments is the musicians who desire such classics but are on a limited budget, and can't pay the inflated market rates. It's not rocket science. You need the fundamentals, of course: good wood, a concept of building, a good ear, and it helps if you can play. My objective is to provide players with an instrument that has that "old" familiar sound with that comfortable "just right" wornin feel… with no issues and ready for any gig.
Who is your target audience?
The majority, if not all, of my clients are working musicians—anyone from the struggling musician working the local club scene to session musicians, Broadway musicians, all the way up to players who are on some of the biggest touring acts.
What's on the horizon for Alleva-Coppolo?
We're always listening to players… always tinkering, always coming up with something, so who knows?
Next up: Mike Lull Custom Basses...
Mike Lull

Mike Lull Custom Guitars
Bellevue, WA

Years Building: 12
Wait Time: 10-12 weeks for a custom build, some available immediately
Price Range: $1950-$3300 (custom requests available for additional cost)
Contact: (425) 643-8074
mikelull.com
Mike Lull has done something a lot of builders have been unable to accomplish. He builds a super-premium custom bass at a price that's still in line with a factory manufactured bass. I spoke with Mike at length about his new product line.
Tell me about the vintage product line. What sets it apart?
The new product line consists of the UV4, UP4 and the V4. UV4 and UP4 are Ultra Vintage Jazz and Precision respectively. The 4 represents the number of strings. We have a 5-string version. The V model has a 21-fret fingerboard, 12" radius and '70s-style frets. The UV Series has a pre-CBS-style neck and frets with a 20-fret fingerboard, 7-1/4" radius. These are maple necks with Brazilian rosewood boards. These basses are passive but could be converted to active.
Who is the target audience for your basses?
My gear is designed and built to be used by working players. Eighty-five percent of my gear is used semi-nightly between studio and live sessions.
What is the sweet spot of your price point?

The bulk of my gear ends up in the hands of the end user between $2000 and $2500. They're receiving a custom-built bass at an off-the-rack price. At this price, it makes it easy to justify to expenditure to the spouse.
What is the inspiration for your product development?
Bottom line, I'm a Fender guy. I have owned hundreds of basses. In the mid-seventies I collected everything. The prices back then made these things affordable. As a pro player, for me there is nothing better than a great pre-CBS Precision or Jazz Bass. There is no better bass to record or play live with. If you could compile a list of all the recordings made with these basses, it would be staggering. I wanted to take all the goodness, along with all the idiosyncrasies, and build a better bass. Leo was a genius, but the basses were built to a price point. I want my basses to sound as good but play better and be more consistent.
What are some of the changes incorporated into your products?
I wanted to eliminate the headstock dive, so I make my headstock smaller. My basses tend to be light, so I had to be careful. Graphite reinforcement was placed in the neck for stiffness and lessening of dead spots. Electrostatic shielding is fully encompassed in my cavities. Only super-premium hardware is used. I prefer Hipshot items.
Tell me about your manufacturing. Are the basses "stick built" or component assembled?
First off, every Mike Lull bass is built by Mike Lull. That's not to say I don't have help with some of the work. My bodies are CNC cut from board stock in Washington, as are the neck blanks. I used to use a pin router but it is a dangerous, nasty machine. I install all the truss rods and fretboards myself. My necks are not prefabricated. My final neck and fret adjustments are done on a plek machine, which provides tolerances closer than any human can achieve by hand and eye.My finishes are sprayed by Jerry Dorsh, a former principal of Modulus basses.

Mike Lull V4

My finishes are thinly applied polyurethane. As I said, all the basses are assembled, fretted and built by me.
I have to ask, why poly and not nitro lacquer?
Bottom line is poly holds up much better than nitro. Nitro starts to get worn looking after a few months of use. My basses are not relic'd. I like them looking new for as long as possible. If a client wants nitro, of course they could have it done for an up-charge. In my opinion, a thinlyapplied poly finish sounds just as good as a thinly-applied nitro finish.
What factors have led to the success of your brand?
By all means word of mouth is essential. Once your basses start to get into the hands of the right players, there is nothing better than an enthusiastic owner. Don't get me wrong, we received some stellar reviews that helped immensely. We also advertised steadily for quite some time. You need to get your name out there.
What's on the horizon for Mike Lull?
We just launched our new T-bass line, which is a modern-vintage interpretation of a vintage T-bird. We have one- and two-pickup models. Jeff Ament from Pearl Jam is using the prototype right now.
[Writer's note: Mike and I are both big T-bird fans. The rarest bass I ever owned was a translucent black, 1964 Thunderbird IV that I bought from Mike about 1997.]
Next Up: Bill Nash of Nash Guitars...
Bill Nash

Nash Guitars
Olympia, WA

Years Building: 7
Wait Time: in stock through dealer network (custom orders vary)
Price Range: $1700-$1900
Contact: (for dealer info., not available direct)
nashguitars.com
I have to admit, I thought my conversation with Bill Nash was going to be product-centric, but we spoke at length about vintage basses, the fine points of patina, and the general good karma that breeds success.
Tell me about the vintage product line.
The entire product line is based around vintage Leo Fender-inspired guitars and basses. In a typical month, we build about 100 instruments. About 25 percent of them are basses, from the '52 Blackguard bass to the '70s Jazz Basses, and most models in between. We will also do some custom one-offs from time to time.
Tell me about some of the builds that you've done.

We make everything from a traditional '62-style stack-knob Jazz Bass to a Blonde Goldguard '58-style Precision Bass. We make any Fenderstyle bass you could imagine to your specs. We've done many custom pickup combinations and hot-rodded basses, the most popular being a P-Bass with the added J-Bass bridge pickup, or a '52 P-Bass with two Jazz pickups and stacked knobs. We use ash and alder bodies, rosewood or maple fingerboards. The possibilities are endless. We offer three standard levels of aging: light, moderate or heavy. Extra heavy aging is available as an upgrade.
We touched on pickup combinations, whose pickups do you use?
For 80 percent of the builds, we use DiMarzio pickups. There is nothing that captures the essence of a vintage bass better than a set of DiMarzios through an old SVT. We also use, and have great success with, Fralin and Lollar pickups. Who manufactures your hardware of choice? My primary hardware is old-school style Japanese Gotoh tuners and bridges. We also use CTS pots, Switchcraft jacks, Tusq nuts. Necks are 10" radius, and we use a medium large fret.
Do you feel the hardware has a lot to do with capturing the old-school Fender tone?
Modern, heavy hardware will make a bass sound different. I feel if you want the old tone, you must use the old style of hardware. Lightweight bridges and tuners make a big difference to the resonance and tone of the bass. Let me tell you, Leo Fender was a genius. Nothing plays or sounds as great as an old Fender bass.
Is your wood cut in-house?
The last thing I want to do is be in the wood manufacturing business. Though all of our components are out-sourced, we only buy the best components available. All finish work, all prep work, and all assembly is done on premises. To me, this is where the magic happens.
Your basses are finished correctly: they always have the correct primer, base coat, top and clear coats. The wear seems to be in correct patterns. How was all this accomplished?
We take great care to make sure our finishes are accurate. As a kid, I used to build models. I'd paint the car bumpers to look rusty. I made WWII-era planes to look like they were hit by flak. I pay the same attention to my instruments. Guitars wear differently than basses do. I look at old record albums, books, video, etc. and I study the wear patterns of instruments. I use the correct series of base coat, primers and color coats. I only use real-deal, oldschool nitrocellulose lacquer, the good stuff… the flammable stuff. It's all hand sprayed using old-school techniques. All finish work, along with assembly and setup, is done in-house.
Why don't you like to use the modern finishing products?
The modern stuff does not capture the oldschool essence. It looks perfect for too long. It does not age right, and when it ages it does not look like an old guitar should. It's great for the car business, but really impacts tone in a very negative way, as it kills the natural sound of the wood.
Does the Washington state weather affect instrument finishing?
Actually, we never have issues with this. Even though we have a lot of rain, we do not have a lot of humidity. When needed, we can change the mix of our lacquer to speed or slow the drying or viscosity to adjust to the weather. Humidity is what makes finishing rough going.

KBP4 Classic
What factors have led to the success of your brand?
Hard work! We work hard to make a great product; we work hard to make an accurate product. We are diligent in maintaining great relationships with our dealers, and our dealers are excited about the product line. Our price point is within reach of most players. The players themselves are excited about the product too. It's a great bass at a great price.
What is your player base?
Most of our end users are folks that either do not want to bring their dream bass to a gig and want something replaceable, or the price of the real example is so far out of reach they will opt for my piece. We also have a large stable of very well known players.
What is the inspiration around Bill Nash Guitars?
Nash Guitars was born out of a midlife crisis. I was always involved with building, repairing, refinishing and reselling guitars and basses. I was an executive in a video distribution corporation. I was making about 85 calls a day.
Multiply that by my time in the business, it was a million calls! Through the support of my wife and kids, I'm able to live the dream.
Next Up: Pensa Custom basses

Rudy Pensa


Pensa Custom

 
New York, NY

Years Building: 27
Wait Time: In stock (up to 6 months for spec built)
Price Range: Starting in low $3000 range
Contact: (212) 391-1699
rudysmusic.com
A few weeks ago I was invited up to Rudy Pensa's private loft-style office. On two conference room tables lay the makings of a book on great archtops and their history. The book will retail for what some generic guitars cost. Anything Rudy creates is masterful. Whether it's a book or a bass, it is made with the same love and passion. The story behind the product was told to me by everyone involved with its making: Rudy himself told me the history, Dean Moody and Jaxon Dillon-Fish explained the marketing and retail aspects, and Phil Rivlin, Makoto Noguchi and Ulrich Salazar discussed lutherie and construction.
I know Rudy Pensa as an aficionado of archtop guitars. How did the whole bass thing get started?
RP: Actually, my first love is the Fender bass. As a kid, I was a bass player. I played for many, many years. I always wanted to put my stamp on something like this.
What is it that gives the Pensa bass that Pensa vibe?
RP: You need to talk to my guys. They are the true artists behind the product. I know I just wanted the best traditional J- or P-style that you could buy. I provided my input and they just ran with it.
[The following responses are from the lutherie, sales and marketing staff.]
The vintage-inspired product line has been around a very long time. What is the key to its success?
First, of a lot of the credit must go back to the original designers and builders back in the John Suhr, Mas Hino days. We've been building basses since about 1982. Yes, we have had some tweaks and some minor changes, but the product is essentially the same.
What are the staples of the product line?
We build a '60s-inspired P-style bass that is active. We build a '60s-inspired J-style line that is really our signature bass. We have the 4- and 5-string models with the 5-string available in a traditional 34" scale and a modern 35" scale. The J-bass controls are Vol/Vol/Ttreble Boost and Cut/Bass Boost. The first Volume pot is push-pull for active or passive, and the second Volume pot is push-pull for series or parallel.
Are your components sourced or manufactured in-house?
The preamp is proprietary and made in-house. The hardware is all Hipshot. The Hipshot components are just a great fit, and luckily they're an easy source to work with and stock is available.
Have you had trouble with suppliers?
It's not that we have ever had trouble with suppliers. Another brand we use for our bridges comes from a small source, and unfortunately they have been back-ordered due to health issues.
Every Pensa bass always seems to have the perfect body. The necks seem to be very traditional. Do you do your own woodwork?
In New York City it would be nearly impossible to cost effectively cut your own wood. Everything is made in the US to our spec and is sent to us ready for prep. We prep the bodies for finish and fit. We install all frets, inlays, binding and overlays in-house. Our finish work is also done outside to our specifications. All the big things and the series of important little things are done here, other than the wood cutting and finishing. Finishing permits are difficult to obtain in NYC too.
What are some of the drawbacks of making custom basses?
We can build anything you could imagine. We also know what works and what does not. For bolt-on basses, ash or alder bodies with maple necks with rosewood, ebony or maple boards are a sure thing. It's a tried and true formula. Going exotic, for example, with a mahogany neck and koa body could yield a great result, or it could yield a less than good result. We offer advice, but sometimes… you know how that goes.

Pensa J4
In the show room you have everything from a traditional sunburst finish to heavy metallic to chrome-illusion finishes, and they all look great. What type of finish products do you use?
Pretty much it's all thin poly finishes. The new stuff sounds great and holds up well. We do offer nitro as an option.
What do you think is the x-factor in the product's success?
In a word, synergy. It's all the little things, the quality components, the fret jobs, the assembly and setup, the preamp that is still the original design. Each bass has a definite footprint, but no two are exactly alike. We don't have a catalog; we try to make our product stand out, make it interesting.
How is price point determined?

We are very "anti-scientist." It's pure cost vs. markup. There are no price studies, nothing like that. We just build a no-compromise product and try to make a little on each bass.
Who is your target audience?
Our target is the working musician: Richard Bona, Christian McBride, Al Carty, Victor Bailey, Reggie Parker all use Pensa basses. The guy in the bar uses Pensa basses. Even the couch noodlers use Pensa basses because they appreciate the quality. Keith Urban just got a Pensa! Pretty much anyone with an affection for a high-end custom bass buys a Pensa.
Next Up: Matt Brewster of Rust Guitars

Matt Brewster 
Rust Guitars and Basses


New York, NY

 

Years Building: 20
Wait Time: Approx. 12 weeks for custom build (some available immediately)
Price Range: $1800-$2200
Contact: (212) 868-2660
30thstreetguitars.com
Matt Brewster is the man behind the bench at Rust Guitars and Basses. The operation is nestled in the way back of 30th Street Guitars, just a sneeze away from Madison Square Garden. Matt and I spoke at length about the mission behind Rust.
The product line seems very "meat and potatoes." What are your staples?
My product line is the staples. We make only 4-string basses, a vintage P and a vintage J model. All traditional hardware is used, and traditional pickups and components. We do not make a 5-string. It's like you said, meat and potatoes.
Is any custom work available?
We can build anything a customer desires. If we need to install a preamp on a customerordered bass, that's easy enough to do. Pretty much, our product line is pure, classic '60s, but utilizing a "retro stance." Take this bass, for example (pulling out what looks to be a heavily modified '60s P-Bass). This is a custom order for the bass player in the band Jupiter One. It's a '60s-style P that was built to look like it was modified during the bad old days of the '70s. It has a period-correct DiMarzio Model One pickup and a '70s-style black guard. It's what the customer wanted, and we built it.
What type of components do you use?
I love the Lollar pickups. CTS pots and Switchcraft jacks are key. Bridges are Fender vintage reissue. For tuners, we use Fender or Gotoh. All the parts are relic'd in-house. For pickguards we use Pickguardian guards. Tony makes an amazing product.
Where do you get your wood?
Our bodies and necks are all USA sourced and built to our standards. Only premium stuff is used. We do all wood prep and fretwork in-house. We use alder for our colors and ash for sunbursts.
Is there anything special you do before sending the bodies out for paint?

We inspect the grain and feel the weight of each body. Different grains and different weights lend themselves better to different types of finishes and tones.
Are you a believer in "lighter is better?"
Actually, no. Sometimes if you get a body that is too light, there is not enough mass, and it sounds like the bass has no energy. Heavier bodies have a darker sound, where lighter ones are airy and bright. Like I said, a body that's too light sounds too bright, sometimes lighter is not better.
Do you do your finish work in-house?
Finish work is impossible to do in NYC on any commercial scale. We send work out to one of two sources. We use a guy in NY state and another in Florida. The relicing is done in-house.
Are you using poly or nitro?
We only use nitro for our finishes. We do not use poly of any variety. I have found on my basses poly sounds stiff compared to nitro. We don't use any hype, we don't use any wizardry. We use old-school finishes.
I'm looking at your painted, pre-relic'd bodies. They are all done impeccably. Why do a perfect finish only to do a heavy relic?
A perfect finish to start with only lends itself to a better relic.
Do you do any fancy bodies or finishes?
We use no figured wood. We try to keep as authentic as possible. We want to keep to the vibe of a 40- to 50-year old bass. That's not to say we won't use a 12" radius fingerboard, but we try to keep strictly old school.
Do you use old-school or more modern techniques with your building?
We are strictly old school. We use every type of hand tool, and traditional bench power tools if needed.
Rust is one of the smaller players in this genre of bass, but every time I'm in here, there's always a client with a Rust instrument in hand to try out or purchase. Why is the product so hot right now?
[Literally as I am asking this question, one of Matt's clients, Steve "Godfather" DiVentuta, says, "I'm taking this one."]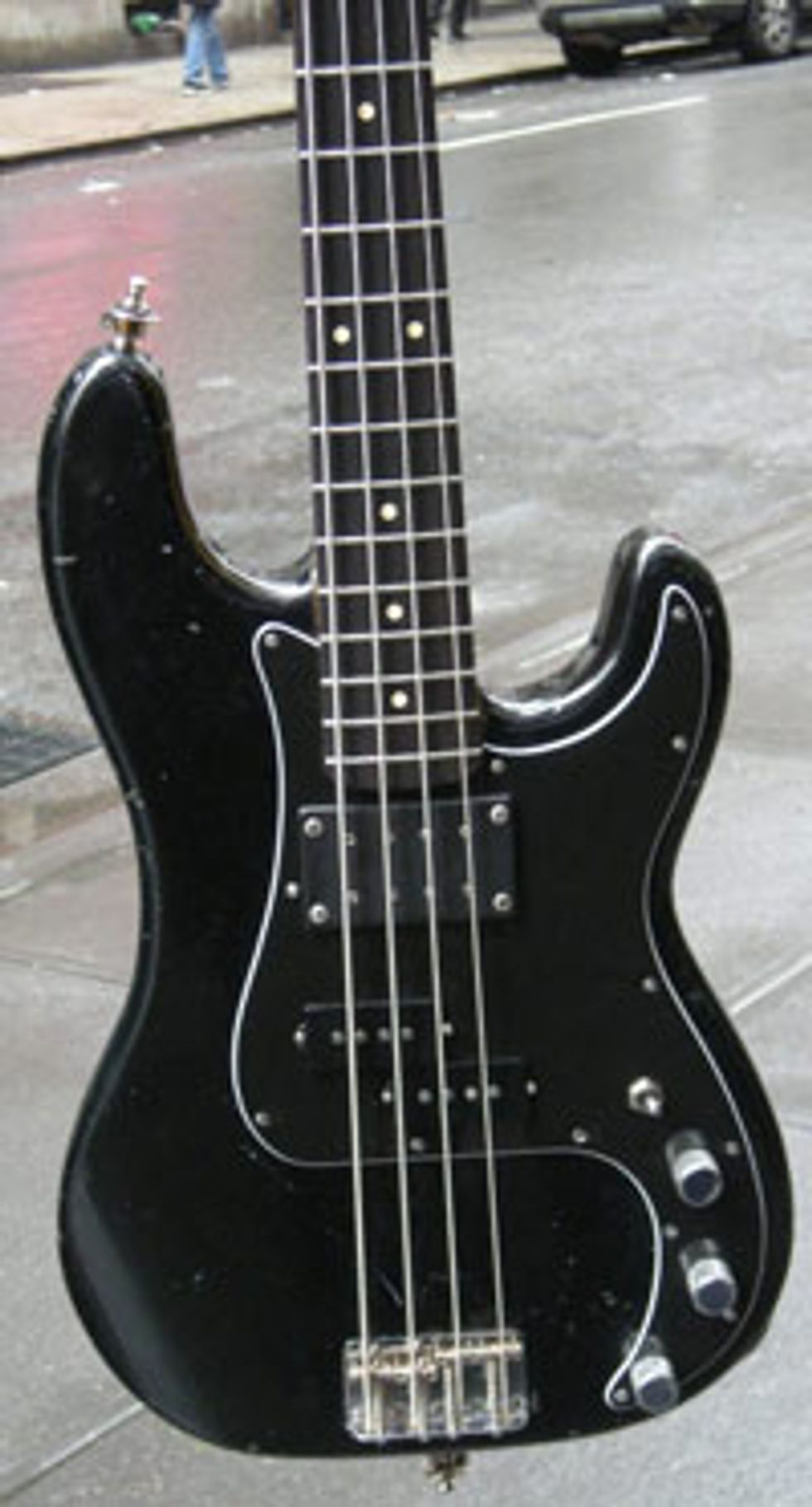 My instruments are made of all top-shelf components. The finish work is exacting. The setups are perfect. When you look at a Rust, you are not just buying a "relic," you are buying a bass that is built to an exacting feel, an exacting emulation of the real thing.
Who is the target audience for the product line?
Our buyers vary from rock stars to pros to breakout artists to working NYC musicians in the bars—this is our main clientele. Pretty much it's all the guys out there "doin' it," who want to leave the real stuff at home or are just priced out of the vintage market.
What is the secret to the success of the product line?
Slow and steady! Sometimes bigger is not better, and I am at the advantage of offering a high-quality, custom-to-spec bass at a reasonably affordable price. My rule is: nothing crazy will be built. If the bass is crazy, Matt is crazy. Matt does not want to be crazy!