Inside the Blue Front Cafe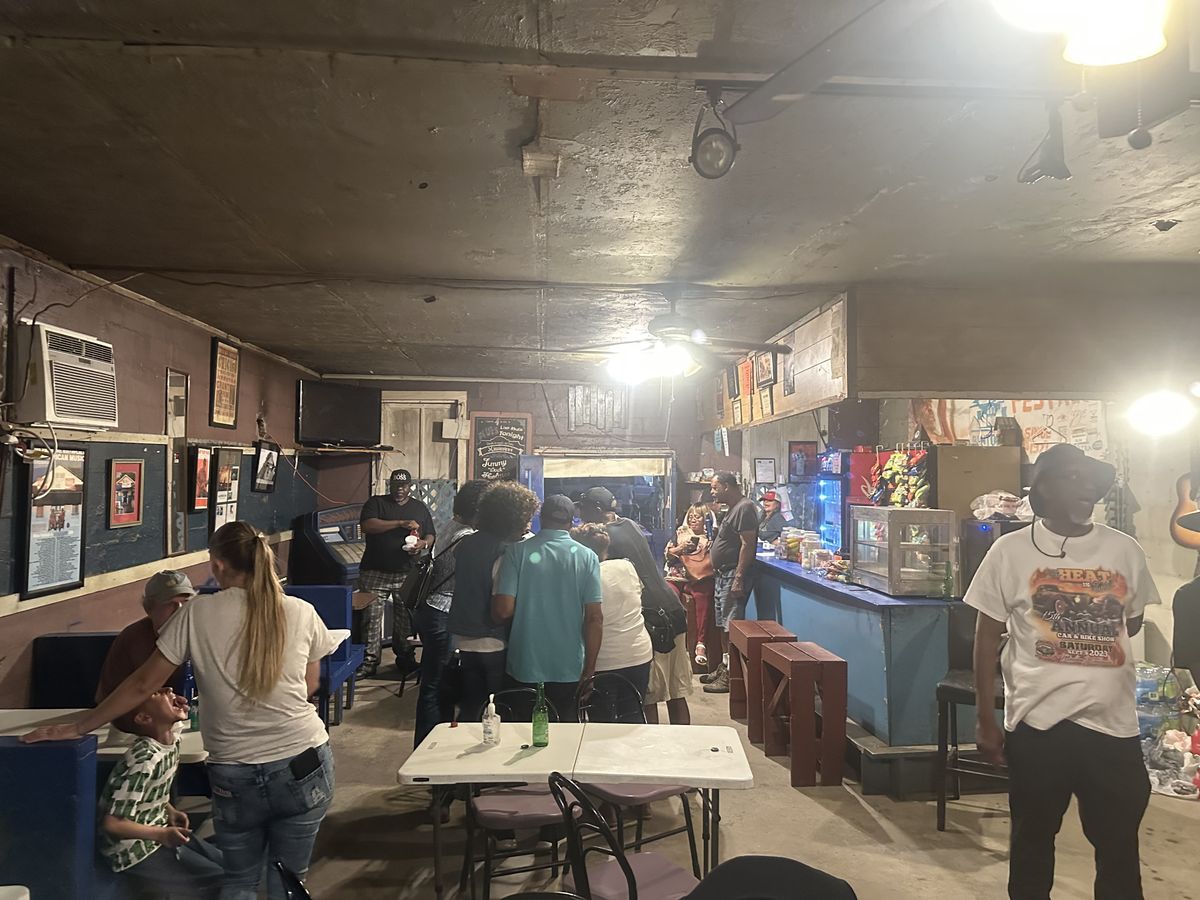 There are still special places where the heart of American music beats like a kick drum. Experience them while you can, and be inspired.
Since the '80s, I've spent a lot of time traveling to the obscure corners where great American roots music is made. Recently, I went to Bentonia, Mississippi, for the 75th anniversary of the Blue Front Cafe, a little juke joint so close to the railroad tracks that its walls shake when the City of New Orleans rumbles by. The place is run by Jimmy "Duck" Holmes, who inherited it from his parents. He was 1 year old when they opened its doors, and, at 76, Jimmy takes great pride in unlocking those same blue doors every day.
---
According to the 2020 census, there are 318 people in Bentonia. I would imagine all of them have been to the Blue Front, which, based on my two days there listening to local and regional musicians play on a plywood stage in the dirt and gravel lot surrounding the club, seems to be a nexus of community. Sure, there were tourists like me, including some from Maine and Japan, but many of the locals I encountered spoke about how they've been coming to Jimmy's club for years—decades, even—for music and friendship. One patron told me he had his first beer at the Blue Front. Another got married there, right by the interior window to the kitchen, where you order catfish or cheeseburgers.

Stepping inside, the place has the funky furnishings you'd expect from a rural juke, right down to a jar of pickled pigs' feet on the bar. But it also has a positive vibe. The crowd is racially mixed, and some patrons are gay and out, and nobody cares. The Blue Front is a place to hang out and be yourself.
"The place has the funky furnishings you'd expect from a rural juke, right down to a jar of pickled pigs' feet on the bar."
Of course, the future of the Blue Front is uncertain. It needs a new roof, and, at Jimmy's age, the day will come when it also needs a new operator. What happens then, or if funds for the roof can't be raised, is a question mark. Meanwhile, the club stands as a beacon of music history, past and present. It's where Henry Stuckey and Skip James traded licks, and where both men indoctrinated Jimmy in the style known as Bentonia blues. That genre is the result of Stuckey learning open-minor-key tunings from Bahamian servicemen during World War I, and incorporating them into the sounds of home—then teaching his music to Skip James, who remains the style's most famous exponent. (Check out James' "Devil Got My Woman" for a case of the Bentonia willies.) Rarely can we point to a single town, let alone a single place, where a distinctive musical style ignited and was nurtured, to eventually reach the world. Bentonia and the Blue Front are such a place.
Earlier this year, the Blues Foundation presented Jimmy with a Keeping the Blues Alive award. It was a long overdue acknowledgement of all the sweat and heart he has put into making the Blue Front the longest operating juke joint in Mississippi—and possibly the U.S. Keeping the blues alive is something he does at the Blue Front every day, in the most practical way possible, without fanfare, advertising, or the expectation of awards. And as Stuckey and James did for him, Jimmy is passing the music to a new generation of players for whom the lonesome sound of Bentonia blues resonates.
For gas money and maybe a couple days on the road, or a flight and a car rental, you can go to the Blue Front, too. Or to Clarksdale, Mississippi, where the sound of unvarnished blues still rings out at places like Red's Lounge, the Delta Blues Alley Cafe, Hambone Art & Music, the Bluesberry Cafe, and Ground Zero Blues Club. Or to Wild Bill's in Memphis. Or the Sahara Lounge in Austin, Texas, where blues, free jazz, and African music rub elbows. Or Kermit's Treme Mother in Law Lounge, originally opened in New Orleans by R&B singer Ernie K-Doe and now owned by trumpeter and singer Kermit Ruffins.
These places are unique to the ecosystem of American music. Without them, the enlightening, inspiring, and entertaining experiences people share within their walls would not exist. And they are all fragile—potentially one more pandemic, a fire, or some unanticipated expense from going away. So, if you're making travel plans for 2024, why not put a trip to the Blue Front, or the Sahara, or any other bona fide musical wellspring you're aware of, on your agenda? These are places where magic happens. You won't regret the trip. And if you
do
stop at the Blue Front, tell Jimmy I said hello.