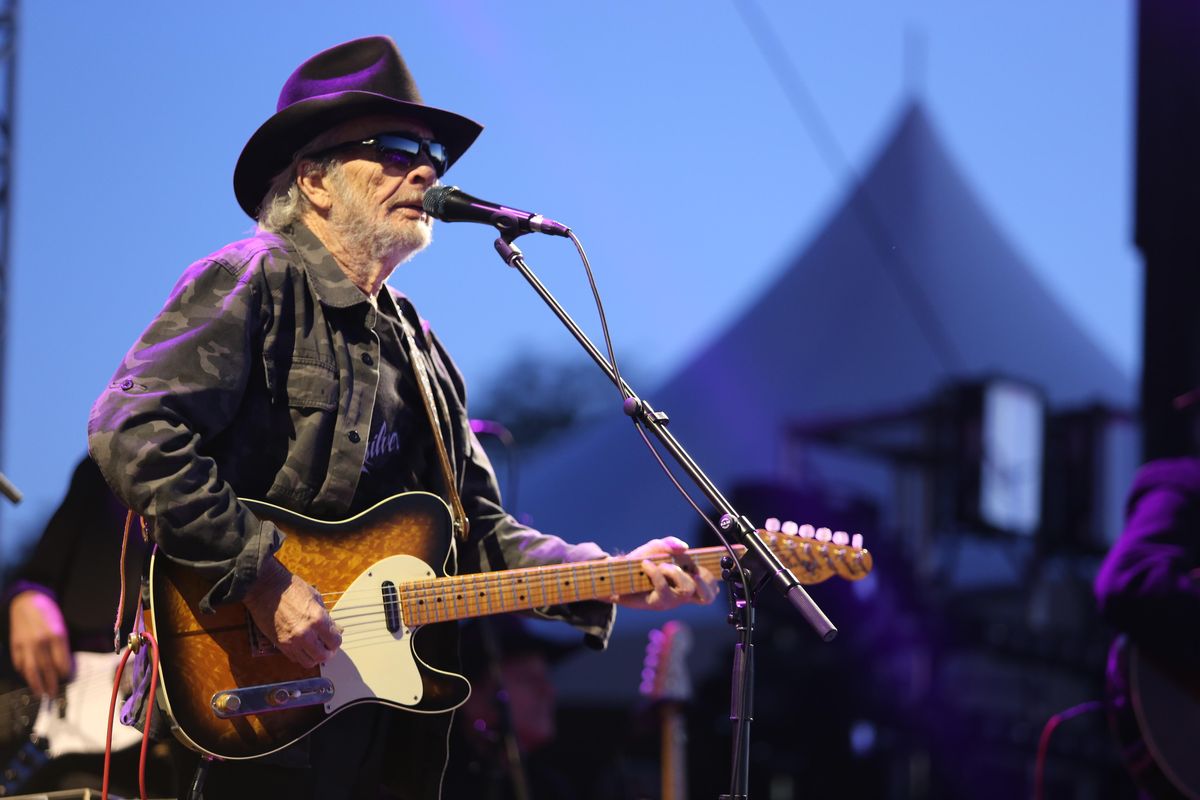 Photo by Chris Kies
The real-life country music outlaw championed the American underdog and the Bakersfield sound, believed in the evocative power of the guitar, and brandished a mean Telecaster along the way.
Merle Haggard, the great country singer, songwriter, and guitar player whose most enduring tales chronicled the often hardscrabble lives of American survivors, died on Wednesday, April 6, on his 79th birthday after cancelling several concerts due to double pneumonia. Haggard, who was also a lung cancer survivor, recorded 38 singles that reached No. 1 on the country charts between 1966 and 1987, including the enduring classics "Mama Tried," "Branded Man," "Hungry Eyes," "I'm a Lonesome Fugitive," "Today I Started Loving You Again," and Workin' Man Blues."
Many of his most memorable songs were buoyed by singing guitar hooks, essayed in crying bends and craftily picked melodies. He forged musical partnerships with several exceptional guitarists, including James Burton and Roy Nichols, who both played on "Mama Tried." Nichols toured and recorded with Haggard for more than 20 years, and by the time Nichols retired from Haggard's band, "Hag"—as he was known to his friends—was prepared to share in the lead guitar duties himself.
Since the '50s, Haggard had been a student of jazz guitar. His longtime 6-string hero was Django Reinhardt, and, additionally inspired by his love of Bob Wills and Western swing, Haggard evolved into a compelling soloist with a fluid, melodic style defined by bold single note lines and a jazzman's way with a groove. He even cut an album of jazz-pop standards in 2004, called Unforgettable, where he brought the jazz-inspired aspects of his guitar playing and singing to the fore. Haggard often used his thumb to play melodies to get a thicker tone, although he also used a pick and plucked his instrument's strings with his thumb and fingers while playing rhythm. Fender's Custom Shop built a Merle Haggard Signature Telecaster to his own specifications, including a through-body neck with a deep-carved heel, alder wings with tone chambers, a laminated figured maple top, a Texas Special pickup in the neck position, and a 4-way pickup selector.
"What I aimed to do was paint a portrait from the past, sometimes my immediate past, in words and music."

Haggard was born in a railroad boxcar converted into a home, during the final years of the Great Depression. He was a hard-luck kid with a wild streak whose exploits in robbery and assault landed him in a series of tougher jails until, in 1958, he earned a two-year stretch in San Quentin for a botched caper. Haggard and his pals, drunk, determined to rob a restaurant at 3 a.m. They planned to jimmy the back door and slip off with the cash. The problem was, it was actually 10:30 p.m. and the place was still open.
Haggard had already been performing at local dives by then. His singing—a rich, wide-ranged voice with an oaky twang and a sweet high end—had so impressed his hero Lefty Frizzell backstage before a Bakersfield show in the early 1950s that the star refused to go on until Haggard was allowed to open that very night. While in San Quentin, Haggard remained incorrigible, running a gambling and bootlegging racket.
Two things apparently turned him around. Johnny Cash brought his road show to the prison—an experience that Haggard described as a real awakening. And there was a darker source of inspiration. Haggard was sent to isolation when he got busted for being drunk in the penitentiary. There he met Caryl Chessman, who had been convicted of robbery, rape, and kidnapping, which under California law mandated a trip to the gas chamber. Haggard had several conversations with Chessman. Another murderer who became a jailhouse friend, Jimmy "Rabbit" Hendricks, sparked Haggard's doomed-man ballad "Sing Me Back Home," the title track to Hag's 1968 No. 1 country album. After being sprung from isolation, Haggard got his GED, joined the prison's country band, and earned parole.

In his later years, Haggard exhibited a more jazz-influenced guitar style, inspired by his love of Django Reinhardt and the Western swing of Bob Wills. Photo by Owen Sweeney/Frank White Photo Agency
Scared straight, Haggard made music history. Along with Buck Owens, Haggard minted country's Bakersfield Sound. It was hard country—guitar-based music with a splash of Western swing, played for oil, agriculture, and railroad workers in tough honky-tonks where bands were valued for their danceability, volume, and true-sounding stories as well as their ability to survive the many brawls.
Inspired by Cash's songwriting, Haggard began penning the numbers that made him a legend and a great American storyteller. His bedrock 1960s and early-'70s hits about Dust Bowl living ("Hungry Eyes"), the sad end of hard lives ("Sing Me Back Home"), the burdens of a criminal record ("Branded Man"), and the strength of the human spirit ("I Take a Lot of Pride in What I Am") take listeners' hearts in their hands right from the first few lines. They also continue to offer a glimpse of what life, ideas, and ideals were like in the middle of the last century, in the midst of the working class, which has allowed them to endure as cultural signposts.
"What I aimed to do was paint a portrait from the past, sometimes my immediate past, in words and music," Haggard told me in a 2005 interview. "The canvas-covered cabins and things I sang about were things that existed in those days, when times were totally different from now. Each town had character, and there were highways instead of freeways with exit ramps that lead to the exact same things wherever you pull off."
YouTube It
When Haggard appeared on RFD-TV's The Marty Stuart Show in 2012, he was joined by two other Telecaster masters: the host and Stuart's guitar sidekick, Kenny Vaughan. Note that Haggard alternates between hybrid picking and a plectrum-only strum as he plays rhythm.
Also like Cash, Haggard was a foundational figure for the Outlaw Country movement in the 1970s. It helped, of course, that he'd been an actual outlaw. Haggard detailed all of his exploits in two autobiographies. The most comprehensive is My House of Memories, which shares its title with another of his early hits and was cowritten by Tom Carter and published in 2010.
Haggard remained a lifelong idealist whose politics weren't terribly different from those of Bernie Sanders. When we spoke about the then-ongoing war in Iraq, Haggard observed, "I just wish George Bush would step back up to the microphone and say, 'Folks, it's about oil.'" Despite that, Haggard had been a polarizing figure in 1969 thanks to his hits "Okie from Muskogee" and "The Fightin' Side of Me," which sounded like right-wing diatribes in the context of the Vietnam War—although he explained many times that "Okie," with its anti-marijuana, anti-long-hair, anti-sandals lyrics, was a parody and that "The Fightin' Side of Me" was an over-the-top reflection on his own patriotism.
As the stylistic tides of country music continued to shift in the late 1980s and early '90s, Haggard fell off the radar of major labels and country radio. But when he signed with California-based punk label Epitaph Records in the late 1990s, he began to play alternative-rock festivals and became an elder statesman to fans of the roots-music-umbrella format Americana. A host of artists beyond the realm of country have declared Haggard an influence, from the Byrds and Grateful Dead to Lynyrd Skynyrd (who named-checked him in "Railroad Song," from 1975's Nuthin' Fancy) to Elvis Costello to the Mekons. According to The New York Times' obituary of Haggard, "Today I Started Loving You Again," which was the B-side to his No. 1 hit "The Legend of Bonnie and Clyde" and never charted on its own, has been recorded by some 400 artists. His most recent release was last year's Django & Jimmie, a duets album he recorded with Willie Nelson. Affirming the popularity of both Haggard and Nelson, the album reached No. 1 on the country chart and No. 7 on Billboard's pop albums chart.