A major redesign of a Bad Cat flagship yields a familiar but more flexible range of Brit tonalities.
A well-conceived reboot of a beloved amp. Great clean and lead tones. Tasty tremolo and reverb.
Shared EQ settings sometimes require compromises.
4.5
5
4
4.5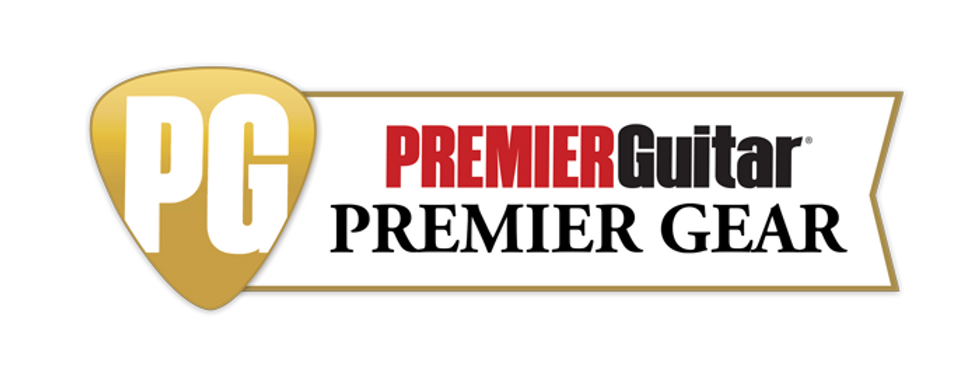 Bad Cat has won over a lot of players in the time since the California maker built its first high-quality, hand-wired amplifiers in 1999. Then, the company was an unapologetic follower of the Matchless template (which itself borrowed more than a little from Vox). And in fact, the two companies have a lot in common. Bad Cat hired Matchless co-founder Mark Sampson to design Bad Cats at a time when Matchless was on hiatus, and Bad Cat amps from the period were even built with Matchless-branded signal capacitors in their circuits.
If Bad Cat were a bit derivative at first, they consistently evolved, regularly adding features and altogether new designs. The new lineup is totally revamped, however. And while they use old model names like the Cub, Lynx, Hot Cat, and Black Cat model names, each amp has new features and is built around circuit-board construction. Thankfully, the new Black Cat's many British-flavored sounds are good enough that you probably won't think too much about details like point-to-point versus circuit-board manufacturing.
---
Feline Features
Though they are relatively common, even among big name builders, $2K amplifiers with circuit-board construction still give some players pause. But the quality of production I see here falls in line with respected recent offerings I've encountered from Mesa/Boogie, Friedman, Tone King, and Soldano.The Black Cat's revamp means some style changes, too, and some long-time fans may mourn the loss of signature features. The illuminated cat eyes in the logo plate, for instance, are gone, and there's no EF86 preamp tube in the circuit either.
Still, the revamped Black Cat bridges versatility and simplicity nicely. Bad Cat reduced the Black Cat's power from 30 watts to 20 watts. But it's still generated by a pair of EL84 output tubes, cathode-biased for class AB. (Older 30- and 15-watt Black Cats, the Cub, and other models that used cathode-biased EL84s were billed as class A.) The preamp is driven by three 12AX7 tubes, rectification is solid-state, and the reverb is now digital rather than tube-and-spring driven. Hefty custom-spec transformers are mounted on the underside of the chassis.
The clean channel offers tons of glassy chime, plenty of clarity, and great note separation—but with a lovely harmonic swirl that adds depth and dimension and keeps the Black Cat from sounding brittle.
The two footswitchable channels are designated clean and lead, and each has an independent volume and master volume control. They share treble, bass, and cut controls, as well as reverb level and intensity and speed for the bias-modulated tremolo. The back panel features an input for the included 2-button footswitch that handles channel switching and tremolo on/off. There are also a send and return for the buffered effects loop, speaker outs rated at 4 ohms, 8 ohms, 16 ohms, 2x8 ohms and 2x16 ohms, a line out, and power and standby switches.
The rugged cabinet is made from Baltic birch ply and measures 23.75" x 19" x 10.5", and the amp further signals its roadworthiness by way of a substantial 48-pound carry weight. The single 12" speaker is a 60-watt Celestion that Bad Cat says is a variation on the Vintage 30. And though the black vinyl, gold-grille cloth, and gold piping look a touch businesslike, they also tie a visual line to Bad Cats old and new. I think most guitarists will find the simpler light-up logo plate elegantly understated as well.
Nine Lives
I tested the new Black Cat with two very classic and familiar guitars—a Gibson 1959 Les Paul reissue and a Fender 1954 Telecaster reissue. With both instruments, the new Black Cat combo hinted heavily at Bad Cat, Vox, and Marshall tonalities of yore, but with flexibility and range I don't remember hearing before in Black Cats. The clean channel offers tons of glassy chime, plenty of clarity, and great note separation—but with a lovely harmonic swirl that adds depth and dimension and keeps the Black Cat from sounding brittle. Pushed toward maximum volume, it starts to break up just enough to add bite and texture. But there's a lot of headroom for a 20-watt amp, and the Telecaster in particular stayed characteristically clean through much of the volume range with the master maxed out.
Like many of its predecessors, the Black Cat is predisposed toward brightness, so I usually kept the treble around 10 o'clock. Easing back on my Telecaster's tone knob a couple of ticks helped further rein in any ice-picky tendencies. The amp's cut knob is a huge asset, too, reducing the high-frequency content at the output stage as you turn it up. The tremolo delivers a rich, toothsome throb with great range of speed and depth, and I doubt many players apart from die-hard surf devotees will bemoan the replacement of springs with digital reverb. It sounds evocatively atmospheric without obscuring the core tone.
Switching over to the lead channel, I found delectable Vox drive tones that, at times, verge on Marshall-like without being dead-on plexi or JCM800 copies. Higher-gain sounds are girthy and tend to sizzle and saturate once you situate the volume past 1 o'clock. I probably enjoyed the amp most with the volume knob in the 10:30 to 11:30 zone with the Telecaster, and a hair lower with the Les Paul. At these levels, the Black Cat provided a broader, more organic, and very rock 'n' roll kind of snarl and bite that you can easily drive to more screaming heights with an overdrive. The low end can get a little loose in higher gain settings, and the shared EQ section sometimes means you can't dial an EQ profile that works perfectly for both channels. In general, though, it's cool to have so much range in the lead channel.
The Verdict
If you like Brit textures that exist outside strict Vox and Marshall confines, the new Black Cat is an impressive all-around performer. It offers plenty of rich voices that work for a wide range of playing styles and a well-considered feature set. Build quality is excellent too, even without Bad Cat's vaunted point-to-point circuit construction. This amp revamp might have some players cherishing their old models. Change tends to do that. But the new cat in town certainly has plenty to offer.
Bad Cat Black Cat Demo | First Look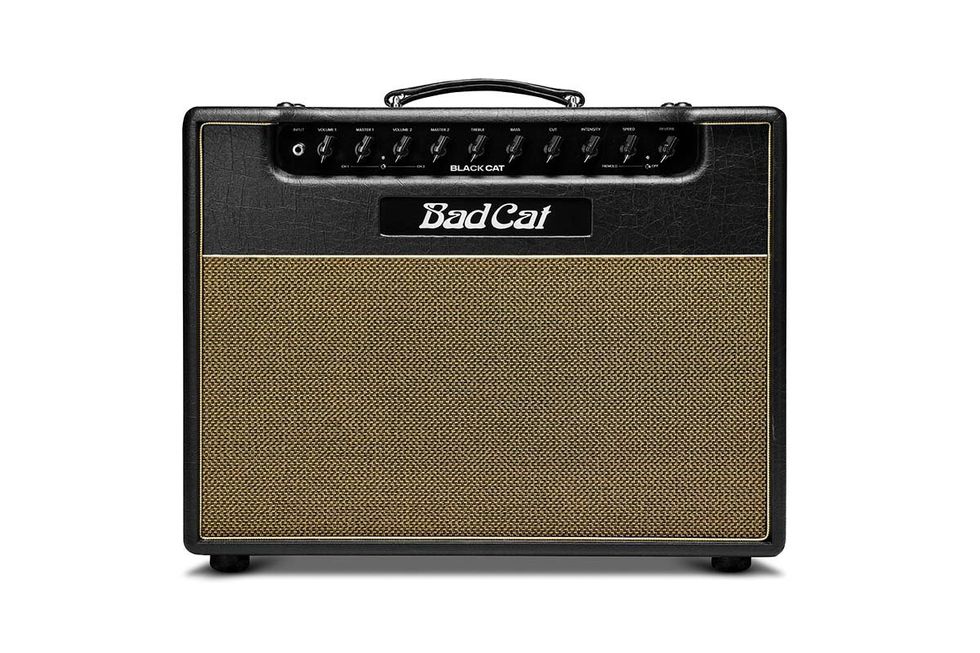 Bad Cat