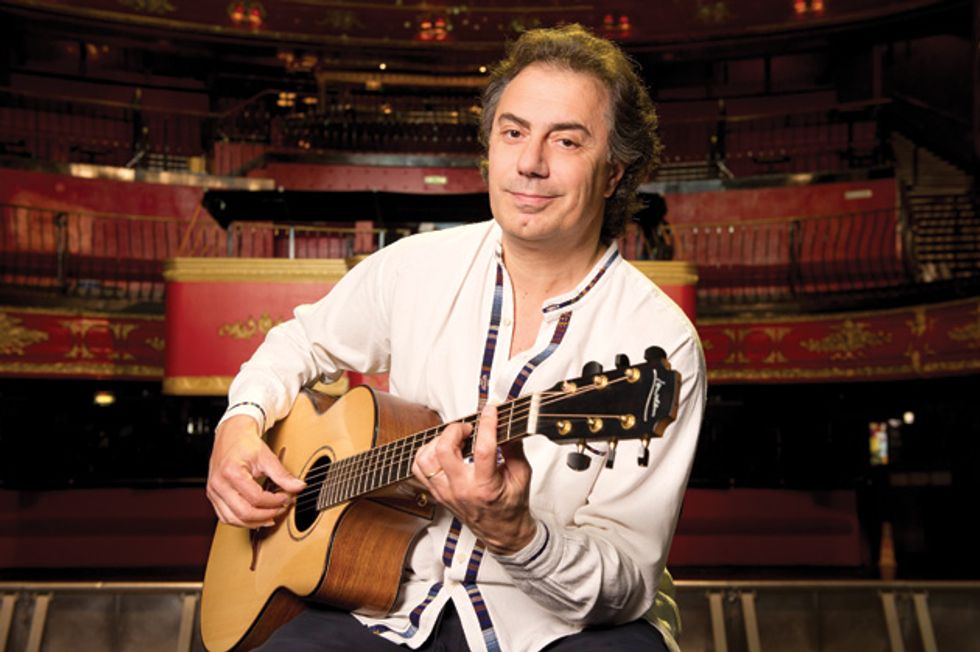 As anyone who has heard Pierre Bensusan live can attest, the French guitarist is among the world's finest solo performers. Difficult to pin down to a single style, Bensusan has played steel-string fingerstyle guitar with peerless compositional depth, harmonic richness, and dynamic range for 40 years. "Pierre's work transcends the guitar itself," says fellow fingerstyle god Tony McManus. "What he communicates are pure musical ideas—storytelling in melody, rhythm, and harmony, always creative and always inspiring."
Bensusan started out playing folk guitar and bluegrass, which eventually led to a gig as mandolinist for American banjo master Bill Keith. But the release of Bensusan's debut album Près de Paris in 1974 (at the age of 17!) immediately established him as an extraordinary guitar talent. In the years since Bensusan has released nine more albums (not counting compilations and box sets). While his early efforts focused on arrangements of traditional Celtic music, the emphasis has increasingly shifted toward original compositions influenced as much by jazz and classical music as by North African styles, showing Bensusan's Algerian heritage.
Most Bensusan recordings feature additional instrumentation (2000's Intuite is his only true solo studio album), at times veering into a smooth new age/adult contemporary sound, though always featuring stunning guitar work and gorgeous, engaging compositions. But many fans have longed for an album that captures Bensusan as he appears onstage: solo, with his guitar tuned to DADGAD, the tuning he's used almost exclusively since 1978.
"I listen to the music inside of me. The idea is for the moments when I play and the moments when I hear music to coincide."

Good things come to those who wait. Not only has Bensusan released a live recording, he decided to make it a beautifully packaged three-CD retrospective. "I wanted to celebrate 40 years of making a living with just my own work, making very little compromise," he said via Skype from his home near Paris. "My life is on the road. I exist mostly because of my concerts."
The result, fittingly called Encore, is a stunning overview of Bensusan's career. While not arranged chronologically, Encore features glimpses into Bensusan's earliest work playing bluegrass with Keith and solo guitar arrangements of tunes originally found on Près de Paris.Also featured are incredible versions of such tunes as "Nice Feeling," the Middle Eastern-flavored tapping masterpiece "Agadiramadan," and "So Long Michael," Bensusan's beautiful tribute to Michael Hedges, as well as the looping and vocal workout "Cordillière." There are also several previously unreleased staples of Bensusan's shows, such as the guitar and scat-singing "Bamboul'hiver," and even a couple of duets with Dream Theater keyboardist Jordan Rudess. Overall, Encore is an amazing 40-year retrospective that sounds great (thanks to Grammy-winning engineer Rich Breen) and serves as an excellent introduction to Bensusan's work.
What was it like to listen to recordings of yourself from 30 or 40 years ago?
It was agonizing! I hadn't heard most of the recordings in years, and you never know what you're going to find. I spent three months without playing, just listening.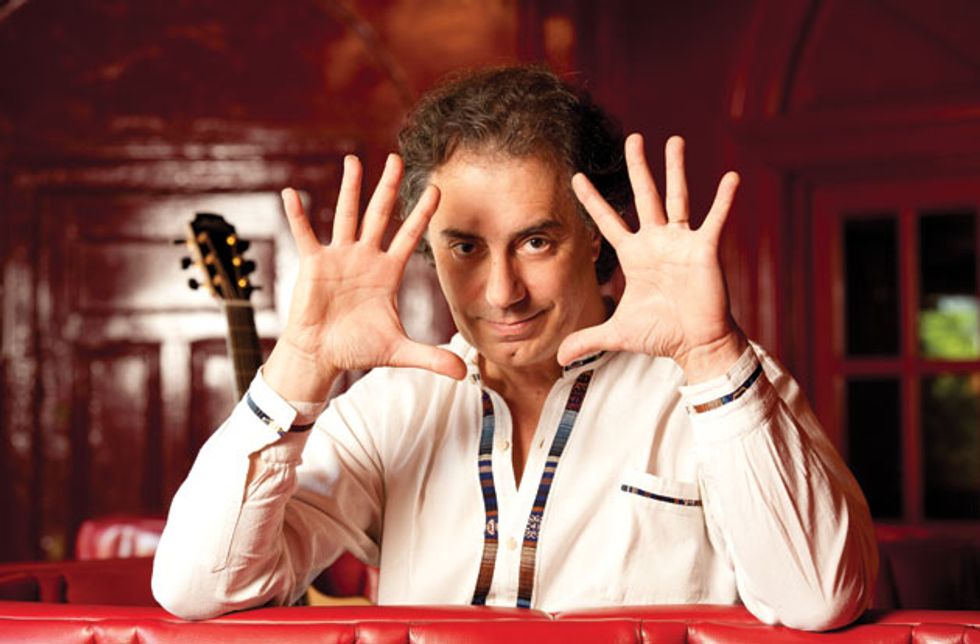 How did you decide what to include?
It had to do something to me. It had to move me. The guitar had to be in tune, and the sound had to be decent. Even if the sound wasn't decent, I'd choose the performance over the sound. For instance, the Celtic medley was recorded in Charlottesville, and every time I played my second bass [5th] string, there was a bit of feedback. That dictated my way of playing, because I tried not to hit that string too much, and when I did, I tried to control the resonance and sustain so it wouldn't be overwhelming. I thought, "Okay, that's bad luck, but the playing is really fine." It's a marathon—for 18 minutes!
I'm glad you included some early bluegrass recordings. Not many players have gone from flatpicked guitar and mandolin to fingerstyle. Were you already doing both at the time?
I was doing guitar first. I enjoyed bluegrass music a lot and played with a flatpick. Then I joined a band in a suburb of Paris, and we couldn't find a mandolin player. My friends asked me to play the mandolin, so I bought one the next day. My reference and inspiration came from people like John Duffey, Sam Bush, Bill Keith, and the Stanley Brothers. I also loved Country Cooking, and Clarence White with the Kentucky Colonels. I was going to some hidden record stores in Paris where you could find those records. The guy working in one of those stores came to me one day when I was 16 and had just left school. He said, "Would you like to join the Bill Keith Bluegrass Band? I'm going to produce a tour for him." I said, "You've got to be joking!" That's how it started for me. Those recordings come from that very first tour.
I took my guitar with me on the road because I was backing Bill on one song, using a flatpick. In the daytime I would practice on my own, and Bill heard me play those different arrangements of Celtic tunes and some of my own compositions. He said, "I want you to play a couple of numbers onstage every night." That's how it started for me, because we were in Belgium, France, and Switzerland, and all the promoters of those shows wanted to invite me the next year on my own.