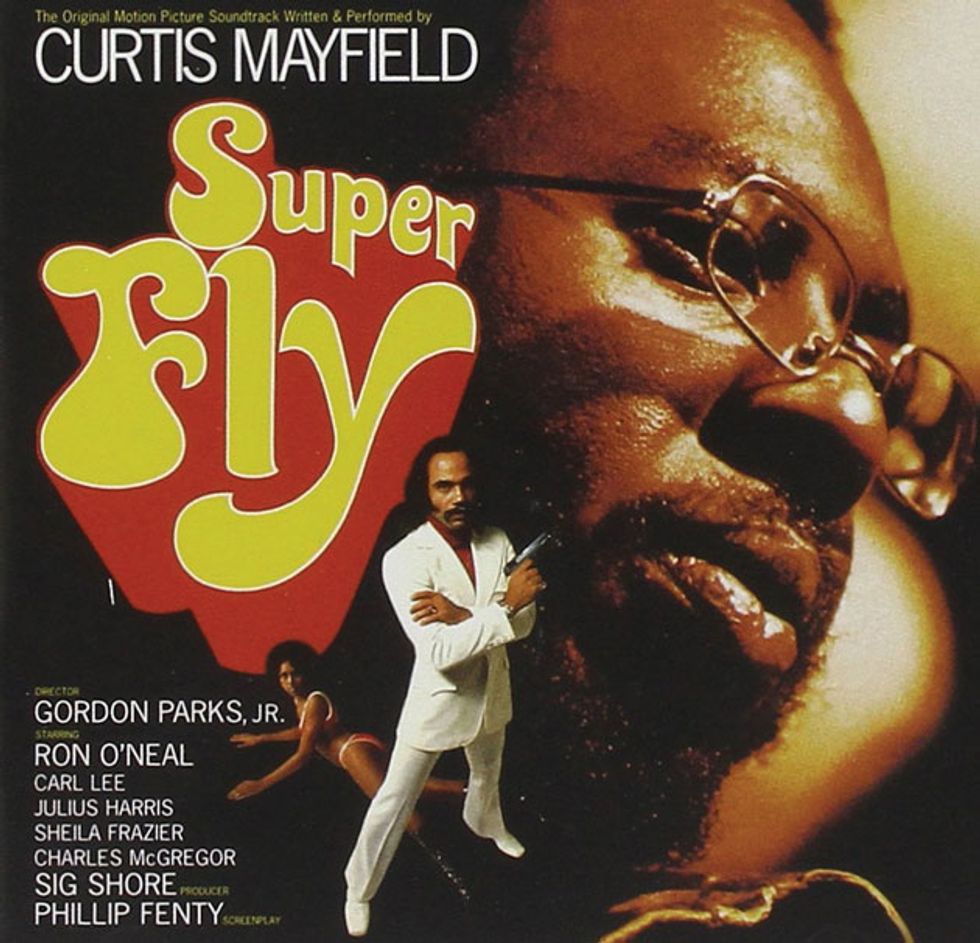 The Super Fly soundtrack is Mayfield's most-popular release to date as it has sold millions and
actually out-grossed the film.
The Super Fly Effect
The '70s saw the rise of "blaxploitation" movies featuring African-American anti-heroes battling pimps, drug dealers, hookers, and corrupt cops. The first notable movie of this kind was Shaft (1971), which featured a score by Isaac Hayes and an eponymous title song that became a huge hit. Mayfield subsequently scored Gordon Parks Jr.'s 1972 film Super Fly, about a drug dealer trying to get out of the game. Though it is considered classic Curtis now, at the time Mayfield refused to issue "Pusherman" as a single out of fear that its message might be interpreted as pro-drugs. In a July 2012 interview with The New York Times, Mayfield's widow, Altheida, said that upon first reading the script, "Curtis felt Super Fly was a commercial to sell cocaine, and he wanted to turn that around … his main purpose there, [was] to say, 'This is nothing pretty.'"
The more cautionary soundtrack offering "Freddie's Dead" became a big hit at the time. With the added success of the title tune—and eventually "Pusherman," as well—Super Fly became Mayfield's biggest-selling album ever.
The success of Super Fly pushed back the release date of Back to the World, but Mayfield continued to release solo projects alongside his movie work, sometimes recycling songs written for a soundtrack on his own record or vice versa. His soundtrack for the movie Claudine featured Gladys Knight & the Pips on vocals, while that same year he released his own Sweet Exorcist—the latter of which produced the R&B hit "Kung Fu." Predating Carl Douglas' "Kung Fu Fighting," it drew on the popularity of the television show of the same name, as well as the recently deceased Bruce Lee's popular movie Enter the Dragon. Listening to "Kung Fu" today, it's easy to hear how Mayfield's vocal stylings might have influenced someone like Prince as much as his guitar sound.
Perhaps due to all this success and demand, the early '70s found Mayfield spreading himself thinner than ever: Between movie soundtracks, forming another label (Gemigo), and producing a bevy of artists, his own records began to slip in sales. When his Buddah contract expired, Mayfield and his partners at Curtom began negotiations with Warner Bros., a larger corporation that promised wider distribution and a lot of Hollywood connections.
The Impressions' 1964 hit "Keep on Pushing" marked the beginning of Mayfield's topical lyric writing. It dealt with the rising civil rights movement being spearheaded by Martin Luther King Jr.

The Warner Bros. film connection proved fruitful, leading to his scoring of Sparkle, an Irene Cara vehicle (Cara sang in the movie, though Aretha Franklin sang on Mayfield's soundtrack record), as well as Let's Do It Again, which starred Sidney Poitier and Bill Cosby, and featured the Staple Singers on the soundtrack. Mayfield also scored an independent film called Short Eyes, in which he also played a small acting role.
A Lasting Legacy
Though there are gems and minor hits throughout the rest of Mayfield's solo output, Warner Bros. and subsequent labels were unable to restore his personal career to the level of its Super Fly glory days. And, tragically, in 1990 the musical polymath was hit by falling stage-lighting equipment at an outdoor concert, leaving him paralyzed from the neck down. Though no longer able to play guitar, he was able to sing. In 1994, when Warner Bros. issued the A Tribute to Curtis Mayfield compilation—which featured contributions from Gladys Knight, Eric Clapton, Bruce Springsteen, Steve Winwood, Elton John, B.B. King, Phil Collins, and others—Mayfield was able to contribute vocals to one track. Inspired by the experience, he cut one final record, New World Order. Though he reportedly had to track his vocals one line at a time, while lying on his back, it stands proudly among his body of work.
Curtis Mayfield died from diabetes on December 26, 1999, at the North Fulton Regional Hospital in Roswell, Georgia. His legacy and impact on subsequent music—both in terms of message and musicality—is immeasurable, despite the fact that it's virtually impossible to be sure which studio records Mayfield played guitar on past the point when he came to be in great demand for his writing, producing, and playing expertise. Still, listening to the dozens of records he was involved with leaves no doubt that, if it's not him playing, it is someone influenced by him. His distinctive guitar style was always integral to his composing and producing, and it will forever remain a formative and hugely influential part of the sound of soul music.