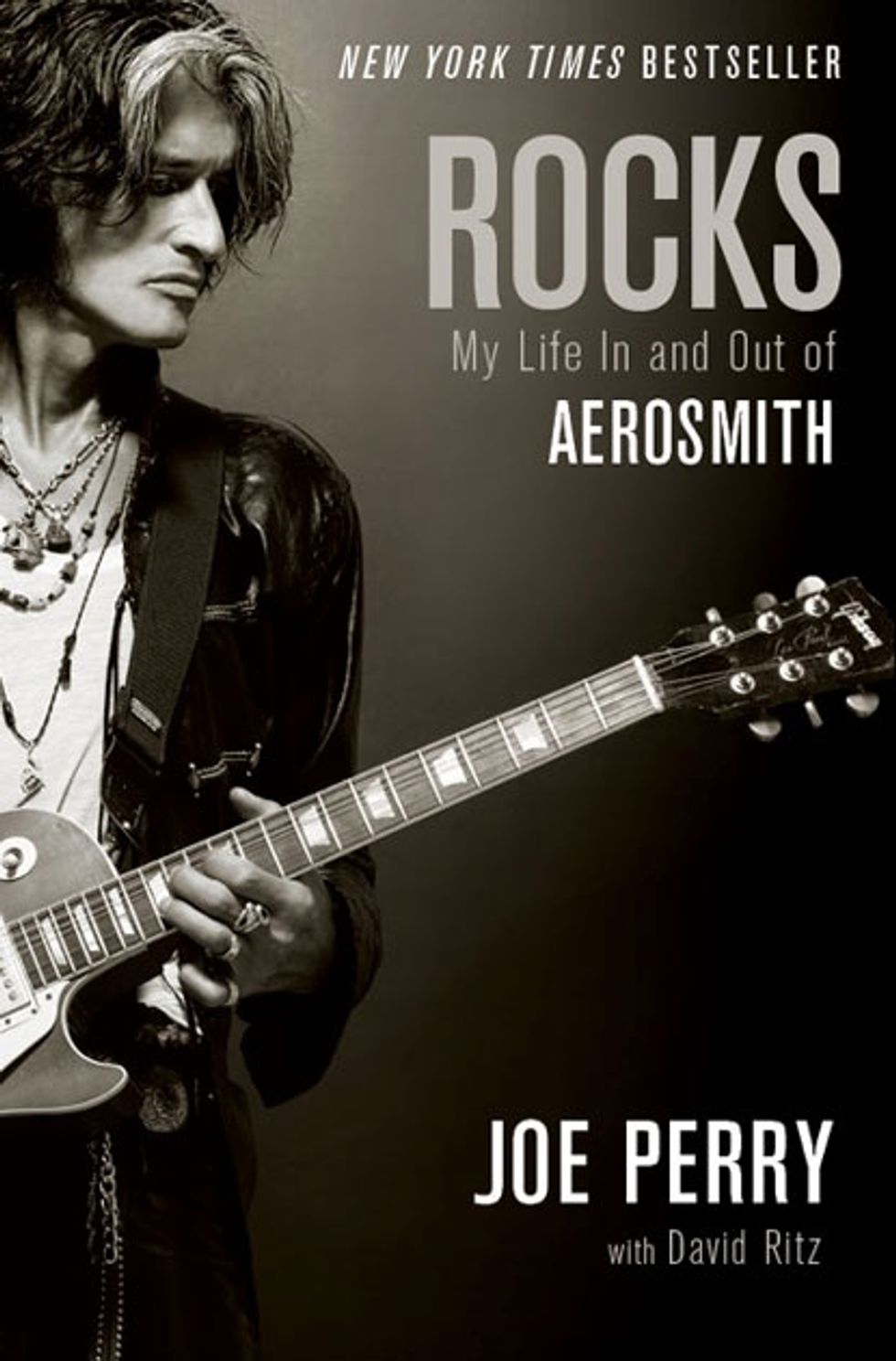 Perry's candid new autobiography (cowritten with David Ritz) covers the guitarist's long career,
even periods he doesn't quite remember.
Were their any now-obscure local musicians in the Boston and New Hampshire area who influenced you as a kid?
As far as the pros go, Jeff Beck and those guys were big influences, but there were some local guys I thought were amazing. There was one guy who took the frets off a Fender bass and put them on a Telecaster. It sounded almost like playing a sitar, and he'd put a lot of baby powder on his hands when he played. It was a really flipped-out style. His sound had that Mountain tone, but he never broke out of New England. I can't remember his name, but the band was called Atlantis.
What's your current favorite guitar?
I can't quite decide if it's my Strat or Les Paul. I have the relic version of my '59 Les Paul that Gibson just did. I'm not taking my real '59 out of the house anymore. Actually, I've put all my really nice guitars in a vault. The Strat I'm playing live is a reissue, too.
"I find open G gives me a whole different palette. It's got a lot of strange places you can go, and some of my favorite songs are in that tuning. It leads me to play something outside of the box."

That tobacco burst '59 Les Paul has an interesting story, doesn't it?
Yes—1959 Les Pauls are spectacular instruments, and this was my first one. When I got it, it became my Les Paul, the guitar I depended on. But I sold it at some point in the '70s for about $4,500 when I needed the cash. In 1984 when Aerosmith got back together, we decided to do the Back in the Saddle Tour. I got a call from somebody representing Eric Johnson, who told me that Eric had heard the guitar was mine, and he offered to sell it back to me for what he paid. I didn't have the money at that point. I'd just gotten married and my wife was pregnant. I thanked him, though, and said I really appreciated the call.
A few years later we were working on the second album with Bruce Fairbairn [1989's Pump] and I started to have enough extra cash to begin building up my guitar collection again. I thought it would be great to have that Les Paul back. I decided to track it down, so I started to make some calls, and some friends started looking for it, too. I was talking to Brad about it, and the next day he walks into the studio and says, "I know where your guitar is." He shows me an issue of Guitar Player magazine, and there's a story on Slash's guitars. Right in the middle was a picture of the guitar. Not too much detective work involved in that! I recognized the guitar instantly because of the ring worn into the wood around the top volume pot.
YouTube It
Joe Perry considers the second solo on "Walk This Way" one of his defining performances as a soloist. In this version, an official live video from the Sony Records vaults, Perry starts that solo at 2:38 and spends the next two minutes pushing his flash to the fore—wailing through blues licks, playing behind his back, and generally delivering a primer in rock guitar showmanship.
I called Slash to talk to him about selling it back to me, and he said, "Oh man, please don't ask me that." I said, "I understand how you feel, but I'd really like to get it back." We talked for a few minutes and before I hung up I said, "Let me know." After a while, the calls between me and Slash started to get further apart. We're good friends, so I figured it had to do with my trying to get back that guitar. Every time we'd talk, I dropped a hint, and I think he didn't want to keep saying "no." So when Steven and I sat in with Guns N' Roses at a huge show outside Paris, I told Slash, "Man, if you ever want to sell that guitar to me, let me know, but I promise I'm not going to bug you about it, because I don't want anything to get in the way of our friendship."
In 2000 I was just about to go onstage and play with Cheap Trick—who are, like, my favorite band—at my 50th birthday party at Mount Blue in Hingham, Massachusetts, and I was handed the guitar with the message "Slash says, 'Happy Birthday.'" I freaked! And I guess you know which guitar I played for the rest of the night. When I picked it up it all came back to me. I could feel the bare wood under my pinkie where the volume knob is. It triggered something. I instantly knew every inch of the guitar again without having looked at it for 35 years.
I guess Slash had only played it in the studio. When I called him to thank him, which I guess I did too many times, he told me three weeks after he gave me the guitar he'd gotten back one of his favorite top hats—it had been stolen—in the mail.