| | |
| --- | --- |
| In the Heart of Montana, Ren Ferguson is producing the best flattops to ever come out of Gibson, and some of the best guitars in the world. John Southern embarks on a journey to discover who this luthier is. | Ferguson in his early mountain years |
For fans of Gibson guitars, there are a few names in the company's long history that are revered. The most obvious is Orville Gibson, the eccentric founder of the company, who, without any woodworking experience, designed and built some astonishing mandolins, guitars and lyre guitars around the end of the 19th century. There's Lloyd Loar, who came to Gibson in the early 1920s with an engineering background and made some remarkable revisions to Gibson's lines. In fact, Loar's place in Gibson history is so significant that his signature in an instrument from his time period makes it worth tens of thousands of dollars more than the same instrument without his signature.

You've also likely heard of figures like Seth Lover, who invented the humbucking pickup in 1957, and Ted McCarty, whose direction in the early fifties led Gibson to its commercial pinnacle. And then there are the people who are known by a devoted minority who kept the Gibson name and reputation alive as the brand expanded and matured. James "Hutch" Hutchins was instrumental in keeping the sixties' way of producing Gibson archtops alive in the seventies, eighties and nineties – his recent retirement has left a sizable void in Gibson's archtop production world and has kept the fish in Lake Michigan trembling in fear.

Ren Ferguson falls into this latter category; while he keeps a low profile, he is primarily responsible for some of the most elaborate flattops to come out of Gibson's Bozeman, Montana plant – officially titled "Gibson Guitar Montana Division" – and arguably for some of the most elaborate flattops in the world.

That may seem like hyperbole, but it's not. Gibson dealer, Mike Fuller, of Fuller's Vintage Guitar in Houston says of Ren, "He is simply one of the greatest luthiers of all time. His guitars will be sought after for a long time to come." Likewise, Dick Boak of Martin Guitars in Nazareth, Pennsylvania, says of Ferguson, "Ren has been our friend for several decades and we have great respect for him as a luthier and as an individual. We have let him know on several occasions that there might be a position here for him, but he loves Montana too much to leave it."

"I revere Ren as a superb craftsman," says Mike McGuire, director of operations for Gibson's Nashville plant. "Plus, he is just a great guy." Comparisons between Ren Ferguson and Lloyd Loar are frequent and well deserved. Both Loar and Ferguson have taken big liberties with the design of Gibson instruments, and both men placed intense scrutiny on the physical structure of the instruments they revised. Loar changed the bracing inside the F-5 mandolin from a single cross brace in the round soundhole version to two vertical, parallel "tone bars" or braces in the the revised F-5.

Additionally, Loar changed the openings to F-holes on the F-5 mandolin, the K-5 mandocello, the H-5 mandola and the L-5 guitar. Ferguson, on the other hand, took LeRoy Parnell's 1930s L-00 to a chiropractic office to have an X-ray taken of its bracings so he could understand just what made it so special of a guitar.

"I'm really flattered by the [Lloyd Loar] comparison," says Ren. "Loar brought a engineering background to Gibson and I brought an experience background with me. We are both musicians, too."

The praise for Ferguson's work isn't just limited to those within the guitar industry. Between 500 and 600 orders come into the Bozeman plant annually with a request for Ren's signature on the label inside the soundhole. Ren is glad to oblige because his signature is now in such demand that it helps sell guitars from Gibson Montana. Perhaps modern day investors are speculating that the value of the Ren Ferguson period at Gibson Montana will equal or exceed the Lloyd Loar period of Gibson in the twenties, but what is certain is that guitar investors are betting on the future. In the years to come, the time to do the elaborate inlay Ren does, and the materials used for that inlay, will become more scarce. Solid abalone is hardly ever used anymore, so Ren's involvement not withstanding, these "Master Museum" models, as Gibson calls them, will definitely appreciate in value for years to come.


The Beginnings
Ren was originally born Lawrence Ferguson on February 26, 1946, in Detroit, Michigan. As was family tradition on his father's side, all first born males were to be named after their paternal grandfather – in this case, Ren's grandfather, Lawrence. Not a big fan of the nickname "Larry," Mrs. Ferguson intervened, instead giving him the nickname, "Ren," after a favorite artist. "My mother, who had been an artist at Disney for a while, had a great admiration for an airbrush artist named Renwick," he recalls.

Ren began his luthier career, as it were, in shop class at Westchester High School, in Westchester, California. By the early sixties Ren had a Harmony guitar and his brother had a banjo – both rather poor excuses for instruments. Ren decided he could make a banjo in shop class for his brother. "I had no idea how complicated instrument building was back then," he says. "I soon found out how critical tolerances had to be for frets and bridges and the like." Ren's father had a furniture business with a spray booth in it, and he got to experiment with refinishing wood furniture that people would trade in – in addition to plenty of Nocasters and Telecasters. "I ruined a lot of potentially expensive guitars back then," Ren recalls.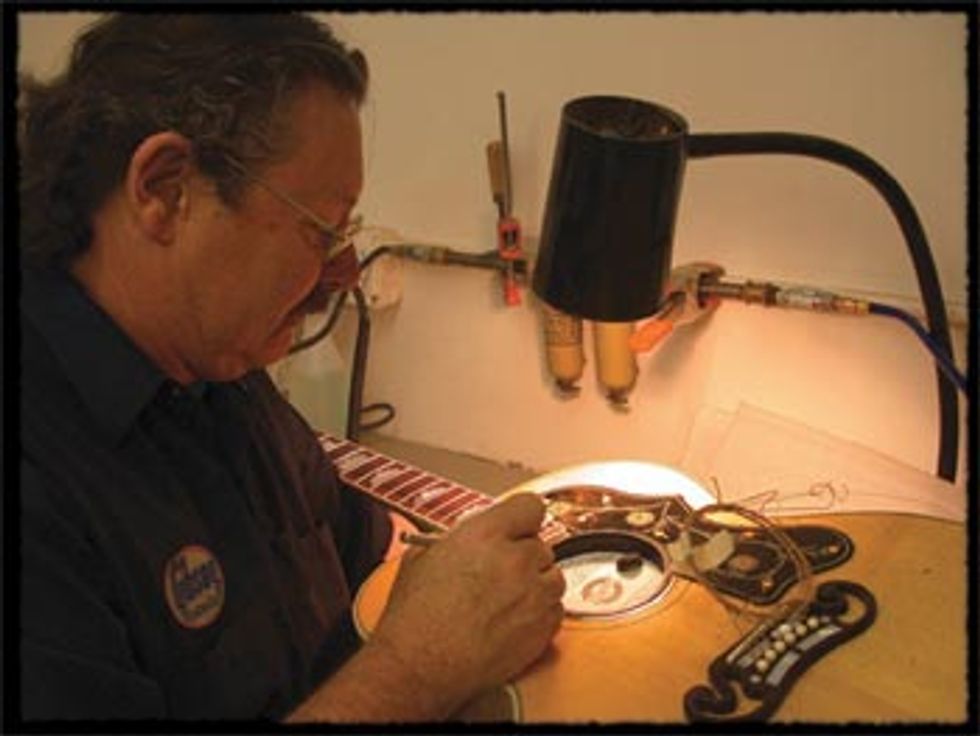 While arthritis in his left hand has made things more difficult, Ren continues to do much of the inlay work in Boseman.
Later in high school he took a job selling guitars at a local music store, Westchester Music, which is now part of the runway at LAX airport. Westchester Music was a big store with a large record department in those days; they offered lessons on piano, organ, guitar and most any other band instrument. The store had a large rental department, and Ren was kept busy. "I learned a lot about what it takes to keep band instruments in service," he explains. "The airport would break about one guitar a day, and they would ask us to replace the instrument or repair it. Often the passenger would sell me his broken guitar or even give it to me after being reimbursed by the airport for the damage – I had a big stack of guitars from airport passengers. Back in those days it was easy enough to get a brace from Martin or a neck from Gibson." Ren cut his luthier teeth learning how to rebuild these broken guitars before taking a brief hiatus from Westchester to sell Dobros for the Dopera family. "I would hustle Dobros on the street, in clubs or wherever there were musicians I could demo the instrument to. I even designed a thin profile Dobro we called the 'Californian,' which was going into production about the time that the company was bought up by Mosrite and Buck Owens and ultimately moved to Bakersfield," he says. Eventually he set up classes teaching guitar and mandolin building in California before being drafted. While in the Navy he met two brothers, the Millers, who kept telling him how beautiful Montana was; soon after his discharge from the Navy in February of 1969, he traveled to Montana for his first Mountain Man Rendezvous, an event where men cavort as rugged outdoorsmen from days gone by.

"I still wonder what would have happened to me financially if I had stayed in California and built guitars, instead of coming up here to Montana to eat dirt and chew grass," he says. Ren wonders if he would have had Bob Taylor's place in history as the premier California guitar maker.