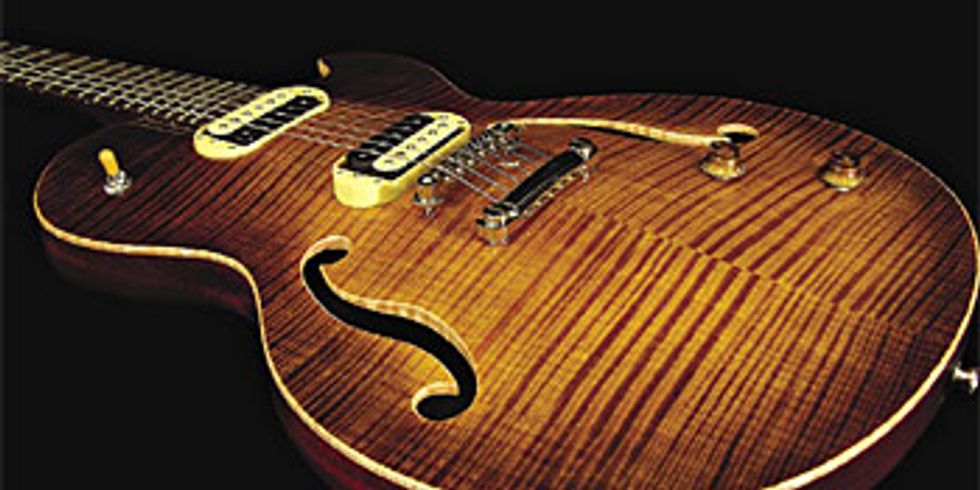 Many are familiar with Robin guitars and will remember them from the 1980s.

Today Robin is a nine-man operation based in Houston, Texas, and according to owner/founder Dave Wintz, Robin is producing the finest instruments in the history of the company. This month I took the Savoy Dolphin Classic into the review chamber to see what the buzz is about.
---
Looks
Perhaps some background is in order – the Savoy was first introduced to Robin's line in 1996, and is essentially born of the Avalon model, a smaller solidbody version with a very similar architecture. Dave Wintz was a big fan of the mid-1960s USA-made Epiphone Rivera and Sheridan semi-hollow models and wanted to create something in that family. It would seem that he is right on target.
I was impressed with the Savoy on many levels right out of the box and was also happy to know this guitar was standard and presold to a retailer, meaning it was not specifically built to impress a reviewer.
This guitar is immediately stunning, featuring a presentation-grade, arched maple top and a curvaceous semi-hollow mahogany body, all crafted with obvious attention to detail. Point in case: look for the natural scraped binding around the body and the f-holes; according to Dave Wintz, Robin was the first guitar manufacturer to feature scraped binding on the f-hole.
The interior of the body is painted black beneath the f-holes, adding to the class factor. The Savoy comes standard with a well-matched AAAA flame top – Robin will build out custom models with exotic top woods or mega quilt, if your heart desires, but understandably will up charge for this. The mother of pearl headstock inlay is simple and understated, the inlay work is tight and clean (featuring abalone dolphins swimming across the rosewood fretboard) and the fretwork fit and finish is of master quality.
You'll also find some Robin innovation on the Savoy Dolphin Classic, as it uses a proprietary pickup surround introduced in the mid-'90s. It is not only a unique visual signature but also an excellent example of smart design (form following function). The pickup surround will accommodate P-90s, as well as humbuckers without any modification to the guitar.
Playability
Sure, the exterior of the Savoy Dolphin Classic was pretty, but how does it play? The first description that comes to mind is "even." The guitar's balanced chords and single lines felt very consistent and comfortable, much like a PRS – although Robin builds a 24 ¾" scale guitar where PRS' scale is 25". The action and setup were excellent right out of the box.
The Savoy comes standard loaded with the Rio Grande BBQ and Genuine Texas humbucking pickups with covers, which are modeled after '50s-style PAFs. Again the buzzword here is "even," as the Rio Grande set comes through with balanced, complex sounds. Chords rang out nicely, allowing you to hear each individual note clearly. Thanks to the BBQ humbucker, which puts a bit more power at your control, the Savoy also performed well with a moderate level of distortion. There wasn't a ton of high-end harmonic break up on individual note bends, but it was a fair trade off for warmth, thickness and clarity.
Obviously, this guitar is not the best for high-gain applications, but why are you trying to wail with a semi-hollowbody anyway? The Savoy Dolphin Classic really excels at jazz, country and fusion, and when you get those humbuckers going, there are plenty of rock and blues-soaked tones to be had. For the average player, it would be difficult to not a find a tone you could like here.
Robin also prefers to keep things simple and clean on the electronics front. The Savoy features one volume and one tone knob that serves both pickups via a 3-way switch.
The pots are push-pull style and the pickups split very well, allowing a nice range of single coil sounds, for even more tonal exploration.
Although very elegant, some players may not prefer this simple of an electronic configuration. Robin has said they will customize the electronics upon request.
---
"This guitar is immediately stunning, featuring a presentation-grade, arched maple top and a curvaceous semi-hollow mahogany body, all crafted with obvious attention to detail"
---
Final Mojo
It certainly is the golden age of guitar building, as quality and craftsmanship are the driving forces behind many of today's custom builders. Robin Guitars certainly sit proudly in today's lineup of sophisticated guitar builders, and the Savoy Dolphin Classic certainly does not disappoint for the player who knows what they want out of a guitar.
I definitely recommend a trip to the Robin website (robinguitars.com) as well as a trip to a local Robin retailer, if you have one in your area.
If you're in the market for a great semi-hollowbody, you'll want to put this in your test queue.
Rating...
Tone...
 
Craftsmanship...
 
Features...
 
Value...
 
Overall...
 
---
Robin Guitars
MSRP $3995.00
www.robinguitars.com
Our expert has stated their case, now we want to hear yours. Log on to premierguitar. com, click on "Forum" and share your comments and ratings.