And of course, Ron Blair was originally your bassist, then Howie Epstein and now Ron again.
Ron was a founding member and was very instrumental to us finding our original groove, sound and vibe, and that''s irreplaceable; it was sad when he left. Howie came in and was a great harmony singer, which was the main thing he brought to us. Howie played the bass more like a guitar player or a singer who was accompanying his voice, and Ron was more like a bass player in terms of his groove and feel. And they''re both valid in their own way. I don''t prefer one over the other - they are both equally talented. It was of course very tragic and unbearably sad that Howie passed away, but we were pleased to bring Ron, who was part of our original soul, back. [After leaving the Heartbreakers] Ron and I stayed in touch for many years, played in the studio and were very close. When Howie''s leaving left a void, and it was like "Oh, now we have to audition some guys," and if that didn''t feel good, we probably would have disbanded rather than do that.
Was Ron in a band during those interim years?
No, the most playing Ron did was with me; he''d come over and cut songs in my studio. We stayed close and his chops were up, so I brought him in and suggested that he''d be our best choice. Tom was pleased to see that Ron had improved and still had soul, and it all worked out.
I understand you are currently working on a new album with Rick Rubin and Neil Diamond - what can you tell us about that?
I think it''s coming out next year. It''s all acoustic and it''s similar to the last record that Rick did with Neil Diamond. It''s a challenge because there is no rhythm section; it''s me, and Smokey Hormel, this guy Matt Sweeney, who is really good on acoustic guitar, Benmont [Tench] and Neil. Once again, it''s Neil''s songs and Neil''s feel, and we''re making him play the guitar, which he''s starting to get back into again, and we''re playing around the feel and the songs, trying to complement his guitar with acoustics. It''s really fun and it''s a real challenge, and working with Rick is always inspiring. Rick is brilliant; he loves music, he loves getting it right, he loves good songs and I''ve always loved working with him.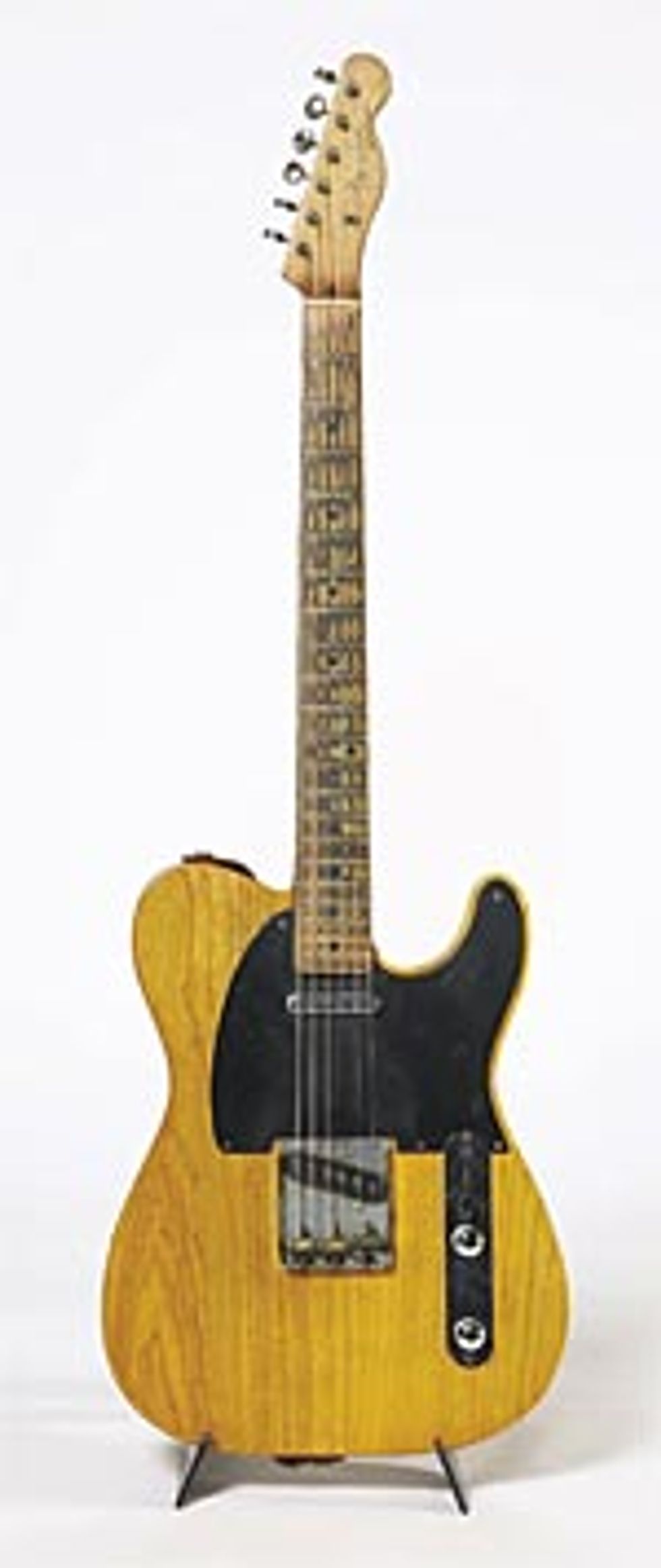 Are there any current players you are listening to these days?
I struggle to think of someone recently - I tend to gravitate toward older players that influenced me originally. I love J.J. Cale, but he''s been around for years, and I like Mark Knopfler, who I think emulates J.J. I do like Derek Trucks, I think he''s amazing. A lot of the new bands, though, have a different approach to guitar than back when I started. I don''t like flashy stuff - I like songs with good melodies and it seems that no one is doing that these days.
What is your take on the state of rock n'' roll today?
It''s alive - you can''t kill it. When I play with my little band at clubs, there are moments that make me remember why I started doing it, playing in a room with 100 people or whatever, and there are moments that are as pure as anything in its own way. We may not have the songs or the hits, but there is a purity in a room with a band that''s got a sound and is playing to a small group, and it''s all happening in this little room - to me, that is where rock n'' roll is still alive. It''s hard for me to put that into words, but to me it''s like a religion, it''s just gotta be, and it always will be, because there is nothing like it. It''s the best medicine for the soul that''s ever been.
From having numerous platinum albums and Grammys to being inducted into the Rock and Roll Hall of Fame in 2002, what do you feel has been the highlight of your career?
[pauses] Well, there have been lots of high points. I went and saw this play called
Jersey Boys
, about the Four Seasons, and at the end of the play, the actor that played Frankie Valli said something that rang true. They asked him the same question, what he considered the high point to be, and his answer was, "The high point for me was when we were standing under the street lamp, and we found our sound, and we knew it was all ahead of us, and we knew what was going to happen." And for me, I had that same feeling when we cut "American Girl" in the studio, because we found a sound and a vibe that was ours, and I remember feeling that we had found something really special that no one else could do, and this can be us, this can identify our trip. I could feel it. It hadn''t happened yet, but I could sense that, "we''ve gotten something here." And that was probably the high point for me. There''s been other successes here and there.
That''s the understatement of the year!
Really, when I heard that character say that, it was so true. "American Girl" was such a big spark, and when we realized that, we knew we had something!
Mike's Gearbox
Note: Being an avid collector of vintage guitars and amps, the following is only a small sample of some of Mike's favorite gear (some of which is pictured above).

---
Guitars
1950s Fender Broadcaster
1964 Fender Stratocaster
1968 Gibson Les Paul goldtop
1960s Gretsch Tennessean
1956 Gretsch Fire Jet
1970s Les Paul Custom
Duesenberg USA DMC TV
Mike Campbell model

Amps
Early 1960s Vox AC30 (fawn levant)
Mid-60s Vox Super Beatle
Late 1950s Fender Tweed Deluxe
1970s Fender Super Six
1960s blackface Fender Princeton
1960s Ampeg Rocket
Kustom 200
Early 1960s Fender Bassman (white piggyback)

EFFECTS (used very infrequently)
RAT distortion
Vox wah
Boss Octaver
Tube Echoplex
EBow
Tremolo
Leslie cabinet
Danelectro Daddy-O distortion

---
Mike Campbell
thedirtyknobs.com
tompetty.com