Big Rock Engineering
We got good selection of picks from Allen Chance with the X-1 ergonomic pick grips, which are stick-on, curved aluminum grips that will mount on just about any pick surface. It's not complicated, but it does change the nature of your pick. These grips curve around your thumb and finger, requiring less force to get a good grip, which lets you relax your hand. It takes some getting used to, but it gives you control and dynamics without fatiquing tension. The X-1 does keep your finger and thumb from having much contact with the pick surface, so some techniques, like pinch harmonics, are out. Since the grip reinforces good technique, it does seem like it would be a very good practice pick for beginners and players who want increased accuracy.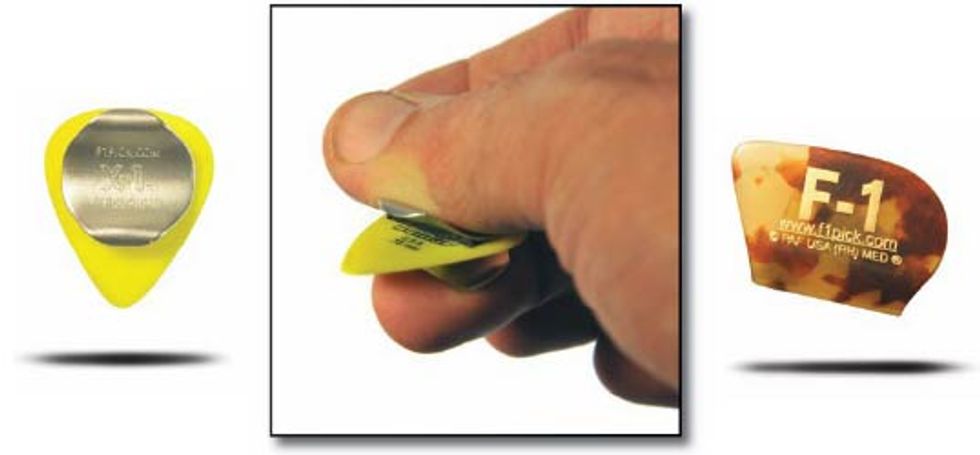 Big Rock also offers the F-1 ergonomic grip pick, which has a similar concept, but is made from a single piece of folded plastic that's flat on the thumb side. The folded side curves around your finger, so it also takes less force to get a good grip.
bigrockeng.com
---
Dunlop Ultex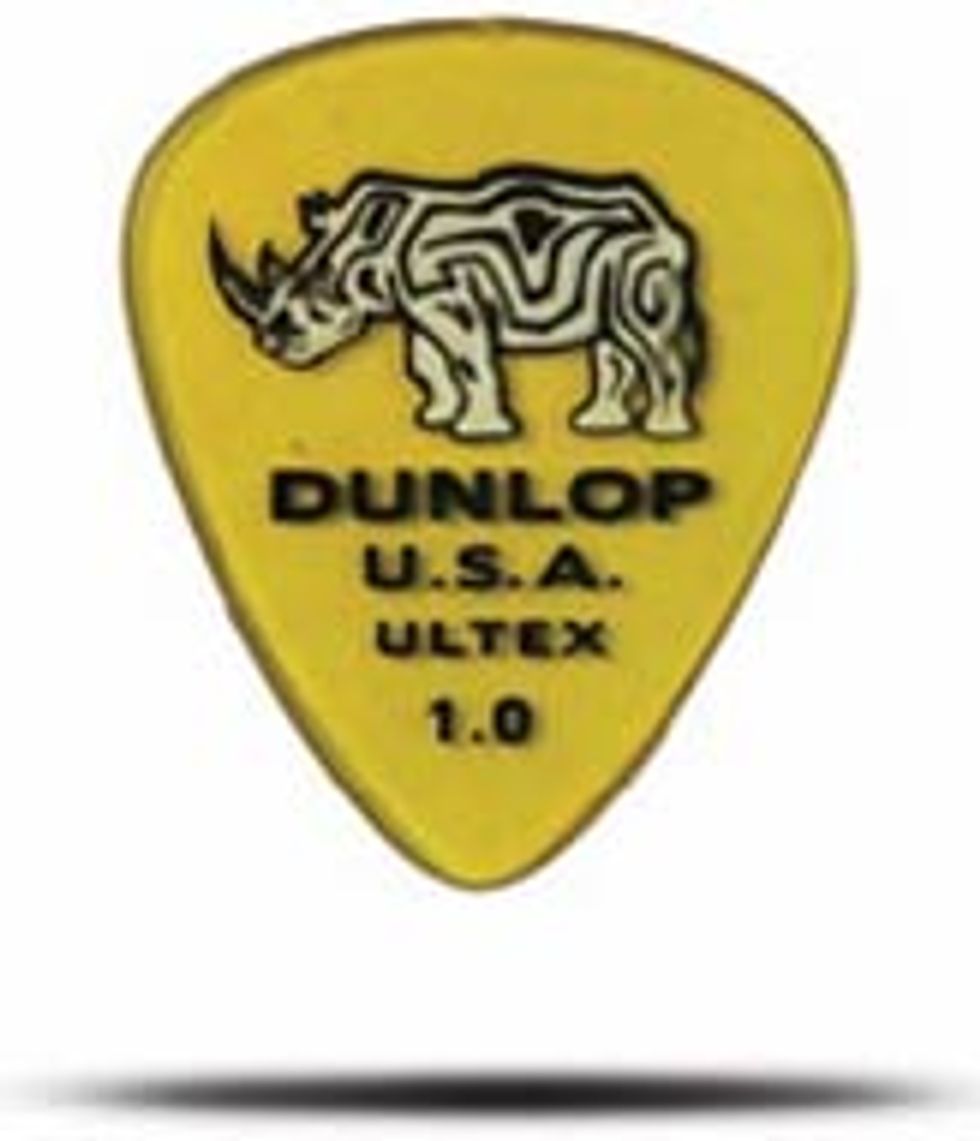 As I said, I have not been adventurous when it comes to pick selection, and have tended to stick to whatever's been working. But since I've always liked the Dunlop nylon .88s and the tortex 1mm picks, I thought it would be a good idea to try the ultex picks. It turned out to be a very good idea. The ultem material is harder than a tortex pick of the same gauge, and much denser than the same gauge in nylon, but it's still got flexibility—and even more of a snap. I like they way they feel, and the sound is brighter. They're not hard to keep control of, despite the fact that they're quite smooth. I've been finding myself going for the 1mm ultex picks a lot lately.
jimdunlop.com
---
Red Bear Trading Co.
Dave Skowron's New Tortis picks are handmade from a hard, protein-based material, and are designed to emulate the characteristics of real tortoise shell. They are very stiff and have no flex, but they are fast, smooths picks with a nice warm, bright tone. The click is really there. The polished surface feels different, glossier, than plastic varieties, but even though they're not sticky I had no trouble keeping traction. You have to let go to drop one.

Since the picks are made from such hard material, Skowron creates the speed bevel himself (right-handed or left-handed). The density, feel and tone make them excellent for acoustic flatpicking, but they've been making me pretty happy on the electric as well. You might break one if you try to flex it, but it takes a lot of effort, so unless you're a monster you're not going to break it by playing. People around the PG offices really liked the look of the turtle shell with engraved Red Bear logo, but they're offered in other colors, as well as a good selection of shapes and sizes.
redbeartrading.com
A Fingerpicker's Perspective
by Lance Keltner

I used to use a pick, in the mid-eighties. I found I was tucking that sucker into my palm and using my thumb and three fingers instead. It was an involuntary motion, not at all based on the style of music I was playing, as I was in a rock band in Texas, then played with Tim Karr (EMI) and Phil Lewis from L.A. Guns in the early nineties. Neither of these bands' sonic landscapes would conjure up images of someone gently fingerpicking a classical guitar.

How could such a bizarre (and seemingly wrong) change in technique take place by itself? I honestly couldn't figure that out, but it felt great and actually sounded really good. I found I could control the dynamics of my tone with much more precision by using my fingers. If I was using a really touch-sensitive amp, the effect of playing sans pick was greatly magnified.

My bass player Carmine and I were hanging out with a gang of New York players at China Club in the eighties when Jeff Beck showed up. He was a gracious, friendly guy who really didn't want to talk guitars—more of a hot rod guy really—but he did indulge me for a moment before changing the subject to the thirties-era Ford street rod he was working on.

Jeff's hands look like two small war zones. They look like those of a dedicated mechanic (which he is), and several fingers look as if they've been mashed by auto parts (which they have). I asked him, "So why did you quit using a pick?"

"Well you're a singer, right?" he replied, "and you have a mic stand handy all of the time that you can put some tape on with some picks, right?"

When I answered, "Yeah, I do," he said, "Well I usually don't and I would get sweaty and drop my pick and have to dig around in my pocket for another, so one day I just said to myself… Jeff, you can't drop your finger, can you?"

Just give it a try. Put the pick down for a second, or hide it in your palm. Experiment. Some players, like Beck, use their thumb a lot. I use my thumb for down strokes, and my fingers in an upward motion (think banjo player). You'll notice if you work on it that your speed will increase and you'll be able to play things that you just can't pull off with a pick. I feel more attached to the rig when I'm sans pick. I get a tactile connection to the tubes and speakers that I just can't muster with a piece of plastic between my fingers and the strings.

You will tear up your fingers a bit in the beginning, until you get a comfortable technique. During one tour, I cut myself up so badly that I had my right hand taped up like a boxer for about four gigs. That hasn't happened since I've figured out what works for me. It feels normal and natural now. Give it a try; you'll find some tonal variations and some riffs in your hands that you didn't know were there.