All Star Guitar Night: David Grissom
For being an in-demand session and touring player who has lent his skills to an ever-growing list of artists, David Grissom is remarkably low key. Working with artists like
| | |
| --- | --- |
| | For being an in-demand session and touring player who has lent his skills to an ever-growing list of artists, David Grissom is remarkably low key. Working with artists like the Dixie Chicks, John Mellencamp, Joe Ely, Robben Ford and Buddy Guy, David's versatility has been a pioneering force in the alt-country scene, where blues, country and rock motifs mingle freely to produce a uniquely American sound. If that wasn't enough, his new, independently released album, Loud Music , has been garnering rave reviews from publications both in and outside of the guitar industry, and the excitement surrounding the release of his signature model by PRS – the DGT – has yet to die down. So you can imagine our surprise when David gladly sat down with us before his ASGN soundcheck to reflect upon his increasingly dynamic career. |
We saw you at the big PRS press conference announcing the new models for 2008, including your own DGT. What was it like standing between Paul Reed Smith and Santana?
It was a total honor; ultimately that's what it feels like. I've had such a wonderful friendship with Paul – going on 22 years now – and I really feel like the PRS people are family to me. If you really think about it, it's kind of surreal when I'm standing up there with Carlos Santana, but it's what I've been doing for quite some time.
You made some comments about how big of a deal it is that you're putting your name behind the DGT.
Actually, Paul made those comments, but I would totally agree with him. Yesterday, as Santana walked on stage to talk, Paul joked with me that Santana is just as tough as I am about quality control and those types of things. That really is my reputation, and I don't think we compromised at all. It was extremely important to me that the guitar would be something I could really get behind 110 percent and feel that I could recommend to anybody. It's a lot of money – it's a big commitment for any player to spend that much on a guitar, so I wanted to make sure that it was exactly how I felt it should be and they definitely delivered.
Have you put your name behind any other products?
No, this was the first. I've let equipment companies whose products I used and believed in put my name on their artists' lists, but this is the first product with my name on it. This is a big deal for me.
If my research is correct, your first solo album, Loud Music , just dropped. How's that going for you?
It's going great. We're in this new era of independent releases, so it's available at CD Baby and iTunes.

Have you gotten onboard with the digital lifestyle?
Yeah, it's here and there are a lot of advantages for an independent artist like me – I financed the entire record myself. I have international distribution automatically with iTunes and CD Baby, plus I can make the record I really want to make without having to please anybody but myself. It feels great; it's a situation where you're not going to hit a homerun out of the box, but it'll have legs.
Do those advantages give you a little more freedom to follow your artistic side in the studio?
I feel like I have total freedom to do my thing. There are songs on my new record that are two-chord rockabilly instrumentals and then there is a dark ballad with acoustic guitars. I feel like I can exercise whatever I'm feeling that day.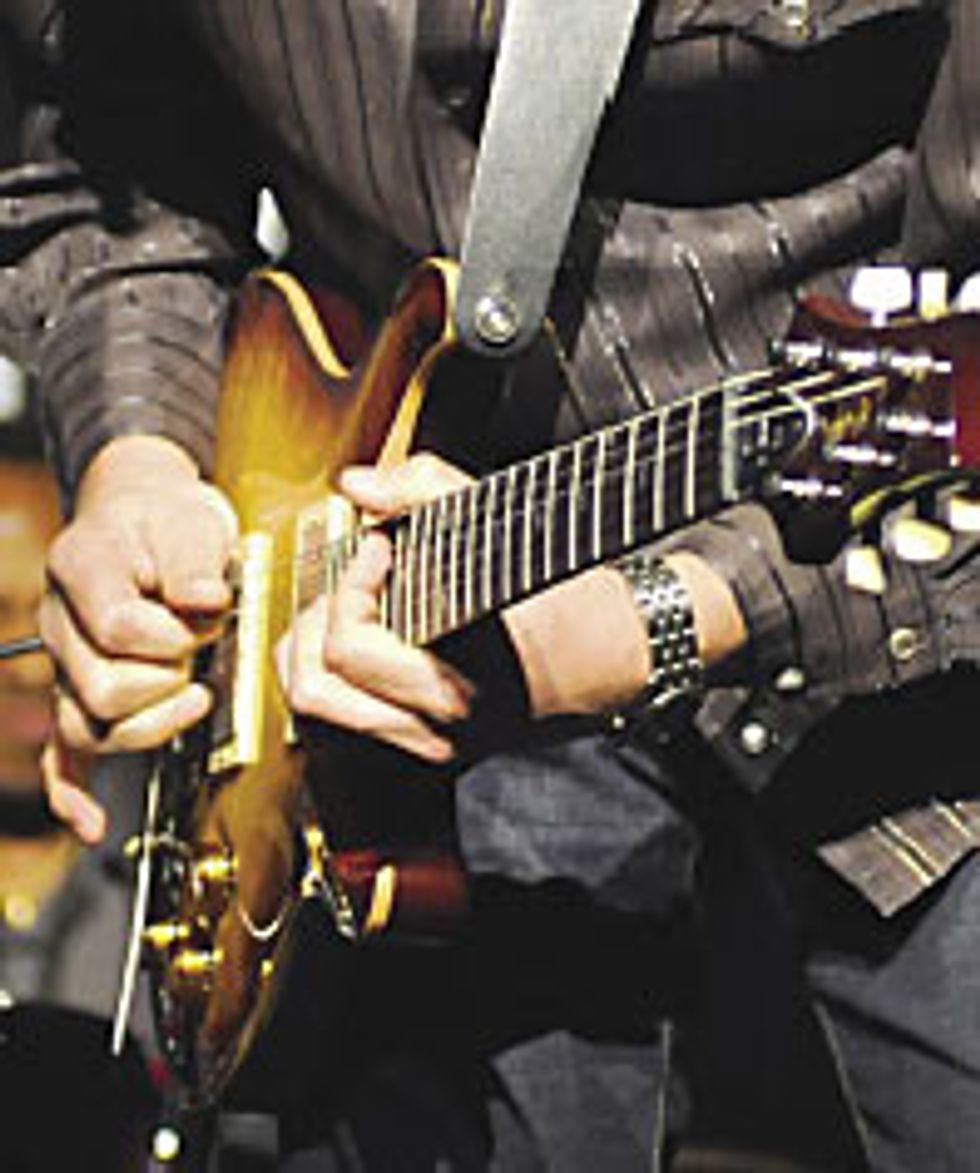 Your early work provided somewhat of a foundation for the current roots, alt-country thing and you've worked with a lot of people who went on to become icons in that scene. How does the current popularity of that kind of music make you feel? Do you take some pride in that?
Well, I'm a fan, first and foremost, so I guess, yeah, I'm proud of the stuff I've worked on. I'm proud of working with people like Joe Ely and Lucinda Williams. I think it's really cool that we have a whole world down here in Texas of young bands that kind of exist in their own universe – bands like Cross Canadian Ragweed, Randy Rogers, Kevin Fowler – and are kind of undefinable in terms of whether they're really rock or really country. I get to play on a lot of that stuff and it's cool to see these guys doing well. I'm not sure how to answer that question, other than I've always loved to play guitar on great songs and I've been lucky to play with some great songwriters and be a part of some really good music. I'm still able to do that, and I'm very thankful for that.
You've landed all these great gigs; if there's a young kid out there that would like to go that direction, what kind of advice, aside from the obvious need for talent and chops, would you dole out?
I asked Pat Metheny 20 years ago, "What's the secret, man? How do I get as good as you are?" And he just said to me, "Play gigs." That's all he said, and now I know what he means and it really gets to the heart of the matter; you're gonna learn more on a gig or a session in one day than you would in a month of practice at home. I mean, you've still got to put in the time at home and do the ground work, but the real experience – knowing how to interact, knowing how to react to a situation – comes from being in the moment. So I would say, there was a long period in my life when I never turned a gig down. I took every gig, and it didn't matter what kind of music it was, I always learned something.
David's ASGN Gearbox
Here's what David plugged in for his live performance:
---
Guitars
PRS DGT

Amps/Cabs
Bad Cat Panther

Effects
Klon Centaur
Boss Delay
Arion Chorus

---
David Grissom
davidgrissom.com