All Star Guitar Night: Ladd Smith
For those of us who spend our days interviewing rock stars, Ladd Smith is a curious creature in the music business. Growing up in his family's shop, Argill's Music
| | |
| --- | --- |
| | For those of us who spend our days interviewing rock stars, Ladd Smith is a curious creature in the music business. Growing up in his family's shop, Argill's Music Store in Hendersonville, Tennesee, and playing over 1,000 live shows and 400 sessions before the age of 19, it's clear that he's paid his dues. Beating out nine other finalists to win Guitar Player's 2007 Guitar Hero competition showed that he could indeed play, and receiving endorsements from companies like Mesa Boogie, Line 6 and James Trussart Guitars proves that he's got an industry behind him. Yet Ladd Smith is the most humble 25-year-old guitar hero you'll ever meet. We sat down to talk with the player who should definitely be on your radar if he isn't already. |
You've got some fierce picking skills, but how do you see yourself as an artist?
I consider myself kind of like Vince Gill, Keith Urban and Brad Paisley but with more of a pop or Beatle-ish sound.
Is that the stuff you grew up with?
Well, I grew up with really hardcore country stuff, CCR and Beatles, but there was a lot of Merle Haggard, Buck Owens and Ray Price, too.
How did it feel to win the Guitar Hero '07 contest?
Well, I didn't have any expectations to win it, especially after going to the soundcheck and hearing guys like Juan Coronado, Jaime [Robinson] and Tony [Smotherman], who were just great. I was just blown away by all the other competitors. I grew up in a music store and have heard thousands of guitar players, so I have really high standards for what blows me away, and those guys all blew me away. I thought to myself, "I'll just go up there and do what I do because I'm just lucky to be here."
How did you decide to enter the contest?
Nicolette Fontaine, my manager and fiancée, told me to enter this contest. I wasn't quite sure and told her that it was all rock stuff. I play rock, but I'm no shredder – I'm more of a singer/songwriter of rock, like Fogerty and Bob Seger. I told her that it was going to be in front of Joe Satriani and other shred guys, but she said that I should go do it and shred "my way." She helped me write a letter to them and Michael [Molenda, from Guitar Player magazine] called a couple months later. I thought he was trying to sell me magazines but it was to invite me to the competition.

Is it fair to say that winning really changed your career?
Yes, it was a really big springboard for me because it's a personal endorsement from a major guitar publication, saying that this guy kicks ass. That has opened a lot of doors that might not have been opened otherwise, because people that were too busy to see us now all of a sudden had time for us. Now we're working on our new record. I had one record out when I was 16 and now I'm 25, so it's been almost ten years.
You were soundchecking with a greatlooking Tele up there. Could you fill us in on it?
It's a really heavily customized G&L that I actually bought used. It was strange how I found that guitar – I usually play a Strat, but I always wanted a Tele or a Tele-style guitar. Finally I had the perfect idea of what I wanted and I had it all on paper. One day I was on craigslist and I saw the picture of my guitar with exactly what I wanted – down to the Seymour Duncan Hot Rail. I had even written down that I wanted a "bowling ball" finish and this guitar, if you've seen it, has a bowling ball paint job. It was just really strange, because I wrote this all down about a month before the guitar materialized – it's like something out of
The Secret
, where you write something down and it'll appear.
I got it from Terry Clark's lead guitar player, Sean Roberts, who is a good guitar player. There are a lot of really good guitarists in the country scene who play with major label country artists, but because that's all they do, they work constantly and don't get a lot of recognition. So I'm here to carry their torch a little bit, because I did that for a long time. Those guys work really hard for whoever they work with – Kenny Chesney, Clint Black, whoever. They're all good players and Nashville has really high standards, especially compared to most places I've played.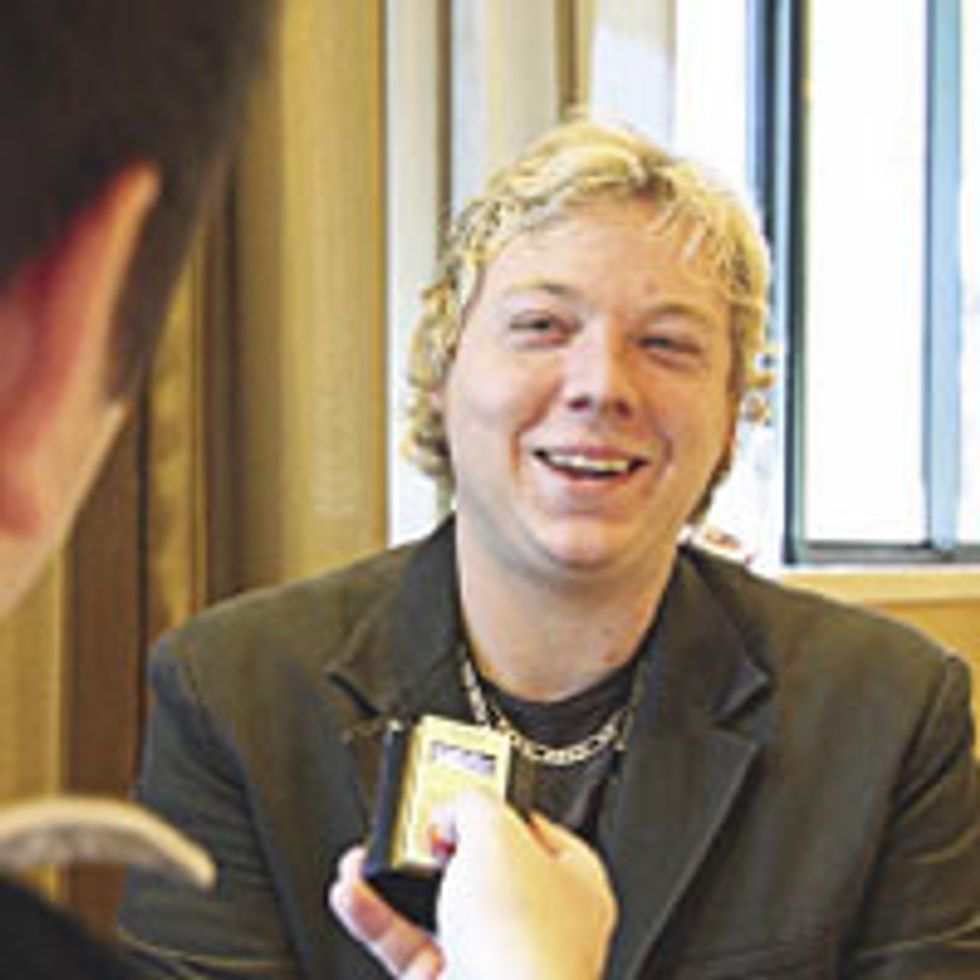 You do a lot of session work yourself. What do you enjoy about it?
I enjoy catering to the song. It's all about the song, especially coming from a town like Nashville. Playing songs is what won me the competition. If I had gotten up there and played "Yankee Doodle Dandy" no one would have cared, but if you write a song to showcase your talents, your voice… I learned a lot as a kid from Joe Melson, who is a good friend of the family and hangs around our store with the likes of June Carter and Roy Orbison. He told me, "You have to write to showcase whatever it is you're showcasing, whether it's the guitar or the voice." I remember him talking about Roy Orbison and that if Roy just got on stage and played rockabilly or just sang "I Got a Woman Way Cross Town," nobody would have ever known how much he could sing until Joe and Roy started writing "Only the Lonely," "Crying," and "Blue Bayou" – stuff that showcased his range.
What are you playing tonight?
I'm using the G&L because it's a comfort zone guitar and a Fender Deluxe, although I got several endorsements through companies that I've been playing all of my life. I don't want to be a gear whore – I don't use anything I don't like – but it's very rewarding and I feel very blessed and thankful for everything.
Ladd's ASGN Gearbox
Here's what Ladd plugged in for his live performance:
---
Guitars
Custom G&L (ASAT Shape) with
mini-humbuckers and a Seymour
Duncan Hot Rail

Amps/Cabs
Fender Deluxe

---
Ladd Smith
laddsmith.com