Builder Profile: Gene Baker and Premier Builders Guild
Master builder and chief engineer Gene Baker has been around and then some—from studying at GIT to working for Gibson and the Fender Custom Shop to having his own prestigious shop torpedoed by unscrupulous lenders to heading up one of the guitar industry's most intriguing gear onsortiums.
The way Premier Builder Guild master builder/chief engineer Gene Baker grips this b3 Water model suggests either he has the finger strength of a yeti after so many years in the business or that the guitar is remarkably light—or perhaps it's a bit of both.
Gene Baker has been obsessed with guitars for a long time—he built his first guitar when he was still in middle school. He eventually ended up as a senior master's apprentice at Gibson, and then a Fender Custom Shop senior master builder before branching out on his own. Over the last decade or so, he built a reputation for building impeccable-playing double-cutaways with gorgeous figured-maple tops stained in a huge array of colors. Most recently, he's gotten even more attention as the master builder and chief engineer for Premier Builders Guild, where he oversees production of a limited selection of designs from six boutique brands—his own b3 line, as well as popular models from Dennis Fano, Roger Giffin, Saul Koll, Johan Gustavsson, and Jason Schroeder. [Ed. note: PBG is not affiliated with
Premier Guitar
or any of its subsidiary brands.]
Considering what's happened to him over the years, Baker considers himself lucky to be in the business at all. Despite his relatively new gig with this consortium of master builders, he's seen his fair share of troubles. Not long ago, a malfunctioning CNC machine led to shutting down his Baker Guitars shop and declaring bankruptcy—a debacle from which it took years and more than $36,000 to recover. But while Baker has had his share of the blues, his passion, perseverance, and sheer love of guitars has carried him through.
PBG was formed in 2009 by Howard Swimmer and Michael Bernstein. Their goal was to provide customers with an exciting portfolio of boutique, master-built guitars and amps, without the uncertainty, extended waiting periods, and lack of customer support often associated with boutique instruments. They wanted to assemble a lineup of all-star builders and build guitars from those brands efficiently and under one roof. Both Swimmer and Bernstein were admittedly new to the guitar business, and neither was quite sure how to round up the group—but they had one secret weapon: Gene Baker.
"I think the fact that we had Gene in our lineup out of the gate is what actually let us open a lot of doors," says co-founder and PBG president Swimmer. "Everyone who's building guitars today knows who he is and of his commercial success with his line of b3s and Baker Guitars. We didn't know the other builders when we started building our group, but as soon as you mention Gene, it's instant street cred."
The Baker b3 Fire Tobacco Burst has a quilted-maple top, a mahogany neck and body, a
Madagascar rosewood fretboard, Lollar Imperial humbuckers, and a TonePros TP6 bridge.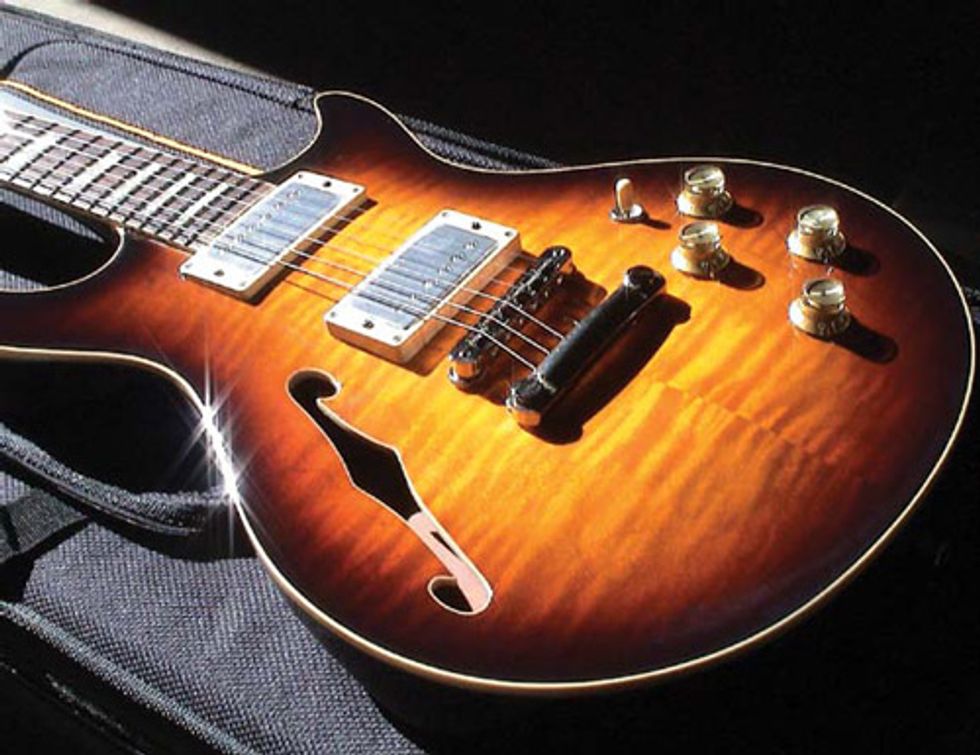 Baker's b3 Wood semi-hollowbody features a chambered mahogany body,
flamed-maple top, Lollar Imperials, and a Graph Tech TUSQ nut.
Two years and six brands later, Baker is now solely responsible for every guitar that goes out the PBG door. Whenever PBG partners with a master builder, Baker does the prototyping at the company's shop in Arroyo Grande, California, while working closely with the designer to make each guitar specific and unique. Nothing leaves the building without him playing it.
"We're making guitars for six different builders, and Gene's overseeing the production of each one of these different brands," says Swimmer. "Each one has its own setup requirements. Each builder has his own unique desires for his guitar. The beauty of Gene is that he's able to realize what each builder wants with his guitar and make that a reality."
"This is a guitar I would build on my best day," says PBG builder Saul Koll after handling a guitar Baker saw through production from start to finish.
Baker's b3 Metal-XS neck-through has a solid mahogany body, Lollar pickups (two Imperials
and a Special S), a MannMade tremolo, Sperzel locking tuners, and a Graph Tech TUSQ nut.
Dennis Fano's PBGbuilt Alt de Facto PX6 is available with an alder, swamp-ash, or mahogany
body (a flamed-maple top is optional), a maple or mahogany neck with a graduated 10"–16"
radius, Lindy Fralin pickups, and aged-nickel hardware.
The 411 on b3s
Within the range of PBG guitars, Baker's own designs are represented by the b3 line, which was inspired by vintage models from Fender and Gibson. He says the b3 logo was created with the Hindu
aum
symbol in mind, because dealers he's worked with favor more organic names over numerical model designations. The line's models are named for the five phases of the ancient Chinese cycle of Wu Xing: Earth, Fire, Wood, Water, and Metal. All five models have similar body outlines, C-shaped neck profiles, and Lollar pickups. "I've always been a huge
Les Paul
fan," says Baker. "But there were always small details I didn't like about an LP, so I used the model as a benchmark."
The Fire model is his attempt to create a more ergonomic guitar via appointments such as a sculpted neck heel, a tummy contour, and a double-cutaway body that he feels is more balanced. He also says the neck has straighter string pull for greater tuning stability, but he still feels the model has "the meat-and-potatoes construction details" that preserve its essence.
"Coupling these details with the best hardware—like Buzz Feiten tuning and modern machining technology—gets us closer to our end result so we can fine-tune the small details," he says.
The Metal model is the neck-through of the series (the others feature set necks), and Baker says it grew out of his love for Randy Rhoads and the late master's Jackson Guitars. That said, Baker himself prefers the Water model—a hollowbody with Lollar humbuckers and Kluson-style TonePros tuners—when he plays with his Mean Gene Band. His has a makore (aka African cherry) back, a maple top, a mahogany neck, a rosewood fretboard, and a recently installed Graph Tech Ghost Acousti-Phonic bridge, which facilitates a nice acoustic tone without switching guitars. He says he prefers the Water because it's lightweight and he loves the controlled feedback that the hollowbody allows him to get. His is distinguished by an ebony veneer on the headstock, the result of a serendipitous accident that occurred when one of his shop guys machined the headstock thickness too thin. "I had to build the thickness back by adding the veneer," he says. "But it looks very cool, like an old jazz box guitar."
LEFT: Baker's personal guitar and b3 Water prototype has a hollow makore body (production models are mahogany) and Lollar Imperial humbuckers. A Graph Tech Ghost Acousti-Phonic bridge and preamp were added after the photo was taken. RIGHT: The PBG-produced Jason Z. Schroeder Radio Lane has a mahogany body with a flamed-maple cap, Lollar pickups, and a Schroeder-designed stop-tail bridge.
This PBG-produced Koll Duo Glide has a chambered mahogany body with a flamed-maple top, thumbnail position markers, TV Jones Classic pickups with Gretsch-style rings, and a Bigsby vibrato.
Pre-PBG: From GIT to the School of Hard Knocks
Before signing on with PBG, Fender, or Gibson, and before he owned any of his own shops, a young Baker, fresh out of high school, took his early experiments and rock-star ambitions to Musicians Institute in Hollywood (which was called the Guitar Institute of Technology or GIT at the time).
"The very first week at GIT, they had a student seminar and open house, welcoming the students and whatnot," he recalls. "And they said to us, 'The majority of you guys are not going to go on to become rock stars. You're going to find yourselves somewhere else in the music industry if you're lucky.'" GIT laid the foundation for his guitar expertise, not only making him a better player, but also introducing him to countless guitar students whose stylistic tastes still inform his business.
After graduating from GIT, Baker moved to Huntsville, Alabama, with some bandmates, hoping to record an album to bring back to California. That's where he started his first guitar line, building 10 or so guitars under the Mean Gene brand name. "The first guy I built one for goes, 'Why don't you call it Mean Gene Guitars?'" Baker says in a thick, faux-Southern accent. Chuckling, he adds, "I guess it just kind of stuck."
As it happens, it was the Mean Gene brand rather than a hit record that Baker ended up bringing back to California. He and one other builder worked out of his parents' garage. They survived on small-quantity runs for a while before moving into a small facility where they kept a retail shop, a wood shop, and rehearsal studios for local bands. "I think we only lasted about six months [in the new facility] before we ran out of money and had to pull the cork on it," says Baker. "Altogether, it lasted a full two years—we should have just stayed in the garage."
Two unfinished Koll Duo Glide necks (left), a Jason Z. Schroeder neck (middle), and a b3 neck lay
atop a selection of routed and unrouted neck blanks and fretboard slabs. Photo by Joe Coffey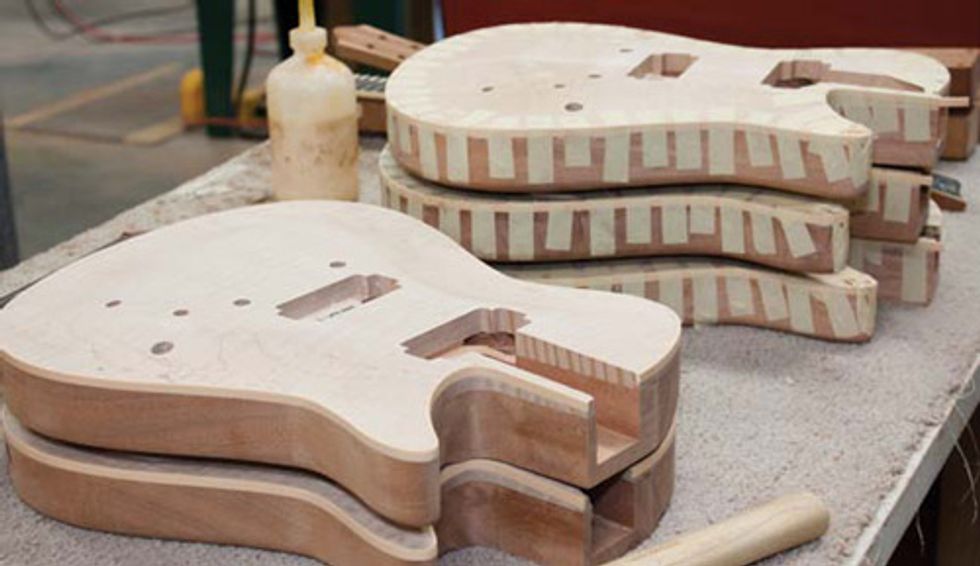 A stack of Giffin Valiants after having binding applied (back) and a couple more
waiting to have their necks glued in. Photo by Joe Coffey
CNC templates for a Giffin Valiant headstock and fretboard. Photo by Joe Coffey
A rack of CNC routing templates for (top to bottom) Fano, Koll, and Jason Z.
Schroeder bodies. Photo by Joe Coffey
Realizing that it would take some Business 101 to keep a successful shop running, Baker decided to get some field training. He went to work for the Gibson Custom Shop in Hollywood, where he became a senior master's apprentice to Roger Gibson. Baker calls Gibson his first real mentor—someone who knew and understood guitars, and was able to guide him through the little nuances of building and repair that he hadn't learned yet.
The pair worked well together and absorbed the luxuries of their location in West Hollywood. "We were right in the Studio Row area, where there were tons of recording studios and a lot of session players that we'd do work for," Baker says. "I got to work on all these vintage Fenders, Gibsons—just a slew of vintage guitar history that otherwise I wouldn't have been privileged to work on, which really got me into vintage guitars and paved the way for what I'd do later at Fender."
Baker attributes much of his success as an independent builder to his time working in Fender's Custom Shop, where he started in 1993 after declining to follow Gibson to Nashville. He was initially brought in as sanding and buffing support before heading up the Robben Ford department and eventually being promoted to Master, and then Senior Master Builder. "I got to build a lot of guitars from the ground up," he says. "We had to build all the necks and bodies and the little custom features, like mid-'60s round lam' necks, a lot of the big peghead necks—a lot of times even double-neck guitars, Bajo Sextos, rosewood Teles—things like that.
"I still didn't have any real business background," says Baker, "but while I was at Fender I was going to night school to plan my escape." In the summer of 1999, he opened Baker Guitars, taking with him a friend and all of his 401k investments.
But the fate of Baker Guitars was sealed, so it seems, from day one. A faulty CNC machine resulted in an agreement with the CNC manufacturer, in which they agreed to take back and fix the machine while paying back Baker's loan with the financing company. If only they had. A year later, the financing company came after Baker Guitars for the unpaid CNC loan, forcing the company to declare bankruptcy and liquidate its assets.
"The liquidation was kind of like attending my own funeral," says Baker. "I was even fighting with some guy over my own bench tuner." Baker let the other guy win, but he didn't admit defeat. It took three years of laying low and shelling out payments to the bank before he was in the clear to start a shop again, which he did in the spring of 2004 with nothing but a storage locker. This time he named his business Fine Tuned Instruments.
A bevy of PBG-built guitars— a Giffi n Valiant Chambered, a Schroeder Radio Lane, a b3 Fire,
and a couple of T-style b3s—at various stages of finishing. Photo by Joe Coffey
Rising from Ruin
Without tools or materials, Baker had to work backward. People who had acquired unfinished guitars at the time of liquidation looked to him for final assembly, prompting him to buy the tools necessary to finish what he'd begun years before. Slowly, his business started rolling again. But as more business came in, there was more pressure to expand, and he found himself looking for a partner. "This time I didn't want any bank loans or silent partners," he says. "I wanted to bring in someone who had everything from attorney skills to business management and even manufacturing skills—someone with enough money and enough brains to turn this thing into something bigger than just myself." A dear friend of his, music industry veteran Cliff Cultreri of Destroy All Guitars, understood what he needed and suggested PBG co-founder Michael Bernstein. The rest, as they say, is history.
Still, Swimmer says the role that Baker took on is a tough one. "It takes a certain personality to go in there and build someone else's guitar when you're building your own guitars in the same building," he says. "And to be able to execute it with the same level of pride as if it were your own? He's a diamond in the rough." But Baker says he doesn't care if it's his name on the headstock or not, as long as the machines are running, people are working, guitars are going out, and money is coming in.
During his days of hopping from one small storage space to another, Baker may not have dreamed he'd be at the head of a huge, well-equipped production space such as PBG's—which has 14 employees and is putting out between 50 and 75 guitars a month. Baker says working there is a little like changing companies from week to week, because building methods vary for each brand. Further, each brand can have as many as six models in the PBG line, with multiple options—pickups, inlays, bridges, body lengths, headstocks, and scale lengths—per model.
Still, with all of the options available to PBG customers, Baker says the shop's focus remains on quality, customer care, accuracy, and thoroughness. "The main thing is having a really good formfitting function and attention to detail," says Baker. "Many larger shops don't have the time to make sure every little detail is really nice, and so [at PBG] that is one thing we always pride ourselves on—that attention to tiny details."
Gene Baker (left) and his Mean Gene band tear it up with the legendary Ronnie Montrose
at an October 2010 gig at Mongo's Saloon in Grover Beach, California. Photo by Joe Coffey