Builder Profile: Linda Manzer
The talented luthier behind Pat Metheney''s Pikasso guitar talks about design, inlay and building
Linda Manzer is a master luthier with some 35 years of guitar making under her belt. She makes flat tops, archtops and some very unusual guitars by customer request. She builds the hard way, by hand—no CNC in her shop. Linda's designs are simple yet elegant at first glance, with lovely, carefully selected woods meticulously built into musical works of art. She also has deep artistic instincts and a great sense of humor that show in her amazing inlay work.
Linda apprenticed with Jean Larrivée, learning the nuts and bolts of fine craftsmanship, then she went to New York to spend a year studying archtop building with master Jimmy D'Aquisto. She has built instruments for some inspiring pickers, such as Carlos Santana, Stephen Fearing, and Bruce Cockburn, and has enjoyed a long, fruitful association with Pat Metheny.
Which came first for you, woodworking or guitars
?
Guitars, definitely. I was a folksinger in high school, and I have always been pretty handy. The woodworking followed when I wanted a dulcimer. I needed to make one, because I couldn't afford one. Building a dulcimer from a kit when I was a teenager was the beginning of my building career.
Do you play guitar?
Yes! Not terribly well anymore. I am secretly studying piano.
Did you learn inlay with Jean Larrivée?
Yes, it started at Larrivée, working with two talented, innovative inlay artists: Tony Duggan- Smith and Heather McCrae (Tony is a gifted guitar builder/restorer as well). Heather and Tony designed the original inlay for Larrivée. They were inspirational to me. My studies at art college were also very influential. Inlay allows me to express some rather fun concepts on the guitar. It's the icing on the cake.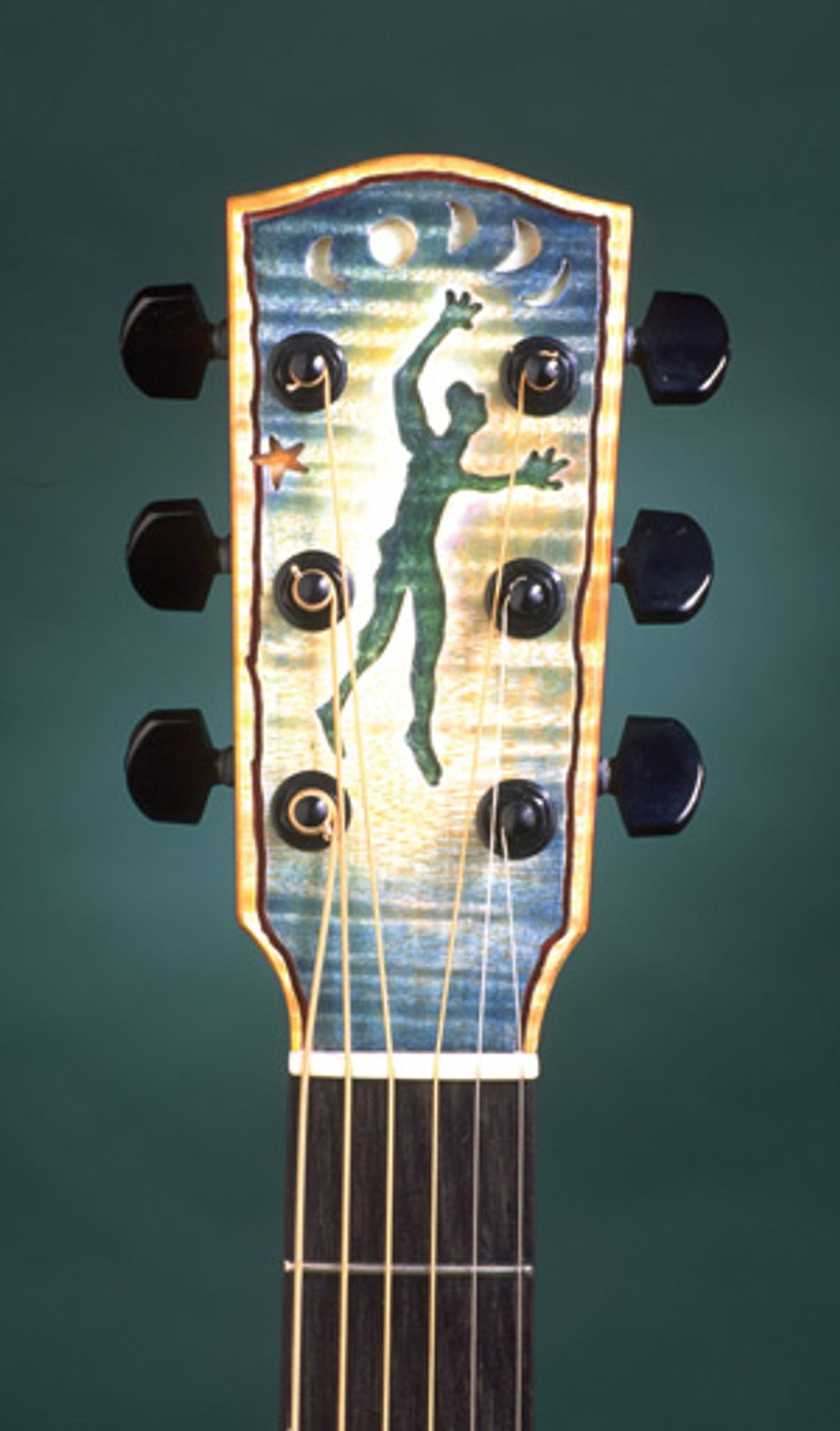 Photos by Brian Pickell.
It seems like there are two sides to luthiery, the crafts side and the artistic side. Some builders lean a bit one way or the other, but you seem to really strike a balance.
How do you see the role of your artistic side as it affects the craft side of building?
I went to two art colleges and painted and silkscreened, dabbled in photography and animation, yet I found myself in the woodworking shop making dulcimers. I like the tangible side of making an object. I like to see something concrete at the end of a day, and sometimes that was elusive with conceptual art, which was the trend when I was in art college.
How did your Wedge design come about
?
The Manzer "Wedge" was first designed and implemented in 1984 on my 42-string Pikasso Guitar for Pat Metheny, a much wider instrument than my normal six-string and one requiring a longer reach for the right hand to play all the strings. It was also important to figure out a way for Pat Metheny to see the strings from above, so he wouldn't get lost when he was playing.
At this time I was bantering ideas around with a friend, Tony Duggan-Smith, another former Larrivée apprentice. While trying to figure out how to achieve my goals without compromising the sound, it became clear to us that by tapering the body, the box volume could remain the same (maintaining low end) while the depth of the body could be decreased under the right arm, providing better comfort and visual access to the top. I then set about to bring the concept to life and voila! The Pikasso and Wedge were born. From the mid-eighties, I started including the Wedge as a design feature in my other smaller models. Since then, it has been a common option on my steel-string and classical models, and more recently on my archtops. For those who may be wondering if a "wedged" Manzer Guitar sounds different than the non-wedged version, I have noticed no effect on tone or volume. I believe this is because the overall internal air volume is the same as my regular guitars.
Tell us the tale of the Pikasso.
In 1984, Pat Metheny asked me to design and build a guitar with "as many strings as possible." The resulting collaboration was the 14-3/4 lbs Pikasso guitar; it took a year to build. When the 42 strings are tuned to concert pitch, the string tension is around 1000 pounds.
The Pikasso was outfitted with a complete state-of-the-art piezo pickup system designed and installed by Mark Herbert from Boston, MA. This included a hexaphonic pickup on the 6-string section that allowed Metheny to access his Synclavier synth, thus triggering any sound, including sampled sounds [Saxophone sampling can be heard on the song "Mob Job," on Pat Metheny and Ornette Coleman's Song X].
Two mounting holes on the treble side (knee side) allow the guitar to be mounted on internal brass insets attaching to a stand, leaving hands free for playing or viewing. The brass side bridges were made with help from machinist Bruce West. The Pikasso is really showcased in the song "Into the Dream" from the CD Imaginary Day.
Manzer archtop.
Tell us what you find interesting about archtops.
They can do anything, depending on how you set them up: jazz, folk, fingerstyle, traditional chunky jazz chords, anything. And in the hands of the right player, they can be magical. The traditional acoustic archtop set up and played by the right person can add an extra something in the music. I can't quite pin it down, maybe it's the reverb. But when an archtop is played by someone who can meet the power of the instrument—magic!
Do you build your archtops in a certain way if a customer wants a more electric or a more acoustic sound?
Definitely. If it's a laminate, it will obviously be meant to be plugged in primarily. I try to make whatever I build have as much life as possible. On my carved solid-top/back acoustics the pickup will be the afterthought. I presume it will be acoustic and concentrate on nailing that. Pickups can always be added or changed, but you really have to nail the pure acoustics of the guitar without thinking about the pickups.
Metheny/Manzer Signature 6 Limited Edition and detail of thumbgroove. Photo by David Wren.
Have you tried woods other than spruce or maple for your archtops?
Yes, I used cedar on a few archtop classicals, it sounds great! And it's perfect for the lighter string tension.
How about your flat tops, what inspires you?
I aim for a fat piano sound, almost dark. Response, sustain... those are good things, too! I want the player to be happy and inspired; that's my goal. It's their guitar, not mine.
Tell us about Stephen Fearing and Bruce Cockburn, two of your biggest fans
.
They are both monster players, a dream to work with and fun as well. One of the best things about what I do is who I get to meet and hang out with, incredible musicians and people. And of course, having players of that caliber play your guitar is surreal. I pinch myself sometimes; this is a dream job.
We have a mutual friend in Tom Ribbecke; you two built a beautiful guitar together. Tell us about the collaboration, and if we'll ever get to see the video of that experience?
I hope so. There were some technical issues holding it back, and it was filmed so long ago, I am not sure it's really a representation of what we do now. It might make a good cinémavérité historical piece! I love and admire Tom; he is inspiring and incredibly talented. That was an intense and fun week.
What's ahead for you?

Right now, I am smack-dab in the middle of a project with Pat Metheny. It's a series of 30 six-string flat top guitars celebrating our 25 years of collaboration and friendship. It's called the Metheny/Manzer Signature 6 Limited Edition. We worked to design and capture the essence of the very first guitar I made him for him in 1982, which he has played pretty much every night for the past 27 years. We added some innovations that came from our design relationship over these years, including the Wedge, the more recent thumb groove, and a very elaborate inlay scheme based on Pat's own artwork— you have to see it in person. It was a total blast to work with Pat on this series, and I am very proud of this series. Paul Simon was the first to buy one at our launch in NYC last January, when Pat and I presented the first ten. This project will consume the rest of this year, and after that more projects that are under wraps for now. Let's just say I am just as charged as I was when I started out. I love what I am doing and have a million ideas. I have a few irons are in the fire… stay tuned.