A Zillion Strings!? How To Talk to a Luthier About a Custom Build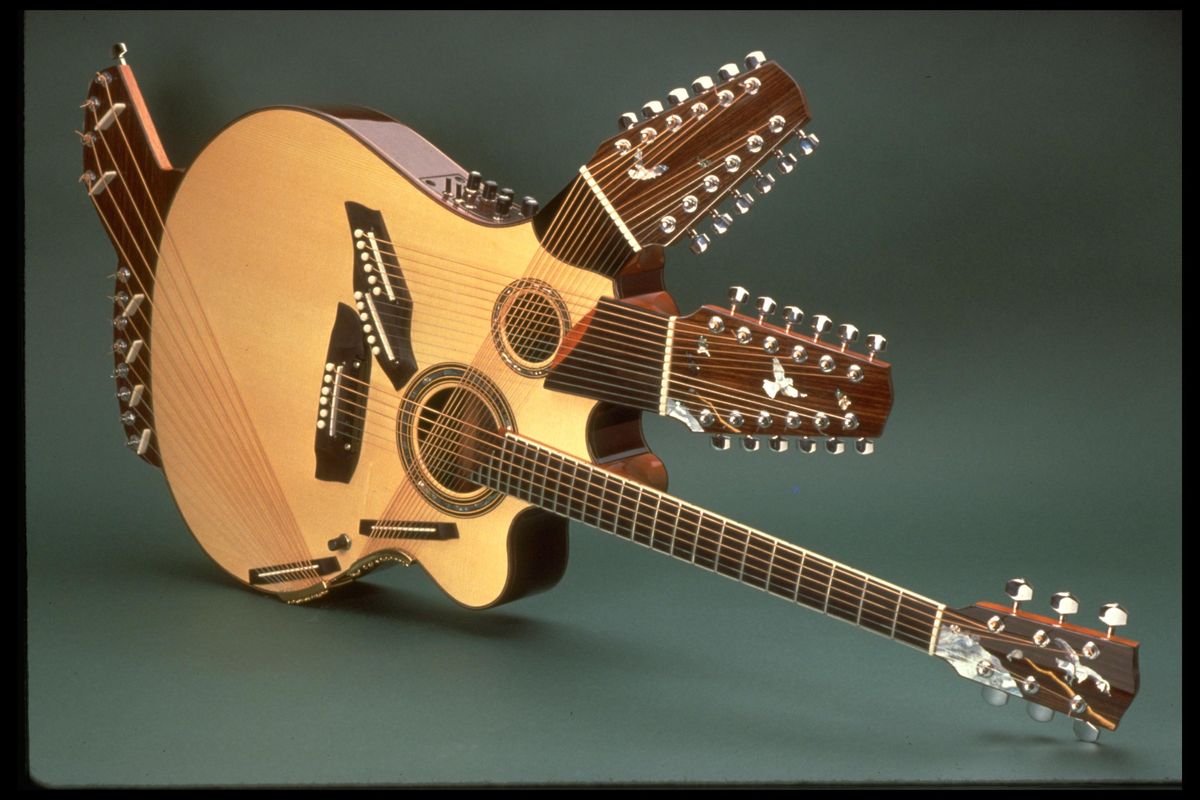 Photo by Brian Pickell
The construction of your dream guitar can be a fun journey, but learning the language is essential.
You've visited countless websites, played as many guitars as you could lay your hands on, and zeroed in on the luthier that resonates most with you. You're ready to take the plunge and your next step is to have a conversation with the builder. You'll both have lots of questions. Be sure to listen and let them guide you through the process. This is when the fun begins.
---
From my end, I try to find out why a client has come to me for a guitar. Was it one of my instruments they heard in a recording, at a concert, or one they had the chance to play? I need to learn what they're looking for. Are they firm on a size, the materials to be used, a particular feel and tone? Can they reference qualities of other recognizable instruments? What guitar do they currently play and what do they like about it, and what don't they like? Inlays? A zillion strings? Or do they just like the idea of letting the luthier do their own thing? The list grows....
Of the over 500 guitars I have built, pretty much every customer has had a slightly different vision. My job has been to bring that to life, which is why it's important for clients to communicate their wishes as clearly as possible. Describing how something sounds or feels can get tricky. I once had two clients in the same week use the word "syrupy" to describe sound. What does that word mean to you? For one it was good, for the other it was bad. A word meant completely different things to each of us, so in each case, we had to establish a common language.
"When Pat Metheny asked me to make him a guitar with 'as many strings as possible' I had no idea what that might be, but I immediately said 'yes!' because I knew he trusted me, so I ran with it."
By going through my questions, I'll get an idea about a player and form a profile in my mind. I'm gathering details—preferred body materials, neck, fingerboard, nut widths, string spacing—which will end up in a file with a client's name on top. For those who don't know the exact measurements, don't fear, we can guide you. Luthiers have tried-and-true models we build as a reference, and a custom guitar is often a simple variation of these standards.
Most luthiers give clients the option to select woods from their stock, and I strongly advise letting your builder make the final selection because they know their materials and their history. Each builder has a unique alchemy around which wood combinations work best, so listen—and learn, too. Should you insist on a wood species that the builder has not combined before, he or she may have reservations and need to explore before moving forward. If I'm the builder, and if no immediate alarm bells ring, I try to keep an open mind and will do the research to either proceed or hit the brakes.
After the structural and material details are locked in, decorative options like pearl inlays, marquetry, painting, and finish colors come next. You will have to trust your maker in this department, because artwork takes on a life of its own. If you've seen examples of the builder's work, you know what to expect, and you may have some ideas of your own which the luthier can flesh out later.
Some luthiers will be willing to act as a "jill or jack of all trades" while others will not, so communication is a key part of any custom guitar order.
Photo by David Wren
Luthiers are generally a polite bunch, and our goal is to make our clients happy, but sometimes we are asked to do things that are outside of our wheelhouse. One example is a client asking a luthier renowned for their archtops to build a harp guitar. One luthier might totally embrace this, while another might not. When I started making guitars, I had to be a "jill of all trades"—see what I did there?—and would build whatever I was asked to, just to keep a roof over my head. This often meant stepping far outside my comfort zone. When Pat Metheny asked me to make him a guitar with "as many strings as possible," I had no idea what that might be, but I immediately said "yes!" because I knew he trusted me, so I ran with it. The result was the Pikasso guitar, and I am forever grateful for his faith in me and that I grabbed the opportunity to expand my knowledge.
Many folks ordering a handmade instrument are like expectant parents, wanting updates and photos at every stage. We understand your enthusiasm, but please remember that most of us work solo and we literally and figuratively have our hands full, so we can try, but please be patient. And don't be concerned by our silence, it just means the dust is flying and magic is at work.
The way I look at it, this is your guitar and not mine. My hands are building it, but you will be the one playing it. My job is to deliver you a guitar that will inspire you to create for years to come. We instrument makers are honored that you have entrusted us with the task of making you a guitar. There is nothing we'd rather be doing and we're deeply grateful for that trust. Enjoy the journey!