Two sibling beauties from Schneider
These
sibling
archtops (not exactly twins, but definitely related) come from Cincinnati, OH, builder David Schneider. Both guitars are made with European spruce tops; the backs and sides are of German maple from the same tree. Fretboards, finger-rests, bridges and tailpiece are ebony. The pin bridge SoHo 16 is 16-1/2" at the lower bout, and the SoHo 17 (with tailpiece), is 17-3/8". Both are 25-3/8" scale with 1-3/4" bone nuts.
Schneider was mentored by Jimmy D'Aquisto before apprenticing with lute maker Lawrence Brown, with a final stint in India learning to build sitars. The wrap-around end clasp terracing on these guitars was inspired by one of Schneider's lutes.
The headstocks are chambered and resonate, providing a slight stereo or echo effect. The bridges are glued on, and the guitar with the tailpiece features a string-through bridge, a technique the Cincinnati-based builder has also used on flat tops. The bracing system was adopted from D'Aquisto, the Circle of Sound. There are four K&K transducer pickups mounted inside the guitar on the bridgeplate, a system Schneider feels is more natural sounding than bridge saddle-mounted transducers.
schneiderguitars.com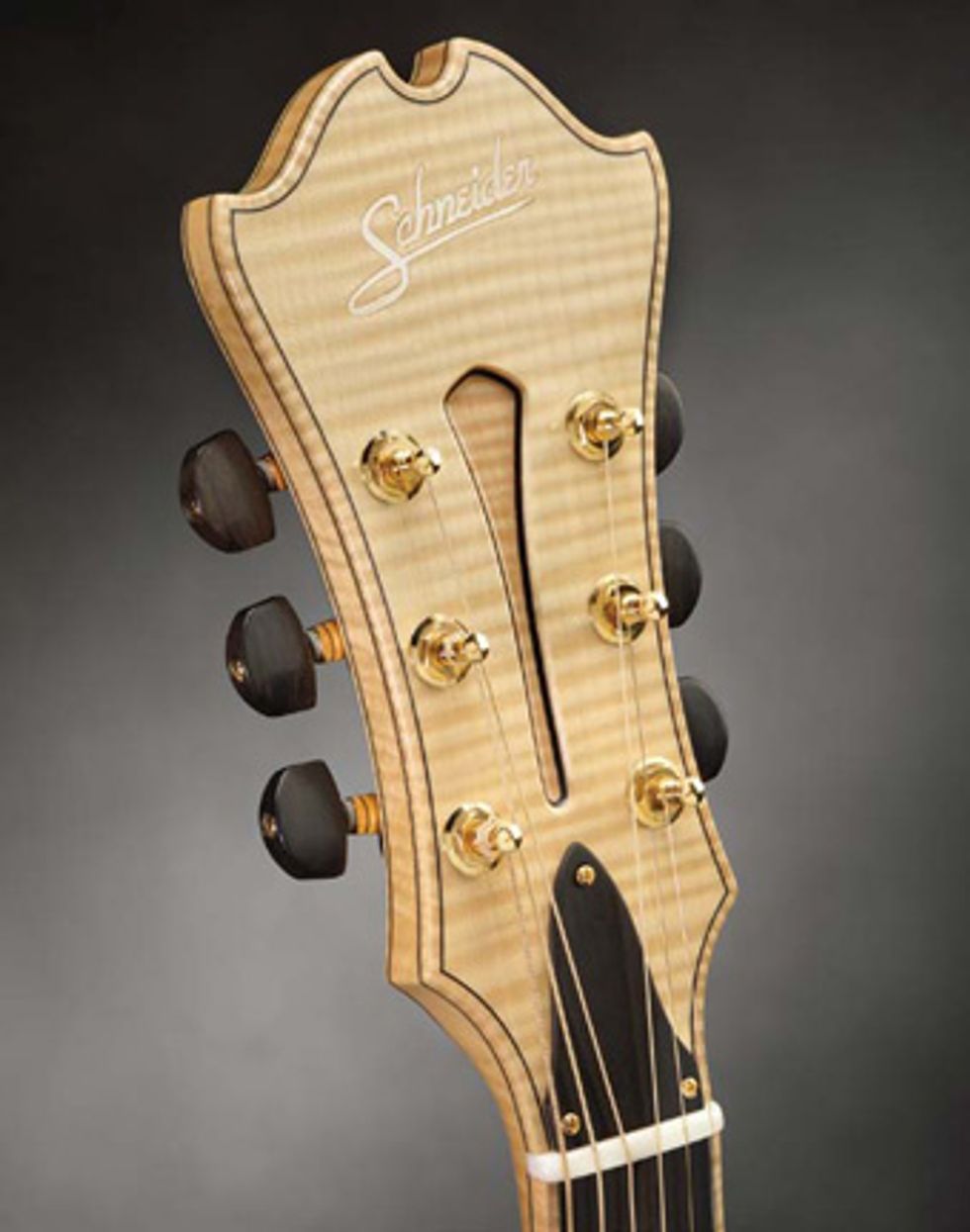 The talented luthier behind Pat Metheney''s Pikasso guitar talks about design, inlay and building
Linda Manzer is a master luthier with some 35 years of guitar making under her belt. She makes flat tops, archtops and some very unusual guitars by customer request. She builds the hard way, by hand—no CNC in her shop. Linda's designs are simple yet elegant at first glance, with lovely, carefully selected woods meticulously built into musical works of art. She also has deep artistic instincts and a great sense of humor that show in her amazing inlay work.
Linda apprenticed with Jean Larrivée, learning the nuts and bolts of fine craftsmanship, then she went to New York to spend a year studying archtop building with master Jimmy D'Aquisto. She has built instruments for some inspiring pickers, such as Carlos Santana, Stephen Fearing, and Bruce Cockburn, and has enjoyed a long, fruitful association with Pat Metheny.
Which came first for you, woodworking or guitars
?
Guitars, definitely. I was a folksinger in high school, and I have always been pretty handy. The woodworking followed when I wanted a dulcimer. I needed to make one, because I couldn't afford one. Building a dulcimer from a kit when I was a teenager was the beginning of my building career.
Do you play guitar?
Yes! Not terribly well anymore. I am secretly studying piano.
Did you learn inlay with Jean Larrivée?
Yes, it started at Larrivée, working with two talented, innovative inlay artists: Tony Duggan- Smith and Heather McCrae (Tony is a gifted guitar builder/restorer as well). Heather and Tony designed the original inlay for Larrivée. They were inspirational to me. My studies at art college were also very influential. Inlay allows me to express some rather fun concepts on the guitar. It's the icing on the cake.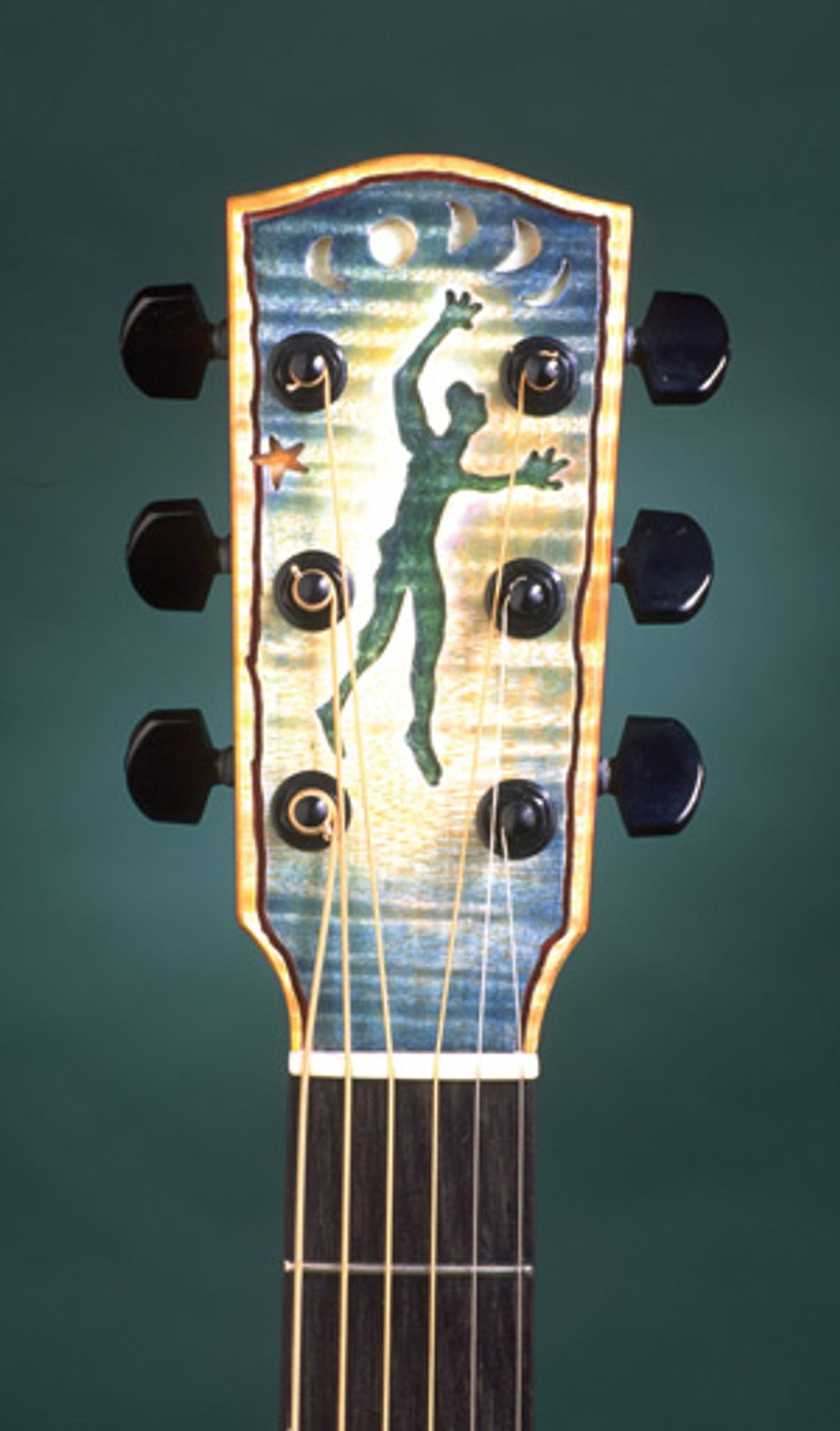 Photos by Brian Pickell.
It seems like there are two sides to luthiery, the crafts side and the artistic side. Some builders lean a bit one way or the other, but you seem to really strike a balance.
How do you see the role of your artistic side as it affects the craft side of building?
I went to two art colleges and painted and silkscreened, dabbled in photography and animation, yet I found myself in the woodworking shop making dulcimers. I like the tangible side of making an object. I like to see something concrete at the end of a day, and sometimes that was elusive with conceptual art, which was the trend when I was in art college.
How did your Wedge design come about
?
The Manzer "Wedge" was first designed and implemented in 1984 on my 42-string Pikasso Guitar for Pat Metheny, a much wider instrument than my normal six-string and one requiring a longer reach for the right hand to play all the strings. It was also important to figure out a way for Pat Metheny to see the strings from above, so he wouldn't get lost when he was playing.
At this time I was bantering ideas around with a friend, Tony Duggan-Smith, another former Larrivée apprentice. While trying to figure out how to achieve my goals without compromising the sound, it became clear to us that by tapering the body, the box volume could remain the same (maintaining low end) while the depth of the body could be decreased under the right arm, providing better comfort and visual access to the top. I then set about to bring the concept to life and voila! The Pikasso and Wedge were born. From the mid-eighties, I started including the Wedge as a design feature in my other smaller models. Since then, it has been a common option on my steel-string and classical models, and more recently on my archtops. For those who may be wondering if a "wedged" Manzer Guitar sounds different than the non-wedged version, I have noticed no effect on tone or volume. I believe this is because the overall internal air volume is the same as my regular guitars.
Tell us the tale of the Pikasso.
In 1984, Pat Metheny asked me to design and build a guitar with "as many strings as possible." The resulting collaboration was the 14-3/4 lbs Pikasso guitar; it took a year to build. When the 42 strings are tuned to concert pitch, the string tension is around 1000 pounds.
The Pikasso was outfitted with a complete state-of-the-art piezo pickup system designed and installed by Mark Herbert from Boston, MA. This included a hexaphonic pickup on the 6-string section that allowed Metheny to access his Synclavier synth, thus triggering any sound, including sampled sounds [Saxophone sampling can be heard on the song "Mob Job," on Pat Metheny and Ornette Coleman's Song X].
Two mounting holes on the treble side (knee side) allow the guitar to be mounted on internal brass insets attaching to a stand, leaving hands free for playing or viewing. The brass side bridges were made with help from machinist Bruce West. The Pikasso is really showcased in the song "Into the Dream" from the CD Imaginary Day.
Manzer archtop.
Tell us what you find interesting about archtops.
They can do anything, depending on how you set them up: jazz, folk, fingerstyle, traditional chunky jazz chords, anything. And in the hands of the right player, they can be magical. The traditional acoustic archtop set up and played by the right person can add an extra something in the music. I can't quite pin it down, maybe it's the reverb. But when an archtop is played by someone who can meet the power of the instrument—magic!
Do you build your archtops in a certain way if a customer wants a more electric or a more acoustic sound?
Definitely. If it's a laminate, it will obviously be meant to be plugged in primarily. I try to make whatever I build have as much life as possible. On my carved solid-top/back acoustics the pickup will be the afterthought. I presume it will be acoustic and concentrate on nailing that. Pickups can always be added or changed, but you really have to nail the pure acoustics of the guitar without thinking about the pickups.
Metheny/Manzer Signature 6 Limited Edition and detail of thumbgroove. Photo by David Wren.
Have you tried woods other than spruce or maple for your archtops?
Yes, I used cedar on a few archtop classicals, it sounds great! And it's perfect for the lighter string tension.
How about your flat tops, what inspires you?
I aim for a fat piano sound, almost dark. Response, sustain... those are good things, too! I want the player to be happy and inspired; that's my goal. It's their guitar, not mine.
Tell us about Stephen Fearing and Bruce Cockburn, two of your biggest fans
.
They are both monster players, a dream to work with and fun as well. One of the best things about what I do is who I get to meet and hang out with, incredible musicians and people. And of course, having players of that caliber play your guitar is surreal. I pinch myself sometimes; this is a dream job.
We have a mutual friend in Tom Ribbecke; you two built a beautiful guitar together. Tell us about the collaboration, and if we'll ever get to see the video of that experience?
I hope so. There were some technical issues holding it back, and it was filmed so long ago, I am not sure it's really a representation of what we do now. It might make a good cinémavérité historical piece! I love and admire Tom; he is inspiring and incredibly talented. That was an intense and fun week.
What's ahead for you?

Right now, I am smack-dab in the middle of a project with Pat Metheny. It's a series of 30 six-string flat top guitars celebrating our 25 years of collaboration and friendship. It's called the Metheny/Manzer Signature 6 Limited Edition. We worked to design and capture the essence of the very first guitar I made him for him in 1982, which he has played pretty much every night for the past 27 years. We added some innovations that came from our design relationship over these years, including the Wedge, the more recent thumb groove, and a very elaborate inlay scheme based on Pat's own artwork— you have to see it in person. It was a total blast to work with Pat on this series, and I am very proud of this series. Paul Simon was the first to buy one at our launch in NYC last January, when Pat and I presented the first ten. This project will consume the rest of this year, and after that more projects that are under wraps for now. Let's just say I am just as charged as I was when I started out. I love what I am doing and have a million ideas. I have a few irons are in the fire… stay tuned.
Jordan Wagner reports from Rock ''n'' Roll Fantasy Camp with Steven Tyler in Hollywood

Elliot Easton, Jordan Wagner and Slim Jim Phantom.
Click here to see a slideshow of Rock 'n' Roll Fantasy Camp set to the song Jordan's RRFC band recorded

Dancin' on that number 9 cloud

"How'd you like to go jam with Steven Tyler in a few weeks?" was the question I got from a PG editor over the phone. As you can imagine, I was a bit taken aback by the proposition; I thought it was a lame attempt at a practical joke. Ready and willing to follow along with the gag, the subsequent statement put things into perspective: "We'd like to send you to Rock 'n' Roll Fantasy Camp." As the details followed, I was soon overwhelmed with excitement, trying to wrap my mind around the fact that in less than a month I'd be meeting the likes of Todd Rundgren, Elliot Easton and Carmine Appice. I was going to take part in the grandest of rock daydreams.
Like many people, everything I knew about R&RFC I learned from a particularly good episode of The Simpsons. Homer and his pals participate in an actual camp with log cabins and learn how to "act" like rock stars under the tutelage of Mick Jagger and Lenny Kravitz. Not being an animated fictional character, I had no idea what was in store for me. It preyed upon my anxiety. I was going to get to hang out with legends and actually play with them? How do you prepare yourself for that?
For those who are mostly in the dark about the details, Rock 'n' Roll Fantasy Camp is a five-day excursion to a city well established in the popular music scene. Each camper participates in a band with other campers… and one rock star. The whole shebang concludes with a gala event on the final night at a famous music venue, where the band rocks out on the stage. R&RFC just celebrated its eleventh anniversary this year with a camp in Hollywood, CA (from April 29 to May 3).
In the past, they've had rock stars such as Roger Daltrey, Paul Stanley, Brian Wilson, Slash, Alan White and Jack Bruce take part. This year's star-studded lineup promised to be phenomenal as well, with the names Bruce Kulick, Mark Hudson, Teddy Andreadis, Kip Winger, Danny Seraphine and Sandy Gennaro gracing the press release, just to name a handful. Each of these seasoned pros (dubbed "rock counselors") was set to lead a band of campers, sculpting and shaping a handful of tunes to unleash on the final night at a sold-out show at The Whisky A Go Go.
Not only that, but each band would also get to record an original song at Capitol Studios with Eddie Kramer, the master producer and engineer who worked with Jimi Hendrix and Led Zeppelin. Last, but undoubtedly not least, each band would get to play an Aerosmith song with the legend himself, Steven Tyler, who arrived on the third day for a long Q&A session followed by a visit to the practice sessions of each of the 12 bands. He talked to the bands, listened, and jumped in to sing along while they played. And although it wasn't in the original plan, he also made a surprise appearance at the Whisky and saw each of the bands perform on stage.
I spoke to Fantasy Camp founder David Fishof, and asked what prompted him to start it. "I was on tour with Ringo," he told me, "and it would be me and these rockers on the plane… Joe Walsh and Levon Helm and Dr. John… I saw how amazing these guys were, you know, when they had no one around them and they were just regular musicians… not the way people always talk about rock stars. Whenever someone would ask me what it was like, I thought, 'If I could only give this experience to people.' I saw how much fun the rockers were having on the tour, so in '96 I decided to share that experience, and I did my first camp in Florida. I called guys I'd met on tour, Nils Lofgren and Clarence Clemmons, Mike Love, Mark Farner, and so on. No one said no. Everyone had such a great time. For me it's just about giving people an amazing experience, changing people's lives through music."
Let the feelin' get down to your soul
As a journalist, I had just as many questions about the camp as I did a guitarist. I mean, put five total strangers in a room, tell them they have four-and-a-half days to get a few songs, including one original, ready and polished to play at a sold-out show at one of the most famous venues in the world—how is that going to happen? People who've played in bands will tell you it can take weeks to get a set good and tight, so this was a big worry for me. A major part of being in a band is learning how to feed off of the other bandmembers' mannerisms and styles, and this usually doesn't happen in the course of a week. It can take months, even years, for a band to really sound professional, and I personally wanted to sound like gold if I was going to be setting foot on the stage that Jim Morrison and John Bonham had graced with their presence.
From left to right: Jordan Wagner, Duff McKagan, Francesca Bonavita, Bruce Kulick, Ally Pacella, Greg Deal, Ujesh Desai, Anthony Hixon and Jamie Nichols.
Meeting my band was a very casual moment. I was fortunate to be in a talented group who all shared the same curiosities as me. I was introduced by Rudy Sarzo, the Ozzy Osbourne and Quiet Riot bassist, to our rock star counselor and band leader, Bruce Kulick. Knowing Bruce's background, I wasn't entirely sure what to expect. He played on several KISS records, and is a member of Grand Funk Railroad. His third solo record is about to come out, and features players like Gene Simmons, Steve Lukather, and Eric Singer. The man played on the Bat Out of Hell tour, for Pete's sake! Was he going to be personable, or standoffish? Would we all be able to work well together as a team with someone who was used to playing with some of the world's most talented musicians?
The band members came from a very diverse pool. Offering a friendly handshake, a man in military fatigues introduced himself as Sergeant Anthony Hixon, our bass player, fresh from a tour of duty in Iraq. Our lead vocalist, Ally Pacella, with an operatic voice and fantastic presence, hailed from Russia. Backing up Ally was Francesca Bonavita, who contributed vocals and also provided percussion talents. Guitar duties would be handled by me and Jamie Nichols, a hardworking rocker from Canada who shared some of my own musical tastes. Jamie was a blast to work and hang out with, and his sense of humor certainly helped ease my nervousness. Rounding out the rhythm section was not one but two drummers: Greg Deal and Ujesh Desai. These guys were a great rhythmic powerhouse, and their enthusiasm was something I considered us very lucky to have. Some of my fondest memories of the camp are of me and Ujesh geeking out over the video taken of us playing "Crazy Train" with Rudy Sarzo, and sneaking back to the practice space and playing "Master of Puppets" really badly… but we didn't care, it was just so much fun. He was the one who came up with our band name, W.T.F.
The twenty minutes or so that we all banded together in the hotel lobby to jam on "Wild Thing" with acoustics, the drummers slapping their knees in time, was one of the highlights of the camp. It was a great bonding experience, just getting to know one another through the simple three-chord riff. Bruce wielded a beautiful Gibson Elvis Presley Dove and led us through the classic tune. It was particularly humbling (and really funny) to be drowned out by Rudy's group a few feet away from us. Their singer was belting out the lyrics to "Metal Health" with Rudy, and us, grinning from ear to ear. This moment of us 'normal folk' jamming around with these guys was just a taste of what was to come.
Reachin' for the sky and tearin' up the ground

Some might expect a camp like this to be more laid back. People do show up expecting to rock all night and party every day, and they're met with swift reminders that music is a labor of love (with a strong emphasis on labor). Rock 'n' Roll Fantasy Camp is a lot of fun, but a lot of work, too. Almost every hour that wasn't spent eating a meal, attending a Q&A session, a master class, or sleeping was used for crafting the songs that would represent us on the final night. Bruce told us that people have attended with their minds set more on partying than on the business at hand. That's not what this camp is about at all. According to him, it was Jack Blades from Night Ranger who got him involved in the camp: "That must've been four or five years ago… I had no idea what I was walking into, but as exhausting and as crazy as it was, I loved it… I believe in the whole vibe of it. It's about the work that goes into being in a band. I think it's wonderful."
Sergeant Anthony Hixon and Ally Pacella.
I asked him about his approach to being a Rock Counselor. "I think there needs to be a leader," he explained to me. "I expect the campers to learn, and they need to have a leader, someone who knows what to do, and who can tell them. And if they don't learn it, I'm going to remind them to learn it. It's very concentrated and directed. I'll even push the executive who kind of just dreamt of being a rock star but is really basic on guitar and can barely play. I won't disrespect him, but I'm going to try and make him be as good as he can be… he's going to want that."
I quickly realized that if it's anything, R&RFC is a five-day crash course in learning how to be in a band. This hit us almost immediately during our first practice, when we started to learn Aerosmith's version of "Helter Skelter," our assignment. Our bass player, Tony, was having some trouble keeping up with us. Like everyone else, Tony was came to the camp for the experience of hanging out with rock stars and getting to play at The Whisky, but he was also there to pick up on things that would help his bass playing. What I saw happen with this man over the next few days was pretty incredible. Tony was stationed in Iraq for several years, and had only tooled around with the bass a bit before he was sent to serve our country. He never really got the opportunity to keep it up, but what he did bring to the band was something that a hell of a lot of musicians out there could use: the ability to understand criticism.
In four and a half days, I saw Sergeant Anthony Hixon go from not being able to hold a pick or fret a note to keeping up with "Helter Skelter" and "Highway to Hell." On the third day of camp, he played "Helter Skelter" for Steven Tyler. I've been playing guitar for over a decade, and even I was close to losing it when Tyler was standing next to me singing. I even flubbed the solo because of it. I can't imagine what Sergeant Hixon was feeling at that moment, but he didn't choke, even when he made a mistake or two.
This is a perfect example of why this camp is such an amazing concept. It doesn't matter what skill level you're on or what your background is; every artist worth their salt will tell you that you can always be better at what you do. What Tony got out of the camp was something that it takes some people years to develop, if at all: the ability to listen to the band and play when you're supposed to. It's a rudimentary lesson, but one of the most important any musician can master. Tony may not have mastered it, but he was certainly on his way, and doing extremely well for someone on only his third day of the job.
Listen to "Livin' Our Dream," the original song recorded by Jordan's RRFC group, WTF?:
[youtube https://www.youtube.com/v/jX0lIII8_oU&hl=en&fs=1& expand=1]
Eddie Kramer mans the board in Studio B.
Put your head together and sing it out loud
The day before our final night, we all piled into the van and headed up to Capitol Studios. We had been working diligently on our original song, "Livin' Our Dream." Ally had a guitar lick that she'd been sitting on for a while, and Bruce and the band helped turn it into a complete song. Ally wanted a song that expressed what we were all there to accomplish, and to represent what we'd be taking back with us when the camp was over. It had a cool Rolling Stones vibe to it, and our ever-helpful tour manager Leslie contributed her enthusiastic attitude to help keep the process fun and exciting.
Passing through the huge gate and entering the lobby of Capitol Studios was awe-inspiring. The multi-platinum records, portraits of The Beatles, and photos of Les Paul, Mary Ford and Frank Sinatra in the studios recording was a powerful reminder of where we were. As we passed down the long hallways, with photo after photo of music history adorning the walls, we entered Studio B and quietly watched the master himself, Eddie Kramer, working on a mix from one of the other bands. I was excited that I was about to be recorded by the man who recorded with David Bowie, Ace Frehley, Anthrax and many others. After we unpacked our instruments and arranged our positions, Eddiecame out of the control room and had us play by ourselves, offering comments in a calm demeanor. Even after decades of engineering incredible albums with some of the greatest artists ever to write a song, he clearly still knows how to have fun and keep himself firmly grounded. It made my personal experience even better when he had me play, and then grabbed the neck of my guitar and started to play a tapping solo! I had no idea what to do, except yell, "Hey Bruce! Get a photo of this!" while I goofed off and played another tapping line a string higher. That moment of hilarity was one of the best memories that I have of the camp: the time that Eddie Kramer and I did a ridiculous EVH impersonation together.
Put on the spotlights one and all

Our arrival at The Whisky A Go Go was accompanied by the strangest feeling—it was so… empty. After a moment, we were refueled by the realization that in a short time it would be packed to the brim with spectators there to be entertained. I probably spent five minutes just staring at the stage itself, reminding myself that this was where Otis Redding recorded In Person. It was pretty cool getting to walk around the place in silence, wondering what idols had sat in those comfy leather booths, and how many times Motley Crüe had gotten wasted at the bar upstairs.
When the time finally came, we were ready. The set started off just as we'd planned, ripping into "Helter Skelter," and boy was it a rush! When I looked up after slamming that G-chord after the intro, memories of all four days rushed together all at once. It felt freaking awesome. I recall some of the shows I've played with my own bands as high points in my life, and this one most certainly ranked up there with them. When we closed the set with our original and then "Highway to Hell," we knew had owned that stage, if only for a short while. Just when the moment couldn't have gotten any more amazing, I looked up and saw ToddRundgren on stage playing with us. I mean, come on! Does it get any cooler than that? Jamie sang the closing tune and ended it with the line, "Bruce Kulick rode me to Hell!" which was hilarious. Bruce had worked Jamie pretty hard in practice, and he had to get this one in on him. It was a sign of respect and showed that he hadn't taken it personally—he'd still had fun.
The feelings of respect and joviality were definitely shared among all the other campers, too. There were some great performances that night from all of the bands. Some of the highlights were Share Ross's band, "Share's Band on the Run," whose members were all 18 or younger. Olympic ice-skating legend Scott Hamilton played some mean drums opening the event in Rami Jaffee's (Foo Fighters) band. Teddy Andreadis's group, affectionately named AIG (Agitators International Group), was on fire. John Martin was their vocalist and lead axeman, and this guy slayed every time I saw him play during the camp—be on the lookout for him and his trusty Les Paul in the future. All of the bands put on a great show, and really showed their confidence in the material. Watching from the balcony above the stage was Steven Tyler, observing what we had all been working on so hard since we'd jammed with him. Capping off the night was an all-star jam that filled the stage with the counselors from the show, and several of the campers dancing to the tunes alongside them. It seemed that even after five grueling days of traveling, meeting and greeting, recording, and practice, practice, practice that the campers weren't ready for the ride to be over. If anything, the looks on their faces gave the impression that if given the opportunity, they'd have stayed another day or two.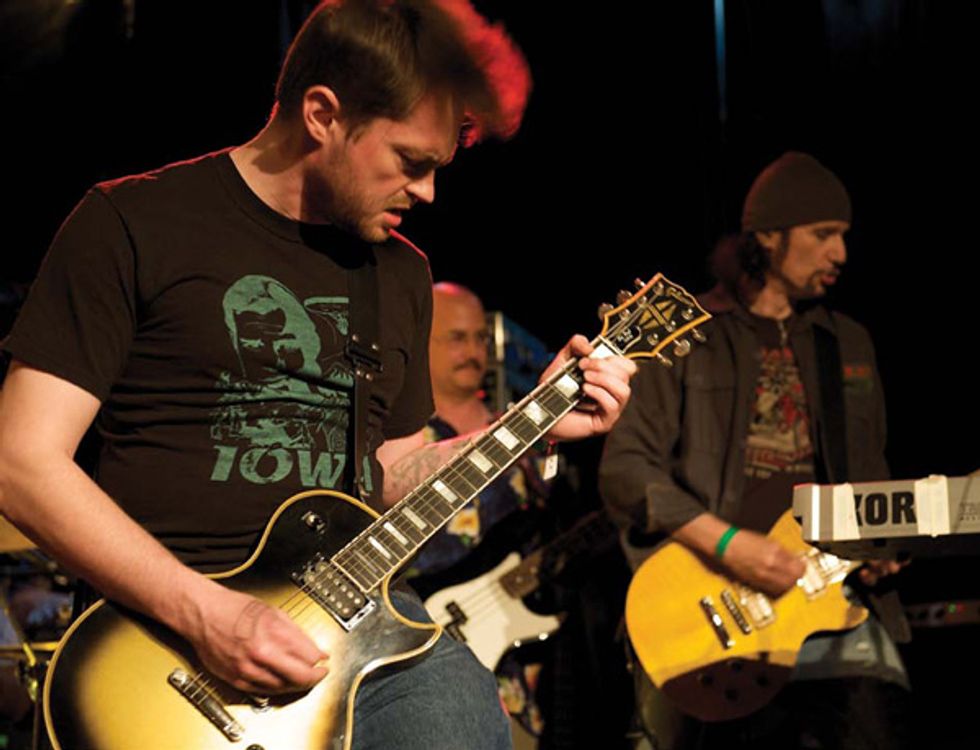 Jordan Wagner, Anthony Hixon and Bruce Kulick layin' it down. Photo by: Alan M. Poulin / alanpoulinphoto.com.
Todd Rundgren and Mark Hudson.
Photo by: Alan M. Poulin / alanpoulinphoto.com

I love the music. And I love to see the crowd.
It's difficult to sum up the experience that I had at Rock 'n' Roll Fantasy Camp, but take it from me: everybody and anybody can walk away from this camp with something new and inspiring, no matter what your skill level is. One of Fishof's goals is to makeeasier for anybody to participate, and he's currently working on plans to make the event more affordable and convenient to attend. Fishof explained that one of the biggest obstacles in getting people into the camp is fear: people are afraid of the unexpected and doubt their own abilities. Hearing Bruce Kulick talk about how incredible it had been for him to share a stage with Jack Bruce, I realized at that moment what I'd gotten out of this was the confidence that I could indeed work with anyone, that I didn't have to be intimidated. All the things I got to do during those days, with the amazing people there—that's more overwhelming than any single moment the camp had to offer. We met the challenges of working as a band in only a few days, recorded at one of the most famous studios in the world, and played on a legendary stage with some of the greatest musicians alive today. Upcoming camps will be held this fall, also in Hollywood, and next spring in London, where campers will get to record at the legendary Abbey Road Studios.
Rock 'n' roll master chef Guy Fieri and David Fishof. Photo Credit: Alan M. Poulin / alanpoulinphoto.com.