This all-tube 15" combo from the mid-'90s was produced for just a couple years, but helped develop an amp series that lives on.
Hey Zach,
I bought this Peavey amp back in the 1990s as a more affordable version of a Fender. (Let's face it, I was broke.) Doing some quick internet research tells me Peavey still makes amplifiers, specifically the Classic Series, but I can't really find anything about my Blues Classic. Can you tell me anything about it and what it's worth today?
Thanks,
Chad in South Carolina
Hey Chad,
Thanks for the question! I remember those days and the always difficult choice of trying to afford decent equipment or pay the bills. The good news is you happened to find an amp that was a relatively good bargain then, and still is today. Yes, you are correct that Peavey still produces the Classic Series, but let's go back a bit to explore Peavey's history and how your amp came about.
Hartley Peavey grew up in Meridian, Mississippi, and after spending time in his father's music store, he began building his own guitar amplifiers while in high school. In 1965, Peavey decided to go into business himself and founded Peavey Electronics in his parents' basement. He initially only built PA systems, but after rapid company growth, Peavey began building guitar and bass amplifiers in the 1970s.
While there is no direct relative of this amp in Fender's lineup, it is somewhat similar to an early Bandmaster, Bassman, or a mid-'50s Pro, which all utilized a 15" speaker.
Circa 1973, Peavey developed a line of Fender narrow-panel tweed-inspired amps, appropriately called the Vintage Series. These amps utilized 6L6 power tubes and relatively obscure 6C10 preamp tubes. The Vintage Series eventually evolved into what we now know as the Classic Series, with most of the amps utilizing traditional 12AX7 preamp tubes and EL84 power tubes. This is somewhat of an unusual combination, however, since it uses both American (12AX7) and British (EL84) tubes to make a unique sound. Think Fender meeting Vox.
Your Blues Classic has 50 watts output, a single 15"speaker, and the American/British tube combination of three 12AX7s and four EL84s. Italso has two channels, spring reverb, a master volume control, and an effects loop. While there is no directrelative of this amp in Fender's lineup, it is somewhat similar to an early Bandmaster, Bassman, or a mid-'50s Pro, which all utilized a 15"speaker. Keep in mind that many blues/jazz players choose 15"speakers as they tend to not lose the treble/high-end tones, so it makes sense this amp was coined the Blues Classic.
You don't see these amps very often, mainly because the Blues Classic was only produced in 1994 and 1995. That said, there are a lot of different Classic Series models out there. The most common/popular model is probably the Classic 30, which has 30 watts output and a 12"speaker, and is similar to a Fender Deluxe. Other models in the series include the Classic 20, Classic 50, Classic 100, and Delta Blues, and all are wrapped with tweed-style covering to project that 1950s look and music style.
When Peavey discontinued the Blues Classic in 1995, it retailed for $800, but you could probably have bought it brand new for about $650 with standard discounts. It's worth between $325 and $400 in excellent condition today. It may seemlike the amp hasn't held its value very well, but the reality is that the value hasn't changed much in nearly 25 years. (The used value of this amp in the mid-1990s was probably between $325 and $400, too.) Most Peavey Classic Series amps are still very affordable today, including the models that were discontinued many years ago. And from what I've heard and read, these amps are generally favorably reviewed. Maybe that means it's a hidden gem? I'm not sure, but it's reassuring to me that there are still some legitimate deals out there.
Hartley Peavey continues as the CEO at Peavey, which celebrated its 50th Anniversary in 2015. The company still offers a full line of guitars, amplifiers, and PA equipment, and continues to innovate within the industry. Like many other guitar and amp manufacturers, Peavey now outsources most of their production overseas, but their headquarters remain in Mississippi.
When it comes to fine-tuning your tone, guitarists often forget the value of a good speaker. ToneSpeak's new models offer a wide range of versatile end-of-the-signal-chain options, in classic to fresh flavors.
Electric guitarists are constantly on a tone quest, but too often we forget to look in the most obvious place: our amp speakers.
In many ways, this oversight is totally understandable. Hey, it's easy to obsess about a gorgeous instrument sporting a flame maple top or classic vintage vibe. And there's a vast array of pedals and effects out there screaming for our attention. (Yes, we used "screaming" intentionally. Please don't hate us.) Of course, pickups, strings, cables, amplifiers, and preamps also have a big impact on our tone.
However, it's important to remember that
every
item in our signal chain eventually goes through our amp's speaker­—the crucial transducer that converts electrical impulses into sound.
The speaker always gets the final word in our musical conversation. It is literally the last piece of gear that we control before our playing reaches the listener's ears or the sound engineer's microphone. And if we're wondering how to upgrade our overall sound—or breathe new life into a battle-weary amp—maybe it should be the first place we look for answers.
ToneSpeak, a newly launched speaker company based in Minnesota, aims to give you some great new options when you select that all-important piece of gear. Since the company's birth in 2021, their goal is to provide speakers that are clearly rooted in classic sounds, but with unique tones of their own.
Modern Speakers Saluting Iconic Predecessors
ToneSpeak's Liverpool 1275—a 12" speaker designed to appeal to Vintage 30 users—provides a case study in the approach. "In selecting what models we wanted to build," explains Anthony Lucas, ToneSpeak's senior transducer engineer, who designed the new speaker line, "we started with American and British roots. We didn't want to copy anything. If you want a Vintage 30, then you should get one from Celestion. It's a great speaker. But we were okay with using a Vintage 30 and a Greenback as an inspiration, to provide a baseline. The first prototype sounded too much like a Vintage 30"—he laughs—"and we knew we didn't want to do that. We ended up giving the Liverpool warmer, smoother upper mids and highs, and a bit more lows."

Lucas knows his stuff: He designed products at Eminence in the U.S. for years before departing the company in 2020 and building the new ToneSpeak line, with help from another former Eminence colleague, Josh Martin.
"At this company, most of us are musicians and involved in music," says Lucas, "and all of us speak the language of tone, so that's how ToneSpeak came about. We talked to musicians and manufacturers and asked what they liked and didn't like about various speakers. We tried to respond to them by keeping what they liked and improving on the things that they didn't."
Plenty of 12" Options—and Other Sizes, Too
The Liverpool 1275 is one of five 12" speakers in the growing ToneSpeak line. Other models include the British-inspired Birmingham 1275—a natural fit for fans of the G12H Greenback, with balanced, throaty midrange and lots of articulation—and the formidable Manchester 1290. A high-powered brute, the Manchester will appeal to any player who loves the Celestion Classic Lead but seeks a bit more flexibility. "The common complaint about high-powered speakers is that they sound sterile unless you push them pretty hard," notes Lucas. "So, we designed the speaker to sound very musical even at lower volume, while still being able to handle 90 watts and sound great. It's probably our most balanced, most transparent speaker in the whole line."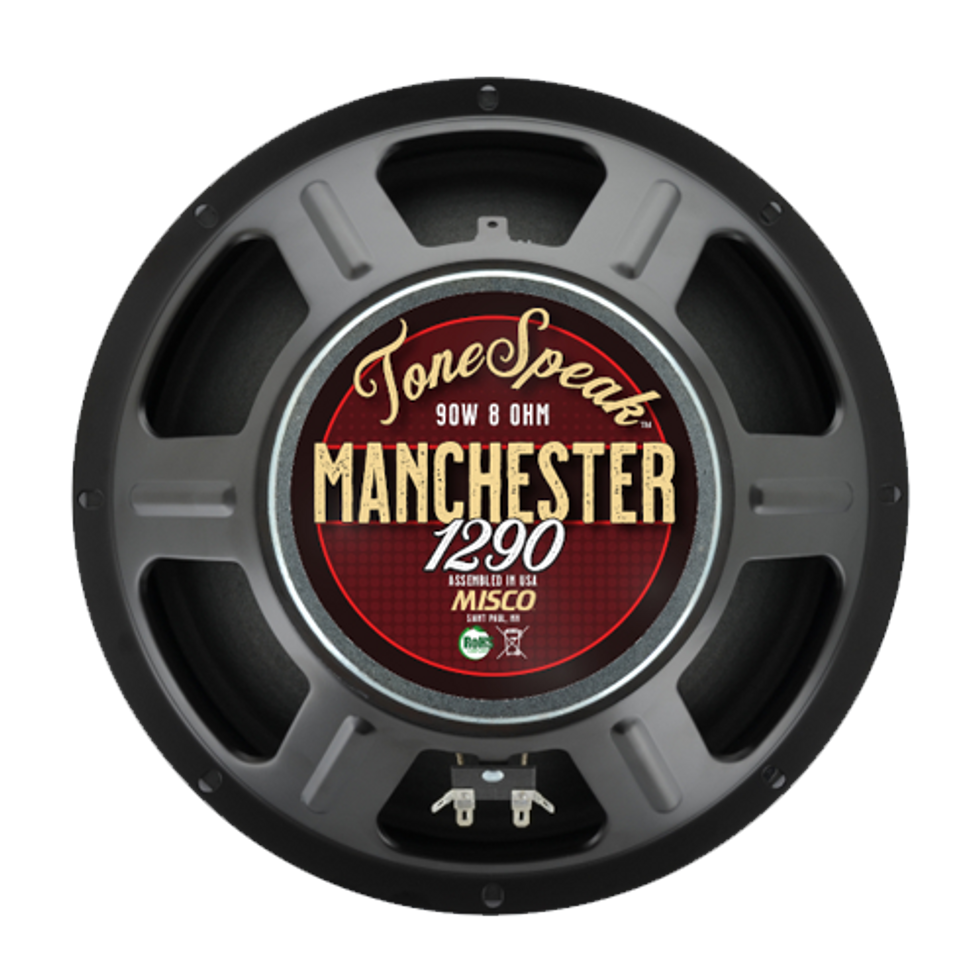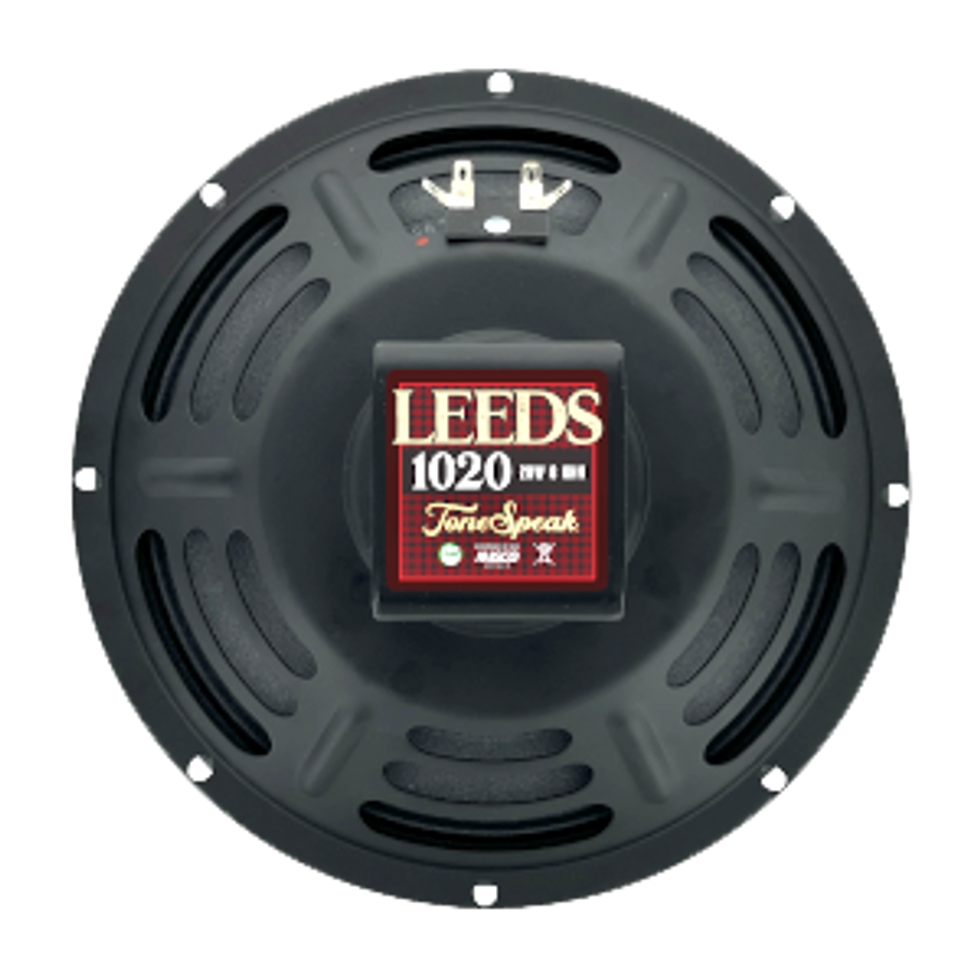 If you've got a 4x12 closed-back cab that could use an upgrade, ToneSpeak's Birmingham or Liverpool models are your go-to options for classic tone bliss. And if you want to raise the aggression factor a notch or two—while still sounding great at lower volumes—the Manchester might be your cup of tea.
ToneSpeak: The Chris Condon Demos
Seeking a specially individualized tone that perfectly fits your unique style? Blending two different speakers with varying tonal characteristics in a 2x12 or 4x12 cabinet can produce amazing results. Just ask Robben Ford: He's using the Austin 1250 and the Manchester 1290 in his Little Walter 2x12 cabinet.
On the other hand, if you're outfitting an open-backed combo, ToneSpeak's 12" offerings include a pair of American-based speakers: the Austin 1250 (the same one Robben Ford uses—see above) and New Orleans 1250.
The Austin harkens back to the classic Eminence GA-SC64 speaker. Looking to upgrade your Deluxe Reverb? This is the ticket. "The Austin 1250 is more or less transparent, so you really hear the amp," explains Lucas. "We brought the mids up—because guitar is a mid-dominant instrument—so they're more forward and clear without being harsh. The highs are really open and it's very solid in the lows."
ToneSpeak: The John Szetela Demos
The New Orleans is designed for players who like the smoky, subtle tone of a hemp cone. "We felt that other hemp-cone speakers are a bit too dark," says Lucas, "so we designed our hemp cone to have a more open sound. It's still warm and smooth, but it fills the room and takes to distortion really well. The high end doesn't sound like it has a blanket put on it."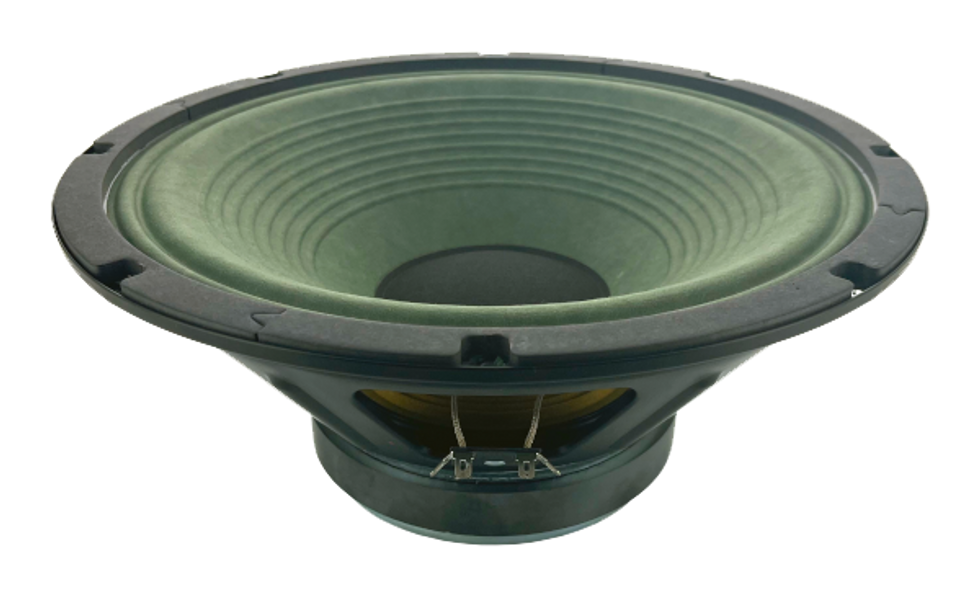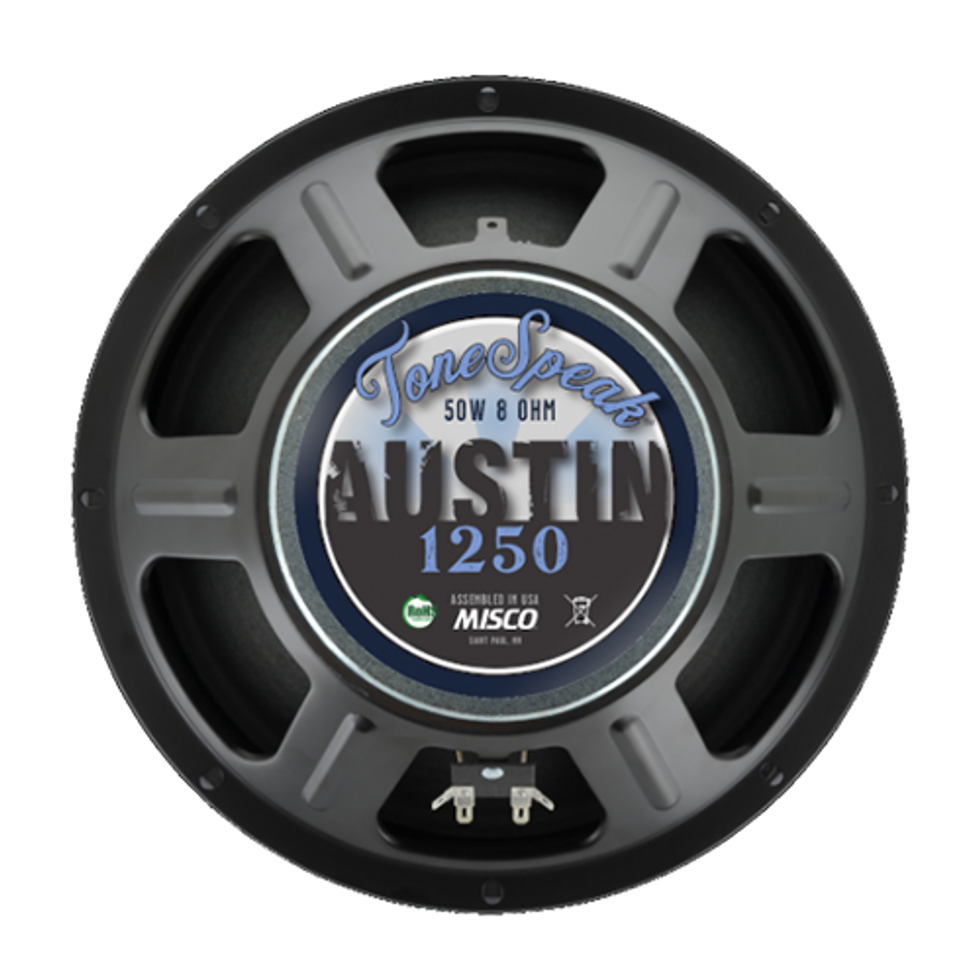 ToneSpeak also offers a range of speakers in other sizes. The company's four 10" models include American-inspired options (the Boston 1020 and Minneapolis 1050) and British voicings (Leeds 1020 and Glasgow 1050). And a pair of 8" models include a British-inspired Belfast 820 and American-voiced Detroit 820, with a hemp-composite cone that makes it perfect for Tweed Champ enthusiasts.
In designing the broad range of ToneSpeak's product line, Lucas considered all of the components that go into a guitar speaker and affect its tone: cones, coils, and spider suspension. He also delved into a factor that might not be familiar to most players: edge doping—treating the edges of the speaker cone with a substance that works as a shock absorber, to keep the cone under control at high volumes. "We compared a few different edge dopings, which have a big impact on defining upper mids and highs. They can sometimes roll off the highs too much if you're not careful. We developed our own proprietary edge doping, which I'm really proud of. It makes a big difference in the sound of the speakers and we're using it on the entire line, except for the New Orleans hemp-cone speaker, which sounded better without any doping at all."
If you're wondering how a brand-new speaker company can offer so many models so quickly, the answer is simple: They are allied with the long-established builder MISCO, aka the Minneapolis Speaker Company.
An Ongoing Legacy of U.S.-Made Speakers
Launched in 1949 by Cliff Digre, a World War II veteran with a deep interest in electronics, MISCO has been led by Cliff's son, Dan Digre, since 1990. The company builds a dizzying array of products and speakers for a variety of industries—including aerospace—many of them far-removed from the musical instruments realm.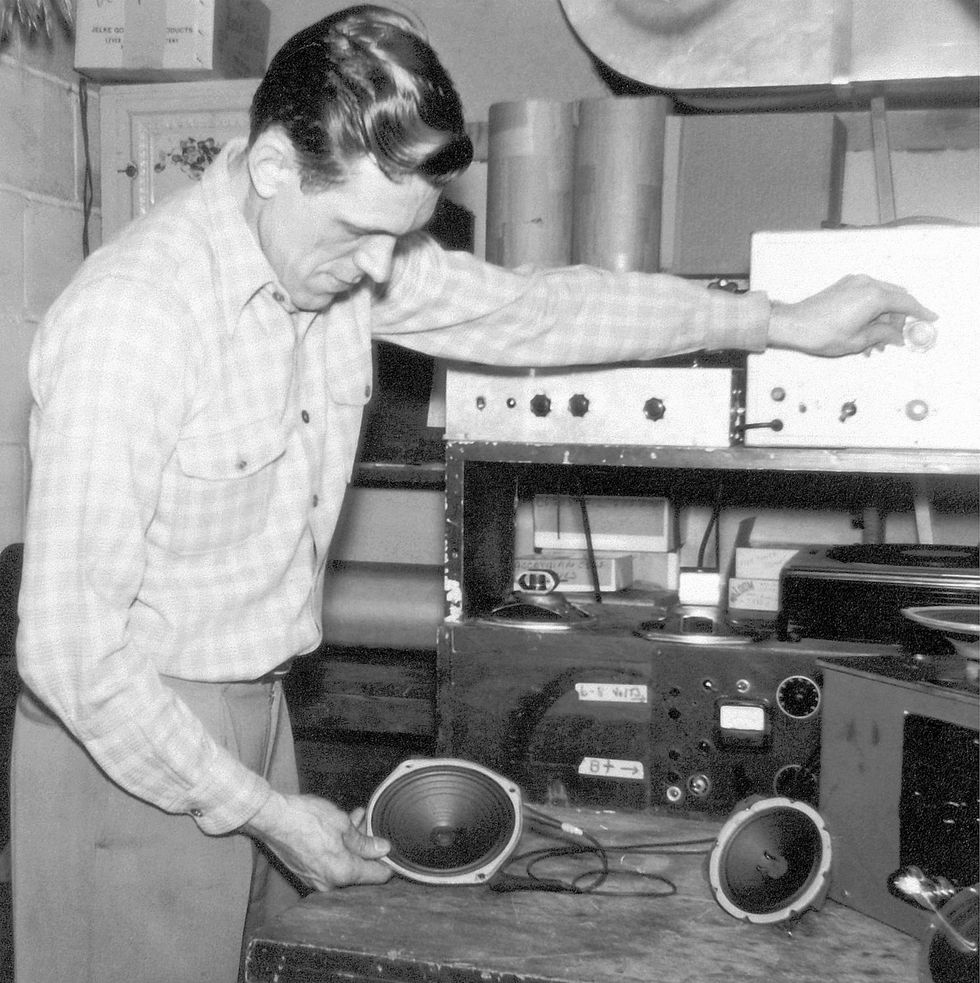 MISCO founder Cliff Digre tests an early speaker in his workshop.
However, MISCO has been making OEM guitar speakers for more than 60 years, and in the 1960s even had its own brand of speakers called Redline, that featured red cones. So, when MISCO partnered with Anthony Lucas to launch the ToneSpeak brand, the company possessed decades of know-how in the guitar-speaker arena. It was a perfect opportunity to fill a need in the marketplace. "Anthony had a lot of experience designing speakers when he worked at Eminence," notes Digre. "For decades, our core has been OEM, which by its nature means people are asking you to do things for them. ToneSpeak exists because the market was asking for some alternatives to what was out there, with an American brand behind it."
Digre readily acknowledges that building guitar speakers presents a unique set of challenges—starting with the end user's tastes and preferences. "Guitarists have an amazing sensitivity to tone color. These players have fabulous ears—they're very discerning, and I have a great respect for them. The philosophy of designing a guitar speaker is different from almost any other type of speaker because it's part of the sound of the instrument. Most other speakers are designed for the signal to pass through it as uncolored as possible. But the guitar speaker requires the color of the driver to become part of the instrument. And it's not a commodity: You need to be able to consistently, repeatedly replicate the tone color. Controlling the variables that affect tone color is very important. MISCO has the means of measuring and controlling those factors."
The Science Behind the Speakers
MISCO's engineering and manufacturing expertise is the secret sauce behind ToneSpeak's rapid rise. "There's some serious engineering in this company used by a lot of different industries," Digre admits. "MISCO builds the speakers for NASA. They're used in the space station and the Orion spacecraft that's going to land on Mars one day. While those aren't musical products, they do require a very specific set of attributes. These are very demanding applications, and your quality really has to be top notch."
Those high standards inform the entire approach behind ToneSpeak. "Whether we're building a speaker for a spaceship or a guitar amp, we're devoting the same attention to detail and consistency," Digre says. "One of our brands uses the phrase 'Our Science, Your Music.' That philosophy applies equally to ToneSpeak. We've got the science of design, the science of manufacturing, the science of testing—but they're all in the service of music. By design, I want musicians to be in this company, because a musician is going to understand a lot of things that a pure engineer is not. We need to have the musical perspective embedded into the DNA of the company."
Digre's outlook is perfectly aligned with Lucas' stance on speaker design, and the satisfaction he gets when they've nailed the formula just right. "I get a smile when a real player gets a hold onto a tool that I've made and they connect with it," Lucas says. "You can always tell by watching and hearing them. They can't stop playing. They're hooked. It's like they get lost in the music. That what really brings me joy as a designer. I've done my job."
Ultimately, electric guitarists are the beneficiaries of this approach. Whether you're upgrading your main gigging amp—or resuscitating a garage-sale find—you'll find a new range of options in the ToneSpeak line. So, roll up your sleeves, have some fun, and crank it up. Great tones are waiting for you!
To find a speaker that completes your sound, head over to ToneSpeak.com
A late-1970s entry-level axe picked up for $200 undergoes a complete makeover. Is it now a treasure?
Hey Zach,
I bought this guitar from a small shop on Sunset Boulevard in 1986 for $200. It is in very good condition overall, but I had some work done, including installing Lollar pickups, all new wiring and switching, a new nut, Grover tuners, and I had it re-fretted. The bridge and tailpiece are original. I've played the guitar often over the years and I love the feel and sound, which I believe is because of the compound radius. So I'm very curious what you think of my guitar. Trash or treasure?
Best regards,
Eric Davis in Savannah, Georgia
Hey Eric,

First of all, I like telling all guitarists that if you find a guitar that sounds and plays well—regardless of how much you paid for it—it's a treasure. An inexpensive early 1990s Washburn acoustic/electric is still my player of choice. That said, guitar collectors might look at it a little differently since they are interested in the investment aspect as well.

I've written about early Ibanez guitar history in previous columns ["Ibanez 'Lawsuit Era' Les Paul Custom Copy," July 2010 and "Ibanez Custom Agent," December 2012] and touched on the company's infamous "lawsuit" models in both, so I encourage readers to check those articles out for more information on Ibanez's interesting background. When the lawsuit centering around the assertion that Ibanez was copying Gibson's designs was settled shortly after it was filed in 1977, the company was already producing several of its own designs, and by 1979 Ibanez's entire catalog was void of any obvious copies.
The modifications you made to your guitar are tasteful, and we aren't talking about a high-quality vintage instrument from the '50s or '60s.

Your guitar, an ST 50, was part of the Studio series introduced in 1979. The Studio models featured slightly offset, double-cutaway construction with a set neck, 24 frets, and an unusual 25 1/2" scale. Many people have described the Studio series as comparable to Gibson SGs sonically, but the longer scale makes them more akin to playing a Strat. I'm guessing the re-fret you had done helped the compound radius play even better.
For pickups, Ibanez outfitted the ST 50s with their V-2 humbuckers. According to Ibanez marketing materials from the era, the pickups deliver "scorching output." Many players have described the output as warm, while others have used "muddy" to describe the V-2 tone. Regardless, it wasn't a sound for everyone and some players replaced the pickups on these Studio models with something softer—the same thing you did by swapping in a set of Lollars.

The ST 50 was the entry-level model in the Studio series. Other features include a mahogany body, laminated-maple neck, rosewood fretboard with dot inlays, nickel-chrome hardware, and master volume and master tone knobs governing the pickups. Other variations include the ST 55 (similar to the ST 50, but with individual volume/tone knobs), the ST 105 (same as the ST 55, but with a 3-piece maple/mahogany body), the ST 200 (a maple/ash body outfitted with the "EQ-2 Tone System"), and the top-of-the-line ST 300 and its Tri-Sound pickups.

Other upgrades include a set of Grover tuners, a new nut, and a re-fret to get this Studio Series find into playing
shape for its owner.
The first series of Studio guitars lasted until circa 1981, when they were replaced with a new line including the ST-70, ST-370, ST-390, and the impressive ST-1200 double-neck. A 1982 catalog shows what appears to be the last series that featured a more offset double-cutaway body—but with 22 frets—with the ST60, ST80, and ST90 models.
Your guitar's serial number (B7978XX) indicates it was made in February 1979. During this period of manufacturing, Ibanez corresponded a letter to a month within their serial numbers ("A" is January, "B" is February, "C" is March, etc.), and the first two numbers in the serial number are the last two of the build year (79 indicates 1979). It is also likely that FujiGen Gakki made your guitar, since most guitars from the late 1970s and early 1980s with this serial-number format were built by the Japanese manufacturer.

As for your guitar, reconfiguring an instrument from its original condition typically reduces its value compared to an all-original example. However, the modifications you made are tasteful and we aren't talking about a high-quality vintage instrument from the '50s or '60s. I believe your guitar is currently worth between $400 and $500. An all-original version in excellent condition might fetch $600. According to my favorite inflation calculator, $200 has the same buying power as approximately $438 today, so your guitar has kept up in that regard. This calculation doesn't take the modifications you've made into consideration, but since this guitar is a player, I'm guessing that doesn't matter to you! I think you have a treasure, because you've found a guitar that plays well and sounds great. And most musicians will agree that's the main goal—regardless of cost.
Vox acoustic guitars are rare birds, but how high do they fly in today's market?
Hey Zach,

I bought this Vox acoustic guitar in the early 1990s at a guitar show for $150. At the time, I thought it was really cool, but didn't play it much. Now it sits around amongst my guitar collection and I'm considering selling it, but would like to know what it's worth and if it's worth holding onto. Could you share some history on the guitar and tell me what it's worth?

Thanks,
Jeff in Eugene, Oregon
Hi Jeff,

When it comes to Vox, AC30s and the Beatles likely come to mind first. But since the company was founded in 1957, they've also offered a wide range of electric guitars, acoustic guitars, organs, and effects in addition to their famous amplifiers. I suspect $150 was a pretty fair price to pay for this guitar in the early 1990s, but the question is if the guitar has increased or decreased in value.

Vox's first electric guitars were designed in 1960 and introduced in 1961. Built in England, these first models—called the Stroller and Clubman—were based on Fender designs. Interestingly, Fender guitars were unavailable in England during the early '60s, so these first Vox models were designed to fill a void. The pentagon-shaped Phantom series followed in 1962, and became Vox's best-known and most-collectible guitars. Other models followed in 1963.
The Rio Grande is essentially a more ornate version of the Country Western and also a quasi-signature model for the late Nashville-based country artist Eddy Arnold.

A few things happened to the expanding company in 1964. First, Vox outsourced production of their guitars to an Italian manufacturer called Eko. Then, in order to raise capital for his company, Vox founder and owner Tom Jennings sold a controlling interest of Vox to U.K.-based Royston Industries. A year later, the Thomas Organ Company of California began importing a line of Vox-branded acoustic guitars built by Eko into the U.S. For those of you familiar with Eko guitars, the similarities are striking. As far as I can tell, no acoustics were offered in England.

Vox's acoustic models included the dreadnought Country Western V238 (a rebranded Eko Ranger 6), the Folk XII V239 (essentially a 12-string version of the Country Western and a rebranded Eko Ranger 12), the entry-level folk-style Serenader V220, the 12-string Shenandoah V279, and your guitar—the Rio Grande V278.

The Rio Grande is essentially a more ornate version of the Country Western and also a quasi-signature model for the late Nashville-based country artist Eddy Arnold. Your Rio Grande features a solid-spruce top, mahogany back and sides, a set mahogany neck (as opposed to the bolt-on neck of the Country Western), a rosewood fretboard with large pearl-block inlays, a pearl vine-themed headstock inlay, and a three-point pickguard with both Eddy Arnold's signature and the model-name "Rio Grande" adorning it.
Unfortunately, there aren't any reliable serial-number lists for Vox guitars and the numbers used by Eko seem like they were assigned completely at random. We do know that Vox acoustic guitars were built from late 1965/early 1966 until they were all discontinued in 1969—when both U.S. and European guitar manufacturers were feeling the pressure brought on by cheaper offerings from manufacturers in Asia.

Vox restructured their line with a series of Japanese-produced solidbody guitars, but they didn't offer acoustic guitars again. Vox reissued their Phantom guitars in the late 1990s and would also produce the original-design Virage series that launched in 2007. Vox continues to produce a full line of guitar amplifiers, but currently only has one guitar in their line-up, called the Starstream. They are, however, currently producing ukuleles.
Today, a Vox Rio Grande is worth between $600 and $750 in excellent condition. If you paid $150 for this in the early 1990s (let's say, 25 years ago), that $150 guitar should be worth $266 today just based on inflation. So if you decide to sell it now, the guitar is worth about three times more than when you bought it. If you decide to hang onto it, only time will tell if it increases or decreases in value. I don't have a crystal ball, but as far as Vox acoustics go, this model is definitely the treasure of them all!
Twenty bucks for a 1970s Sunn combo in excellent condition makes for a Saturday well spent!
Hey Zach,

I was recently at a garage sale and bought a Sunn Solos II guitar amp for $20 Canadian. It is a 2x12 solid-state combo with a tremolo/reverb footswitch. Everything appears to be in original and near-perfect condition. The speaker grille has no tears, but has slightly turned a little yellow due to age. I found very little information on this amp. Can you give me a little history and possibly a value?

Thanks,
Jeff Sexsmith
Lloydminster, Alberta, Canada
Hey Jeff,

You never know what you're going to find at a garage sale! I don't always have the patience on a Saturday morning to go house-to-house trying to find the next treasure, but every now and then you come across a good old piece of gear. It's even better when you find an old piece of gear at a bargain price.

Brothers Norm and Conrad Sundholm founded Sunn in the mid-1960s in the Portland, Oregon, area. Norm was the bassist for the Kingsmen, and after the band gained overnight success with their hit "Louie Louie" in 1963, he quickly realized that the amps they had were not powerful enough to play large concerts. So, Norm enlisted the help of Conrad to design a more high-powered bass amplifier, and the result was the first Sunn amp.
The Sunn brand is still owned by Fender, but Sunn-branded amplifiers haven't been produced for many years.

The Sunn brothers quickly outgrew the confines of their family garage, where they had set up shop. In 1965, they moved into a repurposed, swimming pool facility in Tualatin, Oregon, where they would manufacture and expand their line to include a full range of amplifiers. The Who famously used Sunn amps on their North American tours in late 1967 and 1968, and the company's notoriety grew in the music-gear business.

Unfortunately, Sunn's initial success was short-lived. In 1969, Conrad bought Norm out of the company after the brothers began disagreeing on business decisions. Three years later in 1972, Conrad sold the company to the Hartzell Corporation. Production then moved to Williamstown, Kentucky, but they were still shipping components from Oregon at great expense. It should also be noted that by the 1970s Sunn was heavily involved with solid-state technology, which wasn't considered as good as tube amps by many musicians. Sunn manufacturing would return to Oregon after a few years.

Production floundered through the late 1970s and early 1980s, before Fender bought Sunn in 1987. Fender initially produced Sunn amps for a few years, but mothballed the trademark until 1998 when they rolled out a new line of Sunn amps. That line only lasted until 2001. Interestingly, the Sunn 300T became the Bassman 300, which remained in Fender's product line through 2012. The Sunn brand is still owned by Fender today, but Sunn-branded amplifiers haven't been produced for many years.

The icing on the cake for this garage-sale steal is the original dual-footswitch that was still paired with the amp.
The Solos II amps were produced in the 1970s and designed for guitar use. Like many Sunn amps from this era, they utilized a solid-state chassis. Your model has two 12" speakers (a 1x15 configuration was also available), 120-watt output, two channels with normal and brite inputs for each channel, reverb and vibrato on channel 2, and a distortion switch labeled as "X20." The fact that your amp came with the original footswitch for controlling reverb and vibrato is pretty cool, since unattached items like footswitches tend to go missing over the years.

Today, Sunn has developed a bit of a cult following by musicians in the stoner-rock genre. Sunn amps fit the genre because they're loud, relatively clear, put out a good bass sound, and can deliver a ton of distortion.
These Solos II amps are currently worth between $400 and $600 (U.S.) in excellent condition, which your amp most certainly is. You did very well picking it up for $20 (U.S. or Canadian). Take care of it like the previous owner did and you will have a treasure for years to come. And keep checking out those garage sales!