Trash or Treasure: Ibanez Studio Series ST 50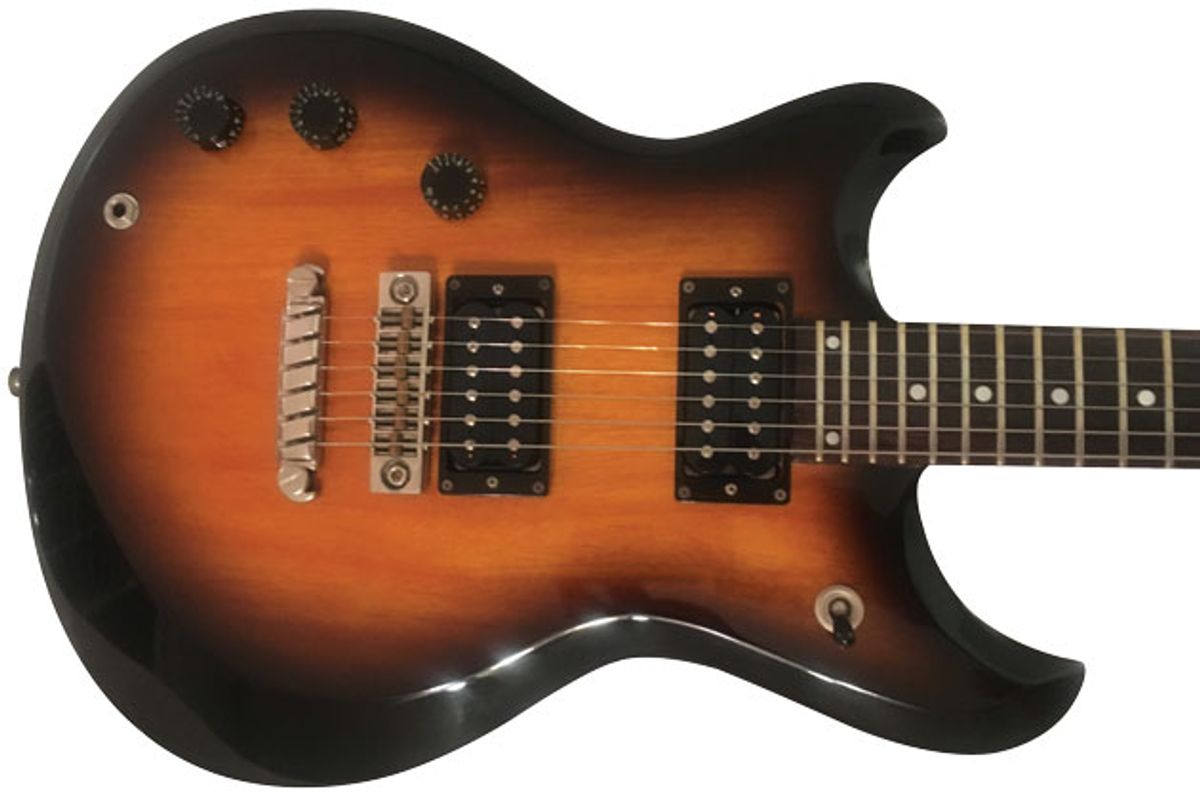 A late-1970s entry-level axe picked up for $200 undergoes a complete makeover. Is it now a treasure?
Hey Zach,
I bought this guitar from a small shop on Sunset Boulevard in 1986 for $200. It is in very good condition overall, but I had some work done, including installing Lollar pickups, all new wiring and switching, a new nut, Grover tuners, and I had it re-fretted. The bridge and tailpiece are original. I've played the guitar often over the years and I love the feel and sound, which I believe is because of the compound radius. So I'm very curious what you think of my guitar. Trash or treasure?
Best regards,
Eric Davis in Savannah, Georgia
Hey Eric,

First of all, I like telling all guitarists that if you find a guitar that sounds and plays well—regardless of how much you paid for it—it's a treasure. An inexpensive early 1990s Washburn acoustic/electric is still my player of choice. That said, guitar collectors might look at it a little differently since they are interested in the investment aspect as well.

I've written about early Ibanez guitar history in previous columns ["Ibanez 'Lawsuit Era' Les Paul Custom Copy," July 2010 and "Ibanez Custom Agent," December 2012] and touched on the company's infamous "lawsuit" models in both, so I encourage readers to check those articles out for more information on Ibanez's interesting background. When the lawsuit centering around the assertion that Ibanez was copying Gibson's designs was settled shortly after it was filed in 1977, the company was already producing several of its own designs, and by 1979 Ibanez's entire catalog was void of any obvious copies.
The modifications you made to your guitar are tasteful, and we aren't talking about a high-quality vintage instrument from the '50s or '60s.

Your guitar, an ST 50, was part of the Studio series introduced in 1979. The Studio models featured slightly offset, double-cutaway construction with a set neck, 24 frets, and an unusual 25 1/2" scale. Many people have described the Studio series as comparable to Gibson SGs sonically, but the longer scale makes them more akin to playing a Strat. I'm guessing the re-fret you had done helped the compound radius play even better.
For pickups, Ibanez outfitted the ST 50s with their V-2 humbuckers. According to Ibanez marketing materials from the era, the pickups deliver "scorching output." Many players have described the output as warm, while others have used "muddy" to describe the V-2 tone. Regardless, it wasn't a sound for everyone and some players replaced the pickups on these Studio models with something softer—the same thing you did by swapping in a set of Lollars.

The ST 50 was the entry-level model in the Studio series. Other features include a mahogany body, laminated-maple neck, rosewood fretboard with dot inlays, nickel-chrome hardware, and master volume and master tone knobs governing the pickups. Other variations include the ST 55 (similar to the ST 50, but with individual volume/tone knobs), the ST 105 (same as the ST 55, but with a 3-piece maple/mahogany body), the ST 200 (a maple/ash body outfitted with the "EQ-2 Tone System"), and the top-of-the-line ST 300 and its Tri-Sound pickups.

Other upgrades include a set of Grover tuners, a new nut, and a re-fret to get this Studio Series find into playing
shape for its owner.
The first series of Studio guitars lasted until circa 1981, when they were replaced with a new line including the ST-70, ST-370, ST-390, and the impressive ST-1200 double-neck. A 1982 catalog shows what appears to be the last series that featured a more offset double-cutaway body—but with 22 frets—with the ST60, ST80, and ST90 models.
Your guitar's serial number (B7978XX) indicates it was made in February 1979. During this period of manufacturing, Ibanez corresponded a letter to a month within their serial numbers ("A" is January, "B" is February, "C" is March, etc.), and the first two numbers in the serial number are the last two of the build year (79 indicates 1979). It is also likely that FujiGen Gakki made your guitar, since most guitars from the late 1970s and early 1980s with this serial-number format were built by the Japanese manufacturer.

As for your guitar, reconfiguring an instrument from its original condition typically reduces its value compared to an all-original example. However, the modifications you made are tasteful and we aren't talking about a high-quality vintage instrument from the '50s or '60s. I believe your guitar is currently worth between $400 and $500. An all-original version in excellent condition might fetch $600. According to my favorite inflation calculator, $200 has the same buying power as approximately $438 today, so your guitar has kept up in that regard. This calculation doesn't take the modifications you've made into consideration, but since this guitar is a player, I'm guessing that doesn't matter to you! I think you have a treasure, because you've found a guitar that plays well and sounds great. And most musicians will agree that's the main goal—regardless of cost.