Photo by Chuck Brueckmann
On the band's new album, Pawns & Kings, its creative leaders prove the virtues of deep songwriting, tube amp tones, PRS guitars, and hard work.
On top of having all the trappings of an epic rock band, Alter Bridge, who've just released a new album called Pawns & Kings, has the necessary talent and magnetism to back them up. Just look at the lineup: Their charismatic frontman, singer/guitarist Myles Kennedy, is considered among the best vocalists in modern rock; guitarist Mark Tremonti is not just heroic on the instrument, but virtuosic; and together, Brian Marshall's melodic bass playing and drummer Scott "Flip" Phillips' Bonham-like power generate megawattage.
Tremonti, Marshall, and Phillips are also founding members of Creed, one of the biggest rock bands of the past few decades. Kennedy is the singer for Slash's solo band. And, Kennedy and Tremonti have also been enjoying successful solo careers: Tremonti just released Tremonti Sings Frank Sinatra, recorded with Ol' Blue Eyes' surviving bandmembers and benefitting the National Down Syndrome Society.
Alter Bridge - Holiday (Official Video)
Clearly, Tremonti and Kennedy have their creative engines in high gear. "It's an addiction," Tremonti explains. "You write that song that makes your hair stand up, and you want to do it again. It's the same with anything creative, whether writing a song or book, or painting a picture. It is like a drug."

As Kennedy points out, the trick is balancing that addiction with the signature sound they've created for the past 20 years. "We're nearly two decades in, and we have a good understanding of what boxes to check and what our fan base wants to hear. It's that delicate dance of making sure that they're content and that we're also still pushing ourselves."
"I started as a guitar player. Lead, in particular, was my big passion growing up."—Myles Kennedy
For many fans, Alter Bridge's second release, Blackbird, defined the band's sound. It took everything they loved about the first record, One Day Remains, and made it bigger, darker, and more complex—epic, in a word. The title track clocks in at over 7 minutes long and pits Kennedy and Tremonti against each other in one of the best guitar duels in recent rock history. Since then, each Alter Bridge record has kept on this path, piling on more and more heavy, melodic elements. But there is a limit, and on Pawns & Kings, the band was ready to make a change.
"If you listen to some of the prior records, there were a lot of textures and elements weaving through," explains Kennedy. "The other day, I was reviewing one of the songs from [2016's] The Last Hero. I was listening on headphones and was like, 'I didn't even know that keyboard part was in there!' We pulled all that out of this record. 'Less is more' was the motto."
Tremonti adds, "We decided, 'Let's get back to our old way of doing things.' We want it to be more just the guys playing their instruments. No orchestration underneath. No pads. Just us. It gives it more depth, and everything else has more room to breathe."
Alter Bridge - Pawns & Kings (Official Video)
That choice worked out in their favor, and on Pawns & Kings, Alter Bridge's songwriting, musicianship, and crushing guitar tones are more in your face than ever. The band's longtime producer Michael "Elvis" Baskette—who has also worked with Creed, Mammoth WVH, Sevendust, and Slash—was crucial to the creative process.
"[Elvis is] such an important element," says Kennedy. "He's an incredible producer. He can get great tones, and he has a really great arrangement ability. More than anything, he understands the psychology of making records. That's so much of what this process is about."
Baskette, who's manned the board for Alter Bridge since Blackbird, knows exactly what the guys are capable of, and he had them dig deep. "I think it's our densest record by far," says Tremonti. "It's a lot to take in on first listen."

Kennedy adds that "we've integrated more of a demoing process, where each guy will go to his corner and spend time on the ideas that he feels strongest about before presenting them to the band." He names the new track "Sin After Sin" as an example of this recent dynamic. "It was this musical bed that Mark had, and then I came up with some lyrics, melodies, and whatnot."
"Usually, when it's the heavy, chunky stuff, I'll track that first, and then Myles will track a lot of his atmospheric, effected stuff." —Mark Tremonti
Although both musicians have a similar writing process, how their diverging styles meet creates the band's trademark sound. For Tremonti, a die-hard metalhead, it's about exercising those tendencies outside the band while opening the floodgates for Alter Bridge. "Usually, when I write for Tremonti [the name of his solo project], I try to put on my speed-metal hat. That's when I get to pull out all my childhood metal influences. I love that stuff, so it's always fun. Other than that, I like to write whatever comes out."
Kennedy tends to follow a more traditional singer-songwriter approach, as heard on Alter Bridge's acoustic staple, "Watch Over You," from Blackbird. But he's not afraid to branch out, even lacing his debut solo album, The Year of the Tiger, around gritty resonator-guitar blues. But this time, one song, "Holiday," with its old-school rock vibe, seemed like a step too far.
"I almost didn't even present it to the band," he admits. "I played the demo to our producer, and he's like, 'Oh, that's going on the record! It's got that swing and that swagger.' I'm glad he helped."
Mark Tremonti's Gear
Tremonti digs into one of his PRS signature guitars, which are made from mahogany with a flamed maple top, have a thin set neck, medium jumbo frets, and PRS Tremonti Humbuckers.
Photo by Chuck Brueckmann
Guitars
PRS Mark Tremonti Signature
PRS Custom Baritone
Martin acoustics
Taylor acoustics
Ramirez classical
Amps
PRS MT 100 Signature prototype
PRS MT 15 Signature
Dumble Overdrive Special
Cornford RK100
Mesa/Boogie Oversize 4x12s
Effects
Morley Mark Tremonti Wah
Ibanez TS808HW Handwired Tube Screamer
MXR Uni-Vibe Chorus/Vibrato
Boss OC-5 Octave
MXR Smart Gate Noise Gate
Picks and Strings
Dunlop Flow 1.3 mm
D'Addario (.011–.052)
The guitarists trade leads on tracks like "Dead Among the Living" and "Last Man Standing," and Tremonti says they take very different approaches to the stage and studio. "I was never one of those guys who likes to stay up late at night, break out a million pedals, and experiment with tones. So, usually, when it's the heavy, chunky stuff, I'll track that first, and then Myles will track a lot of his atmospheric, effected stuff."
With Tremonti and Kennedy at the top of their game as guitarists and vocalists, one constantly pushes the other, elevating the band. "Stay" stands out as an example, "because it's a major key, it's very anthemic, and you have Mark singing," relates Kennedy. "He was insecure about his vocal, and I remember telling him to stop that nonsense [laughs]. His voice is great, and because I'm more of a tenor, there's a nice blend there.
"I started as a guitar player," Kennedy continues. "Lead, in particular, was my big passion growing up. The only reason I ever started singing was that it was easier to sing [my own songs] once I started writing them. When Mark discovered that I played lead guitar, he always pushed it. It's the same nudging I did with him and his vocals."
For their latest album, Alter Bridge scrapped their usual textured approach for a stripped-down-but-strong framework. "We want it to be more just the guys playing their instruments," Tremonti declares.
"I know that everything I throw at Myles, he's capable of doing," Tremonti adds, "and he's going to fill a different sound. He's got a signature sound. It adds another layer for the band."
Guitar tone is a big deal in Alter Bridge. Tremonti was Paul Reed Smith's second signature artist and helps design every piece of gear that bears his name. Although his PRS Mark Tremonti Signature rarely leaves his hands, a different PRS delivered Pawns & Kings' heaviest moments. "I have a baritone that we used almost all the time," Tremonti says. "Anything tuned low is that guitar. When I brought it into the studio, Elvis was like, 'No shit! I used that when I recorded Limp Bizkit.' Then, I was doing a show with Limp Bizkit, and Wes [Borland, Limp Bizkit guitarist] came over. He's like, 'Is that what I think it is? Is that the baritone? Shit, that's a great guitar!'" Tremonti and PRS have also collaborated on the MT 15 amplifier. The lunchbox-style head is a favorite for its percussive high gain and clean channels. Pawns & Kings also offers the first hearing of the upcoming PRS MT 100, a 100-watt signature version that even dethroned Tremonti's beloved Mesa/Boogie Rectifiers for the sessions.
Myles Kennedy's Gear 
Myles Kennedy is a double threat: a great rock vocalist who can also shred like a maniac when called upon to do so.
Photo by Chuck Brueckmann
Guitars
PRS SC245
PRS Custom Singlecut
Amps
Diezel VH4
Diezel Herbert
Dumble Overdrive Special
Diezel 4x12
Effects
Custom Audio Electronics Wah

EHX Micro POG
Boss RV-6
Foxrox Octron3
Reeves Klon clone
Line 6 MM4 Modulation Modeler
Picks and Strings
Dunlop Ultex 1.14 mm
D'Addario (.011–.052)
"I just approved the final version," Tremonti says. "The clean channel, to me, is the ultimate clean channel. I pulled out all my Fender Twins, played through them one by one, and found my favorites. But when I played them back-to-back with the MT 100, I preferred the MT 100. The third channel is the overdrive channel, and it's badass. I wanted it to be all I'd ever want at my home, studio, and on tour. And I made the middle channel an overdriven Dumble-ish kind of thing."
Kennedy is also a PRS devotee, and has leaned on his trusty tobacco burst SC245 for years. While he did experiment with a Fender Telecaster for Alter Bridge's 2019 Walk the Sky album sessions and tour, he's replaced that instrument with another PRS. "There's this one-off PRS made me last year," he says. "It does a lot of the things I wanted it to do in the Tele realm. It's a black Singlecut, and that is what I played on 80 percent of this record."
"We decided, 'Let's get back to our old way of doing things.' No orchestration underneath. No pads. Just us." —Mark Tremonti
Kennedy is also passionate about his amps, and chose to go with Diezel Herberts and VH4s long ago. "It was really challenging to find a setup that worked with Mark's," he says. "There's a wide amount of frequencies being used. It was a matter of finding a nice middle ground that complemented what he did."

Kennedy and Tremonti remain unabashed high-powered-tube-amplifier fans. "Mark and I still want those tubes to be working," Kennedy says. "We're kind of old school in that sense. Our manager, I'm sure, would love us to switch to Kempers to save a ton of money. But we're kind of bullheaded. We'll keep flying the flag, man."
Rig Rundown - Alter Bridge's Mark Tremonti & Myles Kennedy
Tremonti also notes, "I did half of a tour with a Kemper at one point, just to try it out. I never found the right lead setting that made me comfortable. I always felt some digital weirdness in there. When I switched to my MT 100, I wouldn't go back. So, on the road, it's just the one MT 100 now."
All in all, Alter Bridge are still decidedly old-school in their business strategies: record, tour, work hard, repeat. "It was hard enough once people stopped buying physical copies of records, and then you add the way the world's changing," Kennedy says. "Being a musician … you got to work hard. But we're in Munich right now, and it's like, 'So far, so good.' It's kind of blowing our minds that people are showing up. It's been great!"
From left to right: Scott Phillips, Mark Tremonti, Myles Kennedy, and Brian Marshall make for a powerhouse collective that shows no sign of relenting in their epic delivery of hard rock.
Photo by Chuck Brueckmann
But does that kind of work ethic have a breaking point? "To be totally candid, there was a period when I was afraid that could happen," admits Kennedy. "I was like, 'You know what, I did three records back-to-back-to-back. I've got to shut this down for a little while and let the well refill'—which is weird for me. Usually, once a record's done, I'm already on to the next one."
Tremonti hasn't stopped long enough to think about it. "I remember watching an interview with Carl Verheyen," who was a member of Supertramp and has recorded with Dolly Parton, the Bee Gees, and a host of others. "He's like, 'I'm a professional guitar player. I don't go a handful of days a year without playing the guitar.' That struck me. Now, I try to make sure that when I'm gone from home, I'm working all the time. Every day I'm practicing for the next Sinatra shows. I've got two coming up after this tour, and I have another one in March. I'm trying to book as many as I can. I'm also writing a book, which is taking up most of my time at the moment. Then, I'm writing songs for whatever happens next, trying to stay ahead of things."
Alter Bridge Blackbird Live From Amsterdam
The sonic assassin slays with a signature ESP tone scalpel that blurs digital and analog—running through 5150s, an Axe-Fx, and a few grimy, bewildering slicing stomps.
What would you get if you put the heaviness of Converge, the industrial sounds of Nine Inch Nails and Type O Negative, the catchiness of '90s metalcore, the frantic delivery of Black Flag, and the sampled-chopped-and-glitched production of hip-hop into a blender and hit liquefy? You'd get 100 percent of your daily intake of Code Orange.
The band was formed—as the Code Orange Kids—in 2008 in Pittsburgh, Pennsylvania, by Eric "Shade" Balderose (vocals, keys, programming, and guitars), Reba Meyers (guitars and bass), Jami Morgan (drums and vocals), and guitarist Greg Kern (who left in 2010). The current lineup also includes bassist Joe Goldman and guitarist Dominic Landolina.
They've always played heavy and fast, rising quickly in the hardcore ranks with 2012's Love Is Love/Return to Dust and 2014's I Am King, but things took a dramatic, dense turn in 2017. (The band shortened their name ahead of the 2014 release.) Their Grammy-nominated, critically-acclaimed third and fourth albums, 2017's Forever and 2020's Underneath, incorporated all hues of heavy—drawn from all corners of crunch. In a 2020 interview with PG, Meyers explained the progression:
"We took as much of it into our own hands that we could—writing, recording, mixing, mastering—and it drove us crazy, but we knew if we really did this record how we imagined it, it could become something that we're extremely proud of and is recognized by people beyond the niche world of hardcore that we come from. That was proven to us a little bit on Forever, because of the Grammy nod. We realized that if we really took what we do to the absolute fucking edge, we could make something important and bigger than ourselves. Especially bigger than our individual selves, because it's a full-band effort."
Creativity and performance are one thing, but how does a guitarist convey all the ideas in his or her head into a specific sound and where does that explorer mentality arise?
"We didn't have shit growing up. I would borrow people's old Carvin amps that barely worked, and through that you'd learn what really mattered. The crap gear sometimes would produce cool sounds that you wouldn't expect, and your ears grow and evolve," recalls Meyers. "Bottom line, what matters most is your hands, your creativity, and your performance. For that reason, I pick pedals that are loud and proud to speak in my language and Code Orange's language."
The afternoon before Code Orange's middle slot for hip-hop duo $uicideboy$'s arena tour stop at Nashville's Municipal Auditorium, Meyers pulled her gear aside and invited PG's Chris Kies backstage to catalog her eviscerating setup. In this RR, she details her signature ESPs (and why they no longer have EMGs), shows how she breaks down the digital-versus-analog wall by pairing an Axe-Fx III with a 100W 5150, and chronicles the "toys" she enlists to converse in the band's dialect.
Brought to you by D'Addario XPND Pedalboard.
Reba's Ride
Code Orange's Reba Meyers attacks the stage every night with her trusty signature ESP LTD Reba Meyers RM-600 that is a fresh spin on the Japanese brand's Viper model. A string-through neck-through construction (a rare find on LTD models), a single EMG 81 in the bridge (with a custom matching orange font that pairs with its headstock logo—supposedly the only EMG pickup with orange lettering), a 6-in-line reverse headstock like some M-I and M-II models, a kill switch, and a mesmerizing satin black-marble finish give this 6-string stinger its own thumbprint. Other more-common features in this slightly offset double-cut are a mahogany body, a 3-piece maple neck, a Macassar ebony fretboard, and a locking TonePros Tune-o-matic-style bridge.
In her 2020 interview with PG, Meyers had this to say about the collaborative design process: "I started playing around on an iPad and took a reverse headstock ESP guitar and virtually glued it to a Viper body and threw a weird finish on it, sent that mock-up to ESP as a basic version, and, to my surprise, Tony [Rauser, artist relations] was really hyped on it! I didn't expect them to let me change the headstock on a model that they'd been doing a certain way for so long, but the team approved it and they figured out a process to do the finish with Saran Wrap."
One thing keen observers will notice is that this signature (and the next) no longer has the custom EMG 81 in it. Reba swapped hers out for Railhammer Chisel Bridge humbuckers. She says in the Rundown that the Railhammer balances out and thickens the tight, taut tone of her signature Viper. And as she puts it, "It's fun, I just love trying new shit. I want to focus on playing—you can use the pickups and gear as a tool, but if I start thinking about it too much it messes with my creative flow."
All her guitars take Ernie Ball Not Even Slinkys (.012–.056). She attacks the strings with various brands of picks (1.14 mm), and the band's songs revolve around these tunings: drop B, drop B# (low-E string only), custom B minor (C#-B-D-F#-B-D) for "Bleeding In the Blur," and a few other variations.
Righteous Reform
Here's Reba's axe in the shape of a Japanese-built ESP Custom RM-600 with a Railhammer Anvil bridge humbucker and similar specs and layout to her LTD. She typically plays this one until it's beaten out of tune.
Drop-top Charger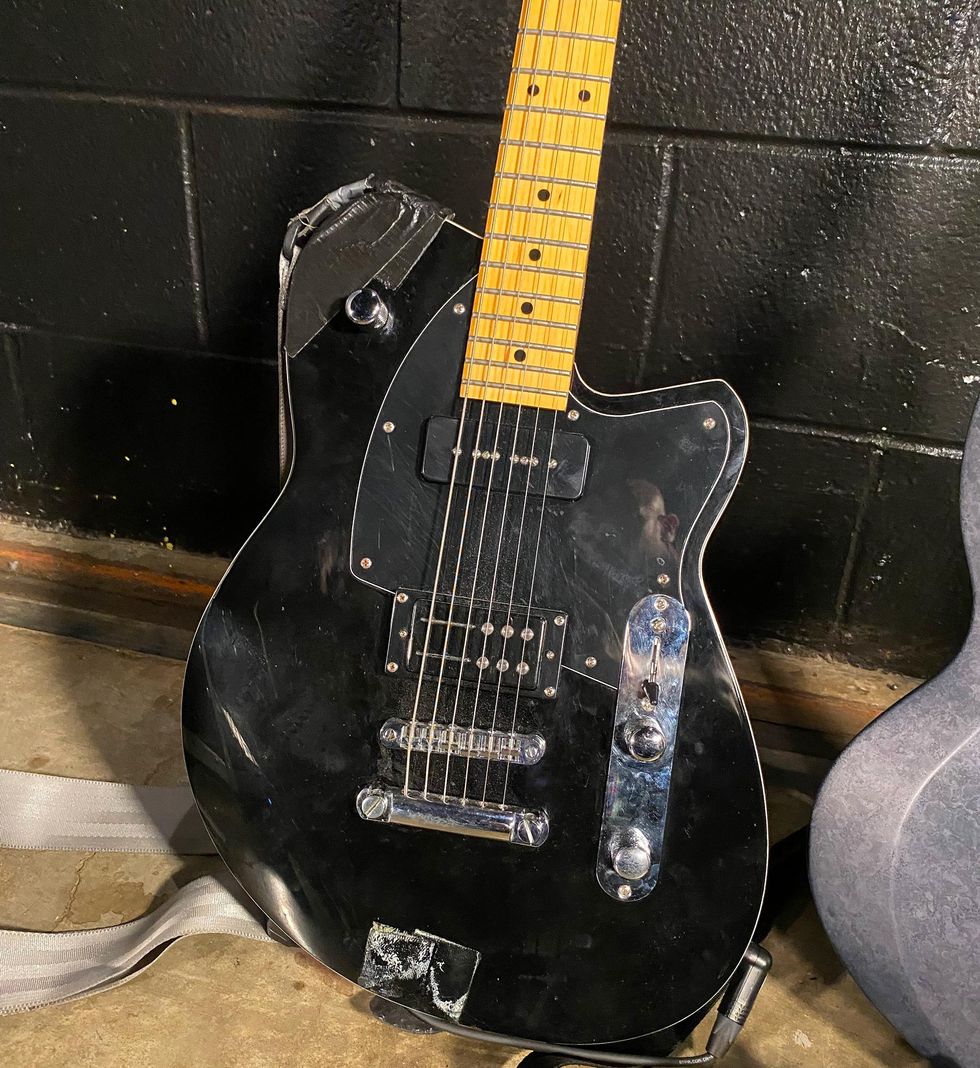 This Reverend Charger 290 is reserved for when Reba needs a B-minor guitar. She took out the bridge 9A5 pickup and dropped in another Railhammer humbucker. She says that this is a thicker-sounding instrument that really eats up power chords.
5150 Firepower
Reba has been harnessing the ferocity of the EVH 5150IIIS EL34 head for a few years. She digs the 100W beast because it has a "tight sound with lots of character." Growing up playing Marshalls, her ear is used to the EL34s, and she remarks that Code Orange's other guitarist, Dominic Landolina, plays an EVH 5150III 50W 6L6 head, so the two blend together like a twist cone.
Silver Panther
These EVH 5150III 4x12s have stock guts with their standard quad of Celestion G12 EVH 20W speakers, but Reba customized the look by applying the band's longtime panther logo on the front.
Mini-Fridge Rack for Reba
If her 5150s are the toast to her tone, the Fractal Audio Axe-Fx III lays on the butter. She runs it through the effects loop of her amp and uses it to coordinates channel switching. Reba notes that for some songs she uses it only as a gate, while for others she adds in precise modulation, delay, reverbs, and "noise." And when it comes to the digital versus analog debate, Reba believes that "the Axe-Fx does have a digital sound, but rather than try and make it more analog-sounding, I lean into the digital crispness and program sounds that sit on top and cut through our dense mix.
"I love what I play and I am intentional with it, but I don't want to be boxed into a gear obsession, because otherwise I'll get lost. At the end of the day, we're just playing with toys. We're playing a music video game in real life."
The rest of the rack features a Two Notes Torpedo Captor X that she uses for cab sims and sending a pure, direct signal to FOH so they can mix that with the SM57 mic on the 4x12s. A Shure GLXD4 Wireless unit keeps her untethered and a RJM Mini Amp Gizmo uses MIDI to switch the amp via the Axe-Fx III. (The iConnectivity MioXM MIDI Interface in the photo is for bassist Joe Goldman.)
Reba Meyers' Pedalboard
Starting off, Reba has two always-on pedals: the ISP Decimator and the Ibanez TS9 Tube Screamer. Her three stooges of noise include the Moog MF Ring Mod, Boss PS-6 Harmonist, and an AMT Electronics WH-1 Japanese Girl Optical Wah. The Universal Audio Astra modulation machine is a recent addition that she's been finding ways to warp into the set. Everything is controlled by the RJM Mastermind PBC/10 and laced up with George L's cables.
The TOD10N is Tim's newest signature instrument and a vast departure from his original AZ-based guitar.
Set for release in 2023, Ibanez has officially announced its latest collaboration with modern guitar Phenom, Tim Henson. The TOD10N is Tim's newest signature instrument and a vast departure from his original AZ-based guitar. This specialized acoustic/electric immediately drew interest and attention when it appeared on Tim's social media channels and Polyphia's music video for their song, Playing God.
Tim's inspiration for this guitar came from a previous Ibanez design called the SC500N. This older model was unique in that it was a solid body electric, but it utilized nylon strings paired with a Piezo pickup system. While the TOD10N certainly drew inspiration from that model, the specifications are quite different and it's very much its own creation.
The body shape is based on the FR series but is hollow in its construction. The design also incorporates a discrete sound hole located on the upper bout, directed towards the player. This preserves the clean, modern appearance of the guitar, while also providing clear and accurate acoustic tone. Fan Bracing is another critical element of the TOD10N. A bracing style generally found on classical guitars, it was incorporated to help facilitate and enhance the "Nuevo Flamenco" style Tim and Polyphia have been exploring as of late. Other notable features include a solid Sitka Spruce top, Walnut fretboard, Fishman® Sonicore pickup, and the "Tree of Death" inlay, designed by Tim. The TOD10N will be hitting stores sometime in Q1 of 2023.
Features:
22 frets
FRH body
Solid Sitka Spruce top
Sapele back & sides
Body depth: 50/50mm at neck joint/body end
C shape Nyatoh neck
Walnut fretboard & bridge
46mm width nut
Tree of Death Pearloid inlay
Bone nut & saddle
Gold Classical tuners
Fishman® Sonicore pickup
Ibanez AEQ210TF preamp w/Onboard tuner
Daddario® EXP45 strings
Fan Bracing
15.7" fretboard radius
Side Sound Port
Finish: Transparent Black Flat
Tim Henson Signature Guitar TOD10N | Ibanez
LIST PRICE: $1049.99
ESTIMATED STREET PRICE: $699.99
For more information, please visit ibanez.com.