The blues guitarist's charismatic charm comes shining through in this Rig Rundown, where he walks us through his trusty lineup of Les Pauls and simple, practical gear.
"I feel like a lot of people, when they see me play, they think, 'Oh, it's going to be super aggressive, and there's a lot of shades of that," shares Jared James Nichols. "But I'm so obsessed with the tone, the feel of it…. Growing up listening to Jeff Beck, Albert King, guys like that; the super feel stuff to me is where it's at."
That sentiment is overwhelmingly clear when hearing just a single note of Nichols' playing. And what makes his musicianship that much more compelling is his abandonment of the pick—most of the time, he's not really "fingerpicking," but he uses his fingers to shred like any picking guitarist. He explains, "I'm a lefty, so that's where it originated. I tried to use a pick, and I was really uncoordinated. I can play a lot of the same riffs that someone could do with a pick, but play 'em and they sound a lot different."
Earlier this year, Nichols came out with his third full-length release, Jared James Nichols, which adds to his catalog 12 more dirt-covered, gritty tunes that dig in with his infectious passion and signature, glistening tone. The album comes on the heels of Nichols' growing success, bolstered by his extensive touring and tens and thousands of new fans.
Given his commitment to Les Pauls, it's fitting that Nichols was born in Waukesha, Wisconsin, the birthplace of the guitar's namesake inventor. Now, Nichols is a global ambassador of Gibson Guitars, an honor shared by only four other guitarists. And, since his last Rig Rundown, he was honored with a signature Epiphone guitar. In this new look at his rig, he shares his legion of trusty Les Pauls, as well as why he prefers simplicity when it comes to amps and pedals.
Brought to you by https://ddar.io/XSE.RR.
Baby Blue
The first guitar Jared shared on the Rundown was a prototype for his new Signature Epiphone "Old Glory" Les Paul Custom, in a matte Pelham blue. It features just one of his signature Seymour Duncan P-90 pickups at the bridge, and locking tuners. "For me, I love the simplicity of a dog ear because when you roll up the volume, it's just like a microphone," he says. This and all of his guitars are strung with DR Strings, .010-.046.
The Junior
"I have rarely seen '59 single-cuts," Jared shares on his 1959 Les Paul Junior, "and something about this guitar is just really cool; it has a really articulate tone." It's been appointed with Grover tuners, which he feels gives it a different sound. He's borrowing it from his friend, Charlie Daughtry, who runs the Les Paul forum.
Painted Red
Jared's 1953 Les Paul goldtop was sprayed red long ago—"They just rattle-canned that thing!" But, other than the over-spray and frets, it's all original. The thin ear wrap tailpiece indicates that it came out of Kalamazoo in late 1953. "Simply put, this is one of those ones that just inspires me to play," Jared enthuses.
Good Vibrations
The night of this rundown, Nichols was playing this 1959 Les Paul Standard which belongs to his friend Kris Blakely, aka Fried Okra. It once was owned by Paul Kossoff of Free. On this particular model, Nichols comments, "I love the ones that vibrate against your body. And then while you're playing, it feels like it's alive."
The Perfect Storm
This center-seamed, flamed-maple-topped Les Paul Standard goldtop was salvaged after being caught in a tornado in Peoria, Illinois in 2013. It came into Jared's possession after someone reached out to him on Instagram—the guitar had fallen into the person's yard after the storm. It was masterfully restored by Joel Wilkins of JW Restoration, who merged a newly built neck with the guitar's original electronics and plastics. Its pots date to April of 1952. "From the moment I plugged it in, this guitar turned into like, my favorite Les Paul," says Jared.
Dorothy's Damage
Here's some close-ups of the scars from Dorothy's turn with the twister.
Down and Dirty Meets the Loudmouth
On the right, Jared has put some serious mileage on his Blackstar JJN-20R MkII Signature, which came out in 2019. He runs it into a 2x12 cabinet. "This is the first one they ever sent me, and I'm still using it. I run this on the clean channel with the dirt all the way up," he explains. Along with his JJN-20R, Nichols runs a Blackstar Artisan 100-watt into a matching 4x12 cabinet. "This thing is like cut your head off loud," he comments, "What I'm basically using this for is a lot of the low end."
Jared James Nichols' Pedalboard
Nichols likes to keep his pedalboard simple. He runs a cable from his guitar to his RMC Wah Pedal, which runs to a Tycobrahe Octavia Octave Fuzz, into an Ibanez TS808HW Tube Screamer, into a B.G. Harding Zonk Machine—"It's disgusting! It's gross!" Jared enthuses—to a Sabbadius Funky Vibe (from an Argentinian company), to an Ibanez TS808DX Tube Screamer, into a Lehle switcher that sends the signal to his amps.
You could win one of SEVEN pedals from CIOKS, Ibanez, Keeley Electronics, LR Baggs, Source Audio or Wampler Pedals in this I Love Pedals Giveaway!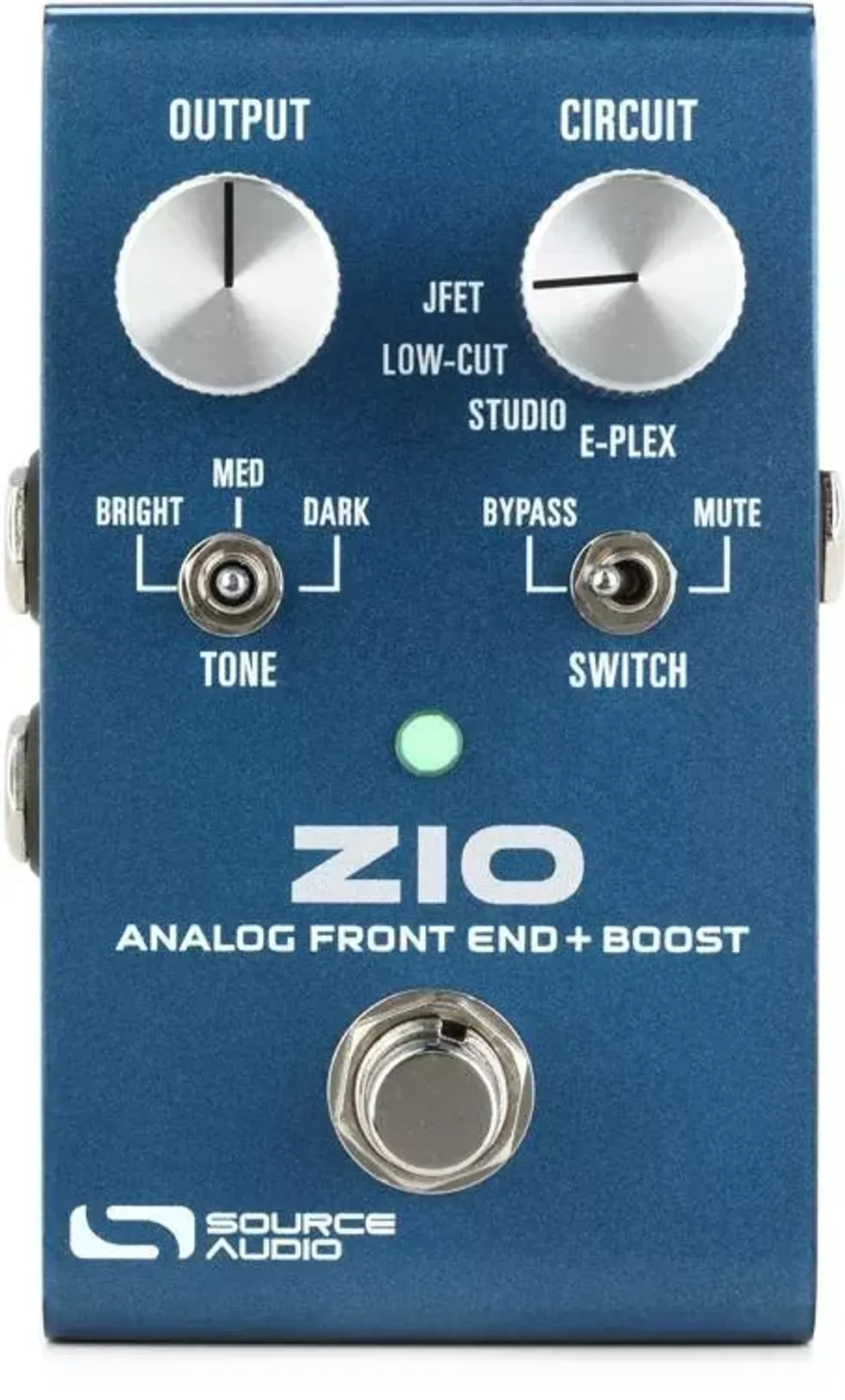 The goal in creating the ZIO Analog Front End + Boost was simple yet ambitious: "Make Everything Sound Better!" ZIO is an all-analog preamp/boost pedal that includes a choice of four distinct preamp circuits, each with up to +20dB of additional output boost. ZIO is Source Audio's first all-analog effects pedal and designed in collaboration with Christopher Venter, the owner and sole engineer at SHOE Pedals.
ZIO is a deceptively flexible unit that can serve many different purposes at various places in your signal path. Use it at the front of your chain of effects to shape the rest of your outgoing tone, after your drive pedals as an overall tone sweetener or clean volume boost, or at the the end of your pedalboard to drive a long cable run or as a restorative device to recreate the sound of your guitar going directly into the input of your amplifier. You can also use the ZIO in your amp's effects loop if you want to drive your power amp even harder, or to compensate for a level mismatch between two channels.
Source Audio
Extraordinary tone shaping control, dynamic arrays of distortion, and exceptional amounts of EQ are all laid out at your feet. The Pentatone preamp from Ibanez affords the perfect blend of features all wrapped up in an intuitive, all-analog platform. This preamp brings together five individual tone shaping sections in the form of a pre-boost, distortion with two-band EQ, a noise gate, 5-band parametric EQ, and post-boost. The pedal also includes a bright switch, which enhances treble response by boosting the high-frequency range. The two integrated footswitches control the preamp bypass and post-boost functions while adding an Ibanez IFS2L external foot-switch enhances the player's control even further by also making the pre-boost and 5-band parametric EQ foot-switchable. From simple tone shaping to crunchy overdrive and even the most crushing distortion, the Pentatone preamp covers it all.
•Controls: PRE BOOST, GAIN, BASS, TREBLE, LEVEL, 5-band parametric EQ frequencies, 5- band parametric EQ levels, POST BOOST, Noise GATE
•Switches: PRE BOOST on/off, BRIGHT on/off, 5-band parametric EQ on/off, Noise GATE on/off, BYPASS foot-switch, POST BOOST on/off foot-switch
•I/O's: INPUT, REMOTE, OUTPUT
•Size: 146(W) x 128(D) x 59(H) (mm)
•Size: 5.8(W) x 5.0 (D) x 2.3 (H) (inch)
•Weight: 1.0kg, 2.2lb
•Required Current: 110mA@9
•Power Supply: One 9V battery (006P) or external AC adapter
Ibanez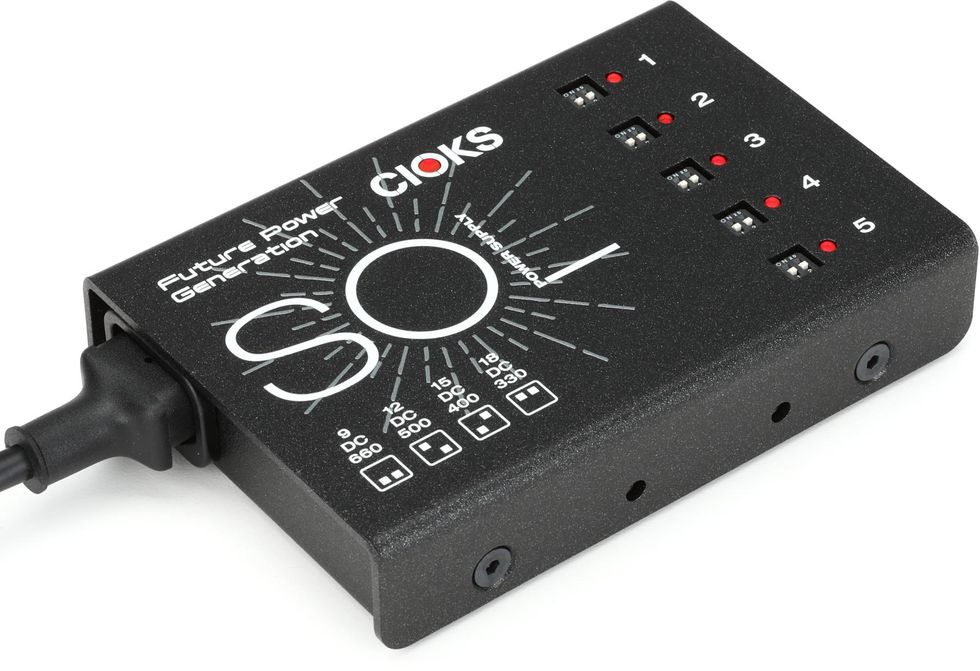 The Heart and SOL of Your Pedalboard
SOL is the ultimate solution for bringing life to a small to medium-sized pedalboard setup, especially if you are using power-hungry pedals. SOL is the smallest mains-powered switch-mode power supply we make at CIOKS (no wall-warts here) and the no-frills design plus massive power will leave you free to focus on your creative spark.

Featuring the same 660mA at 9V DC per outlet and four switchable voltages on each outlet as its bigger brother CIOKS DC7, SOL is the most powerful small form-factor power supply available today with a total of 30 watts of DC power available.

CIOKS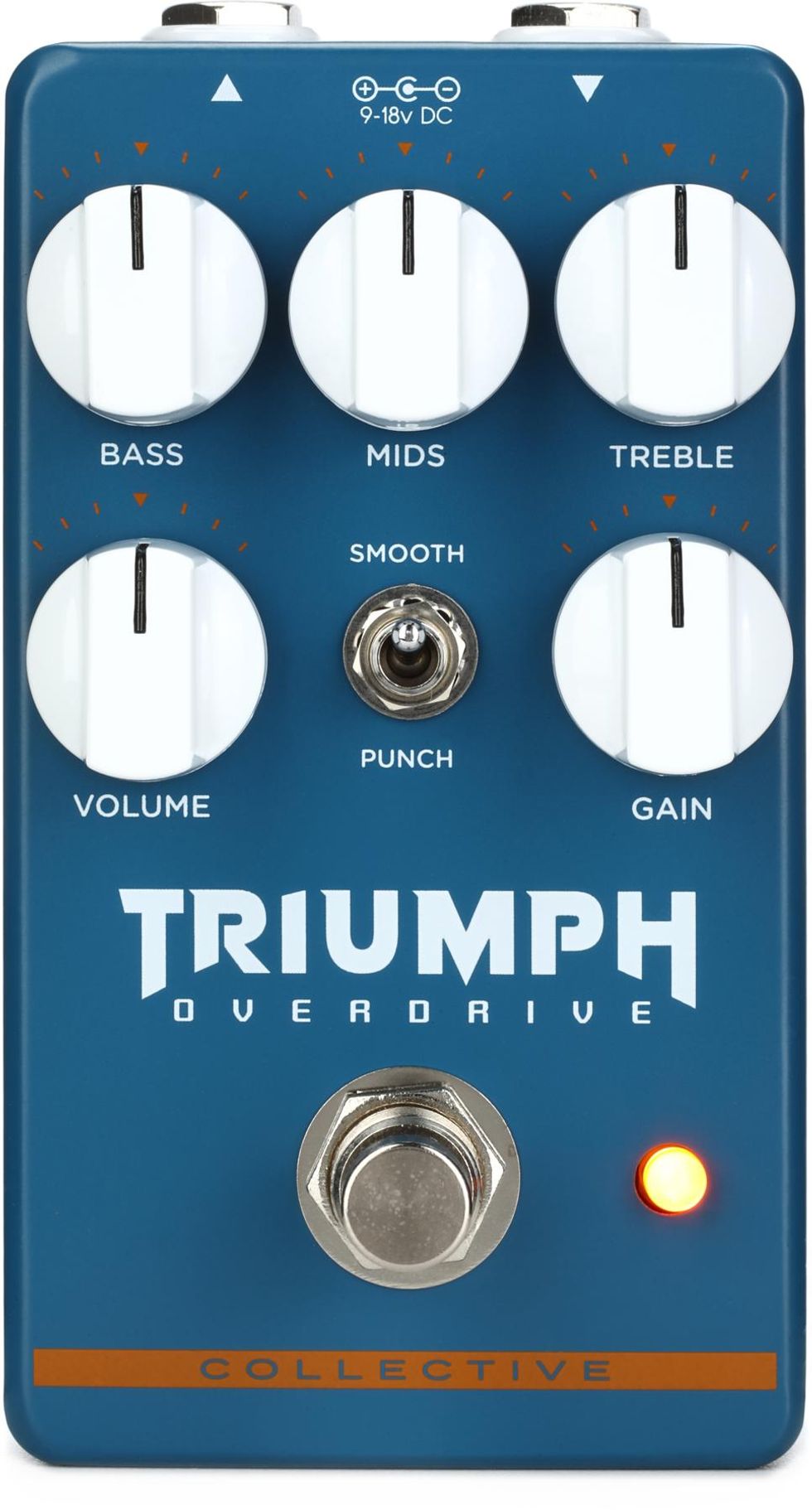 The Triumph is a versatile overdrive based around two of Brian's all-time favorite overdrives. In typical Wampler fashion, additional EQ stages have been added that allow a variety of different tones as well as internal circuit changes that add polished glassy overtones. In Smooth mode, the Triumph delivers a progressive gain structure with an unmistakable gritty presence and classic mid-hump profile. In Punch mode, Triumph adds more open tonality, less compression and is more touch sensitive, providing detailed note articulation
Wampler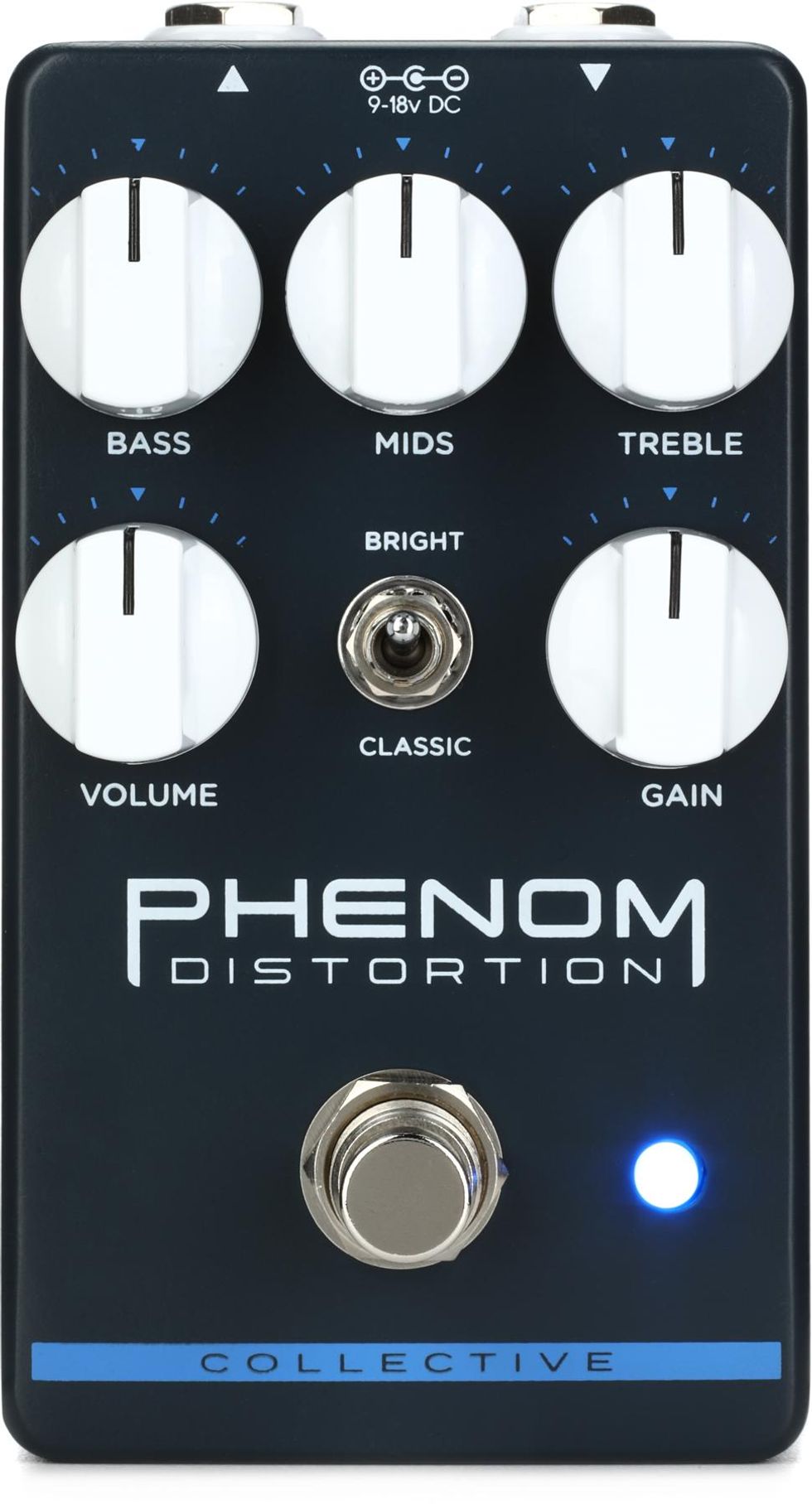 The Phenom Distortion is a dynamic distortion pedal which uses JFET based clipping instead of Op-amp and Diode based clipping and is loosely based on the legendary "5150" style tones. The fets are driven much in the same way that tubes can be cranked to overdrive an Amplifier into a distorted sound courtesy of a unique Brian Wampler circuit design. The Phenom offers a range of tones from a deep, punchy rhythm sound to an ultra-responsive lead tone perfect for soaring solos and crisp harmonics. It has a flexible voicing switch that selects either bright or classic modes, independent gain and volume controls, and a powerful 3-band EQ.
Wampler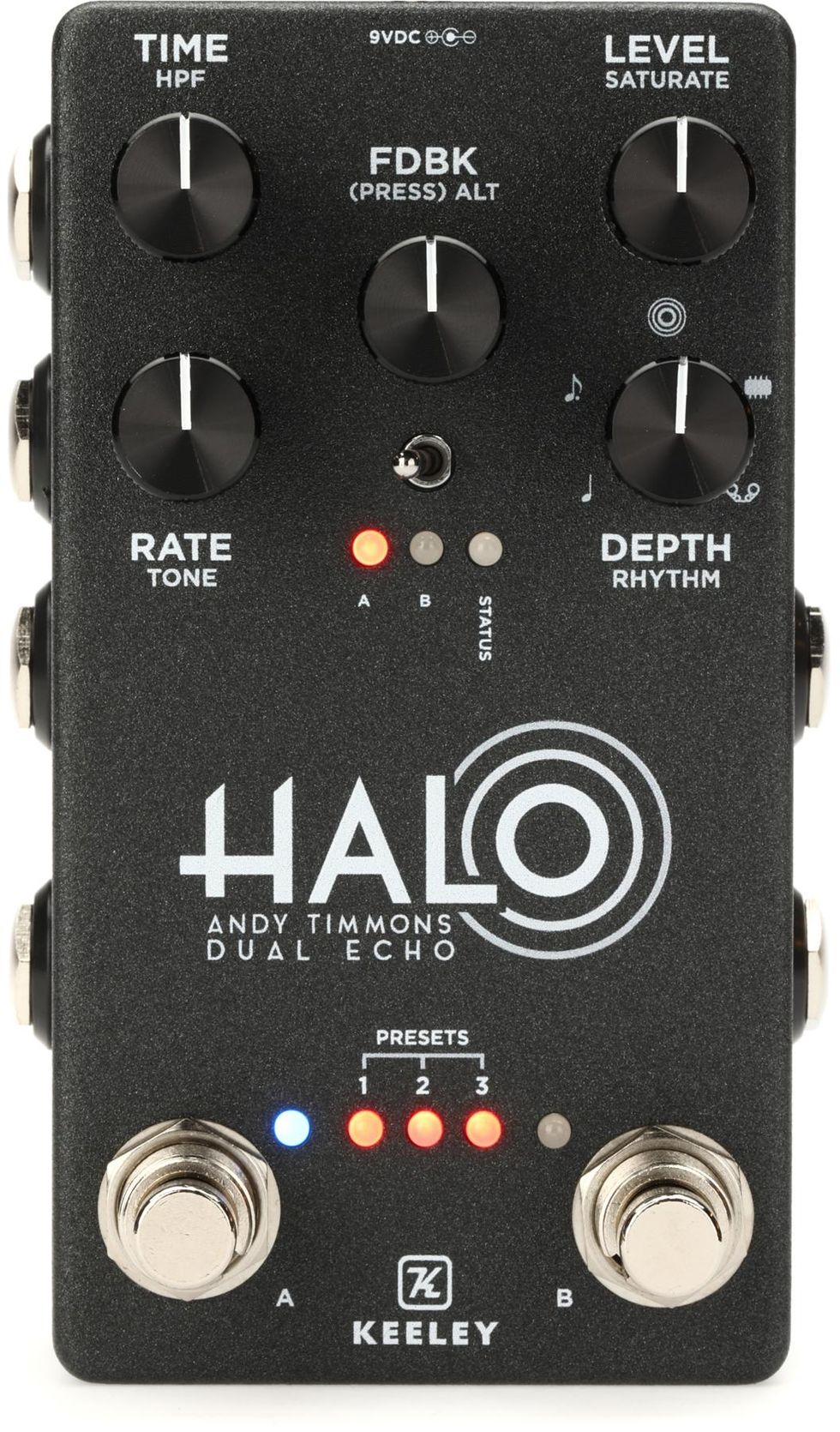 The Halo is a powerful dual stomp box that offers 5 delay modes that can be paired to work in
tandem, including Andy Timmons' highly-revered 'Halo" sound! The HALO features on-board tap
tempo, infinite hold, expression input control, user storable presets, and much more.
Keeley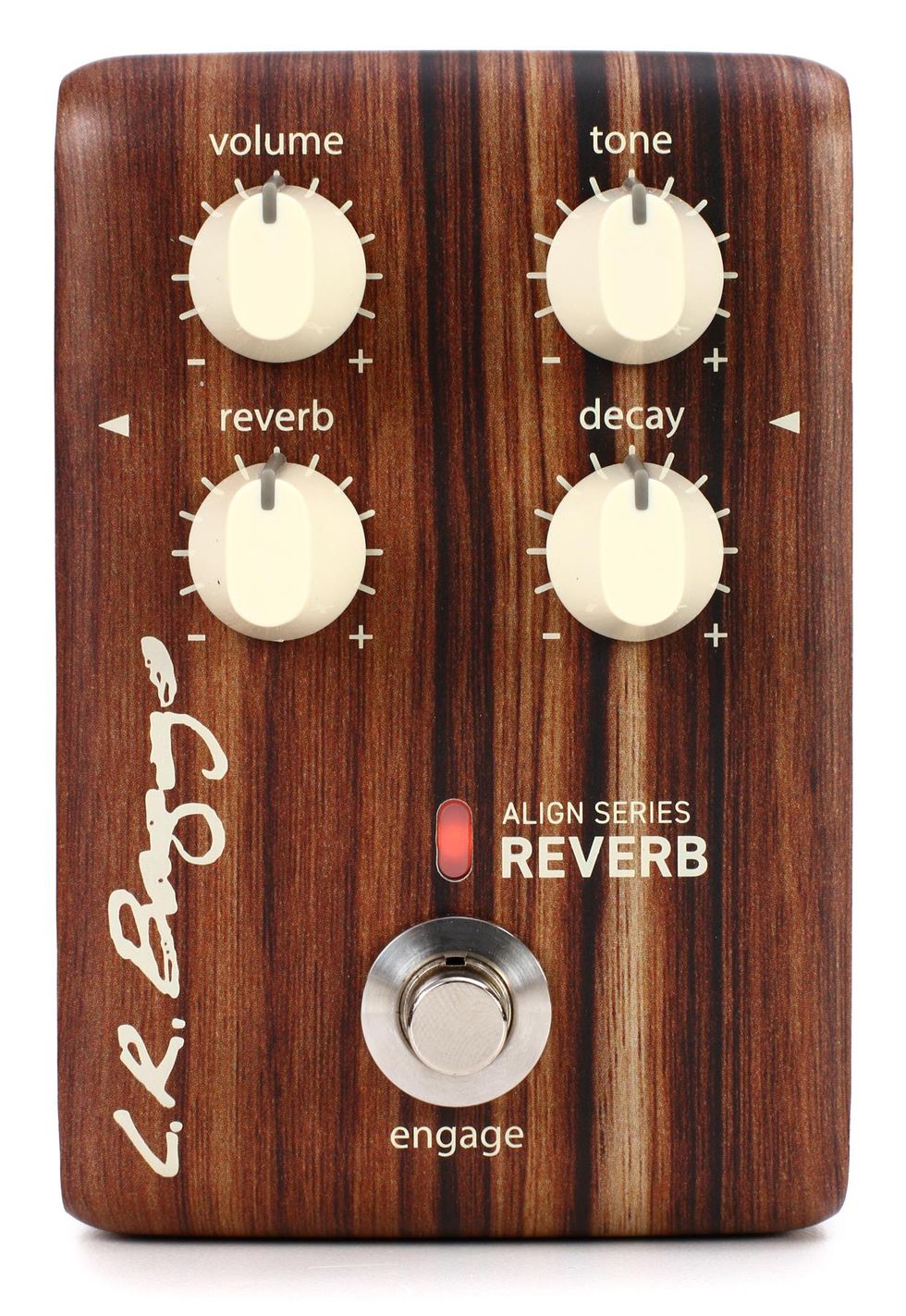 The Align Reverb was built from the ground up to complement the natural body dynamics and warmth of acoustic instruments that we love so much. The circuit seamlessly integrates the wet and dry signals with the effect in side chain so that it never overwhelms the original signal. We shaped the reverb with analog EQ to reflect the natural voice inherent in acoustic instruments. Additionally, the tone control adds versatility by sweeping from warm and muted to open and present. The result is an organic reverb that maintains the audiophile purity of the original signal with the controls set in any position.
LR Baggs