Reader Guitar of the Month: Bertha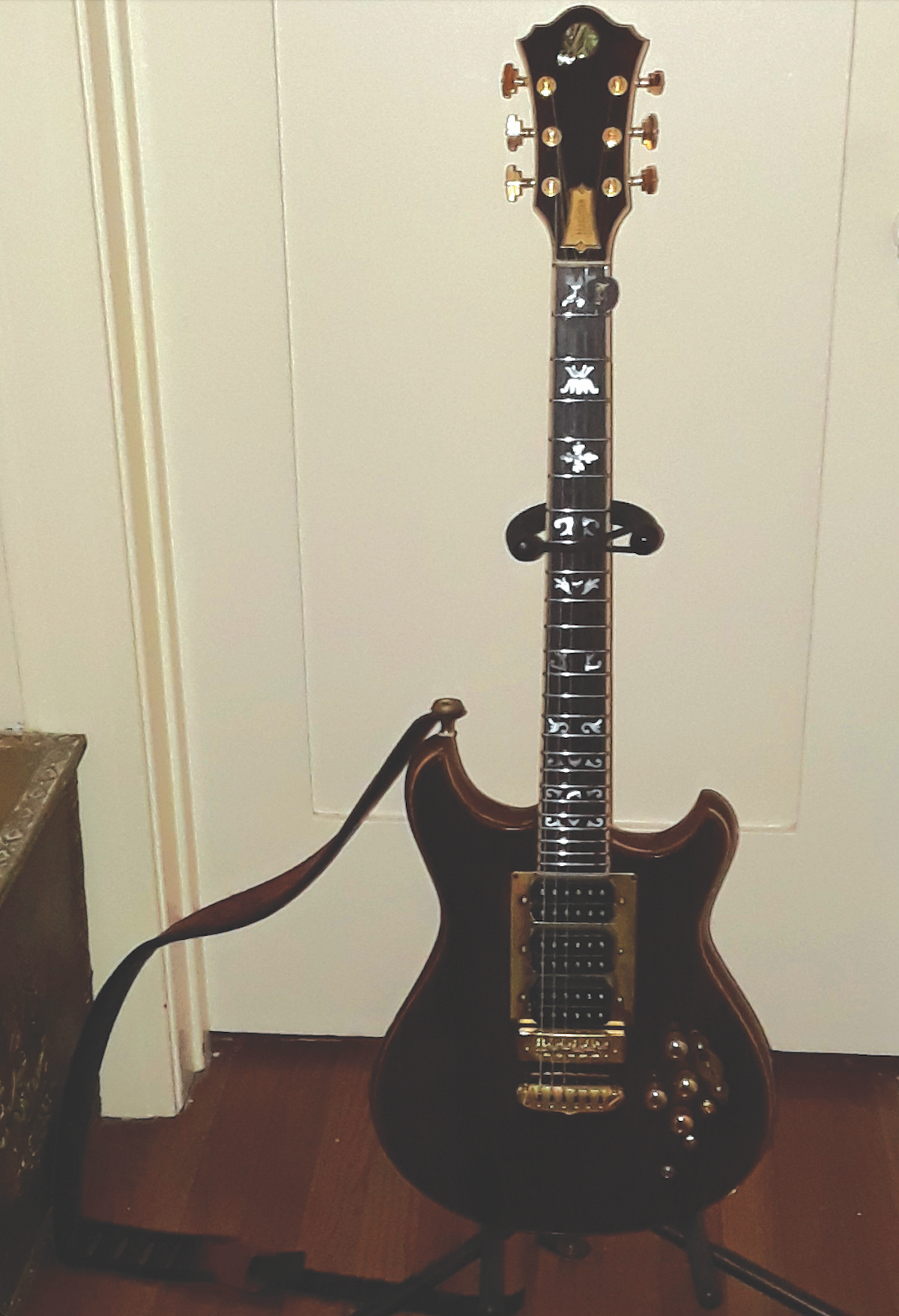 A guitarist pulled into Nazareth for some Indian rosewood and then hunted for hardware to customize his Ibanez Musician.
Bertha started out as a 1980 Ibanez Musician with the 5-piece neck-through series. After figuring out what I wanted, I went to my friend and luthier, Tim Huenke of Superior Guitars (Washington, Pennsylvania), and we put her together. He did the work; I did the scavenger hunt for the parts.
---
We stripped out the body and most of the parts, then shaved down the body area (including the neck-through part) by 1/8". Being in the Philly area at the time, I was literally able to "pull into Nazareth" and get a book-matched Indian rosewood back set from the 1833 Shop to overlay the top.
The original fretboard was replaced with a triple-bound ebony board with 24 medium-jumbo, stainless-steel frets and, of course, banjo-style inlays. There was enough rosewood left to also redo the headstock overlay. The top was then given a "bathtub" route for the pickups and the rear switch cover was re-routed for a 9V battery box.
All the mechanical parts are either lacquered brass or gold-plated. Starting with Dunlop strap locks and an Electrosocket jack, I found a top-load Aria tailpiece with locking studs feeding a harmonica Tune-o-matic bridge sitting on the original stainless-steel sustain block, also with locking studs. A brass pickup surround was mounted along with a brass "flatworm" switch cover. The knobs are Tele-style, and the nut is an original bone/brass nut. The tuners are top-lock Grover 18:1 Rotomatics with imperial buttons.
The electronics start with a stereo jack (to turn on the preamp when plugged in) with three DiMarzio Super 2 pickups, three knob push-pull pots (for coil cuts), and a 5-way selector switch. The fourth knob control (pull-push) turns on the variable 0-20 db preamp. The three remaining switches are for phase reverse, series/parallel switching (when the middle pickup is on), and a switch that overrides the main selector to give a choice of bridge/neck, all three pickups, or the standard 5-way selector.
This has been my main axe for the last 15 years, and obviously you know who my favorite guitarist was.