Trash or Treasure: G&L HG-2

Swap my motorcycle for your guitar? Sure!
Zach,
I received this guitar in 1989 as a birthday present from my dad, who traded his Honda motorcycle for the guitar and a Marshall amplifier. I have had it ever since, and play it regularly. I know there were not many of these made, so they have at least some limited collectors' appeal, but I wonder if it is actually worth anything? The guitar is all-original, with typical scuffs and scratches that a teenager would inflict. It has a date stamp on the neck, of June 21, 1984, and on the body, of March 1, 1984. It's small, light, and easy to play, which is why I have kept it around. What do you think?
Thanks,
Robert in Apex, North Carolina
Nice guitar and great story. Dads can be the coolest, right? In reference to the guitar being "small, light, and easy to play," that doesn't surprise me since Leo Fender was a pioneer in the electric guitar industry and he obviously knew what he was doing. That said, legend has it that Leo never learned how to play guitar.
In 1965, Fender sold his enormously successful company to CBS due to health concerns, and signed a 10-year non-compete clause as part of the deal. Leo's health improved and he consulted for Fender after the company's sale, but he largely remained out of the guitar business until the mid 1970s, when his non-compete clause concluded.
In other words, it's a rare instrument, and G&L guitars from this era are quite collectible overall.
Along with longtime friend and associate George Fullerton, Leo started CLF Research in 1975 and began building instruments for Music Man (another company started by ex-Fender employees). The relationship between CLF and Music Man eventually went south, however, and CLF stopped building guitars for them in late 1979.
In 1979, Fender, Fullerton, and Dale Hyatt (another longtime Fender associate) started a new guitar company called G&L. G&L stands for George and Leo. Fender served as president and provided the designs and technical insight, Fullerton ran production, and Hyatt oversaw management and sales. Until Fender's passing in 1991, G&L produced approximately 27,000 guitars with monthly production not reaching more than 800 instruments. It was during this time that Fender took his guitar innovation to another level and patented several new designs. As Fender was famously quoted in G&L literature, "G&L guitars and basses are the best instruments I have ever made."
The HG series consisted of the HG-1 (one pickup) and the HG-2 (two pickups), and were only produced in 1983 and 1984. So, the date stamps on your guitar coincide with production dates. It's estimated that just over 100 total HG models were ever produced, with less than five of them being single-pickup HG-1s. The HG series guitars were similar to the more common SC series guitars, but featured G&L's Magnetic Field Design (MFD) humbucker pickups. The MFDs utilized a ceramic bar magnet with soft iron poles, rather than the more traditional alnico magnet.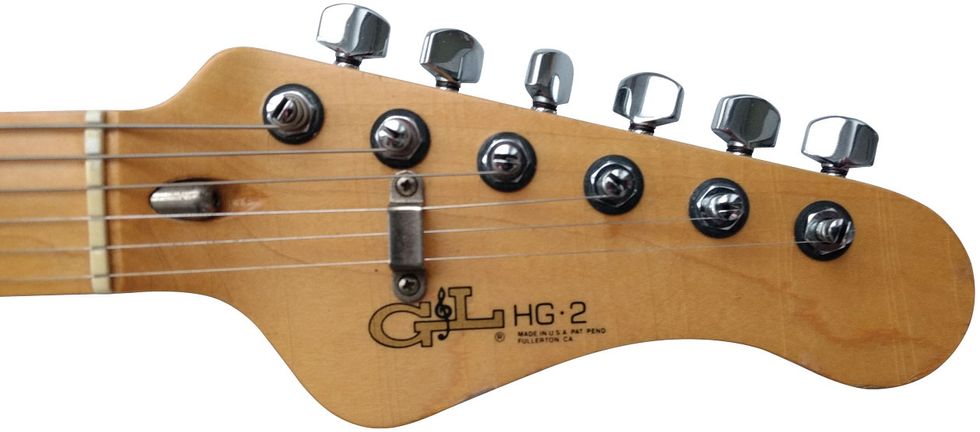 Only about 100 of G&L's short-lived HG-2 were made. The model features an offset maple body, a bolt-on maple neck, and the company's Saddle-Lock bridge and MFD humbuckers.
The HG-2 features an offset maple body with double cutaways, a bolt-on maple neck, a 22-fret maple fretboard, six-on-one-side tuners, and G&L's Saddle-Lock bridge (vibrato optional). The two MFD humbuckers are governed by a volume knob, a tone knob, and a pickup switch mounted on a half-moon shaped panel. The HG-2 was available in various colors, though it's unknown how many different colors exist.
Based on G&L's 11-year production of around 27,000 instruments, the HG series guitars made up about a 1/3 of a percent of all G&Ls built during Fender's tenure. In other words, it's a rare instrument, and G&L guitars from this era are quite collectible overall. Today your HG-2 is worth between $1,750 and $2,000, in very good condition as described. This value is also based on your guitar being all-original. Hopefully you'll keep it that way no matter how much you play it!
After Fender's death, his wife passed G&L on to John C. McLaren of BBE Sound, and they continue to build G&L guitars in the U.S. and overseas for their Tribute Series import line. I don't know enough about motorcycle values to determine if your dad got a good deal or got swindled, but, in my opinion, you got a piece of history and a great guitar to play for years to come. Hopefully your dad never regretted his decision!
Sources for this article include researcher/historian H.L. Garrett and G&L: Leo's Legacy by Paul Bechtoldt.
---