Trash or Treasure: Westone Corsair GT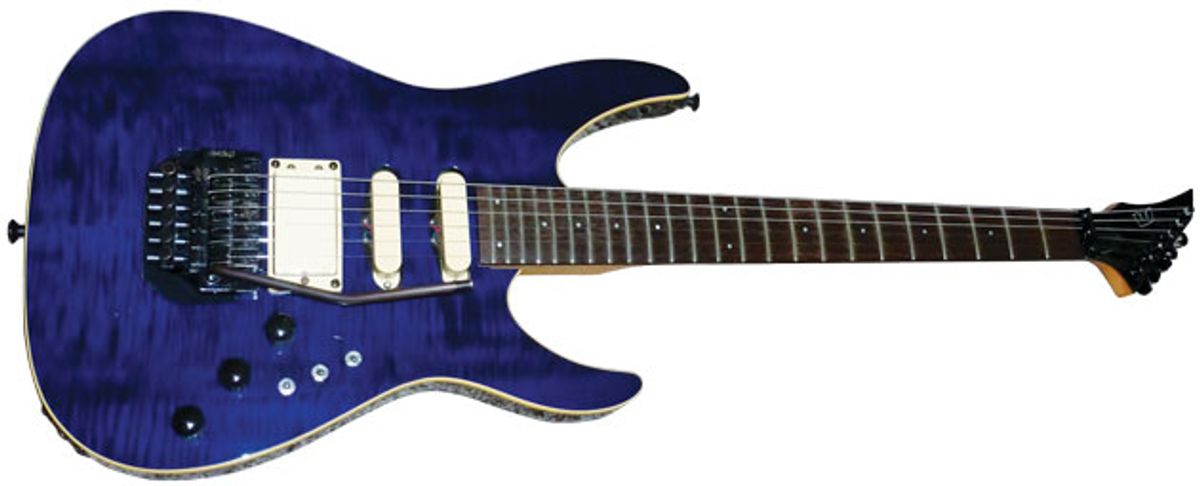 A guitar found buried in a friend's garage gets cleaned up for a second life.
Hi Zach,
This guitar was buried in a friend's garage. Got it for nothing. I believe it's a 1989 Westone Corsair GT WE7400TRB (SN 052921). It just needed some cleanup, but otherwise is in great shape. All original. Seems to be a model that is relatively rare. What have I got?
Thanks,
Ryan Meverden
Hi Ryan,
It makes you wonder how many guitars and other pieces of cool gear are buried in peoples' garages and attics, doesn't it? Westone is definitely a product of the 1980s, but the brand has appeared in some form for almost every decade since. Let's take a brief look at the company's history.
Matsumoku was a well-known and well-respected guitar and sewing machine manufacturer from Japan. They produced guitars for many large companies in the 1970s and 1980s including Epiphone, Aria, and Vantage. In the late 1970s, Matsumoku decided to introduce their own line of guitars and market/distribute the line themselves, all while continuing to produce guitars for other manufacturers. Matsumoku developed their first prototypes in 1979 to 1980, and the new line of guitars was branded Westone.
In 1981, Saint Louis Music (SLM) acquired a partial interest in the company, and shortly thereafter, SLM became a distributor of Westone in the U.S. At the time, SLM also owned and distributed Electra guitars, a brand made by Matsumoku. SLM combined the two brands as "Electra-Westone" in 1984, but by 1985, they dropped the Electra name all together and went back to just Westone.
The early Westones built by Matsumoku in Japan are generally regarded by collectors and players to be decent guitars.

In 1987, the Matsumoku factory closed due to low sales. Saint Louis Music then shifted production of Westone guitars to Korea, where they essentially came up with an entirely new line of guitars. Production would continue in Korea under the Westone name until 1990 or 1991, when SLM decided to start branding all their electric guitars under the Alvarez name as a complement to their successful acoustic line. While this marked the end of Westone as many of us knew it, FCN Music reintroduced a few models to little success in 1996/1997, Status Graphite made some "Sid Poole Westones" in 1998, and the German company Musik Meyer would later try and revive the name in the 21st century via the production of inexpensive Gibson and Fender copies.
Your guitar appears to be a circa 1989 or 1990 Corsair GT WE7400 that was produced in Korea. Many serial numbers on guitars built there during this era use the first digit to indicate the year the guitar was produced, so the leading "0" in your guitar's serial number could indicate 1990, but this is all speculation. (This same guitar also appears in Westone's New Horizons catalog from 1989.) Specs include an unspecified body wood, bolt-on maple neck, 24-fret rosewood fretboard, "Heatwave" pickups (two single-coils and one humbucker with a coil tap), a Kahler Spyder double-locking tremolo, and black-chrome hardware. It was available finished in black, light blue, metallic red, transparent red, or transparent blue, like yours. The list price for the Corsair GT in 1989 was $675 for transparent-finished instruments and $599 for non-transparent finishes.
The early Westones built by Matsumoku in Japan are generally regarded by collectors and players to be decent guitars. Most of them appear to sell in the $400 to $700 range, but I've seen some listed at up to $1,000. The Korean Westones aren't bad instruments per se. They're just not worth as much as their Japanese counterparts. I believe your Westone is currently worth somewhere between $200 and $400 in excellent condition, which it appears to be after you cleaned it up. When looking at the used Westones currently for sale, very few are from the late 1980s. It's just another example where rarity doesn't necessarily translate to desirability.
Your story isn't unlike many I've heard about finding a guitar, bass, or amp that nobody knew was there or knew anything about. I encourage everyone to go through and identify what you have when you're moving or cleaning out a house. I've seen and heard of so many items simply going into the trash because someone was in a hurry. Take the time to see what you have and you just might uncover a treasure.