Trash or Treasure: Sunn Solos II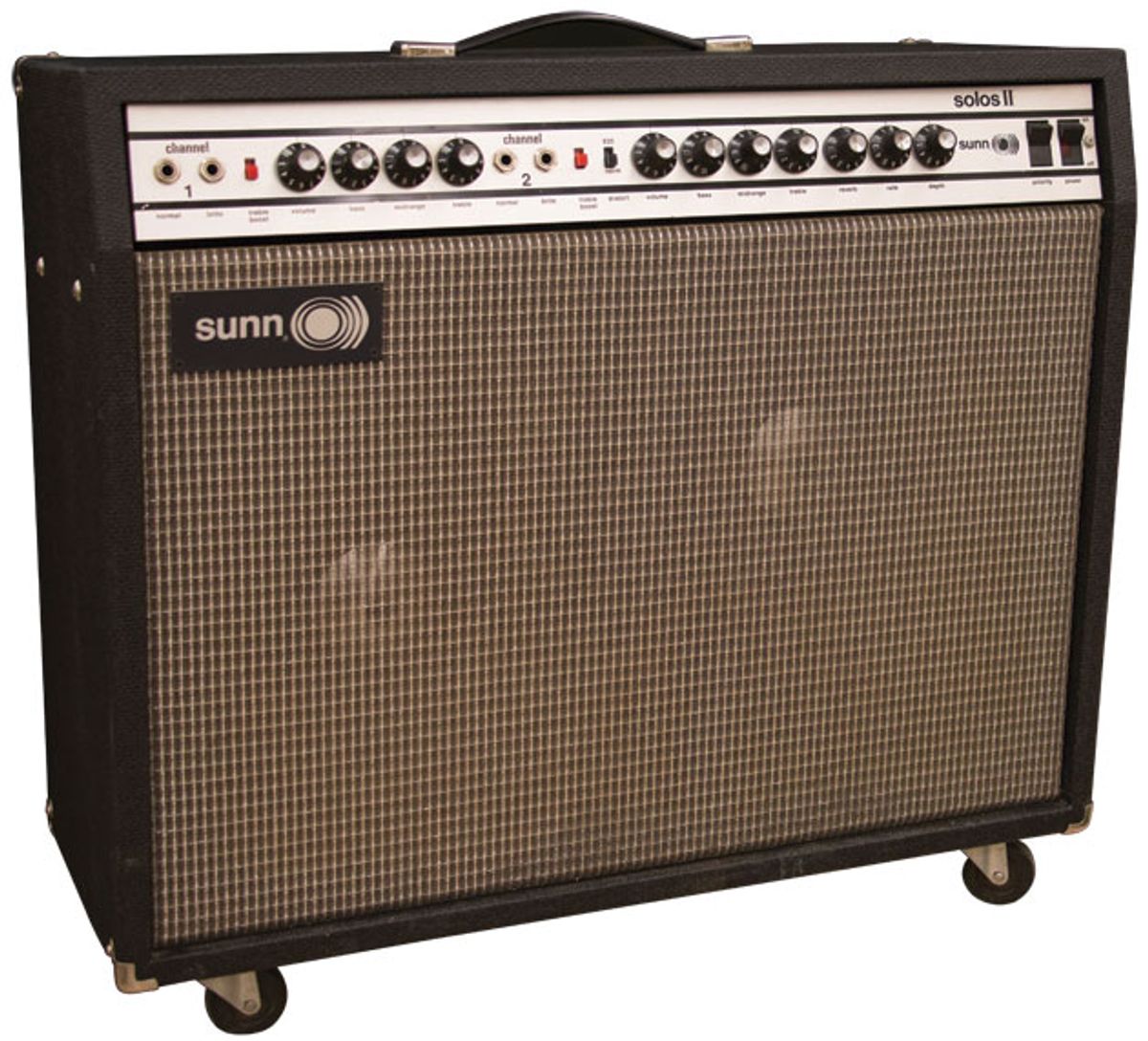 Twenty bucks for a 1970s Sunn combo in excellent condition makes for a Saturday well spent!
Hey Zach,

I was recently at a garage sale and bought a Sunn Solos II guitar amp for $20 Canadian. It is a 2x12 solid-state combo with a tremolo/reverb footswitch. Everything appears to be in original and near-perfect condition. The speaker grille has no tears, but has slightly turned a little yellow due to age. I found very little information on this amp. Can you give me a little history and possibly a value?

Thanks,
Jeff Sexsmith
Lloydminster, Alberta, Canada
Hey Jeff,

You never know what you're going to find at a garage sale! I don't always have the patience on a Saturday morning to go house-to-house trying to find the next treasure, but every now and then you come across a good old piece of gear. It's even better when you find an old piece of gear at a bargain price.

Brothers Norm and Conrad Sundholm founded Sunn in the mid-1960s in the Portland, Oregon, area. Norm was the bassist for the Kingsmen, and after the band gained overnight success with their hit "Louie Louie" in 1963, he quickly realized that the amps they had were not powerful enough to play large concerts. So, Norm enlisted the help of Conrad to design a more high-powered bass amplifier, and the result was the first Sunn amp.
The Sunn brand is still owned by Fender, but Sunn-branded amplifiers haven't been produced for many years.

The Sunn brothers quickly outgrew the confines of their family garage, where they had set up shop. In 1965, they moved into a repurposed, swimming pool facility in Tualatin, Oregon, where they would manufacture and expand their line to include a full range of amplifiers. The Who famously used Sunn amps on their North American tours in late 1967 and 1968, and the company's notoriety grew in the music-gear business.

Unfortunately, Sunn's initial success was short-lived. In 1969, Conrad bought Norm out of the company after the brothers began disagreeing on business decisions. Three years later in 1972, Conrad sold the company to the Hartzell Corporation. Production then moved to Williamstown, Kentucky, but they were still shipping components from Oregon at great expense. It should also be noted that by the 1970s Sunn was heavily involved with solid-state technology, which wasn't considered as good as tube amps by many musicians. Sunn manufacturing would return to Oregon after a few years.

Production floundered through the late 1970s and early 1980s, before Fender bought Sunn in 1987. Fender initially produced Sunn amps for a few years, but mothballed the trademark until 1998 when they rolled out a new line of Sunn amps. That line only lasted until 2001. Interestingly, the Sunn 300T became the Bassman 300, which remained in Fender's product line through 2012. The Sunn brand is still owned by Fender today, but Sunn-branded amplifiers haven't been produced for many years.

The icing on the cake for this garage-sale steal is the original dual-footswitch that was still paired with the amp.
The Solos II amps were produced in the 1970s and designed for guitar use. Like many Sunn amps from this era, they utilized a solid-state chassis. Your model has two 12" speakers (a 1x15 configuration was also available), 120-watt output, two channels with normal and brite inputs for each channel, reverb and vibrato on channel 2, and a distortion switch labeled as "X20." The fact that your amp came with the original footswitch for controlling reverb and vibrato is pretty cool, since unattached items like footswitches tend to go missing over the years.

Today, Sunn has developed a bit of a cult following by musicians in the stoner-rock genre. Sunn amps fit the genre because they're loud, relatively clear, put out a good bass sound, and can deliver a ton of distortion.
These Solos II amps are currently worth between $400 and $600 (U.S.) in excellent condition, which your amp most certainly is. You did very well picking it up for $20 (U.S. or Canadian). Take care of it like the previous owner did and you will have a treasure for years to come. And keep checking out those garage sales!