Trash or Treasure: Crate CR-1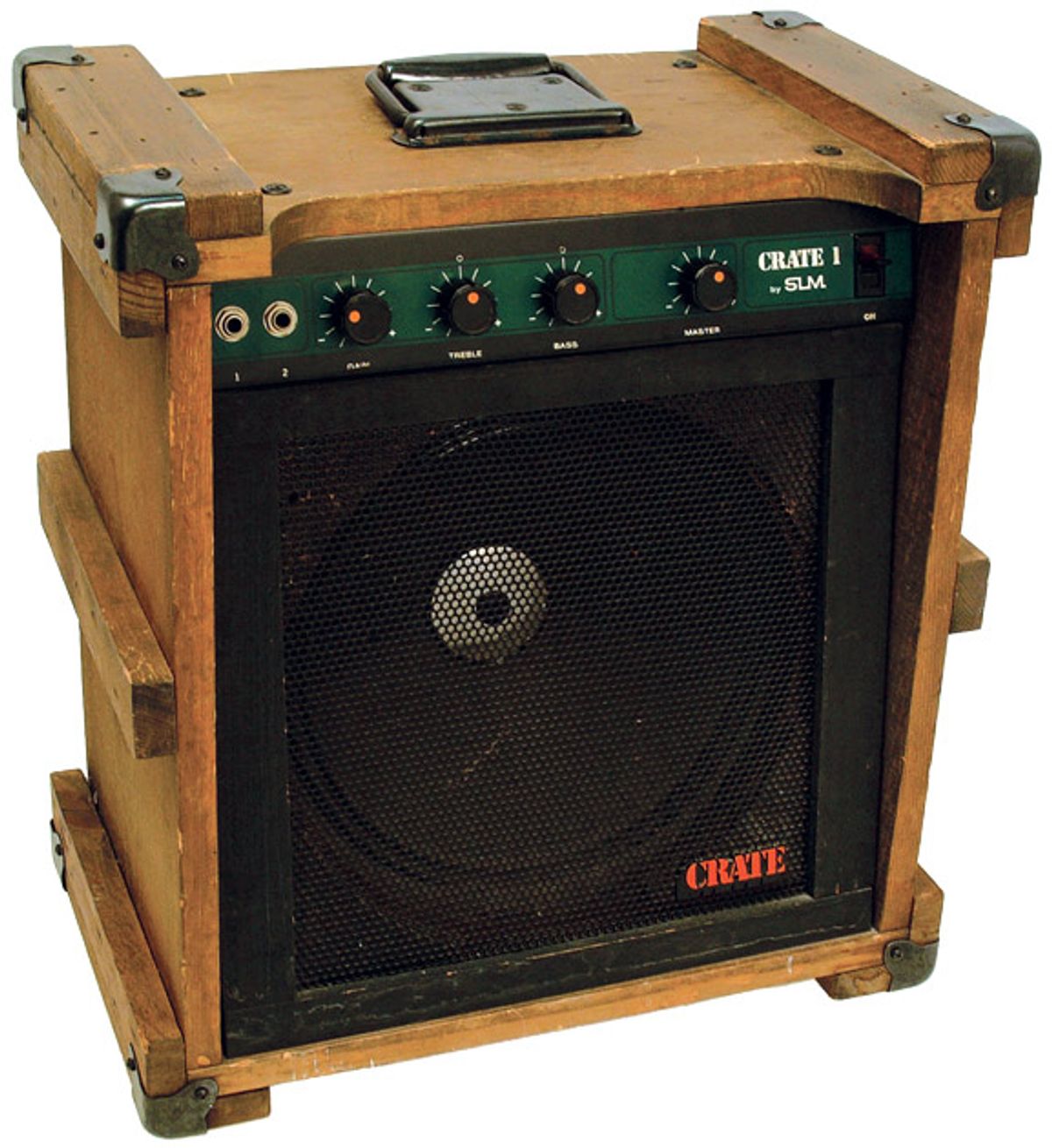 One look at the first amp offering from Crate is all it takes to grasp the literal flavor behind the company's name.
Hey Zach,

Over the years, I've collected a little bit of everything when it comes to guitars and amps. Buying this wooden Crate amp was one of my weaker moments. The amp works, but really doesn't sound good tonally. I bought it because the wood cabinet it is housed in is unusual. I know older, retro amps have become more collectible over the years, so is that the case with mine? Also, is Crate still in business? I can't seem to find much about them.

Thanks,
Brett in Chicago, Illinois
Hey Brett,

When it comes to punching bags, Crate—justified or not—could be seen as the Nickleback of guitar amplifiers. It seems that just about everyone takes jabs at Nickleback for a number of reasons, but you know what? Their concerts still continue to sell out. Crate amps never held the reputation of being the most expensive or best sounding amps out there, but they have definitely served a purpose for many guitarists. It's probably safe to assume that many of us have owned a Crate amp at one time or another—often when we were just getting started.
Crate was started in the late '70s by Gene Kornblum, who ran the instrument distributor St. Louis Music (SLM). Gene's father, Bernard Kornblum, founded SLM in 1922 and got his start in part by importing violins, strings, and harmonicas. Following the guitar boom of the '60s, the company began importing Alvarez guitars from Japan. By the '70s, SLM was distributing a few lines of amplifiers including Magnatone and EMC, but had not yet produced or manufactured an amp under their own brand.
Crate amps never had the reputation of being the most expensive or best sounding, but they have definitely served many guitarists.

Legend has it that Gene Kornblum was in a Crate & Barrel store and was inspired to build a guitar amp by the wooden crates that held the retail chain's products. In 1978, the Crate CR-1 (the very same model you own) was introduced. And it was indeed housed in a wooden crate similar to a military footlocker.

The 20-watt CR-1 fit the definition of an entry level/practice amp to a T. Utilizing ponderosa pine for the cabinet, it featured a solid-state chassis, a single 12" speaker, dual inputs, and gain, bass, treble, and master volume controls. The CR-1 was instantly popular, and several variations soon followed including the CR-1D Deluxe with a distortion channel and footswitch, the CR-1R Reverb, and the CR-1RD Deluxe Reverb that featured both distortion and reverb. Larger 60-watt models with more controls and features called the CR-II and CR-65 series were also available, as well as some higher-end models with oak cabinets. And by 1980, there was a Crate amp for everyone—including bassists!

A view from the rear of the CR-1 combo's ponderosa pine enclosure shows the line out jack and single 12" speaker.
The wood-enclosure Crate amps were produced through the early '80s, when the company began making tolex-covered amps that were more traditional looking. SLM enjoyed enormous success with Crate during the '80s, '90s, and early 2000s. In 2005, however, Kornblum decided to sell SLM to Loud Technologies in Woodinville, Washington, and this is where the history gets a bit fuzzy.

Mark Ragin of U.S. Band & Orchestra Supplies, SLM's parent company, bought back most of SLM's brands from Loud Technologies a few years later, with the exception of Ampeg and Crate. Ampeg is still very much alive and well, but it appears that Crate hasn't produced anything in several years. Crate's website still works, but the last year it was updated for copyright purposes was 2009.

Even though the CR-1 is a unique amp, these combos don't hold much value for collectors. Your amp today is worth between $75 and $125, but I think a very clean model could fetch $150. It's interesting to note that the list price in 1980 was $199, so it hasn't exactly held value. Unfortunately, most Crate amps have little collector value, but what you have is definitely an interesting retro piece with a cool story.