Convoluting Reverb! Pt. 2
Last month we talked about convolution reverbs and the technology behind them. This month, let's take a look at a unique product called Speakerphone, which, among other things, is an
Last month we talked about convolution reverbs and the technology behind them. This month, let's take a look at a unique product called Speakerphone, which, among other things, is an impulse response-based speaker emulator. Whether or not you use software to explore guitar sounds, it's worth opening your ears up to the possibilities this kind of product can offer you.

Designed by the crew at Audio Ease (creators of Altiverb), it may seem a bit overwhelming at first. Speakerphone has several functions: it has samples of hundreds of original speakers; it offers distortion, tremolo, delay, EQ and dynamics; it has bit crushing and sample rate reduction; a radio receiver tuning dial; GSM cell phone data compression; and a library of samples – in addition to a full-blown convolution reverb.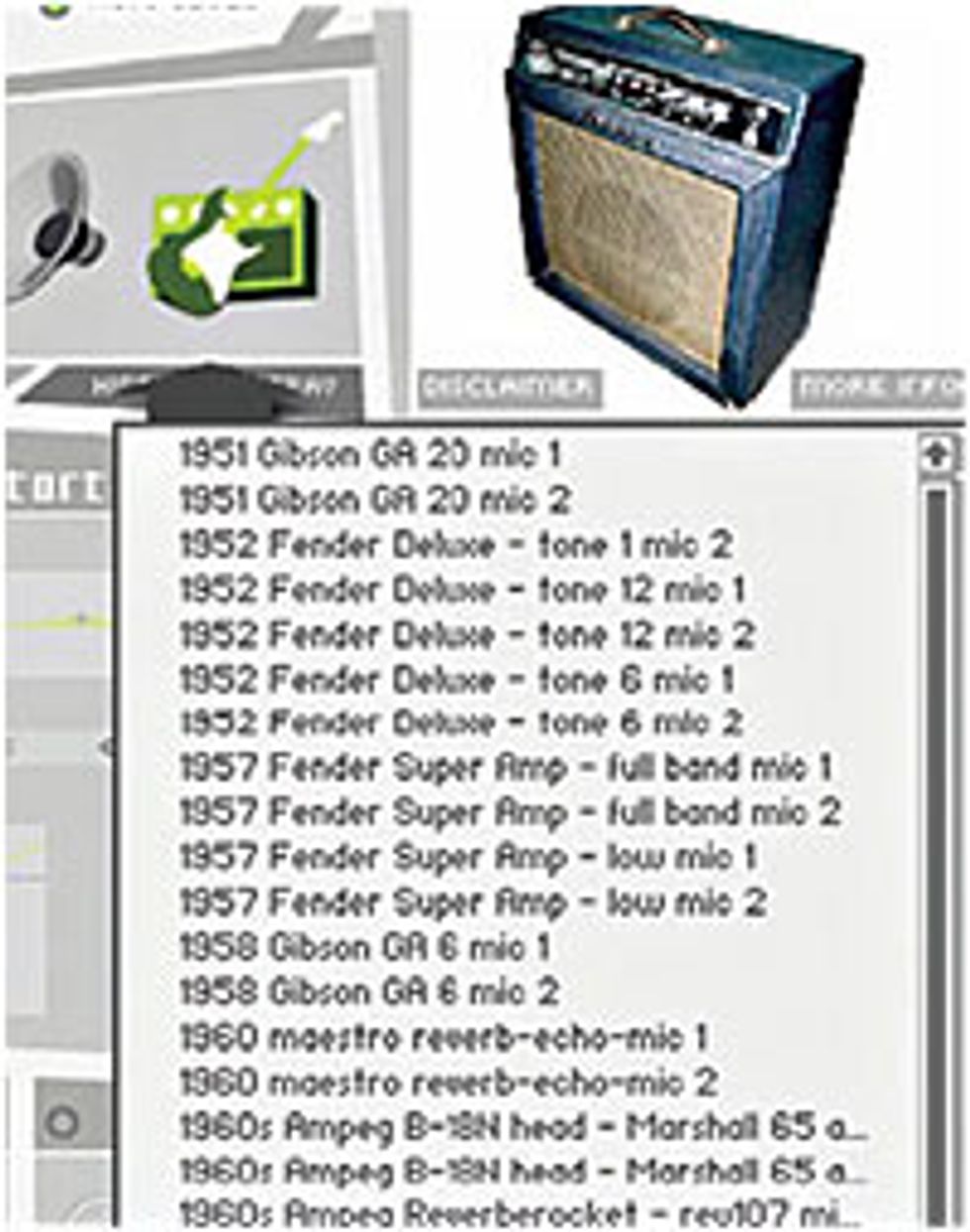 A screenshot of Speakerphone
While a big part of this program is perfect for post-production (like making your voice go through a cell phone in a train station), it's the classic amp speakers that PG readers will really dig. In order to capture the impulse responses of speakers from great guitar amps, you have to find them. Working with Clubhouse Studios in Rhinebeck, New York, they sampled some serious amps from their collection. How about plugging into a 1952 Fender Deluxe, '57 Fender Super Amp, '58 Gibson GA-6, 1960 Maestro Reverb- Echo, '63 Vox AC30 Top Boost, '65 Fender Princeton, '66 Sears Silvertone or a '66 Ampeg B-18?
Speakerphone is different from typical guitar modeling plug-ins since the amps were literally captured at two mic positions with an impulse response tone. You don't turn knobs on the selected amp to tweak the sound – if you want more treble or bass, use the separate EQ section. Remember, this is a speaker emulator with environments – kind of like a suite of tools to pick and choose from.
Once installed – consisting of about 4GB of samples, which can be placed on a separate drive – it's inserted like a plug-in on an audio track. It runs as an RTAS, MAS, VST or AU (Audio Units) plug-in and a great place to start is by listening to presets. In the "guitar fx" category you can choose from things like "Billy Solo" – a '51 Gibson GA-20 in a live bedroom – or my favorite, "Hangover Blues" – a '52 Fender Deluxe in a tiled bathroom.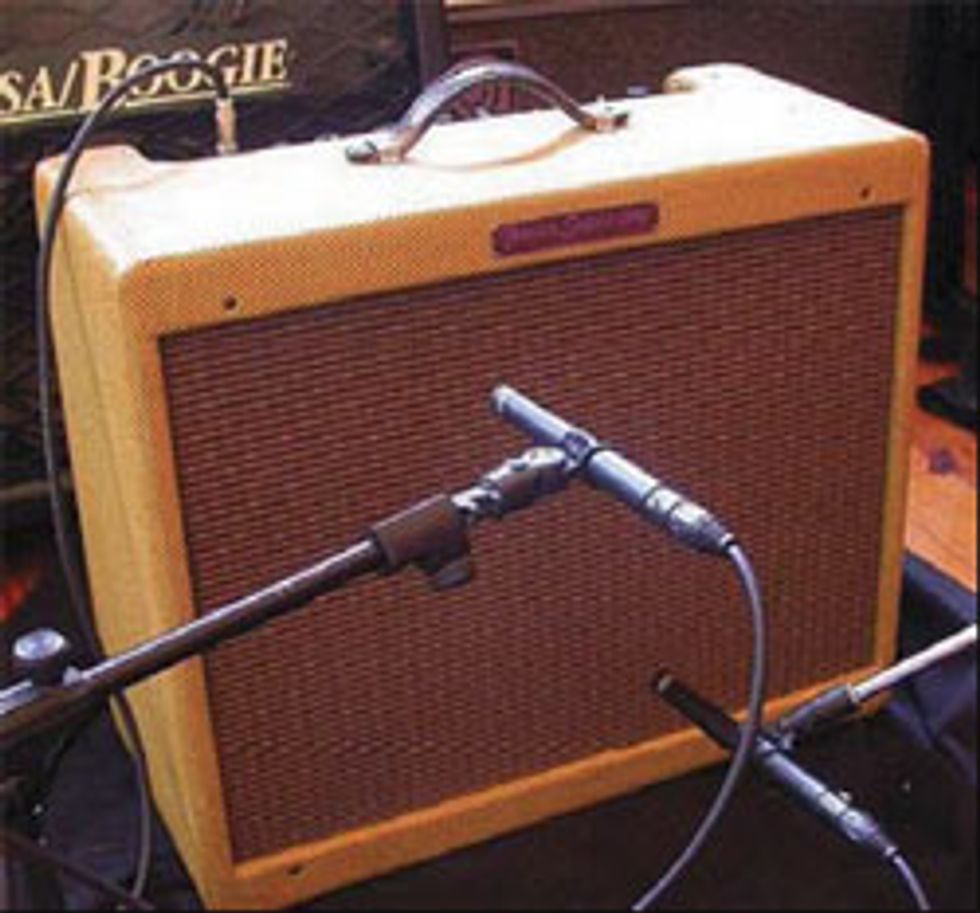 Capturing the IR of a '57 Fender Super Amp
From there, it's easy to get the hang of how it works and create your own favorites. Try adding a little analog distortion, dropping the low-end out with EQ and adding a tremolo or phaser in the "mod" section. As you would expect, some amp models and effects sound better than others, but it certainly depends on what your need is for a certain track.
To select a guitar amp, simply click on the Guitar/Amp icon. From there, a dropdown menu appears showing all the sampled amps and the selected mic position. The tone will change with different mic choices and you have to run through each to hear its result. The amp you've selected will then appear midscreen in the speaker module box.
You can then choose the self-explanatory "Pre-Speaker Before FX" or "Post-Speaker After FX" for tone shaping. Also, by selecting "more info," an expanded photo of the amp will appear with any relevant information. While I did get a kick out of checking out the pictures, it's the sound that we've all come here for. It's a nice touch that you can easily click through the different amps while the track plays, instantly hearing each one on your guitar.
As with any modeled amp plug-in, there's some latency to deal with. To get the exact specs, I emailed the folks at Altiverb and found out the following:
"With Live throughput (listening to the plug-in while playing) total latency is twice the hardware's buffer size plus a couple of samples (50 to 200, depending on the hardware interface). So if you set hardware buffer size to, say 128, you are looking at a latency of 256 + say 100 = 356 samples. In the latest release we have had to add a popup to set the internal buffer size of Speakerphone because the hardware buffer size cannot be determined by a plug-in in Logic. But in other hosts, toning down the hardware buffer size is all you need to do to get you in a 'workable' area."
So if the latency bothers you, just try it out on tracks you've already recorded.
In addition to the amps, there's a huge selection of oddball speakers. Want to hear your guitar through a classic Mac SE computer? How about a Marshall Mini, Sony tape deck speaker, a 1962 transistor radio or a solidstate walkie-talkie? While it may sound silly, I got some amazing sounds by just flipping through the presets and experimenting.
Overall, it's a highly creative tool and its applications extend far beyond the guitar. Speakerphone simply offers up tones that I couldn't achieve any other way, aside of owning a particular amp – or walkie-talkie.
---
Rich Tozzoli
is a producer, engineer and mixer who has worked with artists ranging from Al DiMeola to David Bowie. A lifelong guitarist, he's also the author of
Pro Tools Surround Sound Mixing
and composes for such networks as Discovery Channel, Nickelodeon and National Geographic.