D'Addario Launches "The Stage"
Website offers lessons and more
Farmingdale, NY (November 29, 2007) - D'Addario & Company, Inc. has launched The Stage -- an online site billed as "D'Addario's Musician Hub." The Stage brings together music education, lessons, exclusive offers, and partner sections where users can see what D'Addario, all its brands, and partners have to offer.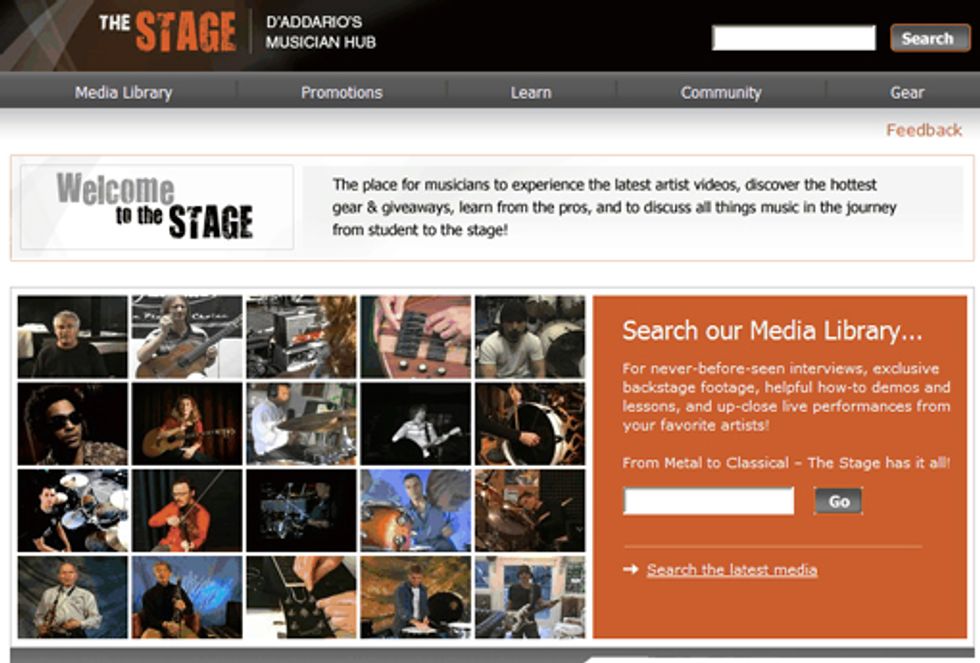 The Stage is a unique company-sponsored website that eschews promotion in favor of the sharing of substantial information—including videos featuring professional musicians, producers, techs, teachers and instrument builders, and growing discussions and demonstrations of technique, instrument maintenance and all types of music related information. Several forums, for guitars, bowed strings, drums and woodwind instruments provide other avenues for peer discussion. In addition, students and professionals will enjoy the inside track on gear developments and will reap the benefits of promotional giveaways.
If you're a budding musician with a goal of "making it," a recreational player, a pro in any musical genre, a music instructor wanting to stay current, The Stage is for you. Easy to navigate, tothestage.com is poised to become the hottest congregating spot for musicians.
"All of D'Addario's brands are represented in The Stage, but users will visit the site more for the vast resources of promotional, educational and partner content," comments Danielle Record, D'Addario's Online Marketing Manager. "The wealth of information, educational content, partner services and the exclusive promotional offers are sure to make The Stage a leading source for music information and resources. It truly is the musicians' hub."
Phase II of The Stage will roll out early in 2008 with more partners, offers, and added functionality for customization.
For more information:
The Stage
Daddario.com