Doing it for the Kids: Music for Life Alliance
During NAMM's party-packed Saturday night, one of the top draws was Muriel Anderson's All Star Guitar Night, featuring a cavalcade of talented guitarists including David Grissom, Lawrence Juber, Monte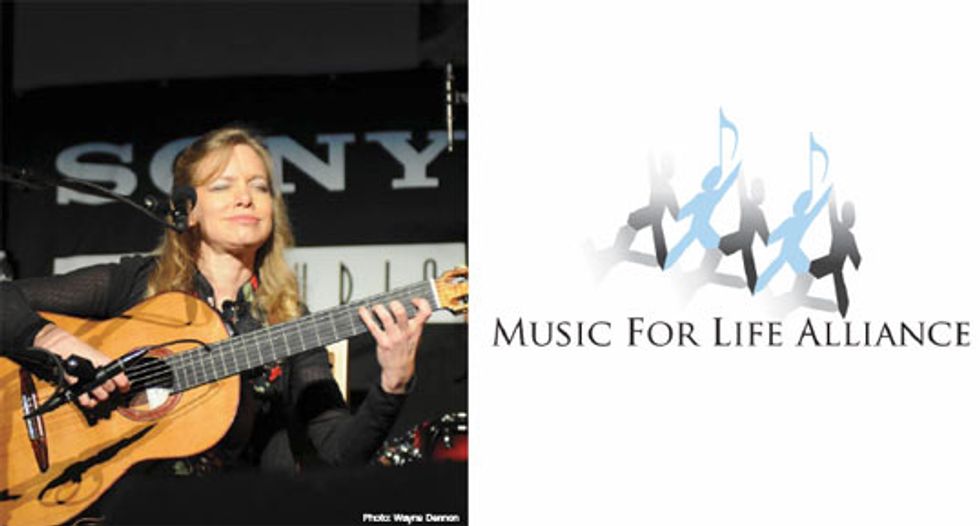 During NAMM's party-packed Saturday night, one of the top draws was Muriel Anderson's All Star Guitar Night, featuring a cavalcade of talented guitarists including David Grissom, Lawrence Juber, Monte Montgomery and Muriel herself (check out our exclusive interviews with David Grissom, Rusty Cooley, Pete Anderson and Ladd Smith on page 66). However the real story lies in the organization benefiting from the show. The program, called the Music for Life Alliance, is largely funded by performances like the All Star Guitar Night, and its efforts put instruments in the hands of children across the country.
Muriel Anderson came up with the concept for the MFLA in 1998. After a series of thefts and break-ins in her neighborhood were attributed to drug-seeking youths, Muriel dug deeper and found only wealthy school districts in the area still had music education. "The root of the problem was that kids with emotional, spiritual and social needs found drugs much easier to come by than a guitar or a saxophone," Muriel explains. "The self-actualization that playing an instrument provides can lift them up at a crucial time."
She soon discovered there were already several organizations working individually on a local level, and her goal was to provide support and networking for these existing programs. "My vision was two-fold; first, I wanted to collect instruments for music programs in need, and second, I wanted to create a national database, giving grants and recognition to organizations making a difference in the lives of children through music."
Ten years after Muriel's original concept, the vision has come to fruition, with the help of dedicated volunteers ("I really couldn't have done any of this by myself," Muriel says). The MFLA hosts a database of 125 different national organizations that help further music education, and they work closely with groups across the country that collect and distribute instruments.
MFLA Secretary Treasurer John Wise says that each organization in the database is carefully evaluated. "We could just pull all of the 501s [charitable organizations] from the federal directory, but we research and have relationships with each one in the database." He added that this is important because people who use the directory will know that each organization is completely legitimate and trustworthy.
The organizations range from Music for Lifetime Achievement, a St. Louis-based chapter of the MFLA that finds instruments and distributes them to children, to Guitars in the Classroom, a California program that helps teachers learn play guitar and how to incorporate the music into their own teaching. John estimates that Muriel comes up with about 50 percent of the organizations they help, finding many while on the road. In addition to helping organizations' visibility, the MFLA also awards scholarships and grants to smaller organizations to help fund lessons, instrument repair and refurbishing.
MFLA's most recent awardees are the Rachel Barton Foundation, which promotes awareness and appreciation of classical music; the W.O. Smith Nashville Community Music School, which offers music lessons to children of low-income families; and the Riekes Center, a mentoring organization that has classes in athletic fitness and nature awareness in addition to the creative arts.
"Even though it may be just a small drop of water towards a great thirst in this country, I know it makes a difference to one kid somewhere whose life was turned around by music. That's what is truly rewarding," says Muriel.
To find out more about the MFLA or to access their database, visit
musicforlifealliance.com
.