Doug Stapp - Dr. Frankenstein
I don't know if many of you are familiar with Texas shredder Doug Stapp, but once you hear his remake of Edgar Winter's "Frankenstein," you'll become an instant fan. Together
I don't know if many of you are familiar with Texas shredder Doug Stapp, but once you hear his remake of Edgar Winter's "Frankenstein," you'll become an instant fan. Together with Shrapnel recording artist Scott Stein, they created a guitar-centric arrangement of Edgar's '70s rock classic. Michael Molenda, editor of Guitar Player magazine says, "Headbangers can get off on Doug's killer version," and 20th Century Guitar magazine calls it "spot-on." Not bad for an up-and-coming guitarist. One of the great things about this explosive, in-yourface rendition is that it was all done live. Before recording, Doug had never played with Scott or the drummer, but when the guys got together in the studio, they were able to bang out the track in just three takes. What's great about this version is that you can really feel the energy of the live performances and hear how well Scott and Doug harmonize together. I caught up with Doug to chat about the recording of the song.


What was your setup – guitars, amps, etc. – for the recording of "Frankenstein?"
I used a Carvin Legacy amp and an Ibanez Jem guitar.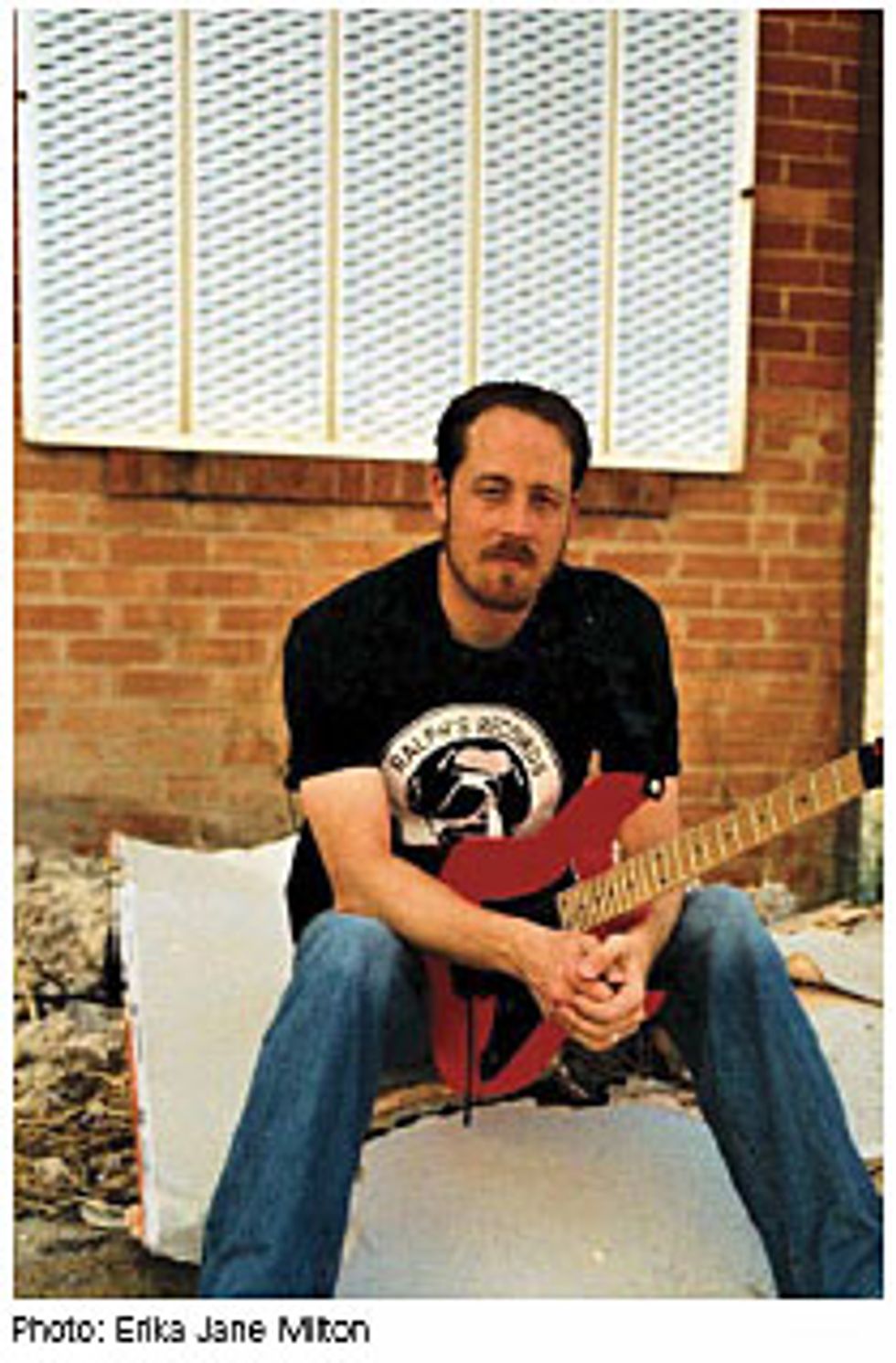 How did you record the guitar?
Well, 95% of the track was recorded live. I think there were only a couple of rhythm overdubs and a couple of minor miscue fixes on guitar. Scott's cab was in an iso booth with one SM57 off-axis and a ribbon mic. My cab was in a hallway of the studio with one SM57 off-axis and a ribbon mic. I can't remember where the ribbons were set – it was a pretty "live" mic job though and the amps were super loud.


What format did you use to record the song – analog or digital?
We recorded and mixed the whole session in about six hours, completely in Pro-Tools. The studio we used was loaded down in current Pro-Tools gear and the engineer was amazing. He really knew what we were looking for.


Give us a little background on the song and how you envisioned the guitar sounding.
The background actually goes back many years. Scott was a big influence on me when I was a teenager – I first met him when my band opened for Haji's Kitchen and he was their guitarist. They did an amazing version of "Frankenstein" on seven strings that night and it just blew me away. That version was originally a version that was written by Scott and Derek Taylor when they had the band Tommy Lamey. If I'm not mistaken, in the early '90s Derek first had the idea to do a crazy version of the song for a show they were opening.

Fast-forwarding quite a few years later, I emailed Scott to see if we could do that version for my new record and thank God he agreed. We decided to keep the song a bit more like the original, but add our own flavor on top. Putting sax, guitar and keyboard parts between two guitar players in harmony was a blast, and I have to thank Scott, Derek, and the Haji's guys for putting the idea in my head to re-do this amazing song, and of course thank Scott for arranging the whole thing. The take you hear is the third take, 95% live in the studio. We were looking for a big, raw feel and we got exactly what we were looking for – thanks to great engineers.

The creation of "Frankenstein" in the recording laboratory would garner even Mary Shelley's approval. Check out Doug's work on Guitar Masters, Vol. 1, available at record stores and online. You can also listen to Doug's new CD, The Earth Says Hello, online at dougstapp.com. Keep rockin'!





---
Brian Tarquin
Emmy Award Winning Guitarist Brian Tarquin scored a Top 20 hit in the 90's with "The Best of Acid Jazz, vol. 2" on Instinct Records and enjoyed several top 10 hits on the R&R charts. Founder of the rock/electronica band, Asphalt Jungle and has scored TV music for such shows as, CSI, Smallville, MTV, Alias, 24, All My Children and many others.
bohemianproductions.net
jungleroom@optonline.net
myspace.com/bohemianproductionsmusic