EMG-81TW Active Humbucker
The EMG 81-TW active humbucker offers a range of sounds, but shines in hard-rock applications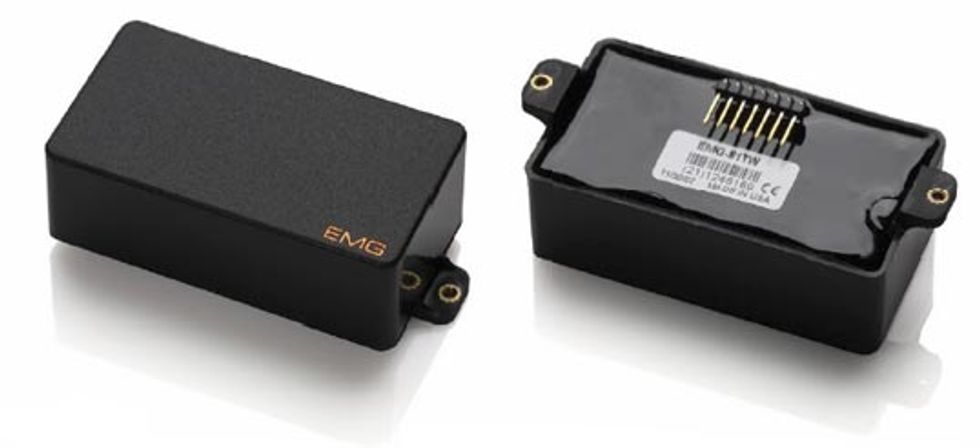 EMG pickups have been around for quite a few years now, finding their way into the guitars of some of the greatest players on the planet, and yet they still manage to be misunderstood by a wide swath of musicians. The difference between EMG's pickups and traditional magnetic designs lies in their active circuits. While traditional pickups rely on coils of wire wound around a magnet to define their tonality, EMG's active circuits (essentially small amplifiers built into the pickup) control the tone and output. A byproduct of this design is less magnetic pull on the strings, due to smaller coils and weaker magnets. This results in more sustain and stronger overtones. It also allows for the addition of add-on circuits to further modify the sound.
We were sent their newest model, the EMG- 81TW, which is based on the humbucker that made them famous, the EMG-81. We also received an EMG-60 humbucker for the neck position, along with the appropriate pots (because of the pickup's design, the pots must be 25k), tone caps and jack, which was the tip-ring-sleeve type used to disconnect the internal 9V battery. A pushpull pot was also provided with the 81TW for coil splitting duties.
I dropped the pickups into a well-loved Hamer Explorer – the epitome of a rock guitar. I used an older Marshall head equipped with a master volume for my distortion amp; for clean testing I plugged into a Fender Deluxe. My first impression of the 81TW through the Marshall was very much what I expected, sounding like a model 81. The strong mids made for great definition and clarity, even when the gain settings were high. The low-end was big and tight, and muted string rhythms were very percussive. The high-end screamed with bristling upper harmonics when pick harmonics were applied. This tone worked great for heavy chords and lead riffs alike. Dropping the tuning brought out the tightness on the lows, explaining why these pickups are so popular with today's modern rock players. Pulling out the push-pull pot yielded a pleasant surprise, as it delivered a single coil-type sound unlike their model S or SA single coils – this sound was much more Strat-like.
Plugged into the Deluxe with the push-pull pot set to single coil mode, the sound was clean and sparkling. If you were to add a bit of compression to this, you'd certainly find yourself in country territory. The humbucking selection had a bit too much midrange for my tastes when used alone, but I found that combinations of the 81TW and the EMG- 60 in the neck made for nice, clean, almost bluesy sounds.
The Final Mojo
I think this new model fills a very useful spot in the EMG lineup. Anyone who has used an EMG-81 and wished for something a little cleaner will love this pickup. But don't worry – it still rocks as hard as the original. Put it close to the strings and watch your amp sing like never before.
Buy if...
you''re looking for a hard-rocking pickup that''s suitable for everything from classic rock to new metal.
Skip if...
cleaner tones and old-school blues are your thing - EMG has other models better suited for these styles.
Rating...
 
Our expert has stated their case, now we want to hear yours. Log on and share your comments and ratings.