This month Jim takes on a ride through bebop improvisation.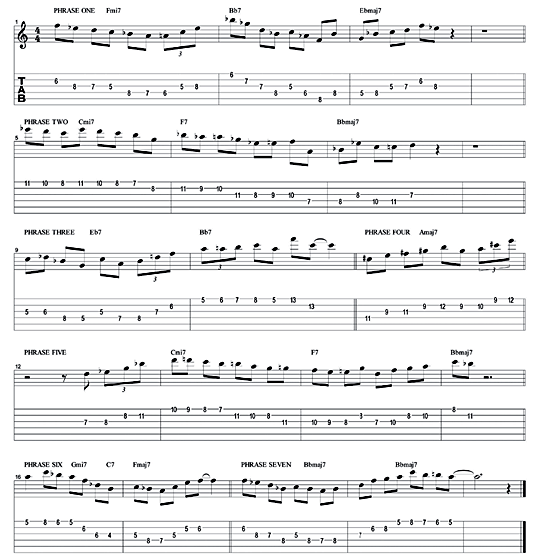 For guitar players who are studying jazz, taking the next step in jazz improvisation can mean incorporating the distinct language of the bebop style into one's playing. Most players start out in jazz by matching scales to their parent chord (such as A Dorian or A Aeolian matched to an Am7 chord). But to really enter the authentic historic realm of jazz – and to learn that specific language – means studying the architects of bebop. Charlie Parker was the founding father of the style in the early forties, and the seven phrases shown here, transcribed from some of his solos, demonstrate many of the common devices used in this unique melodic style. The intervallic interest, chromaticism and encircling of target chord tones seen in the phrases 1-7 are just a few of the techniques that set this style apart from other forms of improvisation.

If the bebop melodic style sparks your interest, a great resource for further study is the Charlie Parker Omnibook, which, after three decades, remains a definitive collection of Parker solos for study of the devices, riffs, and patterns that define bebop. The book is available in concert key for guitarists, but put on your reading glasses – there's no tablature in that one. For poor readers, Mark Voelpel's Charlie Parker for Guitar has received good reviews and comes with tab. Combine these studies with intentional, active listening for a proven way to incorporate this musical language into your playing.
---
Jim Bastian
A clinician and jazz educator, Jim Bastian is a 10 year veteran of teaching guitar in higher education. Jim holds two masters degrees and has published 6 jazz studies texts, including the best-selling How to Play Chordal Bebop Lines, for Guitar (available from Jamey Aebersold). He actively performs on both guitar and bass on the East Coast.

An avid collector and trader in the vintage market, you can visit Jim's store at premierguitar.com (dealer: IslandFunhouse).